This post contains affiliate links.
Originally Published Nov 15, 2021 ・ Updated April 24, 2023

One of the most exciting things about being pregnant (besides the whole baby part, you know) is getting to share your news with those closest to you.
Today, after scouring through hundreds of pregnancy announcement cookies, I've put together a collection of my favorite, pretty, modern and yes – minimalist – cookie sets to inspire you.
I hope you love them as much as I do.
Pregnancy Announcement Cookie Inspiration
As you're spending time thinking about how to tell your friends and family, or which type of theme you'd like your pregnancy announcement cookies to have, you may want to check out this super helpful list that I put together of classic baby phrases – 115+ Ridiculously Sweet Baby Shower Cake Sayings To Celebrate Baby.
Although I put the list together with phrases aimed at celebrating baby at a baby shower, many of them would totally work with a pregnancy announcement, too.
For example, one of the phrases on the list – table for 3 – could be super cute and relevant for a foodie couple who want to announce their pregnancy to family or friends. Classic red checkered table cloth, little reservation sign on the table… a few cookies that are just the number three – I think it would really work.
The Sweetest Pregnancy Announcement Cookies
Ready to admire some of the most talented cookie-maker's sugary art?
Let's get started –
01.

Special Sprinkles Pregnancy Announcement Cookies

This beautiful cookie idea features some pretty little sprinkles in the mama-to-be's belly, such an adorable way to show a special addition is on the way.

Get the look: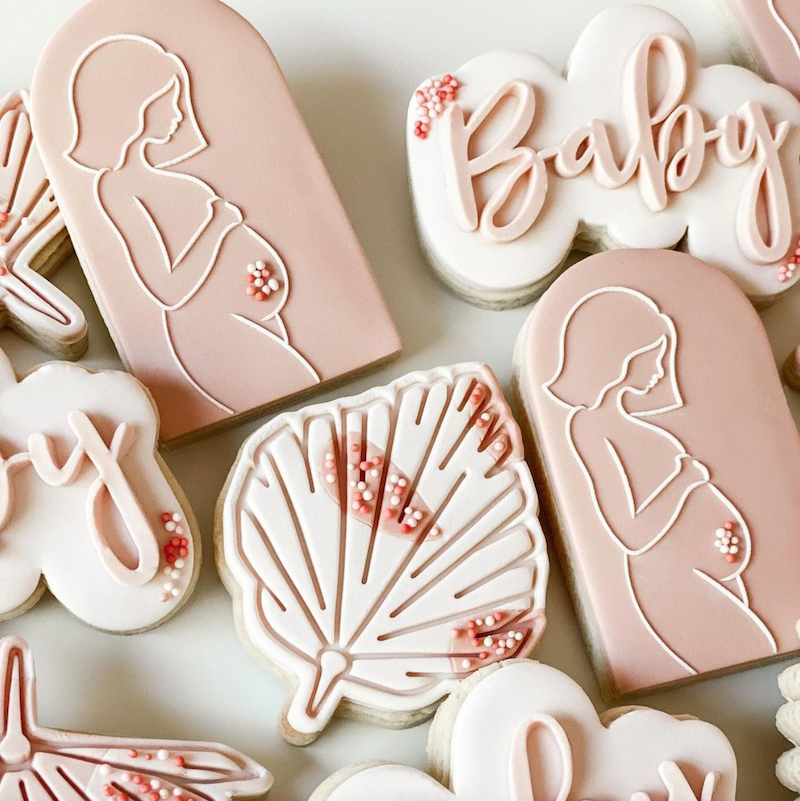 02.

Boho Twins Pregnancy Announcement Cookies

Dried palm leaves, a creamy taupe backdrop, arched silhouettes and, yes, even a balloon arch with palm fronds –

these ridiculously on-trend baby announcement cookies are what neutral dreams are made of.

(These would also be perfect cookies for a baby shower, too – check out my whole list of baby shower cookie picks here.)

Get the look:
03.

Baby Baker Baby Reveal Cookies

This adorable set includes a cute little letter board, cinnamon bun, baby pacifier, stand mixer and even a little bun in the oven plaque!

Get the look:
04.

Baby Belly Pregnancy Announcement Cookies

Next up, this contrasting black and pale pink cookie set celebrating twins celebrate's the mama-to-be's growing belly and even includes a customized letter board. The perfect way to announce that you're expecting!

Get the look:
05.

Sonogram Selfie Stamped Baby Announcement Cookies

Is there anything more classic than the mom and dad-to-be holding up a sonogram for all to see?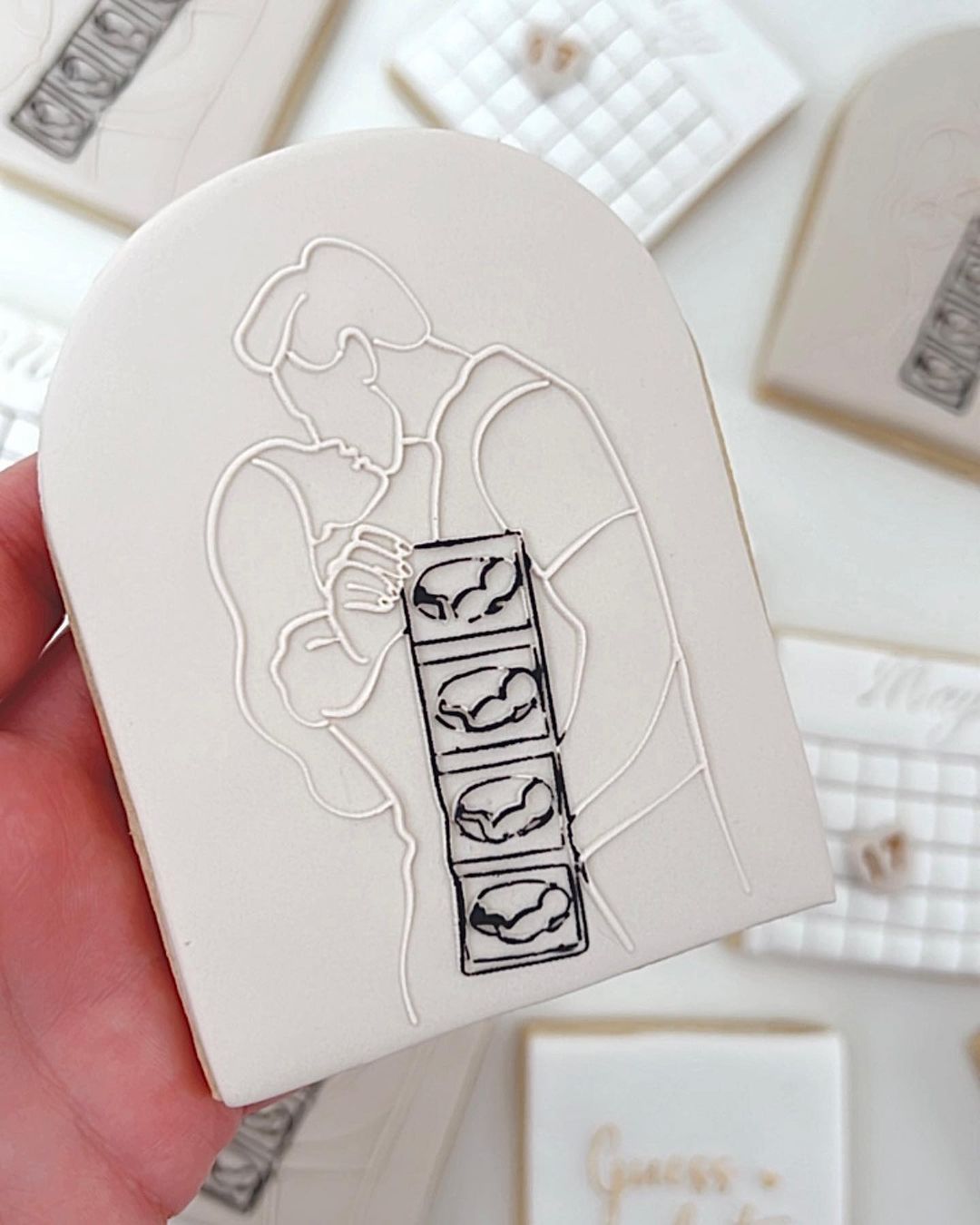 06.

Big Sis Bracelet Pregnancy Announcement
While these cookies were actually for a baby sprinkle (which is very similar to a baby shower), I loved the idea of these little trendy name bracelets being featured on the cookies.
The ones on these cookies say big sis, moms and their littles will get matching sets with mama and the child's names on it, so you could get creative with that idea.
Planning a baby reveal – but is isn't your first? These cookies are the perfect way to tell your family you're pregnant – but you still need to share the news with everyone else! For that, pop on over to my entire collection of sibling pregnancy announcement ideas.
07.

All White Due Date Baby Announcement Cookies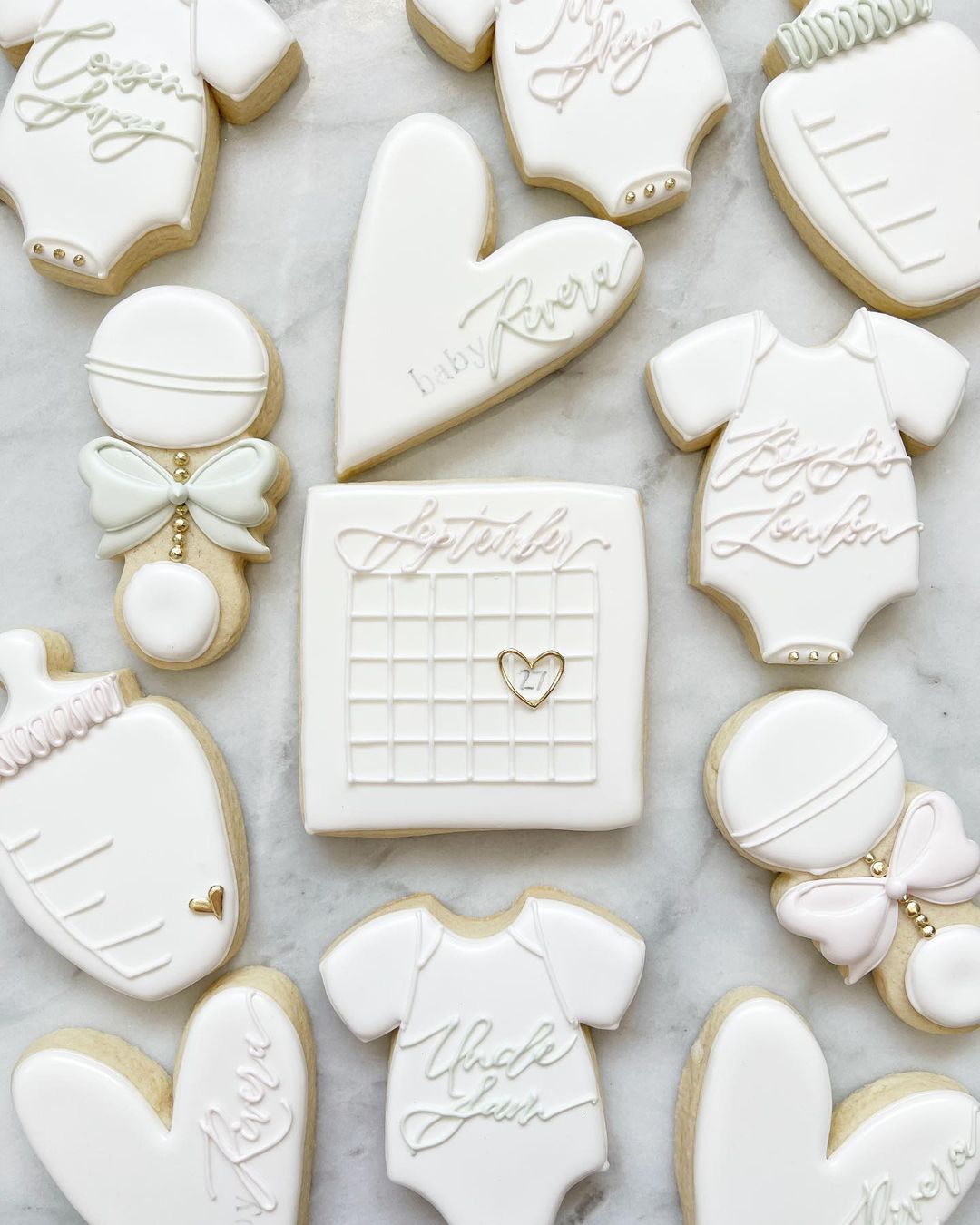 This gorgeous monochromatic look of all white cookies gives totally classy vibes, while the gold details are the perfect special touch.
Another set great for sharing the news with family, the onesies and hearts include each family member's new title!
Get the look:
onesie cookie cuter
heart cookie cutter
baby bottle cookie cutter
square cookie cutter
08.

Toes In The Sand Baby Announcement Cookies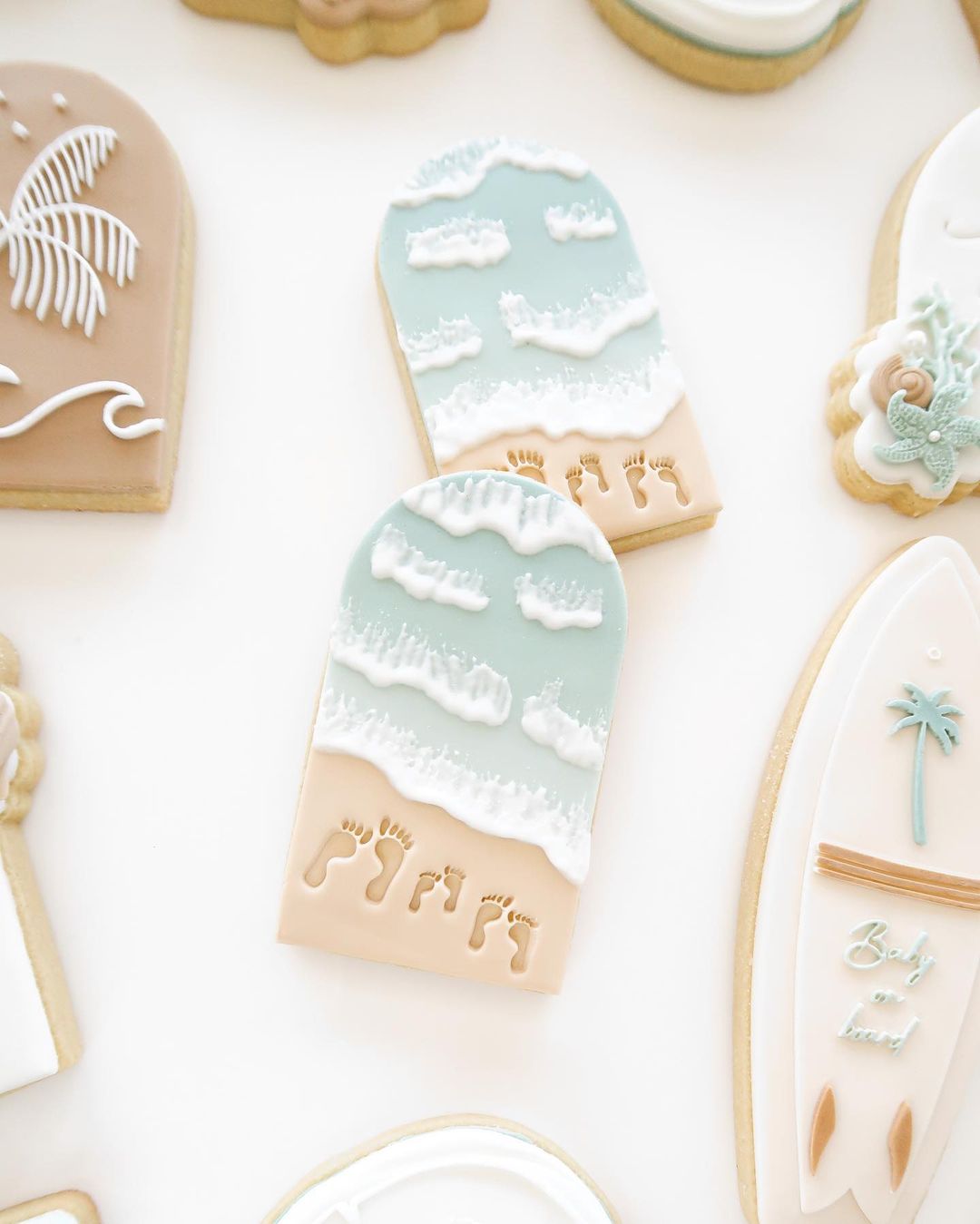 If there is one thing for sure, it's that I'm a custom sugar cookies connoisseur and these, my friends, are cream of the crop. Realistic waves crashing over the sand, only to reveal – surprise! – a third set of teeny tiny feet between mommy and daddy's.
Such a sweet, subtle way to share your news!
09.

Boho Baby Announcement Cookies
10.

Classic Due Date Calendar Pregnancy Cookies
These simple due date calendar cookies are cute, sweet, and get the point across right away – and are a great design for expecting mamas with a budget, as they don't include as many intricate details as some of the other sets.
11.

Baby on Board Baby Reveal Cookies

Know a beach bum mama-to-be or daddy who loves to surf?

These dreamy baby on board baby reveal cookies are so unique and such a fun way to incorporate something personal about mom and dad into the announcement.

Did you notice the tiny wave on the hand-marked due date calendars, too?
Love these super cute beachy baby reveal cookies? Check out our whole collection of beach pregnancy announcements, full of gorgeous photo ideas for a baby reveal on the beach (and bookmark our list of beachy girl names, if you're having a baby girl!)
12.

Hello I'm New Here Pregnancy Cookies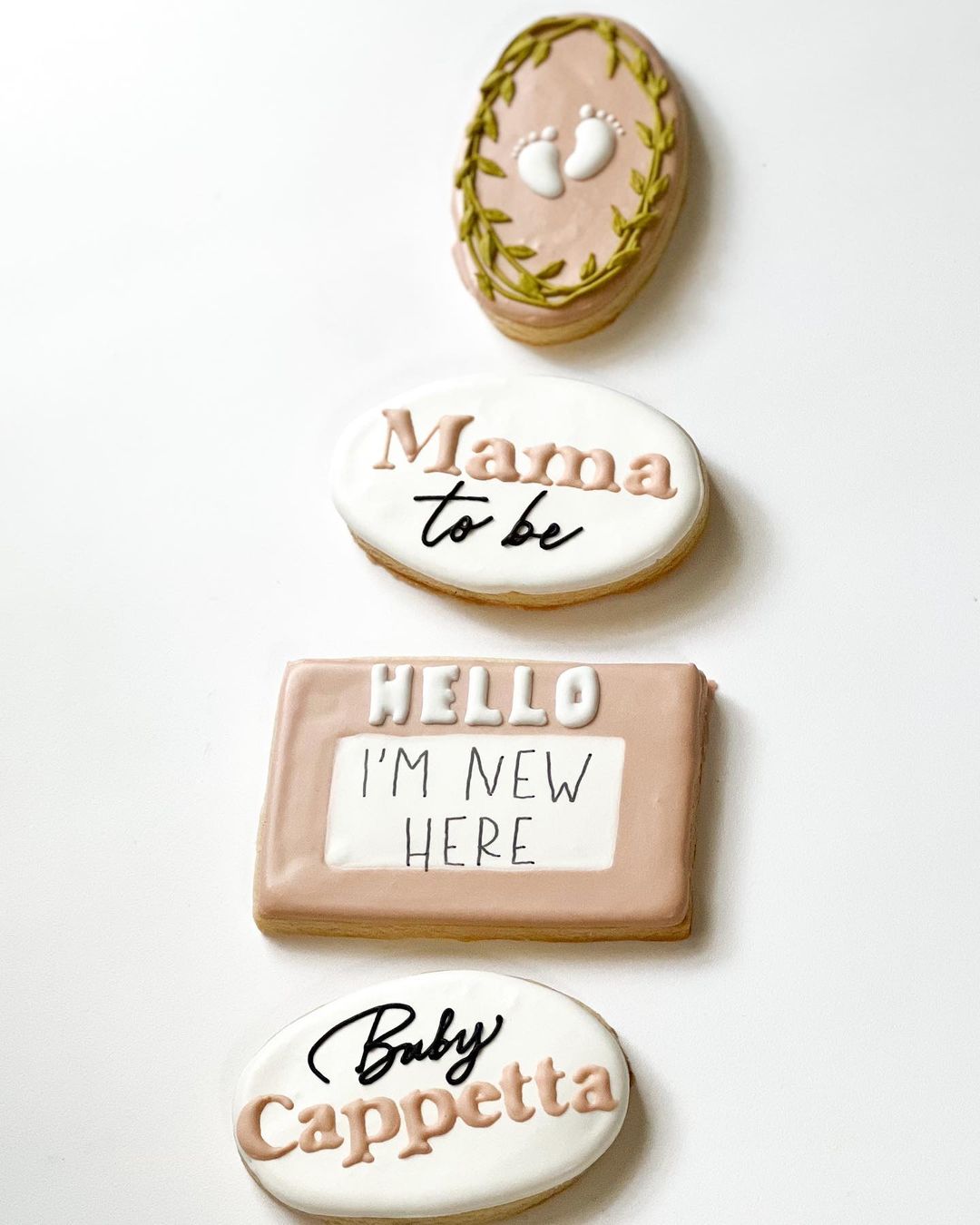 Have a rectangle cookie cutter?
This fairly simple design done with a pen is so creative and cute, and can be customized a few different ways.
I love the idea of adding this design to your set for some variety, as long as it fits the overall theme.
(Also, how cute is it that the writing is shaky and looks like it's written by the baby? 🥹)
13.

Hidden Message Pregnancy Announcement Cookies

Do these pregnancy announcement cookies win?

Probably.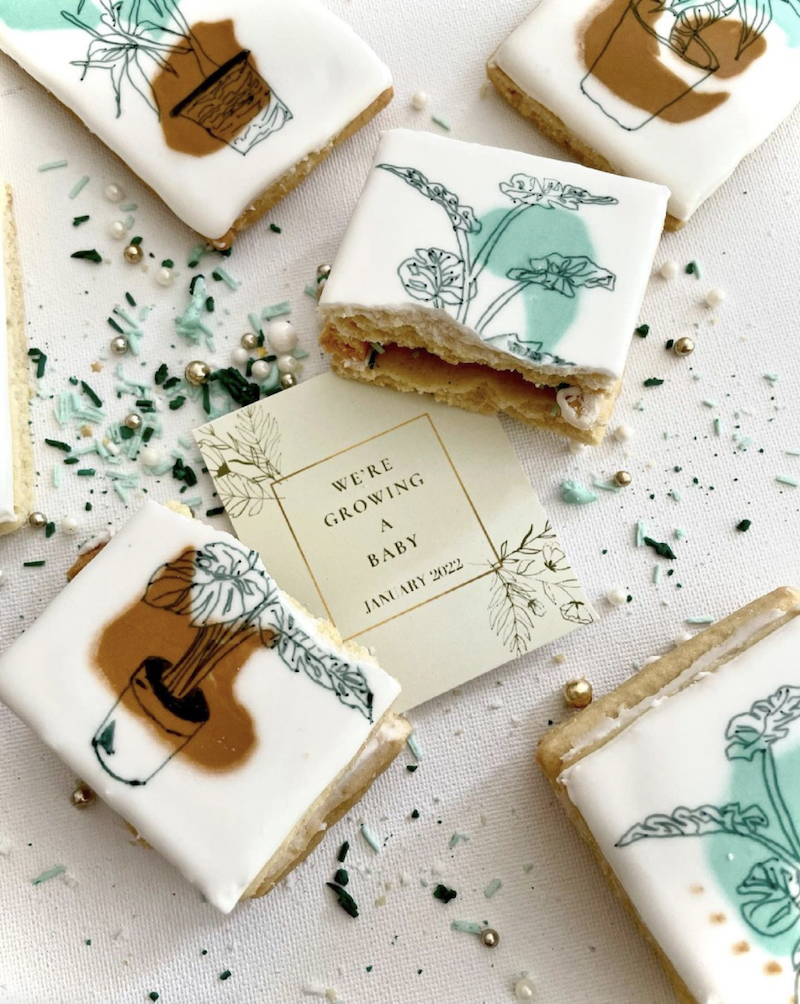 14.

Ultrasound & Positive Pregnancy Test Sugar Cookies

This mini set of sugar cookies include the positive pregnancy test and baby ultrasound to break the news of the little one on the way.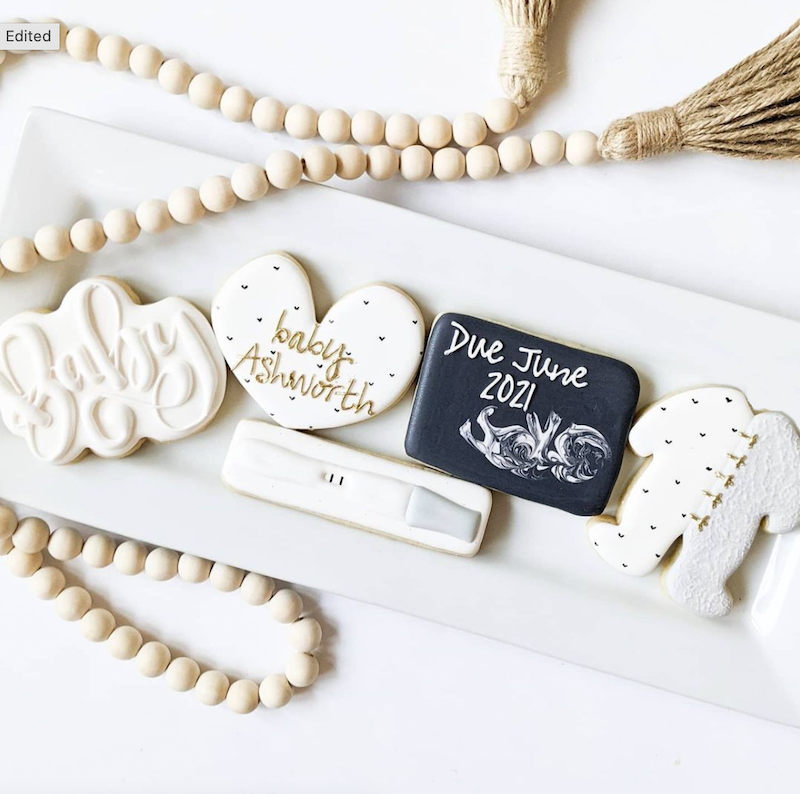 15.

Cookies for a Pregnancy Announcement to Family

Looking for a fun way to tell your family that you're pregnant?

How about announcing their new titles – on cookies?
16.

Baking Something Sweet Pregnancy Announcement Cookies

This sweet set was done by one cookie artist for another – so playing off of the baking theme was another adorable way to incorporate a personal detail into the announcement.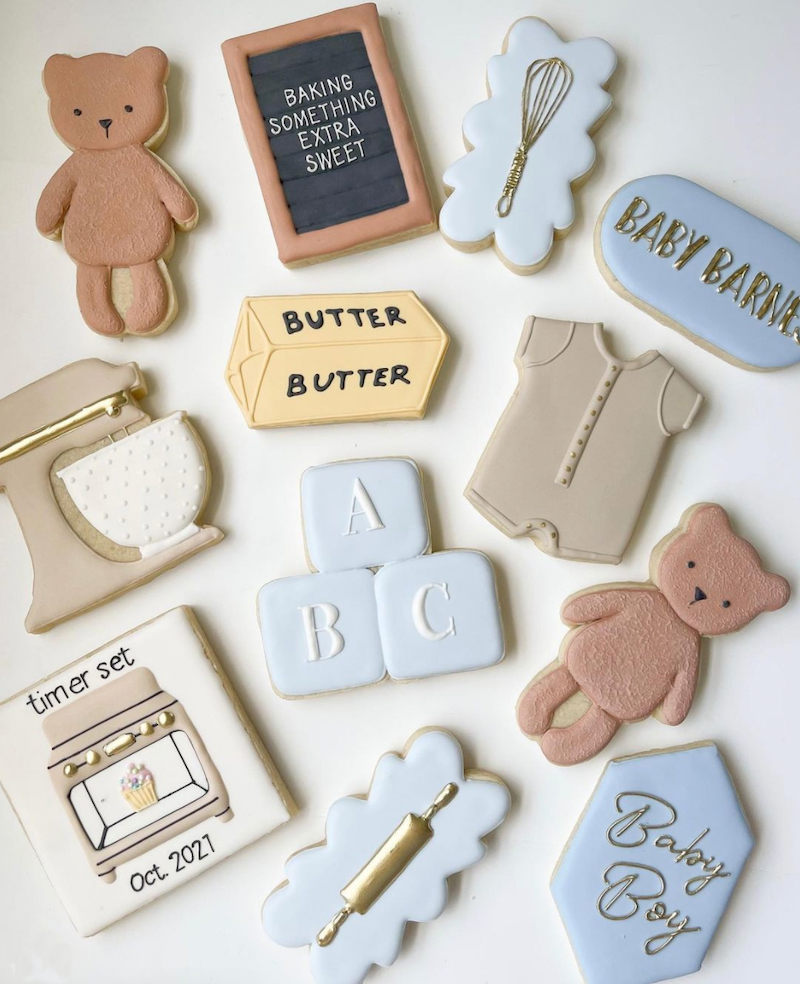 17.

Neutral Nursery Baby Announcement Cookies

This pretty, muted grey set of baby announcement cookies not really brings baby's nursery to life, including the gorgeous baby bassinet, cloud baby mobile, and sweet little onesie.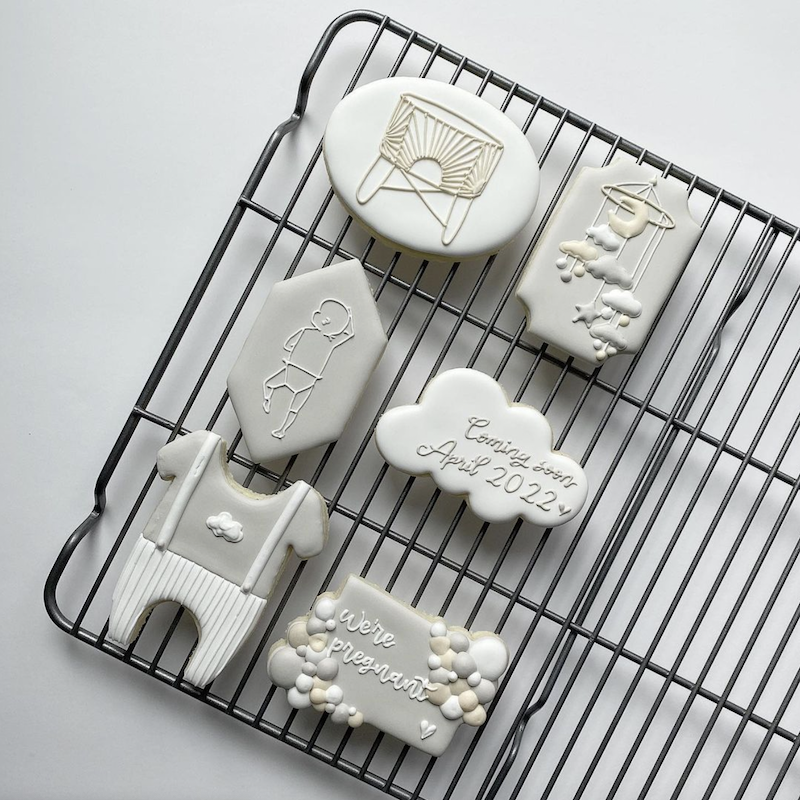 18.

Boho Baby Blocks Pregnancy Announcement Cookies

This nude boho set of pregnancy announcement cookies includes line art of mama and baby, cute little baby blocks and modern abstract elements to tie the whole look together.

Isn't the detail incredible in the teddy bear snowsuit and the quilt hanging over the edge of the bassinet?
19.

Simple Taupe Baby Announcement Cookies

Have you been put on dessert duty for the next family gathering?

Crack open that box of sweets and surprise the whole gang with these cute and fun new family title baby announcement cookies.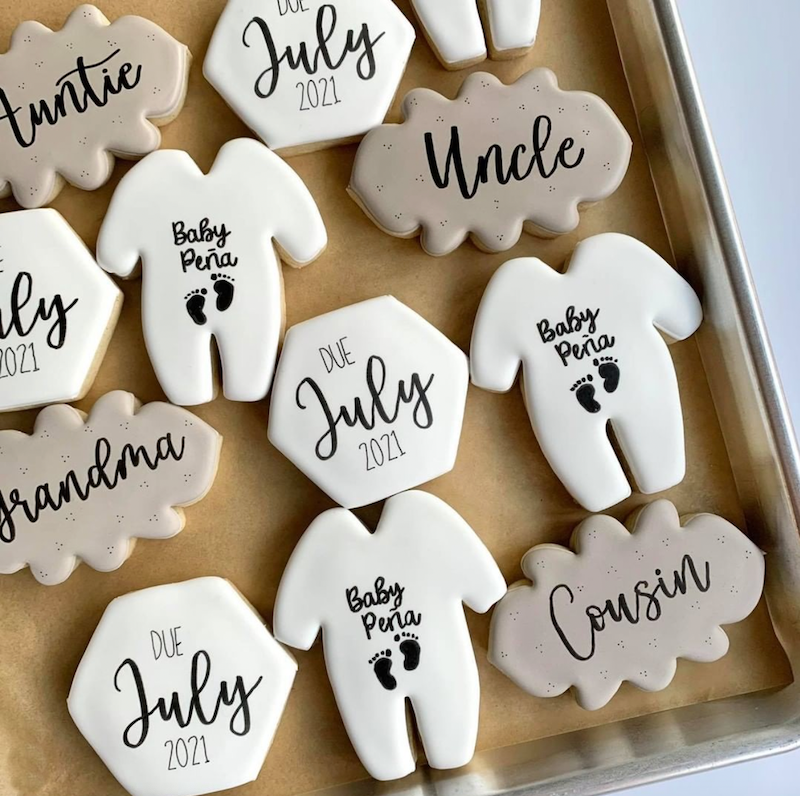 20.

Organic Greenery Pregnancy Announcement Cookies

I absolutely adore the forest green and pale pink color combo on this stunning set.

Dainty calligraphy announces that baby is on the way, and we even get a sneak peek of the little babe – completely with hand-painted gold crown.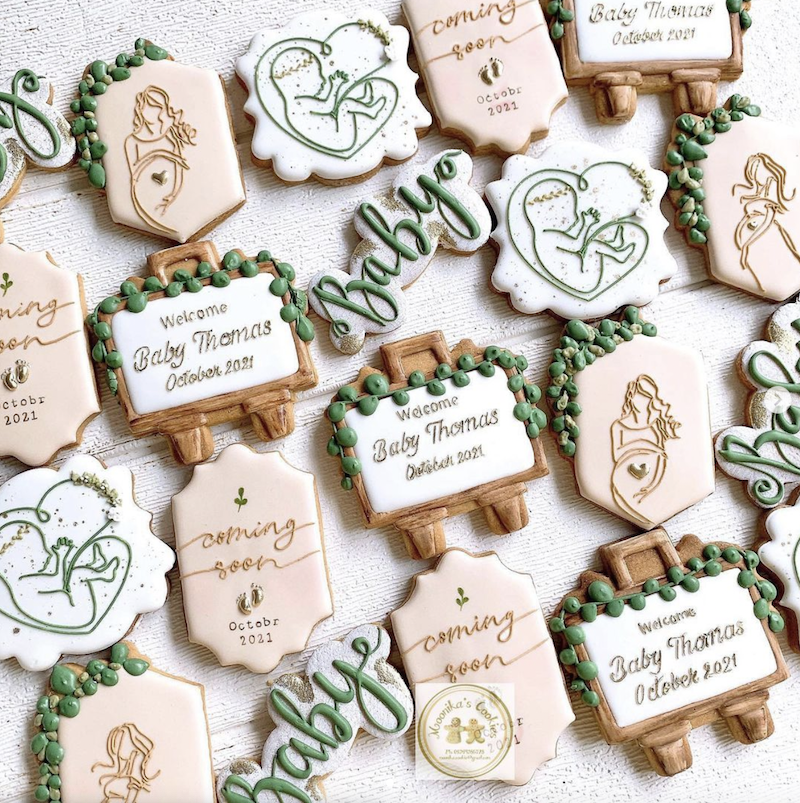 21.

Cinnamon Bun in the Oven Pregnancy Sugar Cookies

Mom, there's a bun in the oven – and it's cinnamon. 😝
22.

Sweet Little Baby Feet Pregnancy Sugar Cookies

Zoom in to see what the light grey letter board says… 😝
23.

Peach and Green Pregnancy Announcement Cookies

More line art, more mini letter boards announcing the sweet, sweet news. The little knotted gown for baby and greenery really round this cute set out so well.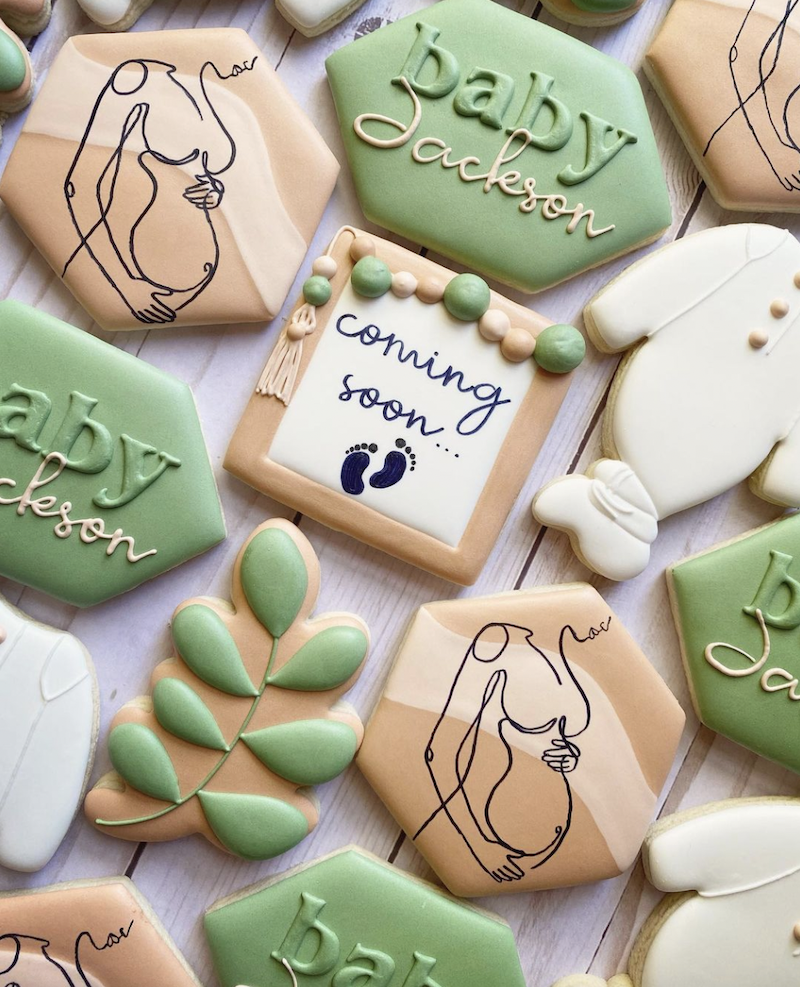 24.

Modern Line Art Sugar Cookies

I am completely swooning over the hand-drawn silhouette of this mother holding her sweet little babe.

Again, we see a really lovely trend of incorporating some of the most popular decor into the designs of these pregnancy announcement cookies, like this adorable welcome sign with greenery.
25.

Pastel Coming Soon Cookies

A baby bib with a rolling pin and a baby bottle with a miniature cinnamon bun – please tell me how it gets any cuter.
26.

Timer Set Baby Announcement Cookies

If there is one thing I love, it is minimalism.

These super simple bun in the oven baby announcement cookies get straight to the point!

@michikocookieco
27.

Friends Baby Announcement Cookies

80s (and 90s?) babies, unite – and tell your family you're preggo with a *classic* set of Friends cookies!

I love this set because it's a great jumping off point for expecting parents who want to personalize their baby announcement a bit more – some other sets I've seen include The Office and Schitt's Creek.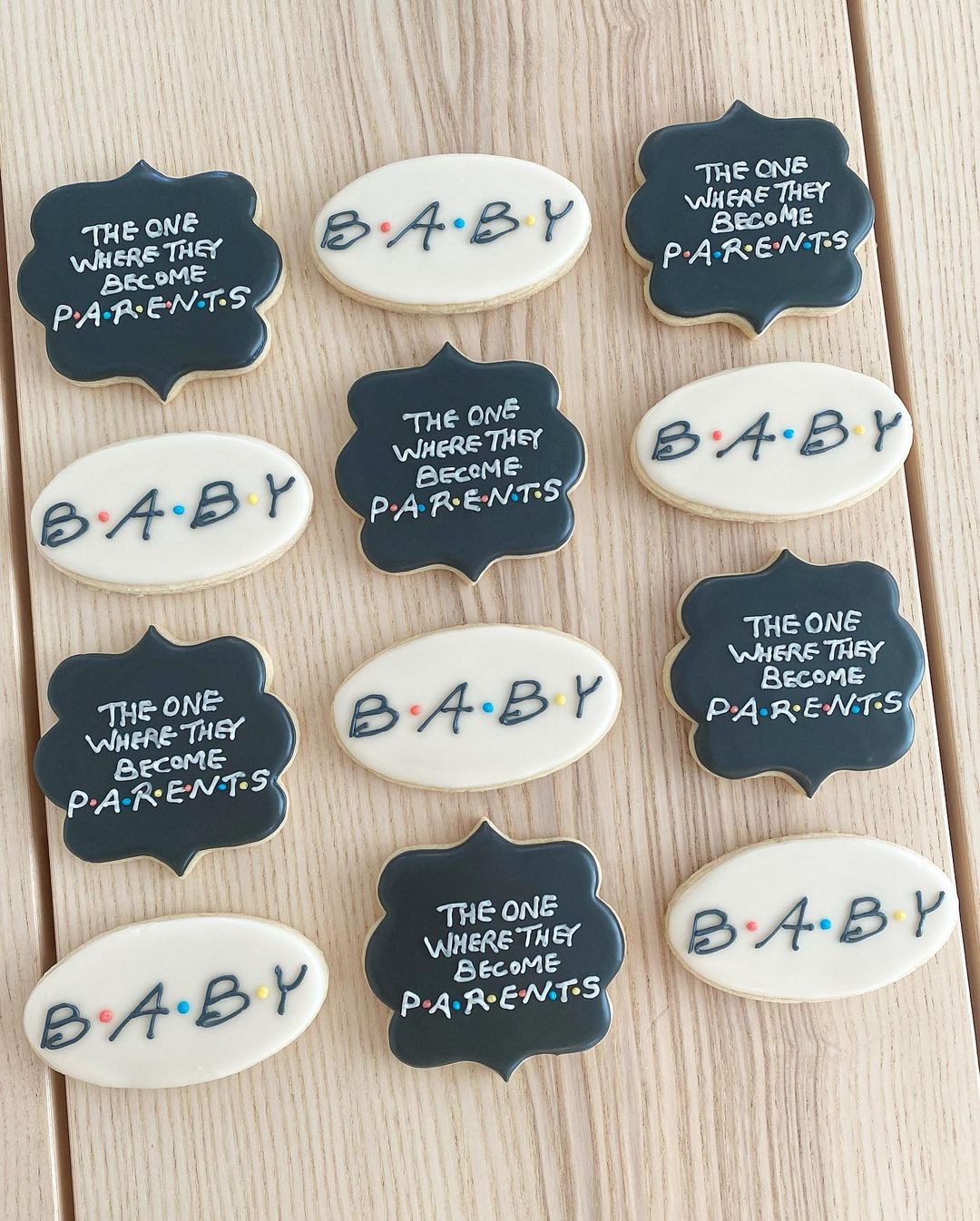 28.

Valentine's Day Pregnancy Announcement Cookies
29. Valentine's Day Conversation Heart Baby Announcement Cookies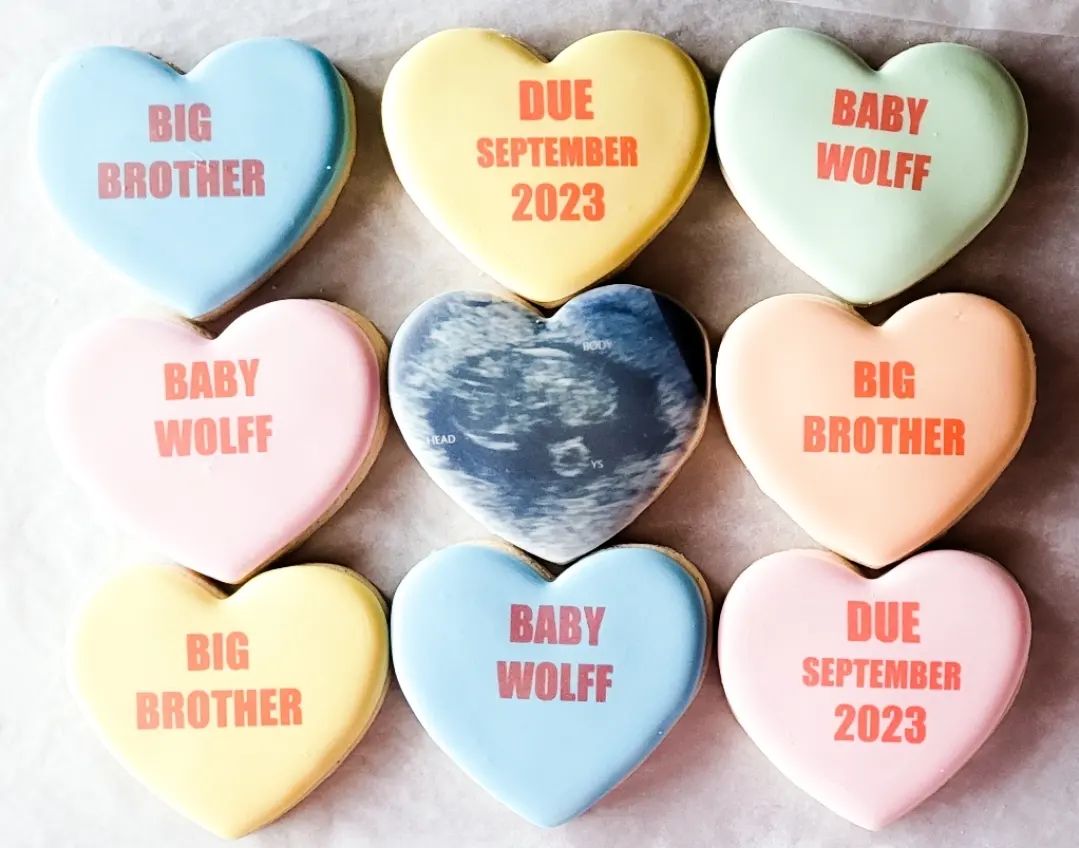 30.

Halloween Baby Announcement Cookies

Next up, a fun seasonal set of baby reveal cookies, made for the expecting couple's grandparents, including the cutest little ghosts, pumpkins, and letter board cookie.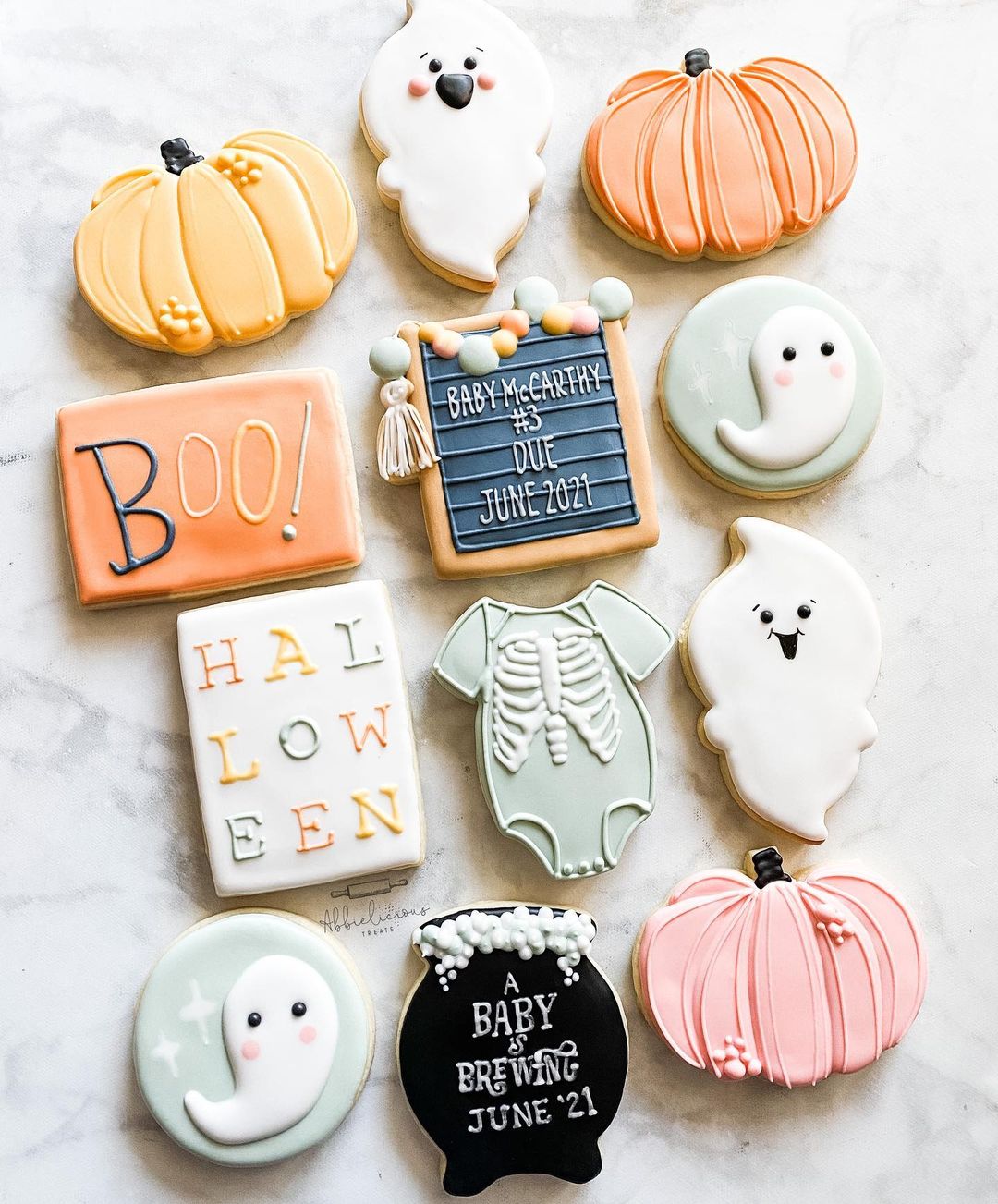 23.

Festive Fall Baby Announcement Cookies
31.

Christmas Pregnancy Announcement Cookies
Planning a baby reveal at the most wonderful time of the year? Check out my whole list of literally *adorable* Christmas pregnancy announcement ideas, too!
And there you have it – from fondant to nonpareils to embossing – there are so many different techniques and looks that you can use to recreate a special set of pregnancy announcement cookies that fit the mama-to-be just right.
Which of these cookies have inspired you today?
Read Next:
25+ Literally *Adorable* Pregnancy Announcement Photo Ideas To Steal
21+ Simple and Stunning Baby Shower Cakes for Boys