This post contains affiliate links.

Looking for some adorable baby shower cookies inspo?
Then you're in the right place –
Today, I've rounded up my very favorite baby shower cookie sets – from baby bottles, to onesies, and teddy bears to jungle animals.
Let's dive in –
If there's one thing that is majorly trending right now, it's custom sugar cookies for *every* and any special event in your life, and a baby shower is no exception.
Here are some of my favs –
Vintage Baby Carriage and Balloons Baby Shower Cookies
To be honest, I can't really decide if I love the ombré smear on the name plaques or the teeny tiny teddy bear on the baby onesie more. 😍
This stunning set of muted baby shower cookies features a bundle of balloons, baby banner, teddy bear plaque, name plaque, carriage and onesie.
They would be just so sweet for a We Can Bearly Wait themed baby shower or a modern blue baby boy shower.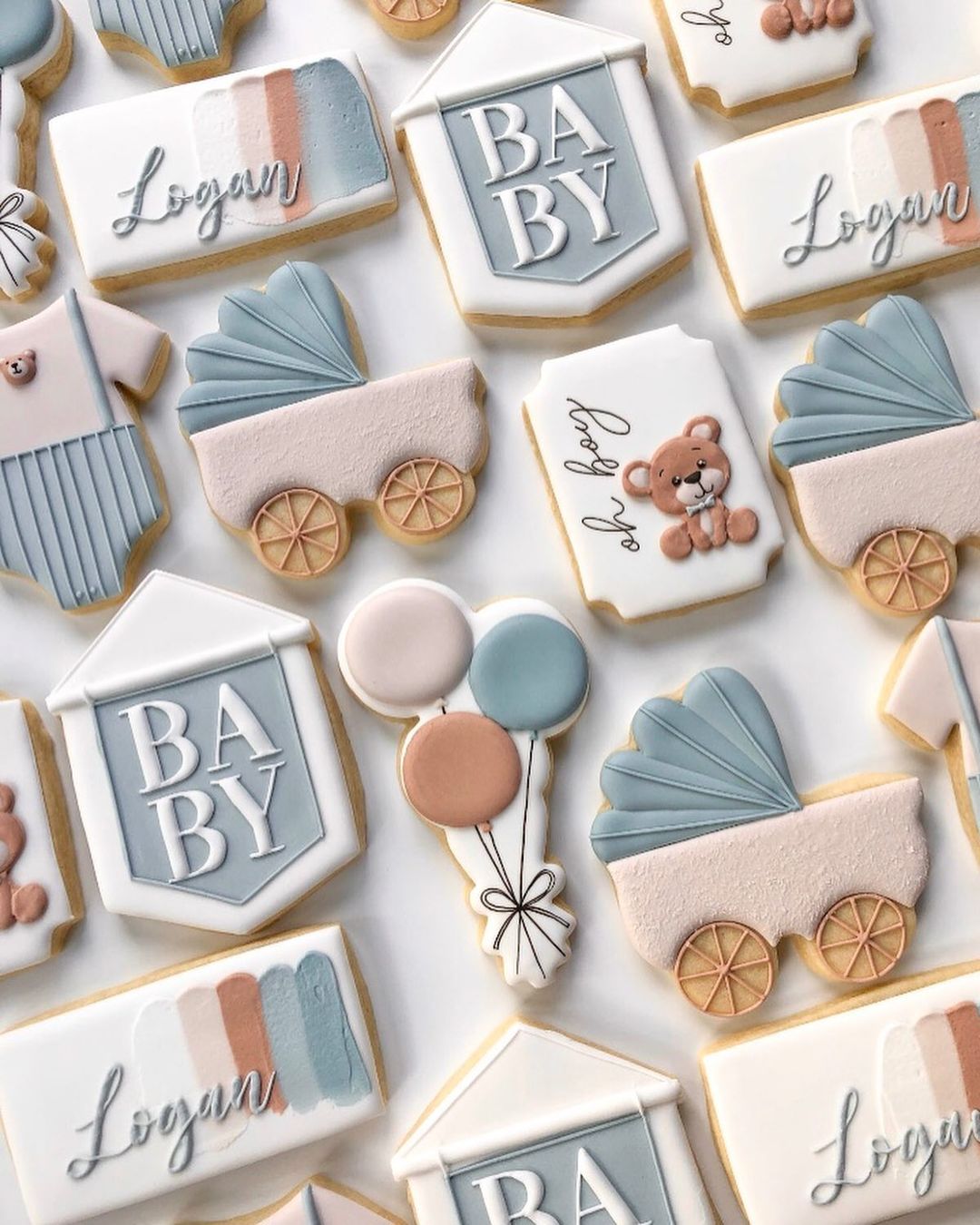 Celestial Moon and Stars Rattle Baby Shower Cookies
Next up, this sweet celestial set.
The perfect shade of muted baby blue is paired with taupe and gold for a creamy, dreamy color scheme.
Possibly the most popular baby shower design element for 2022 is the balloon garland design that lends itself so well to literally *every* theme, and adds dimension to the moon and star scene cookie.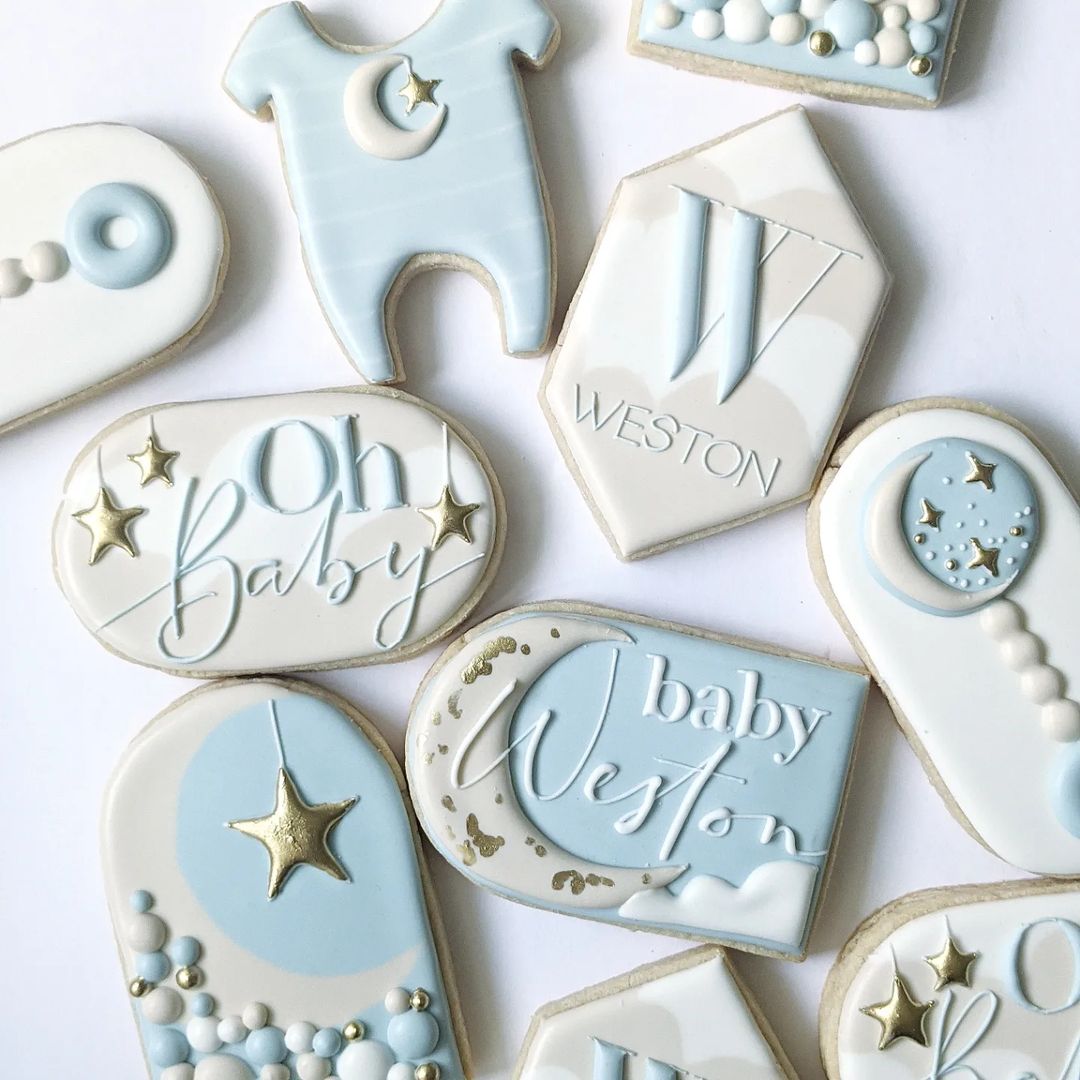 Dusty Rose Daisy Baby Shower Cookies
Planning a 70's-inspired or daisy-themed baby shower?
These adorable pastel pink and dusty rose flowers and baby lettered cookies are too cute to pass up!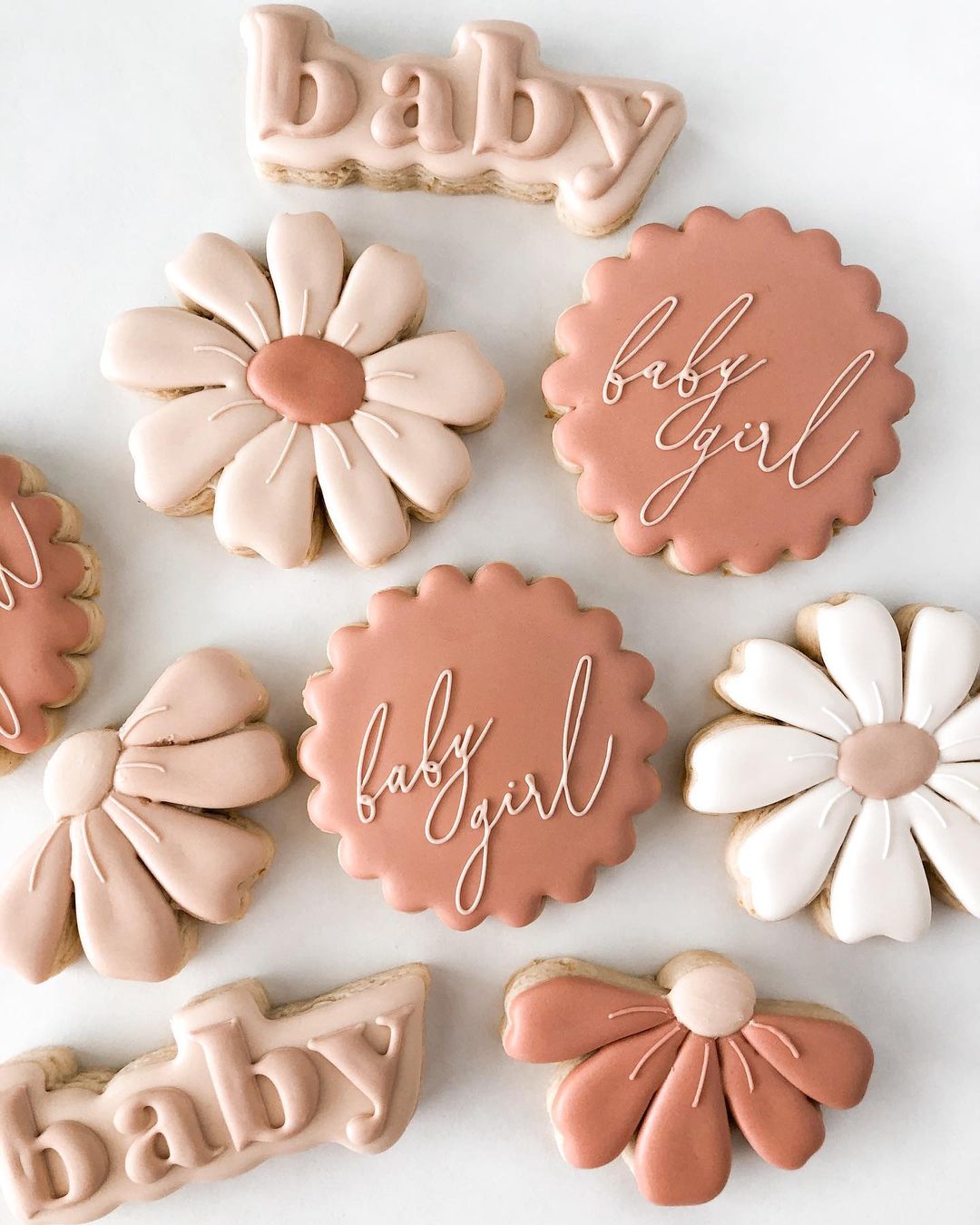 Fishing Themed Baby Shower Cookies
"We're reel excited to say, a baby is on the way!" 🎣
This gorgeous set of fishing themed baby shower cookies includes a baby plaque complete with fishing lures, minimalist fish art, a vintage-looking bobber and watercolour fish-patterned onesie.
A true work of art. 🐟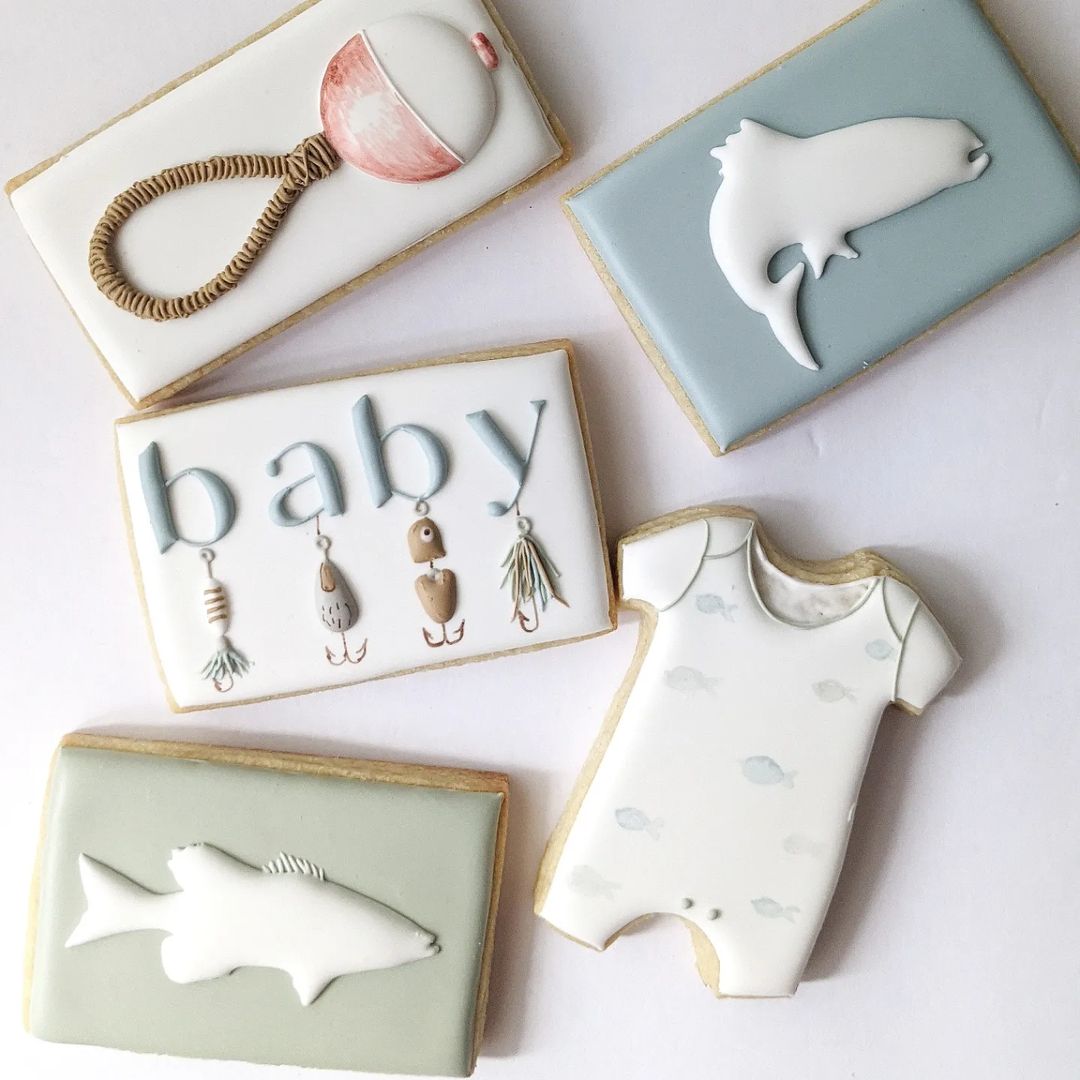 We Can Bearly Wait Baby Shower Cookies with Teddy Bears
I've done a few calculations, and I am still unable to figure out *how* it's possible to scroll a baby's name in perfect calligraphy across a miniature cookie. 🤯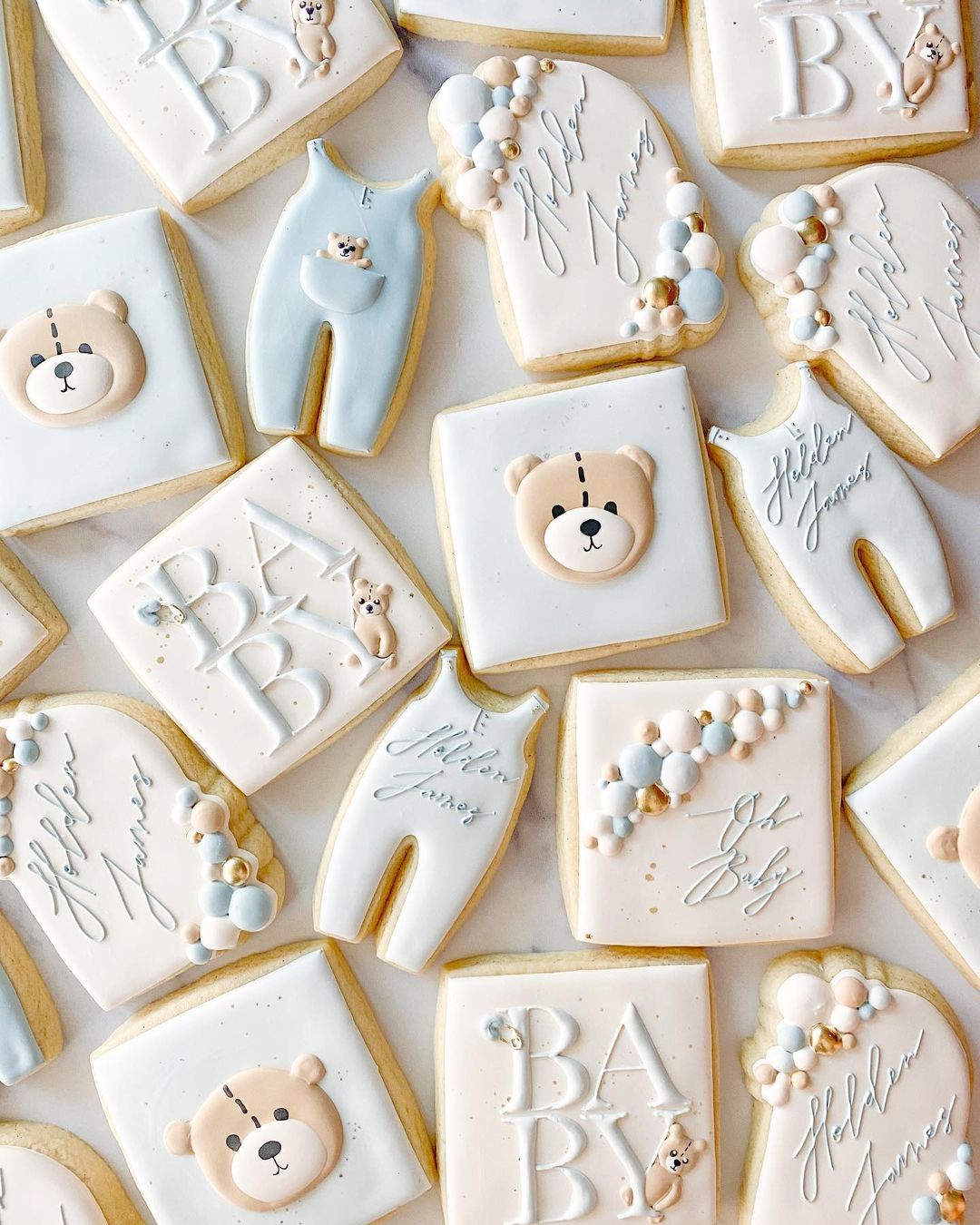 Green Watercolor Baby Shower Cookies
Have your heart set on custom baby shower cookies, but working with a budget?
Simplifying your set to one or two designs can be a great option, as we see with these super cute mint green set.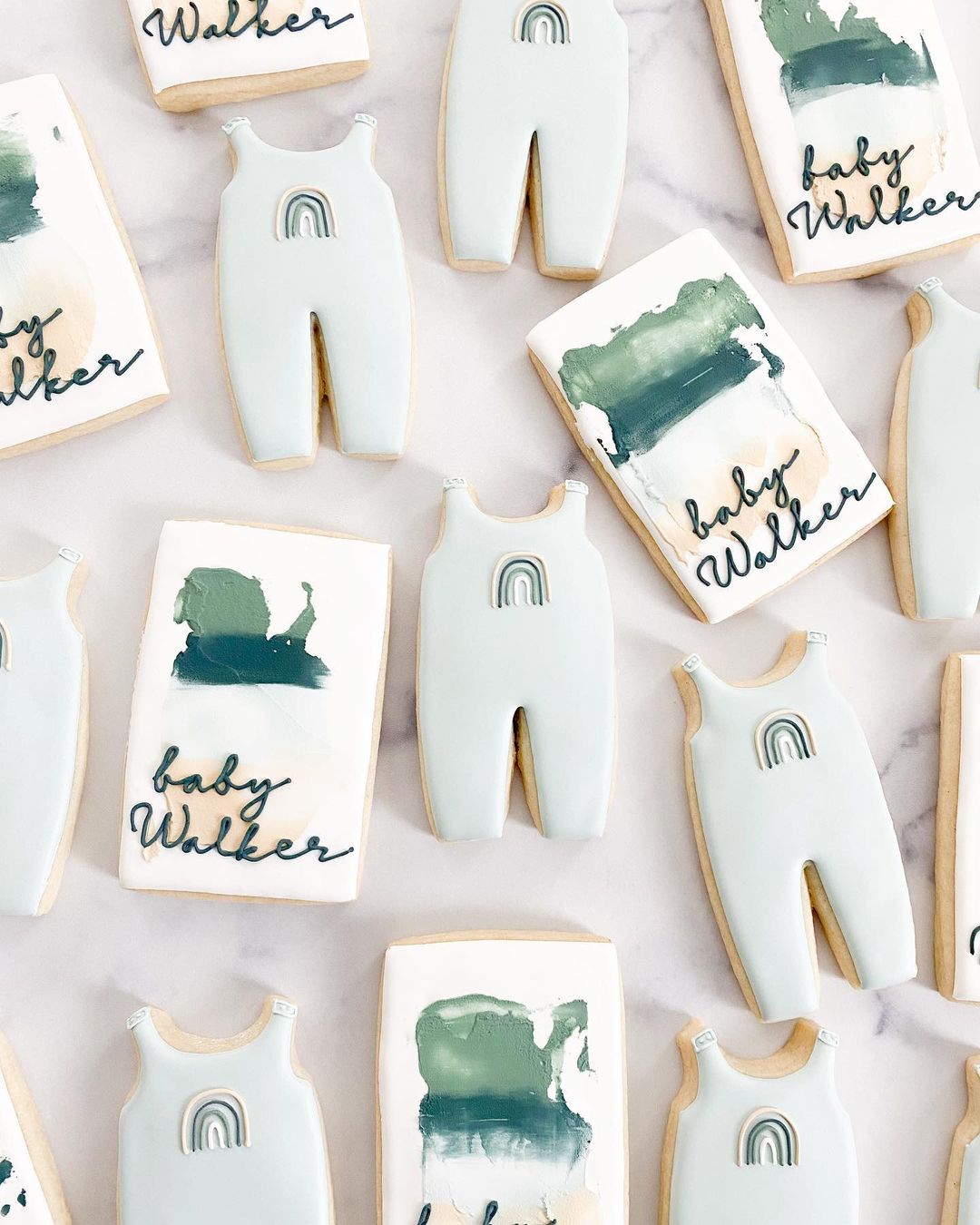 Boho Baby Block and Bottle Baby Shower Cookies
Adorable wooden baby blocks, a rattan crib, boho baby bottle and expecting mama line art make this light and airy set a boho baby mama's dream.
Whimsical Jungle Safari Baby Shower Cookies
🎵 In the jungle, the mighty jungle, the ridiculously cute but totally contemporary li-oooons sleep tonight 🎵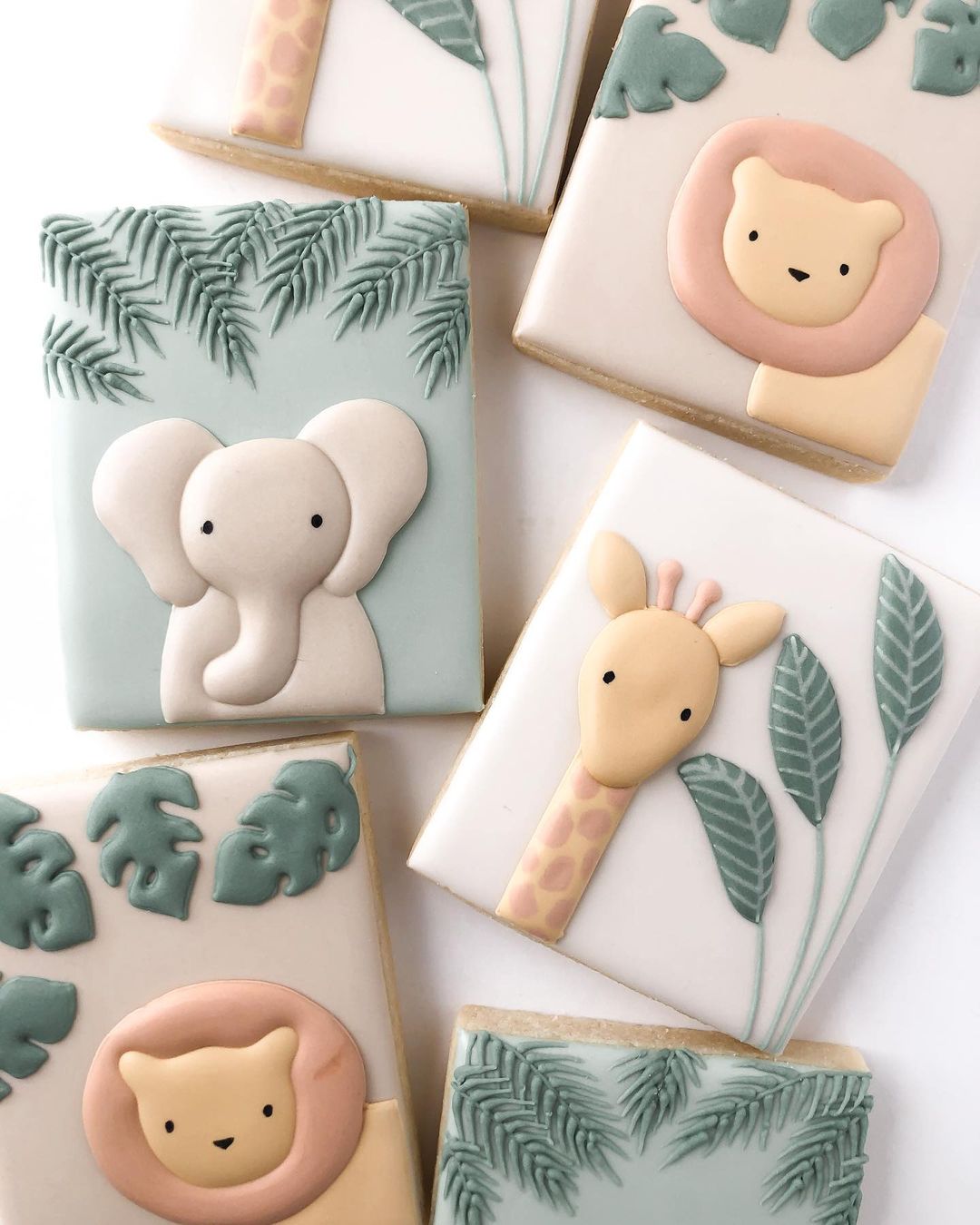 Onesie and Crib Baby Shower Cookies
These cute pink and white baby shower cookies are done with a cookie stamp and fondant, which gives a pretty embossed look.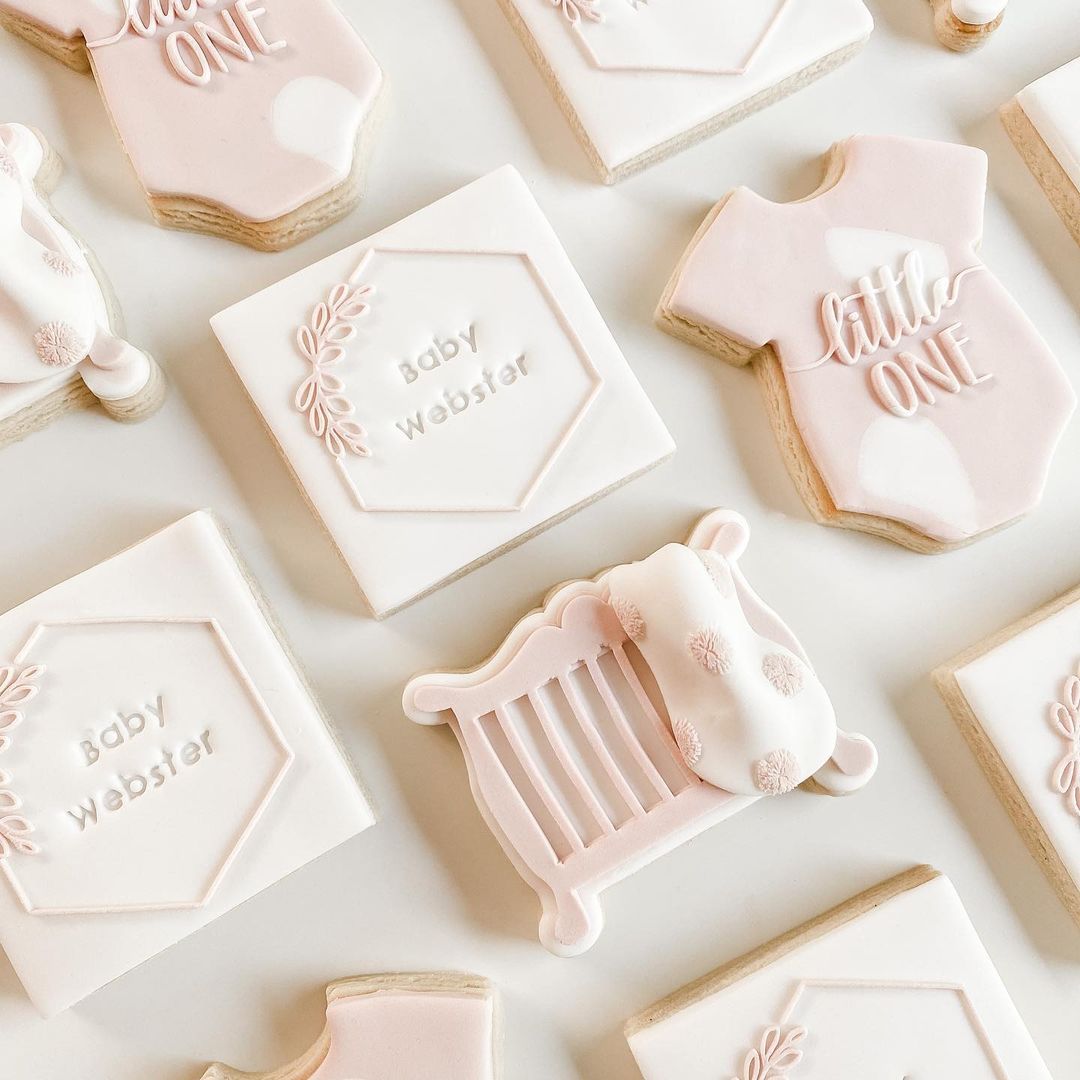 Pretty Baby Girl Baby Shower Cookies
A pretty ombré baby mobile, frilly-sleeved onesie to match and adorable, ornate baby bassinet complete with initialed baby blanket make this set complete.
This couple's furry friend even made an appearance, patiently awaiting baby.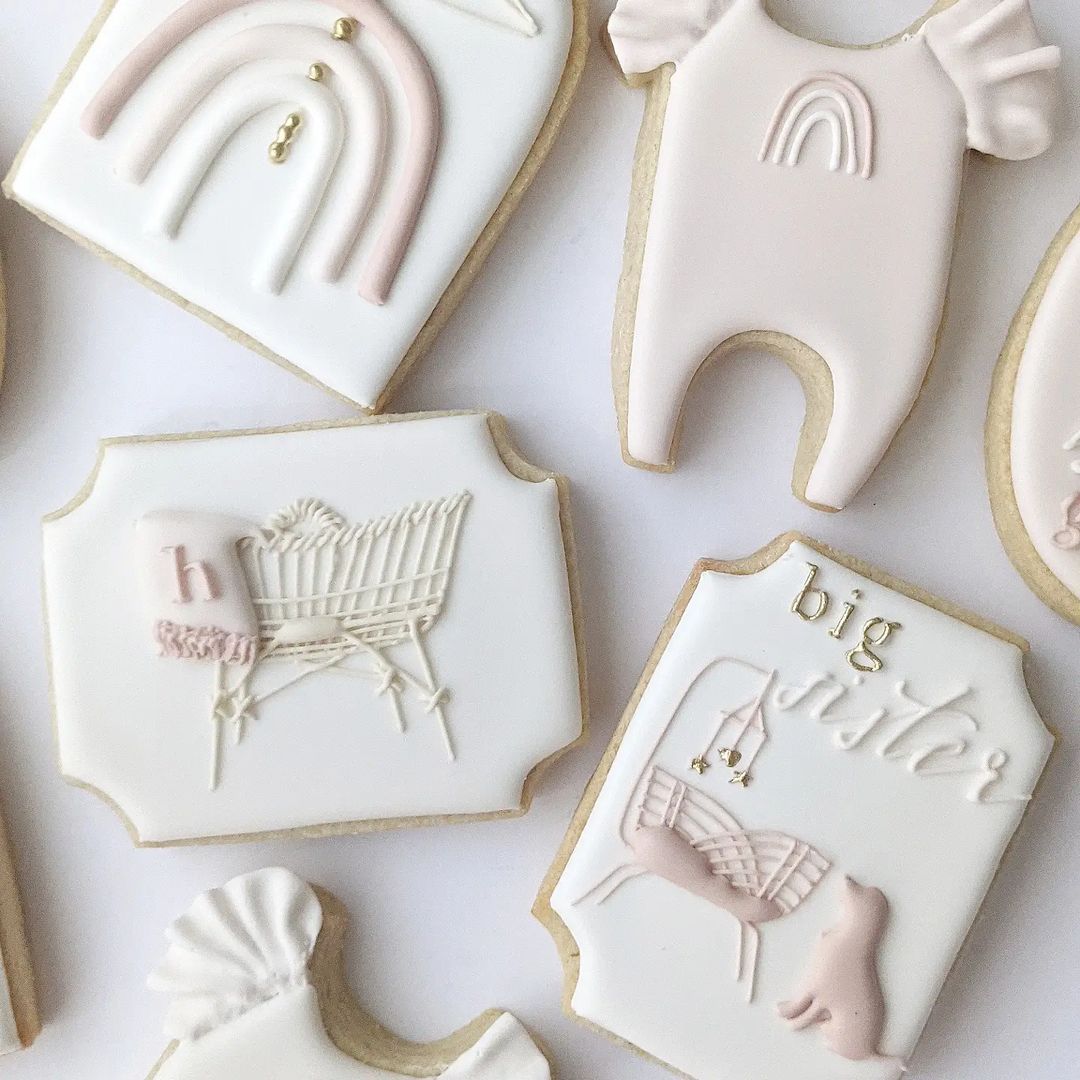 Beige Boho Baby Shower Cookies
This earthy nude, apricot, and green set of baby shower cookies includes a sweet knotted gown, rattle, and pretty boho arches decorated with both baby and mama's names.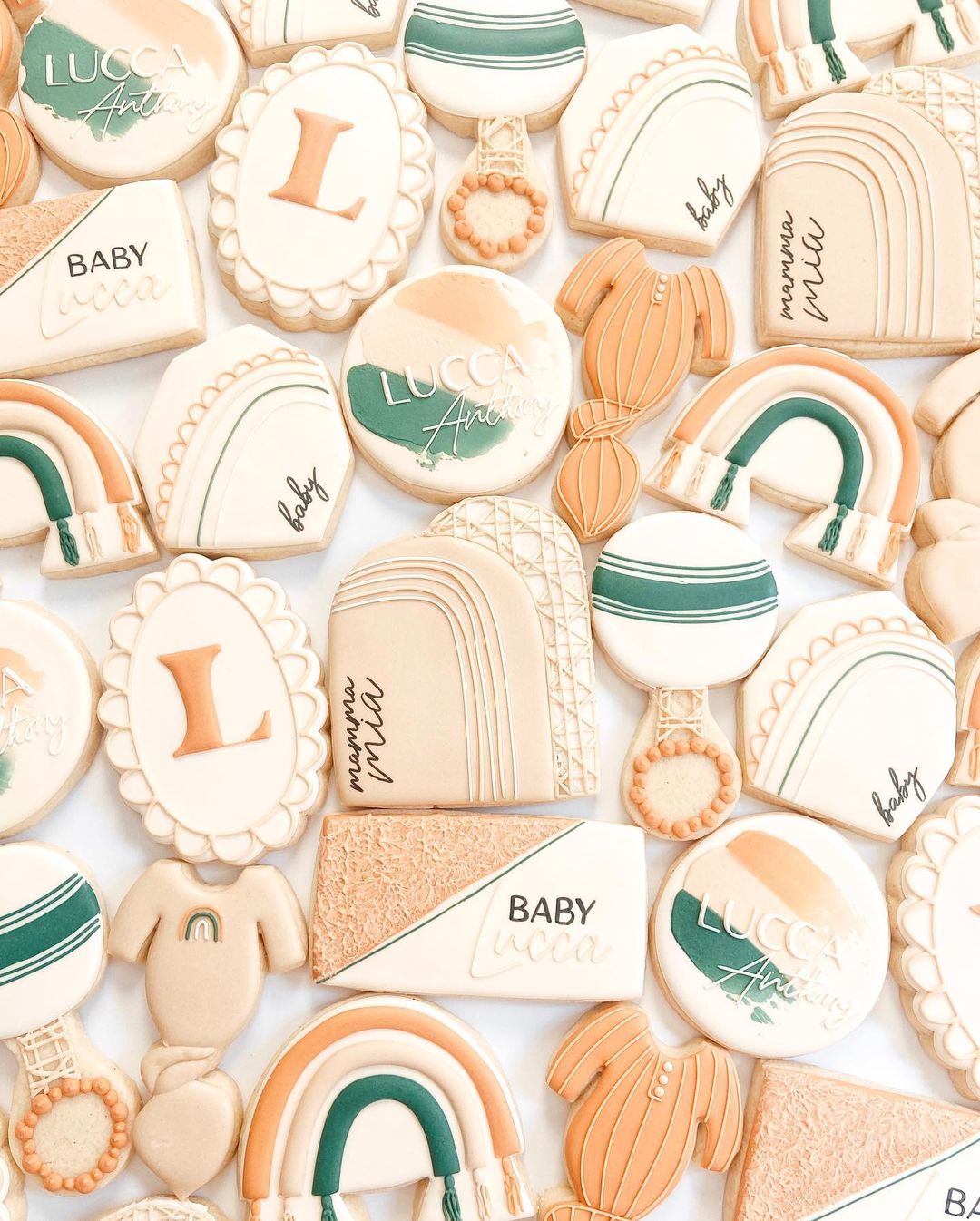 Sweet As A Peach Baby Shower Cookies
This pretty watercolor peaches and peach-painted onesies are so very pretty and the perfect addition to a Sweet As A Peach themed baby shower.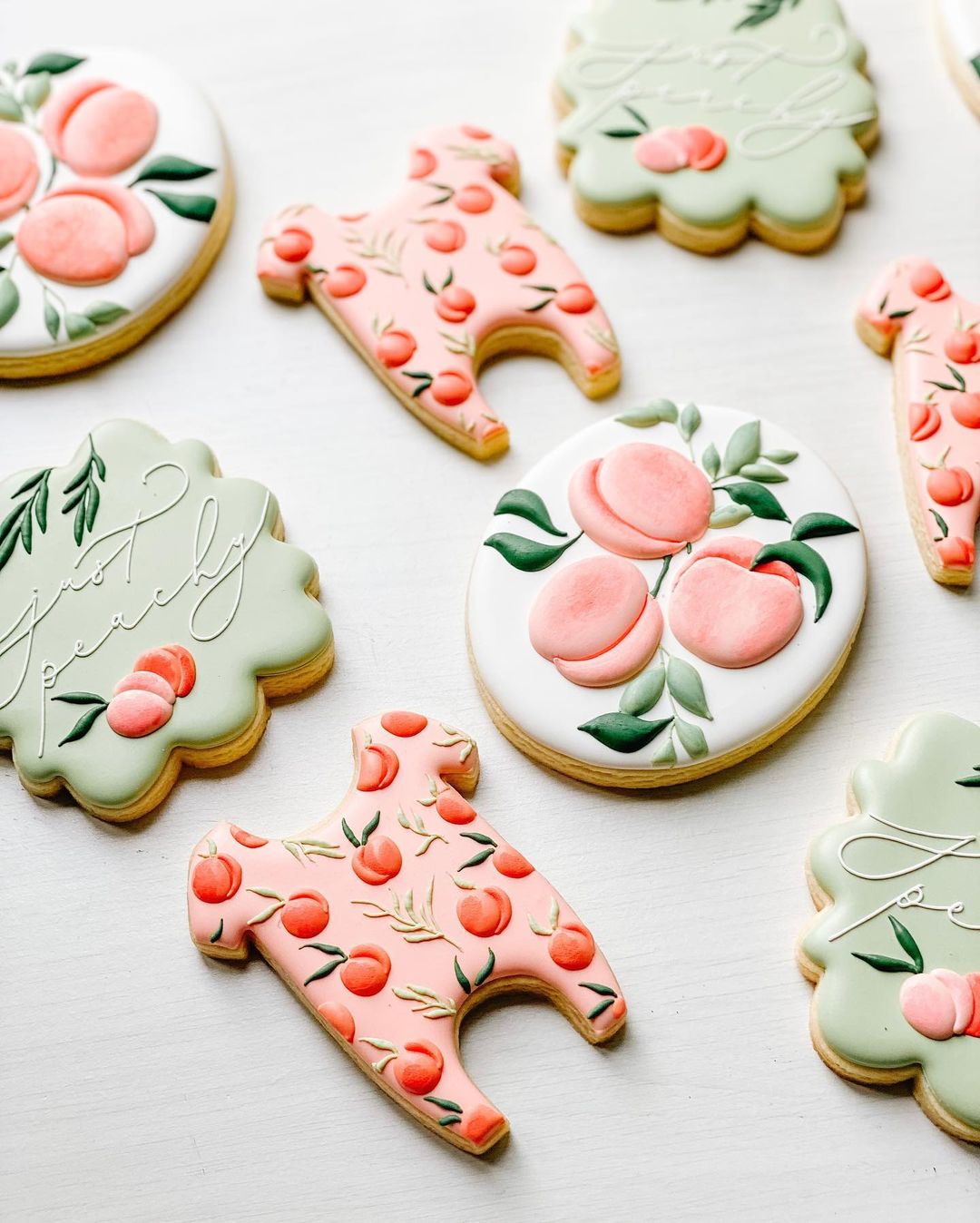 Boho Baby Boy Baby Shower Cookies
Looking for a pretty, earthy color palette? A warm, sunny deep yellow and forest green pair perfectly for a cute and cozy boho feel.
Isn't it incredible how Vickie from Slick's Sweets starts with a simple, oval-shaped cookie cutter and creates the most darling little scene of a onesie and swaddle hanging up in the nursery? The talent these designs take is just crazy!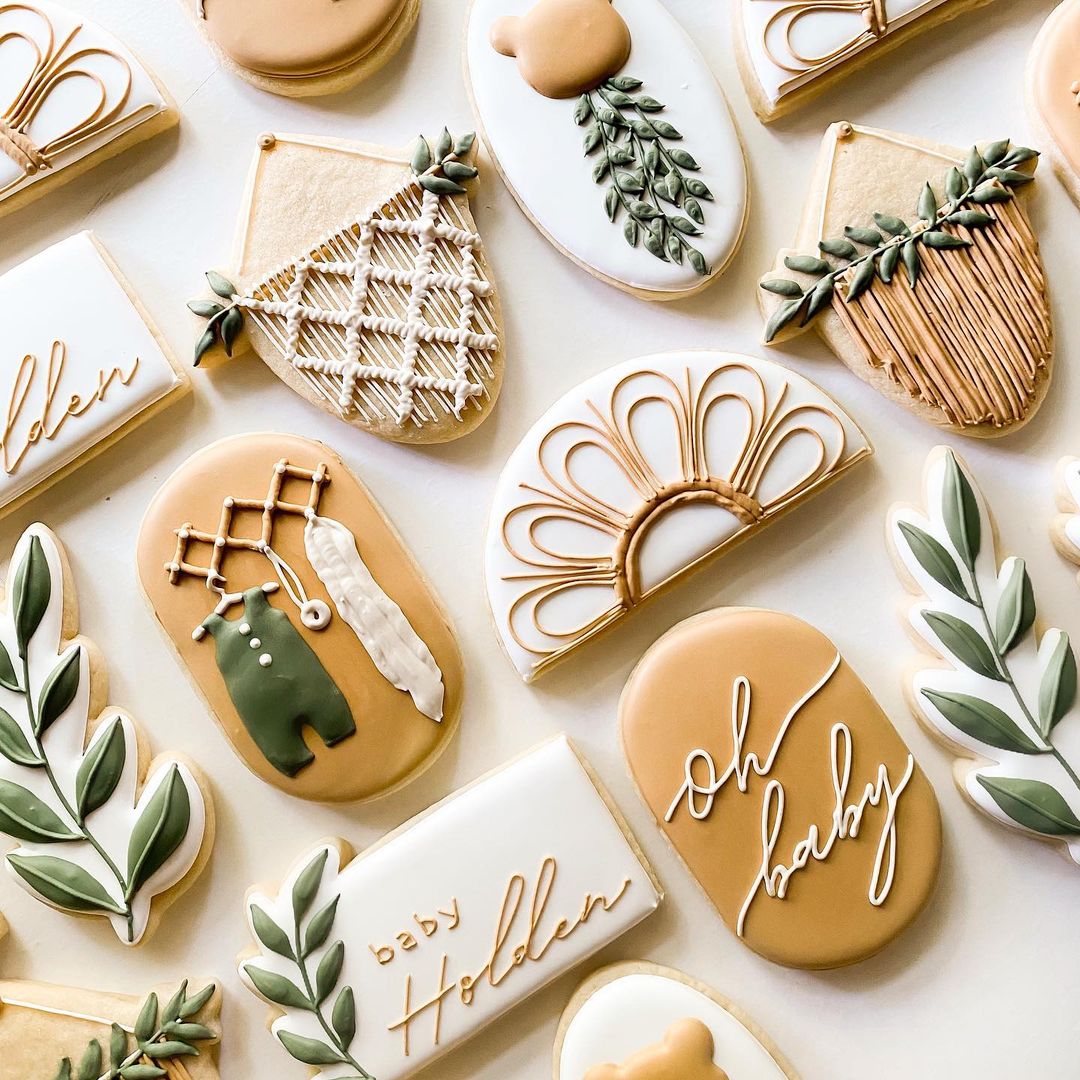 Neutral Boho Baby Shower Cookies
It's all about creamy, caramel neutrals on this boho baby shower cookies set, including palm spears, rainbow teethers and even a silhouette of the mama-to-be.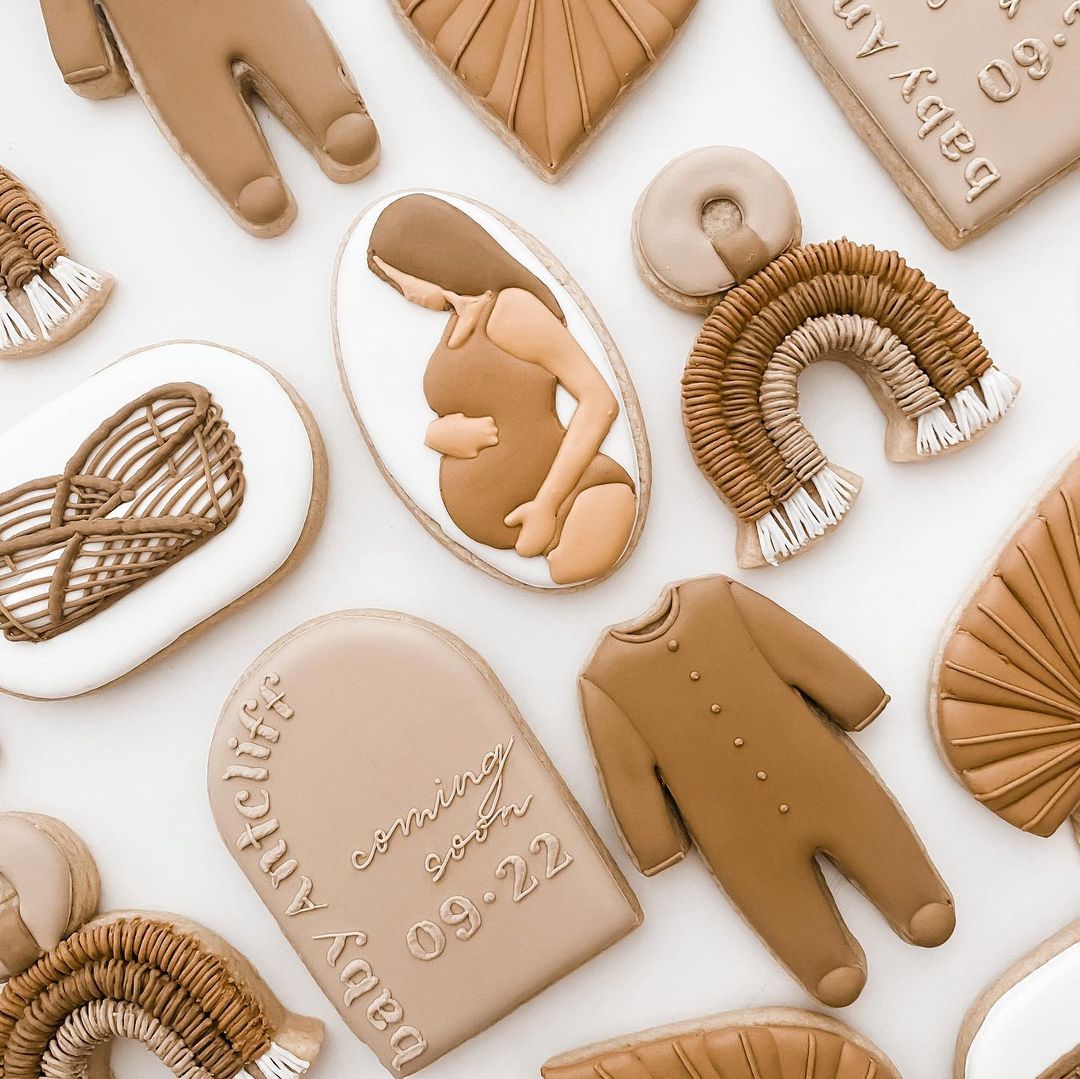 A Little Cutie Is On The Way Baby Shower Cookies
These beautiful minimalist Little Cutie-themed baby shower cookies feature two different sizes of arches, baby girl's romper and a lovely woven crib, complete with textured swaddle.
Baby Lion Baby Shower Cookies
This pretty, neutral nude and green set or baby shower cookies includes an adorable little initial rattle, a whimsical baby lion, greenery, and a cute boho pampas-embellished baby plaque.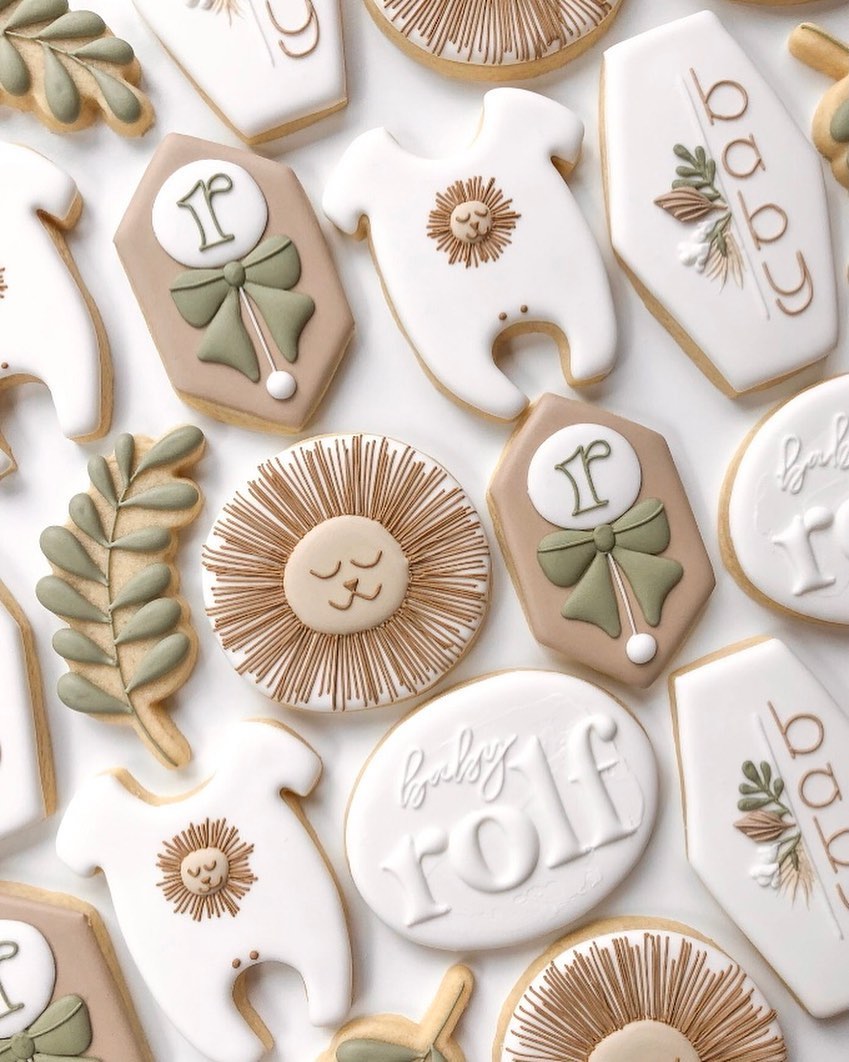 Read Next:
✨ 21+ Simple and Stunning Baby Shower Cakes for Boys
✨ 15+ Unique and Adorable We Can Bearly Wait Cakes for Baby Showers
✨ 29+ Unique and Useful Baby Shower Gifts for *Mom* (Not Baby!)