This post contains affiliate links.
Wondering what to pack in your hospital bag?
In this hospital bag packing guide, I'll be sharing exactly:
✔ what to pack in your hospital bag (for both mom and baby)
✔ why you need each item
✔ my favourite brands and baby gear must-haves for your hospital bag
✔ what *not* to pack in your hospital bag
✔ a hospital bag checklist printable PDF
Let's dive in –
The A-Z Hospital Bag Checklist
01.

What To Pack in Your Hospital Bag for Mom

Pyjamas (breastfeeding-friendly)

Before actually needing to wear pyjamas, and breastfeed at the same time, I didn't really understand the need.

The problem that comes up is that if you typically wear a t-shirt or "nighty" (extra long t-shirt) to bed, when you pull it up to feed bubs, you're stuck having to hold it there, or take it off (which is usually cold and uncomfortable).

What works a lot better is pajamas that you can unbutton or easily pull down from the top. These classic button-up pj set is super popular with new moms and sooo soft and comfy. You could also wear strappy low-cut tank top (not crew neck) that you already have and love, or something like these super versatile nursing tanks.

Nursing bra & tank

Nursing bras and nursing tank tops have a little clip right at the base of the strap in the front that allows you to unclip the fabric part and pull it down, so that just your one breast is out.

Owning this basic (and super affordable!) set of nursing bras is basically a rite of passage for all moms 😆 (you need to add to cart rn if you don't have these yet – they're great for pregnancy, too!).

Besides these basics, there's also this gorgeous nursing bra that I love, as well as this *really great* 2-in-1 nursing and pumping bra, that I wish I had known about.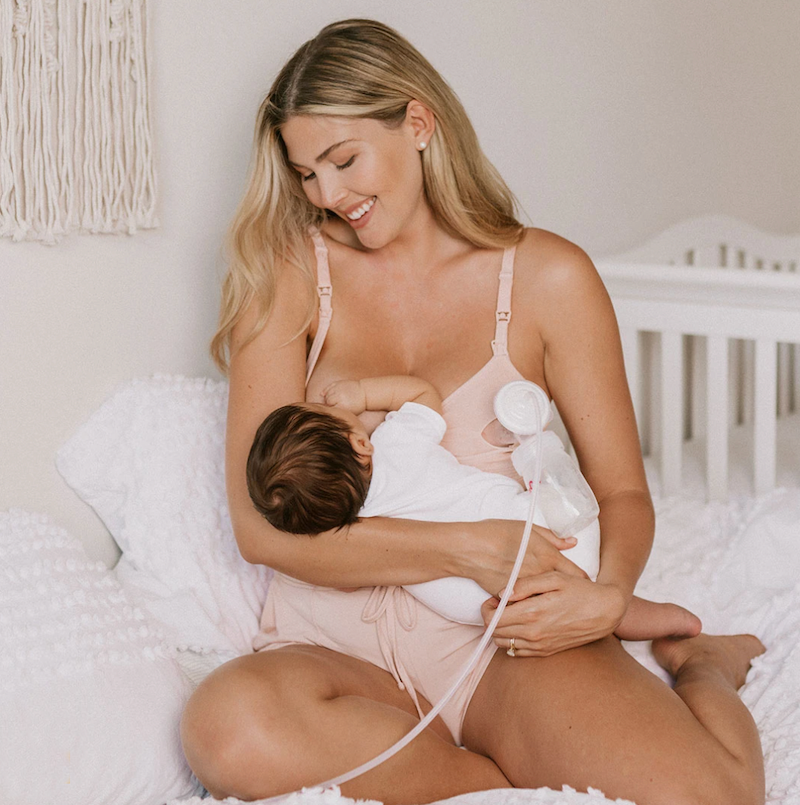 Kindred Bravely Sublime Hands-Free Pumping & Nursing Bra ($52.99)
Robe
While I was pregnant, I developed preeclampsia and ended up having to be induced at the hospital. I was given Cervidil as the first phase of my induction, which requires you to stay at the hospital for a number of hours while it works.
I was so thankful that I had packed my fuzzy robe to keep me warm and cozy and I definitely recommend you get one too!
Not only was it easier and comfier to layer on on top of my hospital gown, but I also folded it up later and used it to pad my pillow a bit.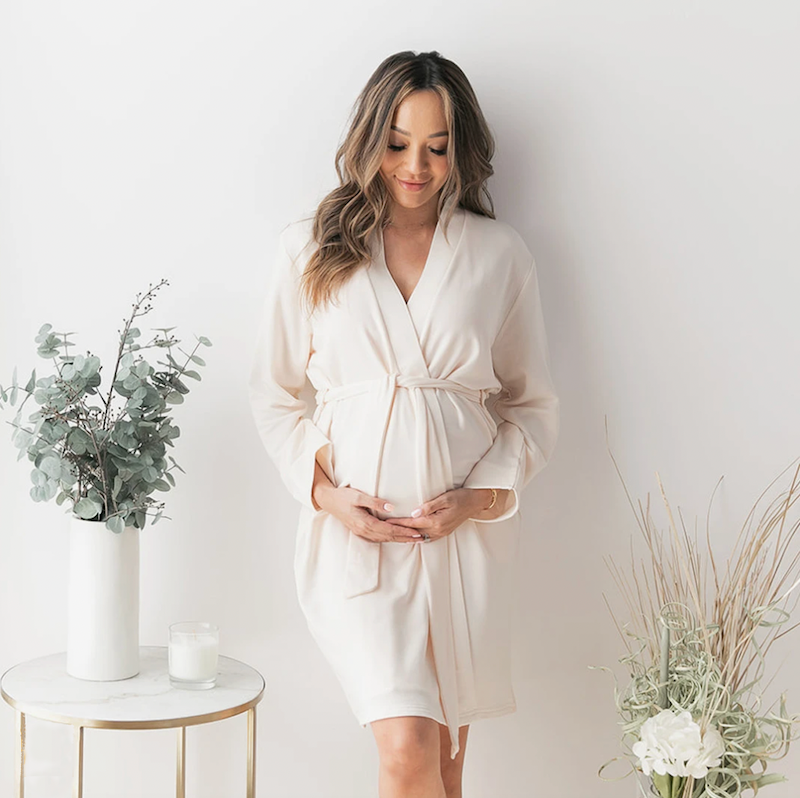 Kindred Bravely Gabriella Cozy Robe ($59.99)
When babies are first born, it's also very important for them to have skin-to-skin contact, and my robe was perfect to wrap around both of us when my little guy was snuggled up on my chest.
Slippers
For the first few days after giving birth, the name of the game is rest, relax and just soak it all in. A pair of cozy slippers with a hard sole (not the ones that are like thick fluffy socks) will give you something easy to slip on to move around your room or even go for a short walk around the ward.
These ones are super cute and comfy and may even be the one thing that can make you feel remotely put together in those first few nights.
Amazon Women's Cross Band Slippers ($21)
Socks
Find a few of your favorite, cozy pairs of socks and add them to your hospital bag – they'll be super handy if your feet get cold at night or while you're recovering in your room.
Lounge pants & shorts
A couple of pairs of comfy lounge pants, or shorts, depending on where you live and what time of year you'll be having your baby. I would recommend packing at least one pair of each, as you really don't know how warm or cool your room will be.
Keep in mind that you really can't predict how your labour and delivery will go and that there is always the chance of a c-section (if that isn't already part of your plan).
If that does turn out to be the case, you will definitely want to make sure the clothes you pack are loose and higher-rise. For example, you would want to avoid compression-style tights and opt for more of an athleisure style.
Kindred Bravely Bamboo Maternity & Postpartum Joggers ($59.99)
Lounge tees
You'll want a few tops to wear while you're being monitored in the hospital after your birth, so pack 2 or 3 tops that are loose and comfortable.
If you're planning on breastfeeding, here are some tops that work well:
a loose, low tank top
an oversized off-the-shoulder top
or a henley top
Sweatshirt or cardigan
Again, you're not in your own home, so it isn't so easy to quickly adjust the temperature.
Pack some type of warm top that you can layer on, either during early labour, during recovery or for the way home.
Going home outfit
Leaving the hospital with your sweet little baby for the first time is such an incredibly special memory that you'll want to feel good for, and you *definitely* need to have someone take a few photos of you and your hubby and babe before you leave.
You'll probably still be swollen and sore, so pack something loose, comfortable, and high-waisted, so that it won't aggravate your incision if you have a c-section.
Some great options for going home outfits include:
high-rise maternity leggings, nursing tank, long cardigan
high-rise maternity leggings, oversized tee
cute sweatsuit set
casual, loose t-shirt dress
comfy joggers and a top
This bamboo set is sooo comfy and would be perfect –
Kindred Bravely Bamboo Maternity & Postpartum Joggers ($59.99)
Toiletries & Personal
I genuinely can not tell you what was better: the first time brushing my teeth after labour, or my first shower. What I can tell you: they were both so good.
How much toiletry items you pack will depend on your own preferences, obviously, for just keep in mind that you literally will have just had a baby (and you will be tired, sore, and have your hands very full with a new baby!).
When it comes to your makeup and hair, a low-key, natural look is definitely most mama's go-to, but as I'll mention later – you'll want to take some photos of this special time so bring whatever you need to feel comfortable.
Here's what I recommend for toiletries:
Toothbrush & toothpaste
Face cleanser
Face lotion
Hairbrush
Shampoo
Conditioner
Deodorant
Makeup
Hair spray
Dry shampoo
Blow dryer + flat iron
(Packing your makeup bag? You need to check out the best cruelty free concealers over on the Melissa Jane Lee blog!)
Shower towel
The Christmas while I was pregnant, my aunt gifted us the most fluffy, oversized, luxurious bath towels ever. You'd better believe that was one of the first things I packed in my hospital bag.
And thank God!
When we finally got to the postpartum ward, my husband had asked for a shower towel and was handed what I thought was legitimately a face cloth.
So, be sure to pack your own shower towel in your hospital bag!
Flip flops
Because warts are contagious. 😅
Contacts, contact case, contact solution & glasses
If you wear contacts or glasses, you'll most likely be wearing your glasses for the most part in your recovery room, but you may also want to pack your contacts and solution as well as your glasses if you wear them.
Medications
Be sure to pack the medications you regularly take, as well as your prenatal vitamins, which you'll keep taking while breastfeeding. If you don't want to bring the whole bottle, pack enough for a week to be safe.
ID & health card
You will need a piece of photo ID as well as your health insurance info.
Birth plan
It's a good idea to have a paper copy of your birth plan – the set of preferences you have for your labour & delivery, should everything go to plan.
But, you know what they say about birth plans…
don't get too attached! 😅
At the end of the day, your goal should be for a healthy mama and healthy baby!
Labour gown
This item is definitely optional and not something I packed.
While the hospital does provide you with a gown, some mamas either get one as a gift, or just prefer to choose one themselves so that they feel more put together for the quintessential brand-new-baby photo.
How cute are these ones –
Kindred Bravely Universal Labor and Delivery Gown ($39)
If you want to bring your own, don't forget to pack it.
Labour socks
While in labour, because they want to make sure mama and baby stay safe and don't take an accidental spill, hospitals will require that if you are moving around with socks on, that they have little grips on the bottom.
Essential oil
I really loved this calming blend during my pregnancy, especially to help with my pregnancy insomnia (I shared all of my tips here!). I also brought it with me to the hospital and found it comforting during labour.
Labour playlist
Depending on how your labour goes, a calming, encouraging playlist can be very helpful.
Lip balm
Maybe it's from all of the very intense breathing you'll be doing or just the dry air in the hospital, but lip balm is definitely an essential.
Scrunchie or clips
You will definitely want to be able to tie your hair back so remember to pack some hair ties or clips in your hospital bag.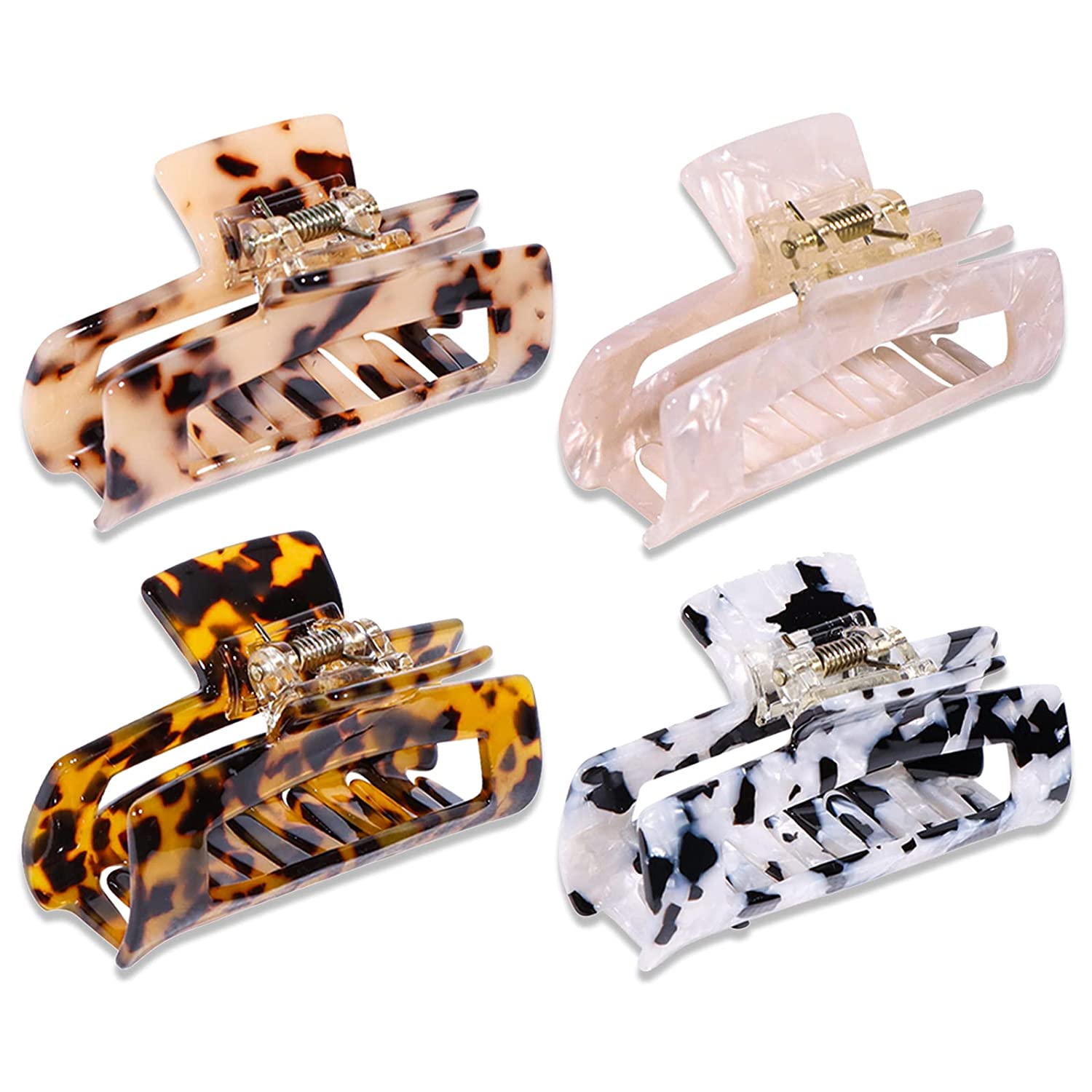 Magicsky Large Hair Claw ($12.99)
Postpartum underwear
The hospital will provide mesh panties (really thin boy short-style underwear that you wear with a very giant pad) postpartum, but I preferred wearing this postpartum underwear.
They're just like underwear, but the whole thing is lined so that it doesn't leak (it is common to bleed for 2-6 weeks after giving birth both vaginally and via c-section).
They're really the lowest maintenance, most comfortable option.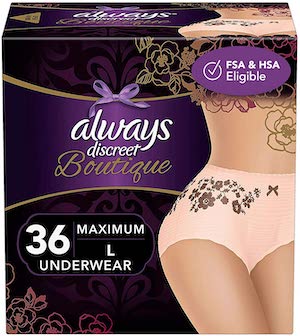 Amazon Always Discreet Postpartum Underwear, 36 Pairs ($31)
Big travel tumbler
If you're planning on breastfeeding, consider yourself warned –
you will experience a thirst unlike anything else. I'm talking stranded-in-the-desert thirst.
While nurses will come in every few hours and offer you water, there's going to be a number of times that you'll be left high and dry.
I recommend packing a big (20 oz+) insulated tumbler with a straw (I love this one!) so that you can stay hydrated.
Pillow
Yep, I brought my own pillow! There is nothing worse than having to sleep somewhere that isn't your home and getting stuck with a pillow that just isn't right. Having a sore neck the next day sucks and I really didn't want to have to deal with that. One brilliant hack that I read somewhere was to bring a non-white pillowcase so that you can keep track of which is yours, amongst the sea of limp hospital pillows.
Eye mask
Even when all of the lights are off in your room, there is often a window in the room that lets in light from bright hallway.
Blanket
Star this one, ladies! Besides the fact that it was fa-reeezing throughout my hospital stay (it was -40 degrees outside!), the hospital sheets and blankets that are provided are super thin and really not very comfortable. For these reasons, the fluffy throw blanket I brought from home was possibly one of the most *essential* items of my whole stay! Besides being super useful (necessary) for the cold, it also made me feel that much more comfortable and comforted because of the extra weight to it. Def recommend!
Journal + pen
If you're the type that loves using the calendar and notes app on your phone, then you can definitely cross this item on your list.
I, however, am not one of those people.
Whether to scratch down how completely overwhelmed with joy you are (and how you're pretty sure your heart may *actually* burst any moment) — or to keep track of how much, and when baby's eaten (which is important), a notepad or journal and pen is def handy.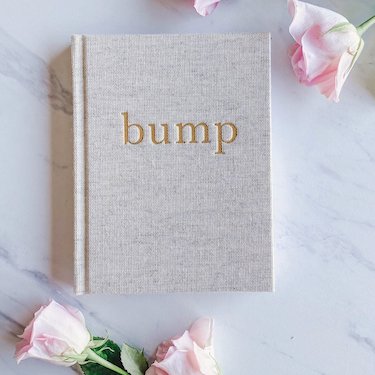 Nurtured 9 Bump Pregnancy Journal Keepsake ($36)
Big zip top bag
While you're at the hospital, they will provide you with a number of super important documents and keepsakes like pamphlets with breastfeeding resources, and your baby's name bracelet and the name card they put on their bassinet.
A big zip top bag is great because it keeps the items together, clean and dry and makes unpacking that much easier.
(New mom hack: Instead of one of those overpriced "wet bags" you can buy at the baby stores, I always keep a few of these in my diaper bag to store soiled clothes on the go.)
Long phone charging cord
Your phone is going to be used a lot while you're at the hospital.
I mean, it's only one of the most important days of your life, right!?
Amazon Basics 6 Ft Rose Gold Charger Cable ($14.99)
The odds that a regular phone charging cord will reach from the outlet to your bed are almost zero, so make sure you grab an extra long charging cord and pack it in your bag.
Laundry bag
If you end up being at the hospital for longer than a day, a laundry bag to keep your dirty clothes separate, and out of the way, is super handy.
A larger reusable shopping bag or tote will work fine.
Snacks
For some ideas on what to pack, check out this list: 25+ Easy and Delicious Snacks For Your Hospital Bag
02.

What To Pack in Your Hospital Bag for Baby

Pyjamas

If you haven't already come across one of the most classic first-time mom questions yet, it's definitely whether you should be buying pjs with snaps or zippers.

I personally like both for different reasons, but for those first few days, I would recommend packing zipper pjs for your hospital stay – they're just easier to get on and off in a dimly lit hospital room in the middle of a (sleep-deprived) night.

As for which sizes of pjs to pack for your baby, because you won't know how big your baby will be, it's important to pack a few options in both sizes: newborn (NB) and 0-3 months. I recommend 2-3 zipper pjs in NB and 2-3 in 0-3 months.

Unless you have a special photo planned, you really don't need to bring any special outfits or "regular" clothes – your baby will be sleeping, feeding and swaddled up tightly for pretty much your whole hospital stay.

I've put together a list of all of my very favorite bamboo baby sleepers here – if there is one item you NEED to splurge on, it's finding the softest, most special first little outfit for your baby.

Swaddle sacks

I recommend packing one of these swaddle sacks as well as one of these ones.

The first swaddle sack was recommended by a girlfriend of mine who was just too tired of having to do the whole classic swaddle folding routine every time she had to change baby.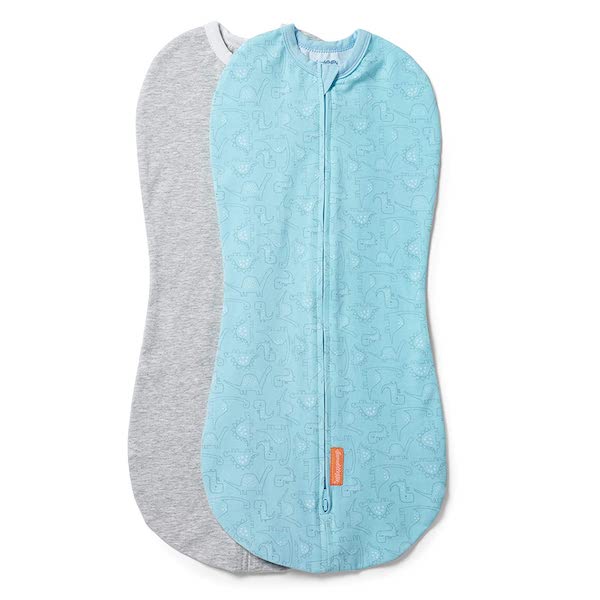 Amazon SwaddleMe Pod, 2 Pack ($24.99)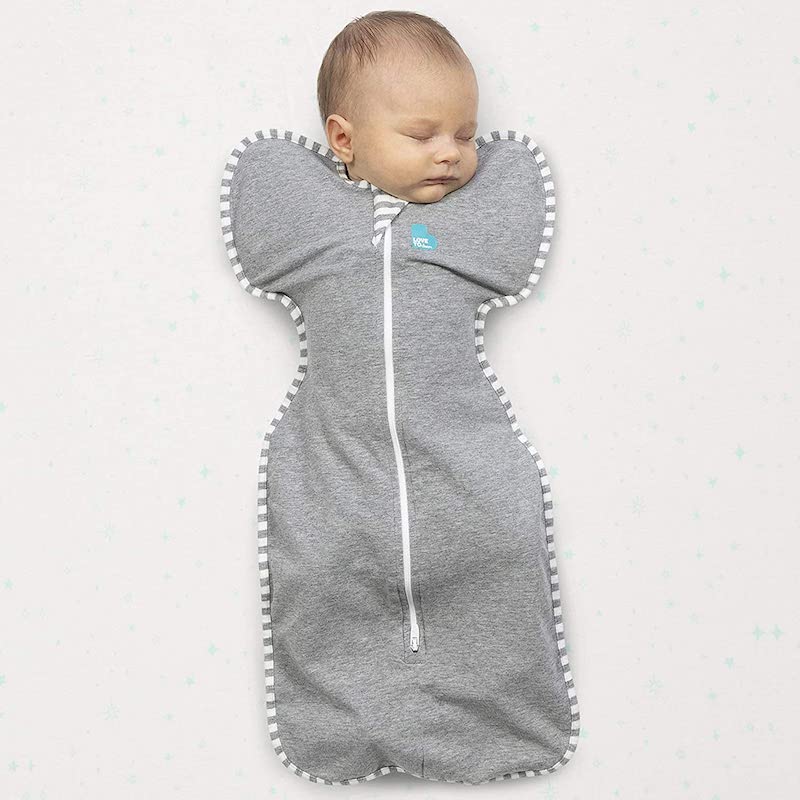 Love To Dream SwaddleUP ($39)
It's a small, snug cocoon (smaller than any other swaddle sacks I've come across from the big box baby stores) that zips up really easily, which is just perfect for teeny little newborns.
As I mentioned, because you won't know how big your baby will be, it's probably a good idea to pack this swaddle sack too (I recommend newborn size).
It's a tad bit bigger than the swaddle pod and has a unique shape that allows baby to have their hands up by their face just like in the womb, which is really comforting for them.
Hat
Newborn babies get cold really easily, so it's a good idea to pack a little beanie for them.
While many hospitals may provide you with a light one, there are also many cute newborn swaddle sets that come with a matching swaddle and hat for baby's first picture, which is an option I really love.
Sound machine + night light
While it isn't entirely necessary right when they're first born, babies will eventually prefer, and need, white noise while they sleep.
You'll also need some light for all of the feeding and diaper changing you'll be doing overnight. Hospital lighting is so harsh, so having a low light is super helpful.
The Hatch is one of the most popular baby must-have items that I absolutely love, too.
Pacifiers
One thing you'll learn as a first-time mama is that what's practical isn't always what's cute (lol, boo).
I had gotten a bunch of pacifiers that I loved (this one, this one, and this one) and packed a few of them but our little guy was so tiny, the cute soothers were all just way too huge and heavy for him.
I'm glad I threw in this one tiny, lightweight soother that we got in our baby registry welcome kit, because it's the only one that worked for him.
So, when you're packing baby's bag for the hospital, I would recommend throwing in one small, light paci for baby to use and one of the cute ones that you love, which you can use to snap a pic with.
Wet wipes
The only wet wipes that we were provided at the hospital I gave birth at were almost like dry paper towels that you were expected to wet yourself, one by one, as needed.
Yeah, no.
The *last* thing a sore, zombie-like brand new mama needs is to waddle across a hospital room to the sink to wet paper towels every time she has to change a diaper (which is a lot in those first few days and weeks!).
If you're able to book a hospital tour beforehand, I would definitely recommend asking what, exactly, is provided in terms of supplies for babies.
If they don't supply disposable wet wipes, make sure to throw a package or two of your own into your hospital bag.
Diapers
Again – our hospital, yes, supplied diapers, but only very basic cloth diapers that you had to snap on. Because Hudson was three weeks early and so tiny, he was absolutely swimming in them, and each time he peed, it soaked through all of his clothes.
If your hospital doesn't supply disposable diapers, make sure you bring your own along. Typically, newborn babies can go through 7-10 diapers a day, so I would say packing about 20 diapers is probably a good number.
Diaper cream
Babies poop very often and if their diapers aren't changed very regularly, they can get a diaper rash pretty easily. Diaper cream is used to create a barrier between their skin and the poop in order to help prevent the rash.
Rocky Mountain Soap Company's natural baby bum balm from one of my favorite, *clean* local Canadian companies is soo gentle and moisturizing and smells so good, but any diaper cream will work.
Nail scissors
One thing that I was most surprised about was just how long my little guy's fingernails were (and how easily he could scratch himself!) These Frida Baby Nail Scissors are so awesome and have worked so well for us. We had initially bought one of those typical baby grooming kits that came with a little pair of nail clippers, but we found they were just too hard to use with a squirming baby.
Oogiebear
One of the challenges we faced in the first few days with Hudson was dealing with his congestion. This oogiebear is a must-have!
Going home outfit
Car seat
Before you leave the hospital, you'll need to demonstrate to your nurse that your car seat is properly adjusted (newborn inserts installed if necessary, head rest and straps adjusted correctly), and that you know how to strap baby in correctly. Most parents leave the stroller in the car, and just bring the actual car seat in — it's a total rite of passage and photo opp for Dad to carry baby out in the car seat once it's home time!
Car seat cover
For Photos
Birth announcement sign
Pretty swaddle
Hair bow
Other photo props
Read Next:
49+ *Important* Things To Do Before Baby Arrives (Third Trimester Checklist)
11+ Helpful Breastfeeding Tips for New Moms
29+ Uplifting and Encouraging Positive Affirmations for New Moms