This post contains affiliate links.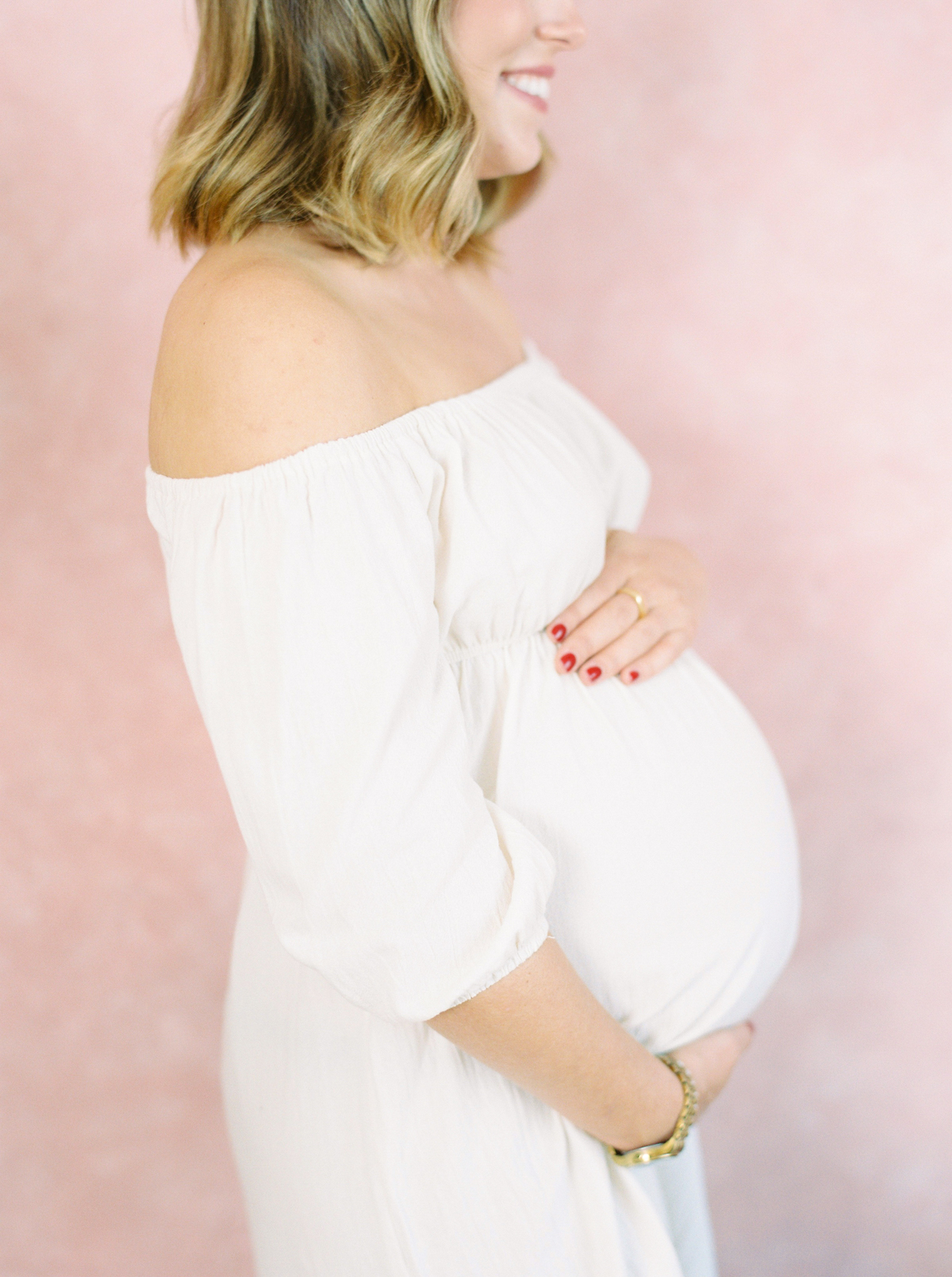 Searching for ways to plan a pregnancy announcement to family, but haven't quite come up with anything that feels right just yet?
Then you're in the right place, mama.
Today, I am excited to share some of the most fun, creative and surprising ways to tell your family you're pregnant (in person) that I think are going to totally inspire you and get those creative juices flowing.
Let's jump right in –
01.

Custom Fortune Cookies

First on our list of fun ways to tell your family you're pregnant is with custom fortune cookies.

Plan a games night or get together with your fam, order Chinese and serve up custom fortune cookies with a special message for dessert to break the special news!

02.

Hidden Message Coffee Mug

Looking or a fun and surprising way to plan a pregnancy announcement to family?

Have them for coffee and serve it up in this cheeky coffee mug with a hidden message at the bottom of the cup!
03.

A Bottle of Wine

Didn't your aunt ever teach you that you should never show up to a dinner empty-handed? 💁🏼‍♀️

Have a family get together planned sometime soon?

Grab these super cute customized wine bottle labels and dress up your favorite bottle of white to share the news.

Not sure how to make it work so it's a bit of a surprise?

Consider a cute wine bottle bag, so that whoever you hand the wine to doesn't see the label until you're ready.

Alternatively, sneak the wine bottle into the fridge, label facing out, and then ask for something from the fridge (this idea, of course, only works if someone else in your family is hosting).
04.

Donuts

Name a better way to tell your family you're pregnant than with donuts.

That's right.

You can't.

For this pregnancy announcement idea, grab a box of donuts from your fav shop, and write your news on the donuts using a small tube of icing (like this one).

For this one to work best, choose filled donuts with a simple glaze, instead of sprinkles, so that you've got a smooth surface to write on.

You can either bring the donuts over for dessert at a family get together, or, if you don't have anything planned, consider a fun ding ding drop off.

Simply leave the box of donuts on the front porch, ring the doorbell, and find somewhere to hide so that you can watch their expression!
05.

Letterboard Decor

Planning on hosting?

Write your special announcement on a letter board (this one is so cute and would make the sweetest piece of nursery decor).

Set it up in an area that your family will all be relaxing in.

The key is to try to find a spot to put the letter board that isn't too obvious, but will take them at least a moments to notice.

Once someone finally reads the sign, they'll point it out to the rest of your family as their jaw drops!
06.

Chocolate Smash Heart

Looking for a cute, custom and little bit boujee way to tell your family you're pregnant?

Have a custom chocolate smash heart made with your pregnancy announcement hidden inside!

These fun little sweets come with a tiny hammer and are meant to be broken open to reveal candies and a special little note.

To personalize your chocolate smash heart, have the ultrasound photo hidden inside, or include a small handwritten message telling your family you're pregnant.
07.

Pizza

I scream, you scream, we all scream for… pizza!

Invite the fam over for a casual hang out, and order pizza from your favorite spot in town.

For this one to work, you'll need to call the pizza place ahead of time and work through the details with them.

Ask the pizza shop if they could spell out something short and simple like "oh baby" with pepperoni or one of their sauces like ranch.

In order to make it extra clear, tape the sonogram or a piece of paper with your message printed on it to the inside of the pizza box lid, and let someone in your family dig in first to reveal your secret. 🍕
08.

Socks

Pregnancy is hard, so take it easy.

Thankfully, the only energy this pregnancy announcement idea requires is hitting the buy now button.

Grab a pair of these cheeky preggo socks, and find somewhere comfy to kick your feet up while you're visiting with fam.

Snacks optional. 🍿

But recommended.
09.

Mugs

This was how I personally told my brother and sister-in-law that we were (finally🥲) pregnant!

It just so happened that we were going over to their place the week of his birthday, so we were able to bring the little gifts without raising suspicion and ruining the surprise.

I picked up a matching set of Best Uncle Ever and Best Aunt Ever coffee mugs, wrapped them up for each of them, and just said it was part of the birthday gift.
10.

Cookies

Next up, another *sweet* way to announce you're pregnant with your family: custom sugar cookies!

You can try looking on Instagram to find a local sugar cookie pro to bake you up something special, or consider ordering pregnancy announcement cookies through Etsy.

I love this idea so much, I put together an entire collection of my favorite, creative pregnancy announcement cookies here.

(You *have* to check out the cookies that are actually hollow, and filled with sprinkles and a tiny note!)
11.

Wine Glass Charms

Does your family love a good glass of red?

These pretty, customizable wine charms are such a fun way to tell your family you're pregnant!

Instead of having their name printed on them, choose their new title like Grandma or Auntie.
12.

Mystery Letter

Okay, if you're looking for a really great way to tell your family you're pregnant, and to make sure they're surprised, try this idea.

Plan a time to visit your family without mentioning anything out of the ordinary.

Get a standard white envelope and write the name of whoever's home you are at, on the envelope (try having a friend write it, or use your non-dominant hand so that they won't recognize the handwriting!).

When you get to your family member's home, bring the envelope in, saying that it was on their doorstep.

Inside of the envelope, include either put a copy of your sonogram photos, or get a little card made with your announcement.

To make it extra special (and messy 😅), include a handful of some fun confetti (this "baby" confetti is literally adorable).
13.

Send The Stork

Want to keep it classic? Let this cute stuffed baby stork break the news to your family by printing a small note and attaching it to the front of the stork.

Not sure what to write? Try "See you soon, when baby (name) is due!"
14.

Dog Bandana

I mean, how cute is this little doggy bandana?

Why not get your furry family member to let the gang know you're expecting by dressing them up in this cute bandana or "soon to be big sister" doggy baseball tee?
15.

Cinnamon Buns

Next up, the pregnancy announcement idea that I used to tell my husband's extended family we were expecting!

This one is a fun play on the more traditional phrase "bun in the oven".

Simply buy a box of cinnamon buns and tape the ultrasound image to the inside of the lid, along with a cute message.

On ours, I wrote:

…And another one in the oven!

Baby Frederick due March '21
16.

Games Night

If your crew is into games, this pregnancy announcement idea is such a fun one.

There are a number of games you could play, but Telestrations, Cranium and Speak Out would be my top picks.

Another really cute idea I saw awhile back that I loved was by an influencer who did a special pregnancy announcement to her sister.

She had her sister put on headphones with loud music, then would sit in front of her and say a phrase, and having her sister try to read her lips and guess what she was saying.

She got things going with a few fun, unrelated phrases, then after a few rounds, said "I'm pregnant".
17.

Bowl of Eggs

Have a potluck planner any time soon?

Fill a pretty serving bowl, with eggs, and add it to the spread.

To make them really stand out, you could consider dyeing the eggs bright colors, or decorating them with stickers (this obviously works best around Easter).

When you find a moment where there's a bit of a crowd around the table, have someone ask about the eggs (which will look a little out of place with all the other complete dishes), and answer enthusiastically, with "we're egg-specting"!

Keep your sonogram photo in your back pocket and pull it out when you tell them.

(For this one to work, you'll need to rely on having someone in your family to ask about it while everyone's dishing up.

You could consider telling someone like your sister individually, before the rest of your family, and having her comment on the eggs.

If you'd rather make your pregnancy announcement to all of your family all at the same time, you could have your husband play dumb and ask about the eggs himself!)
18.

T-Shirts

Tell your family you're pregnant with cute matching t-shirts.

Wear a mama-to-be tee under a warmer layer, and take off your sweater when you're ready to break the news.

If you've already got a little one, this adorable b for big brother t-shirt is my favorite.
19.

Slideshow

You know how pals used to get together in the good ol' days and gather around the projector, watching a reel of photographs from a recent trip?

Consider using this as a jumping-off point while planning your pregnancy reveal to your family!

Have you *finally* gotten a post-pandemic trip in?

Maybe you did some super neat project around your home that you haven't showed your family yet.

Try to get creative in finding a reason to share a video or some photos with your family, then at the very end of it, add your sonogram with a cute message, and wait for the jaws to drop.

If you're not so sure on setting the images up on a screen, try just flipping through images on your phone, with the last image being your special announcement.
20.

Sneaky Sonogram

Are you hosting?

Tape your sonogram photos along with a little note card, to the inside of a kitchen cupboard, and ask your mom or dad to hand you something from that spot.

When they open the cupboard, they'll see your surprise and point it out to the rest of the family.
21.

Hidden Message Candle

Prefer to gift your family members something special for your pregnancy announcement?

These custom candles have a hidden message that is revealed as you burn them!
22.

Scratch Tickets

Okay, now this is such a fun little way to set up a pregnancy announcement to family.

Grab these surprisingly very real looking lotto scratch tickets and hand them out to the fam.

I love how these ones in particular don't share the secret until the very last square is scratched.
23.

Both Bellies

Is your sister-in-law already pregnant?

If you're the second one in the family that's preggo, ask to take a photo with the baby mama to be, with your hand on her belly (but make sure you ask her first!).

After the photo is taken, say

"One more! This time, you put your hand on my belly, too."

Shop The Post

The Best Pregnancy Announcement to Family Ideas – TL;DR
And there you have it – my favorite fun ways to tell your family you're pregnant!
Whether you love the idea of finding a small, sentimental gift to give each of your family members to mark their new role, or if you're more into the goofy, funny ways to tell your family you're pregnant, the occasion is a special memory you'll cherish forever.
I Think You'll Love:
🍼 13+ Go-To Morning Sickness Remedies That I Literally *Swore* By
🍼 25+ Literally *Adorable* Pregnancy Announcement Photo Ideas To Steal
🍼 15+ *Stunning* Nursery Board and Batten, Wainscoting & Beadboard Ideas (2022)
🍼 The Complete Baby Registry Checklist for First Time Moms [PDF]