This post contains affiliate links.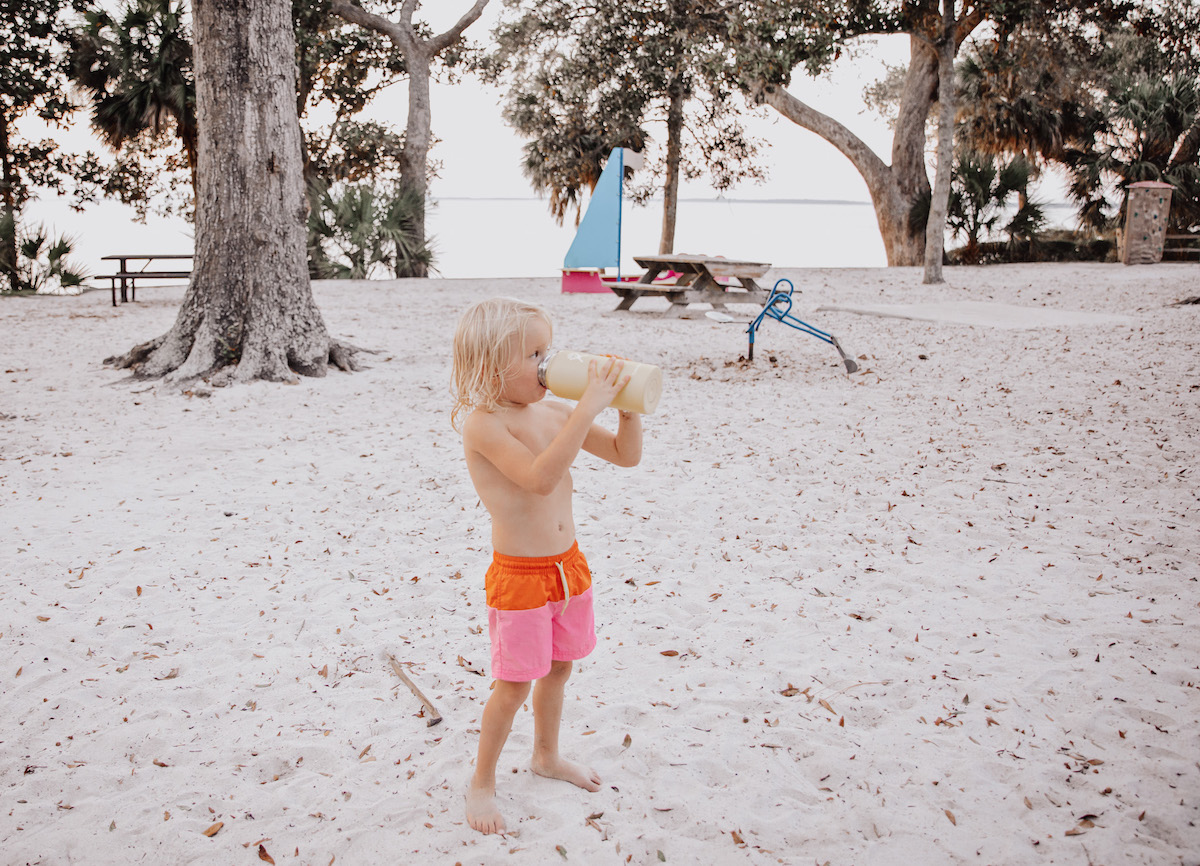 Choosing a special name for your baby is one of the most exciting rites of passage for expecting parents, but choosing a baby name that feels *just right* is actually a lot tougher than it seems.
That's why I've scoured piles of baby name books, statistics, social media posts, and YouTube videos to pull together this baby names list of my favorite nature names for boys.
For each baby name, you can learn all about the origin and the meaning of the name, as well as how popular it is right now.
The rankings we've provided are taken from the United States Social Security Administration data for 2021, which is the most recent provided.
With that, let's dive in –
The Best Nature Names for Boys with Meanings
Here are my very favorite nature names for boys:
Oak
Origin:

English

Meaning:

a tree, and symbol of strength

Popularity:

> 1000
Arden
Origin:

Latin

Meaning:

great forest

Popularity:

> 1000
Coast
Origin:

Latin

Meaning:

land near the sea

Popularity:

> 1000
Samson
Origin:

Hebrew

Meaning:

little sun

Popularity:

#590
Forrest
Origin:

Scottish

Meaning:

outside

Popularity:

#414
River
Origin:

British

Meaning:

a flowing body of water

Popularity:

#110
Hartley
Origin:

British

Meaning:

deer meadow

Popularity:

> 1000
Brooks
Origin:

German, English

Meaning:

small stream

Popularity:

#77
Roscoe
Origin:

Germanic, Old Norse

Meaning:

deer wood

Popularity:

> 1000
Everest
Origin:

British

Meaning:

dweller of the Eure river

Popularity:

#903
Briar
Origin:

British

Meaning:

thorny bush of wild roses

Popularity:

#713
Elm
Origin:

British

Meaning:

someone who lived near an elm grove

Popularity:

> 1000
Hollis
Origin:

English

Meaning:

the holly tree

Popularity:

> 1000
Iver
Origin:

French

Meaning:

winter

Popularity:

> 1000
Morgan
Origin:

Scottish

Meaning:

born of the sea

Popularity:

#612
Kai
Origin:

Hawai'in

Meaning:

sea

Popularity:

#71
Rudy
Origin:

Germanic

Meaning:

famous wolf

Popularity:

#819
Finn
Origin:

Irish

Meaning:

fair

Popularity:

#184
Bentley
Origin:

English

Meaning:

grassy wood clearing

Popularity:

#151
Murphy
Origin:

Scottish

Meaning:

sea warrior

Popularity:

> 1000
Devereaux
Origin:

French

Meaning:

riverbank

Popularity:

> 1000
Elmore
Origin:

English

Meaning:

moore with elm trees

Popularity:

> 1000
Jasper
Origin:

English

Meaning:

bearer of treasure, also a national park in Canada's Rocky Mountains

Popularity:

#128
Fox
Origin:

English

Meaning:

a wild animal from the dog family

Popularity:

#939
Garnet
Origin:

English

Meaning:

pomegranate, or a precious stone

Popularity:

> 1000
Wolfe
Origin:

English

Meaning:

wolf-like

Popularity:

> 1000
Zev
Origin:

Hebrew

Meaning:

wolf

Popularity:

#996
Wilder
Origin:

English

Meaning:

wild

Popularity:

#368
Marshall
Origin:

English

Meaning:

one who loves horses

Popularity:

#379
Bear
Origin:

German

Meaning:

strong and brave bear

Popularity:

#826
Oakley
Origin:

English

Meaning:

meadow of oak trees

Popularity:

#403
Clifford
Origin:

Old English

Meaning:

fjord by the cliff

Popularity:

> 1000
Lowell
Origin:

Old French

Meaning:

young wolf

Popularity:

> 1000
Heath
Origin:

English

Meaning:

someone who lived at a moor or heath

Popularity:

#958
Oakes
Origin:

English

Meaning:

one who lives by an oak tree

Popularity:

> 1000
Oleander
Origin:

Greek

Meaning:

evergreen tree

Popularity:

> 1000
Sterling
Origin:

English

Meaning:

little star

Popularity:

#382
Dale
Origin:

English

Meaning:

from the valley

Popularity:

> 1000
Linder
Origin:

German

Meaning:

lime tree

Popularity:

> 1000
Weldon
Origin:

English

Meaning:

from the hill near a spring

Popularity:

> 1000
Easton
Origin:

English

Meaning:

East town

Popularity:

#70
Alder
Origin:

German

Meaning:

alder tree

Popularity:

> 1000
Griffin
Origin:

Welsh

Meaning:

a bird of prey

Popularity:

#232
Oren
Origin:

Irish

Meaning:

light and fair, or pine tree

Popularity:

> 1000
Oliver
Origin:

French

Meaning:

olive tree

Popularity:

#3
Ash
Origin:

Hebrew

Meaning:

of the ash tree

Popularity:

> 1000
Fjord
Meaning:

a passage in the sea

Popularity:

> 1000
Adair
Origin:

Gaelic

Meaning:

ford of the oaks

Popularity:

> 1000
Cyrus
Origin:

Greek, Persian

Meaning:

like the sun

Popularity:

#350
Weston
Origin:

British

Meaning:

from the western town

Popularity:

#95
Sage
Origin:

Latin

Meaning:

an herb

Popularity:

#427
Elwood
Origin:

British

Meaning:

elder tree forest

Popularity:

> 1000
Cedar
Origin:

Latin

Meaning:

cedar tree

Popularity:

> 1000
Lyndon
Origin:

English

Meaning:

lives by the linden tree

Popularity:

> 1000
Nash
Origin:

English

Meaning:

by the ash tree

Popularity:

#233
Perry
Origin:

English

Meaning:

one who dwells by the pear tree

Popularity:

> 1000
Berg
Origin:

German, Dutch, Norwegian, Swedish

Meaning:

mountain or cliff

Popularity:

000
Grover
Origin:

English

Meaning:

living near a grove of trees

Popularity:

> 1000
Beaumont
Origin:

French

Meaning:

beautiful mountain

Popularity:

> 1000
Moses
Origin:

Hebrew

Meaning:

delivered from the water

Popularity:

#519
More Nature Names for Boys
Cove
Ray
Douglas
Dune
Clay
Ridge
More baby name inspo:
🍼 75+ Totally *Underrated* Gender Neutral Names (That Aren't Dated & Boring!)
🍼 165+ Handsome One Syllable Boy Names That Are Short & Strong
🍼 125+ *Strikingly Pretty* Earthy Girl Names (with Meanings)