This post contains affiliate links.
What are changing pad covers?
Changing pad covers are just what they sound like – a cover for your changing pad.
Changing pads themselves are rather utilitarian – they're made of PEVA, a type of vinyl, and filled with foam so that the mess from baby (pee, poop, spit-up) can be easily wiped off and doesn't soak in to the padding.
But when it comes to comfort and style… well, that's one area where they're definitely lacking.
So, why use a changing pad cover? 
Let's take a look –
Why use a changing pad cover?
If you want to use the more traditional style of changing pad, which is made of foam and vinyl,  I do definitely recommend using a changing pad cover.
Here's why –
Back-ups are less bulky to store –  Keeping a changing pad cover on your changing pad is easier than having to buy, and store a back-up changing pad (because you know they are going to get 'messy' just about every day). And if you didn't want to buy a back-up changing pad? Well, you'd have to find somewhere else to put baby down while you clean the changing pad. It's a no from me, dawg.
They look pretty – Covering your changing pad with a changing pad cover allows you to make something look pretty that would otherwise be a bit of an eyesore. Changing pad covers come in so many gorgeous prints, it's a fun and cute way to add some style and personality to your nursery.
They're soft & comfy – Changing pad covers are often made out of cotton, bamboo or linen – all fabrics that are much more soft and comfortable than vinyl.
Here's what a full changing pad set-up looks like, with a changing pad, changing pad cover, and changing pad liner: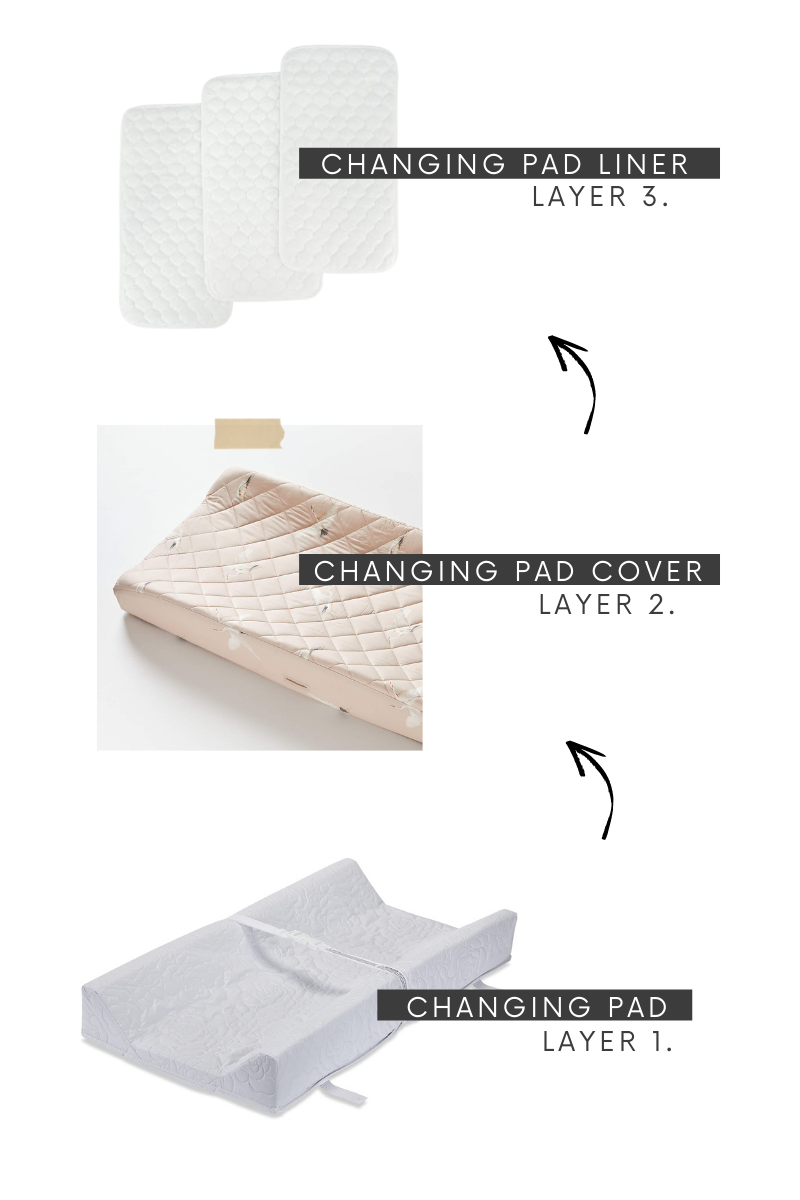 How many changing pad covers do I need?
As with many baby items, a good rule of thumb  is 'wash, wear, spare'. I think this rule applies really wonderfully in this case, as I would recommend having 2-4 changing pad covers.
If you choose to err on the 'less is more' side and go with two changing pad covers, you'll need to be a bit more on top of it with your laundry. If you know you'll have lots of support, and will be able to wash and dry a load within a few hours, two will be enough.
If you'd prefer to just have less to worry about, then I would definitely recommend buying 3 or 4 changing pad covers.
It's no secret that the cost of baby gear adds up quickly.
The way I like to approach it is to purchase one or two 'good' pieces – in this case, changing pad covers – and find another one or two from a cheaper retailer like Wal-Mart or, as hand-me-downs or gently used, from a buy and sell group for a fraction of the cost.
You'd Also Like: 49+ *Important* Things To Do Before Baby Arrives (Third Trimester Checklist)
This way, if you're having guests over and you want to show off the pretty nursery design you put together, you've got a changing pad cover that you love. You've also got a few extra for those days when you've got a cumulative three hours of sleep and find yourself caught in the middle of a poop explosion.
Are changing pad covers necessary?
At the end of the day, if you're on a super tight budget or just really don't like having a lot of stuff – you could definitely get by without a changing pad cover.
Your nursery just won't look as pretty, your baby won't be quite as comfortable and you'll have to find an effective way to properly clean your changing pad pretty often (and even then, the changing pad may end up with stains).
But – 
because you can find a two-pack of changing pad covers for as low as $14.99, I would say that for the price, changing pad covers are definitely worth buying, even if they're not absolutely necessary.
Changing pad cover ideas
Here are some cute changing pad covers if you are looking to check this item off your list:
Babebay Ultra Soft Jersey Knit Cotton Diaper Change Table Pad, 2 Pack ($19)
Kyte Baby Bamboo Change Pad Cover in Sunset ($28)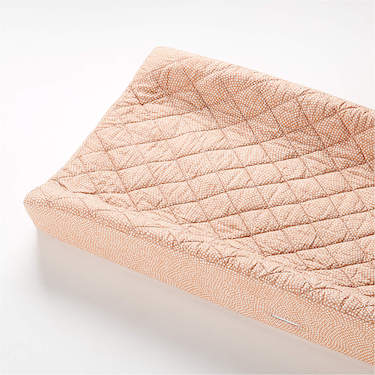 Crate & Barrel Batik Clay Baby Changing Pad Cover ($39)
So, how many changing pad covers do I need? – TL;DR
If you're stocking up on baby gear and you're trying to decide whether changing pad covers are necessary at all, and if so, how many you need, my recommendation is to buy 2-4 changing pad covers so that you always have a clean one on hand.
What do you think? Did you think changing pad covers were an essential baby item? How many did you buy?
Read Next: 49+ Essential Items To Stock Up On Before Baby Arrives