This post contains affiliate links.
On the hunt for some super cute Christmas desserts? Easy enough for any tired mommy to whip together, these sweet treats will be the star of your holiday gathering!
Get ready to satisfy your sweet tooth and sprinkle some extra magic onto your holiday table because we're diving into the delightful world of cute Christmas desserts!
You'll find the perfect addition to your holiday party or cozy family gathering, with these adorable treats –
they're the perfect combination of flavor and fun.
From cookie exchanges to festive feasts, they dial up the holiday spirit to the max.
But, guess what?
These easy recipes will have you celebrating the holiday season without breaking a sweat.
Gingerbread Man Cake Pops
Let's kick things off with a warm welcome to the world of Christmas treats for kids with these adorably sweet gingerbread man cake pops!
Simply mix a crumb of your favorite cookies with cream cheese, form balls and stick this *one* surprising ingredient into the body to create these super cute arms, legs and head.
Dip them in chocolate, give them a quick
Homemade Gingerbread Man Pop Tarts
Did you know you can make your own 'pop-tarts' using puff pastry, a filling of your choice and a little icing?
These cute little hand pies come together more quickly than you'd think and are totally impressive! They're the perfect addition to your holiday desserts and a sweet way to kick off your morning!
Santa Claus Rice Krispies Treats
Some simple icing, some coconut, sprinkles and candies, and you've got yourself everything you need for these cute Santa Rice Krispies treats for kids.
If you're in a time crunch, simply unwrap premade squares and ice them up, or throw together a batch of your own if you'd like more control over the ingredients.
Easy Kid's Christmas Tree Cookies
Name a kid that doesn't like sugar cookies.
These super simple and fun little cookies are a great hands-on activities for toddlers and kids alike.
If you're hosting and aren't too afraid of getting a few sprinkles on the floor, this would make such a fun little after dinner activity on Christmas eve for the littles in your family, too!
Polar Bear Brownies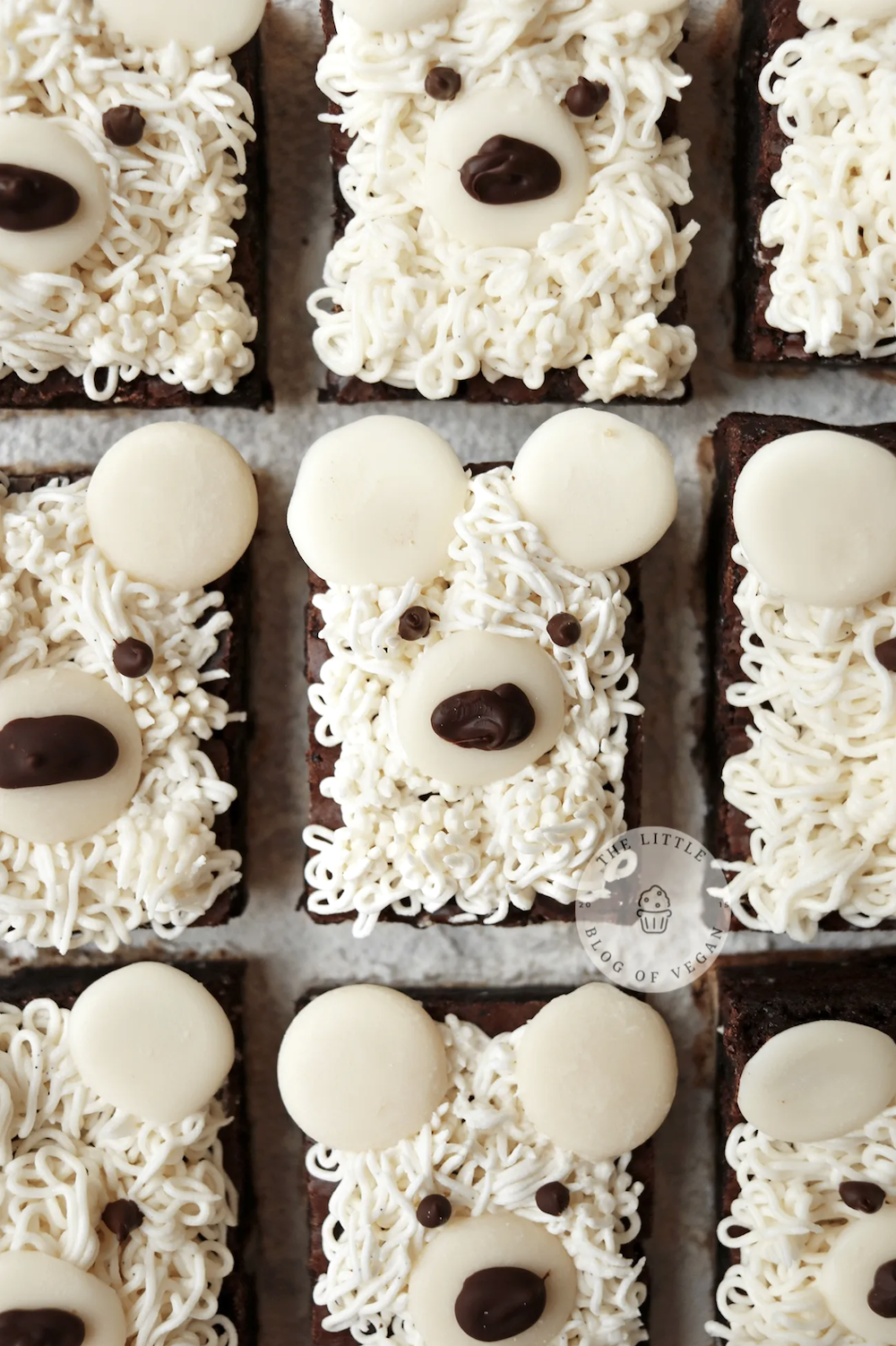 Here's another great easy Christmas dessert for kids with lots of flexibility.
For the brownie base, whip up a batch of your favorite brownie recipe, throw together a box of brownie mix, or, if you can find them, grab some premade brownie squares instead.
Santa Hat Oreo Balls
What's Christmas without a few Santa hats? This adorable treat will steal the show at your next holiday party. Just like Oreo truffles, but better…
These Santa Hat Oreo Balls are not only totally adorable, they're simply delicious too. With just a handful of ingredients you can make your own. Perfect for gifting, parties, or just enjoying with your fam.
Melted Snowman Sugar Cookies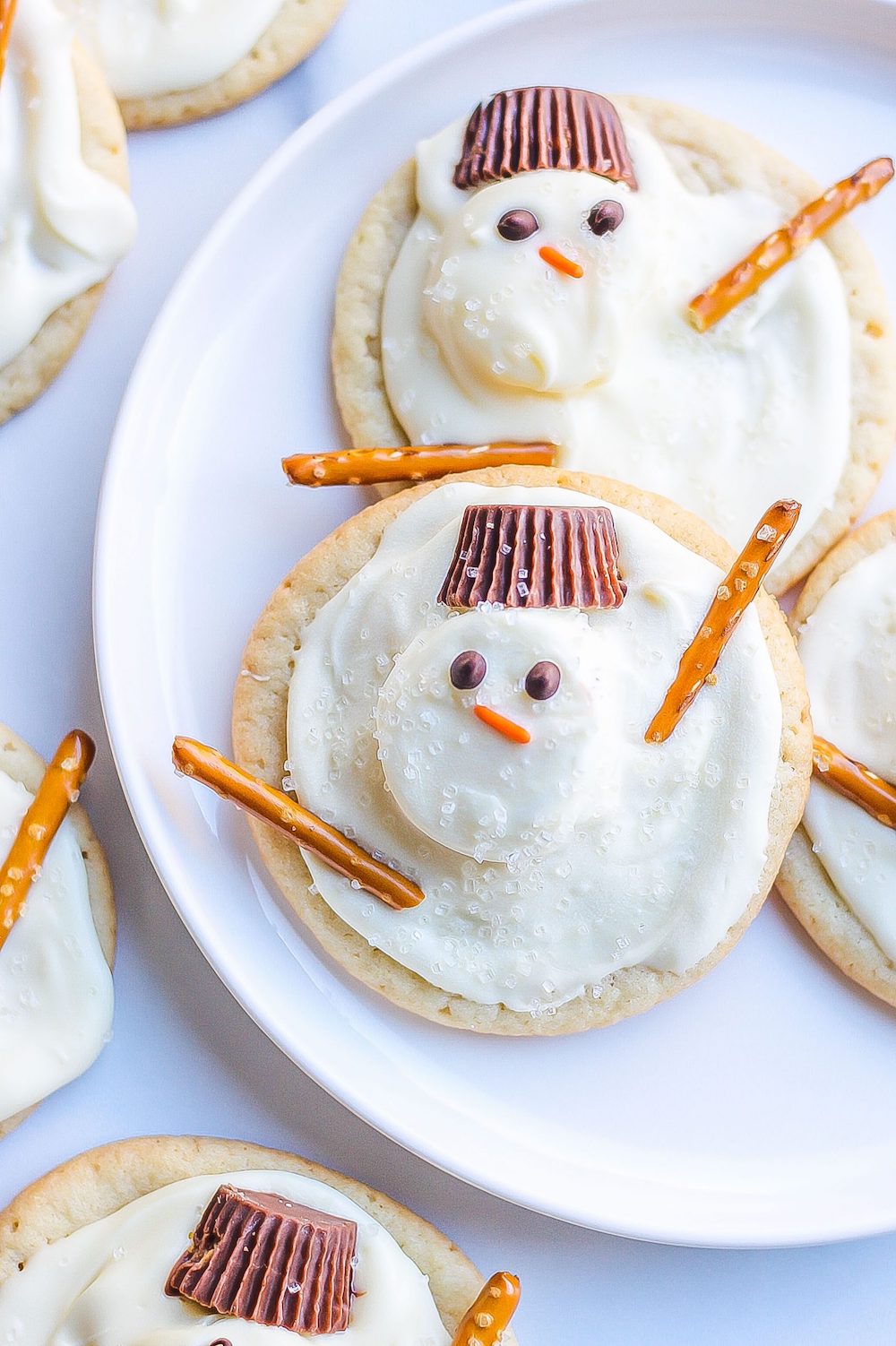 Next up, these cute and funny Christmas cookies are a breeze to put together, and will have your kids laughing and smiling without a doubt!
Adding pretzels to the mix is the perfect blend of salty and sweet. These melted snowman cookies are easy enough to decorate with your little ones, make some memories and get creative!
Gingerbread Man Cupcakes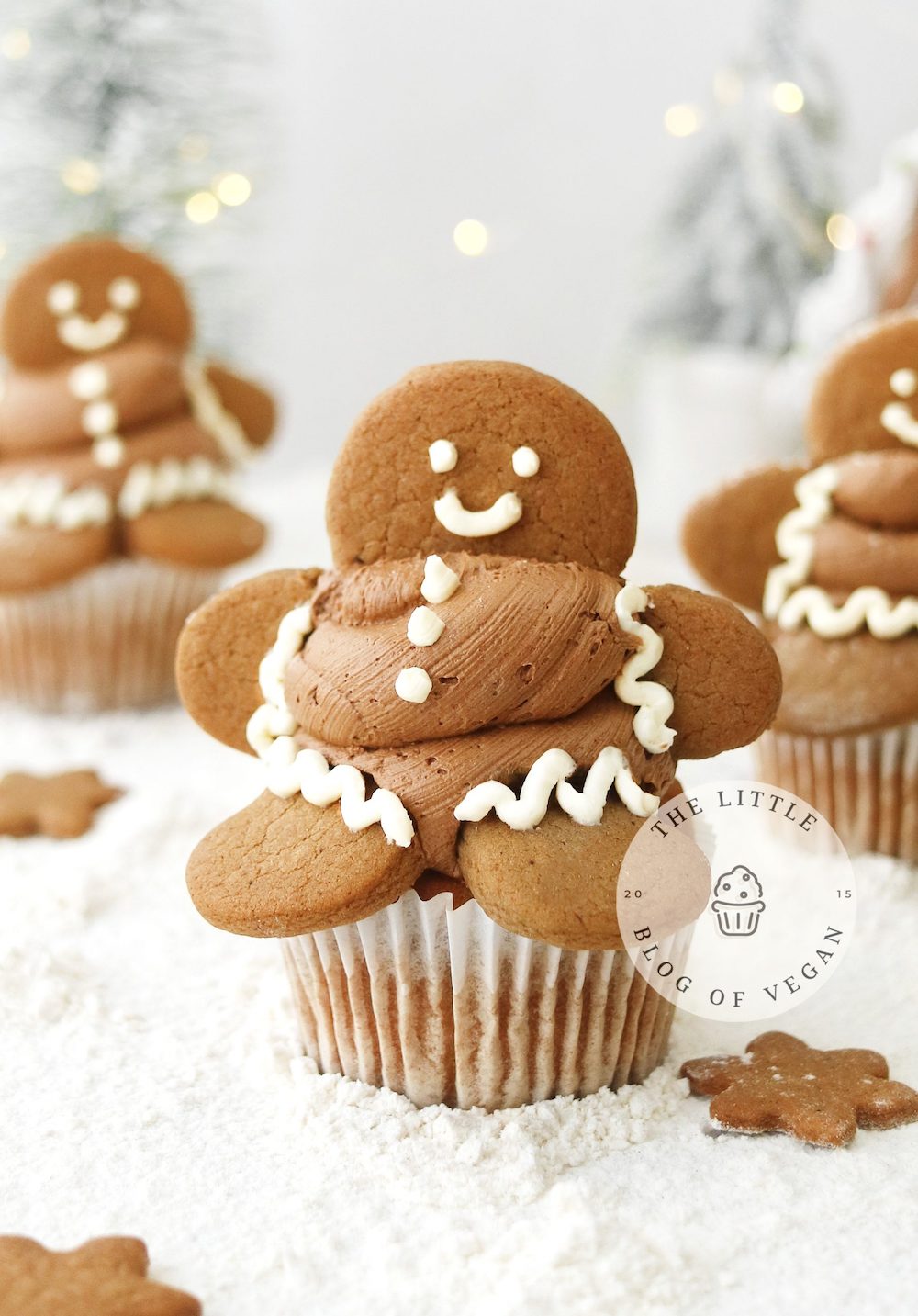 We all know how adorable gingerbread cookies are… but these cupcakes take it to a whole new level. Warm spice and a deep brown sugar sweetness combine to make the perfect gingerbread flavor. Break up your little ginger buddies and use the pieces to create these magical looking cupcakes.
White buttercream frosting gives this treat the right amount of contrast to highlight the cute details without being to difficult for a beginner baker.
Reindeer Rice Krispies Treats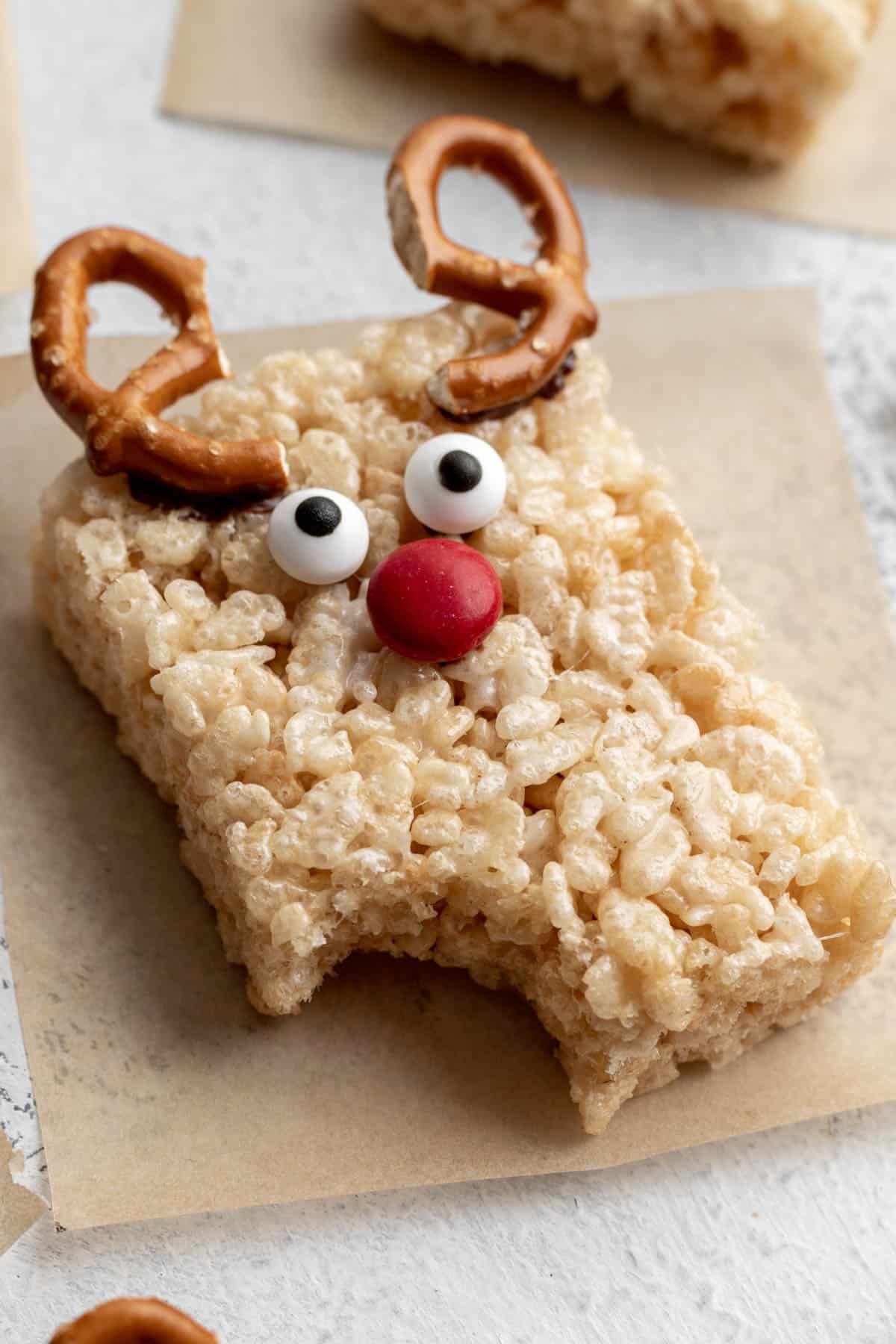 You know Dasher and Dancer and Prancer and Vixen… Will all your reindeer Rice Krispies have a red nose like Rudolph? Or are you going to make one special one? Ok, let's get real. Make them all the same, the kids will fight less over them.
Whether you're making your own homemade batch of Rice Krispie Treats or cutting corners by decorating the store-bought kind, this cute dessert is sure to be a hit!
Christmas Brownies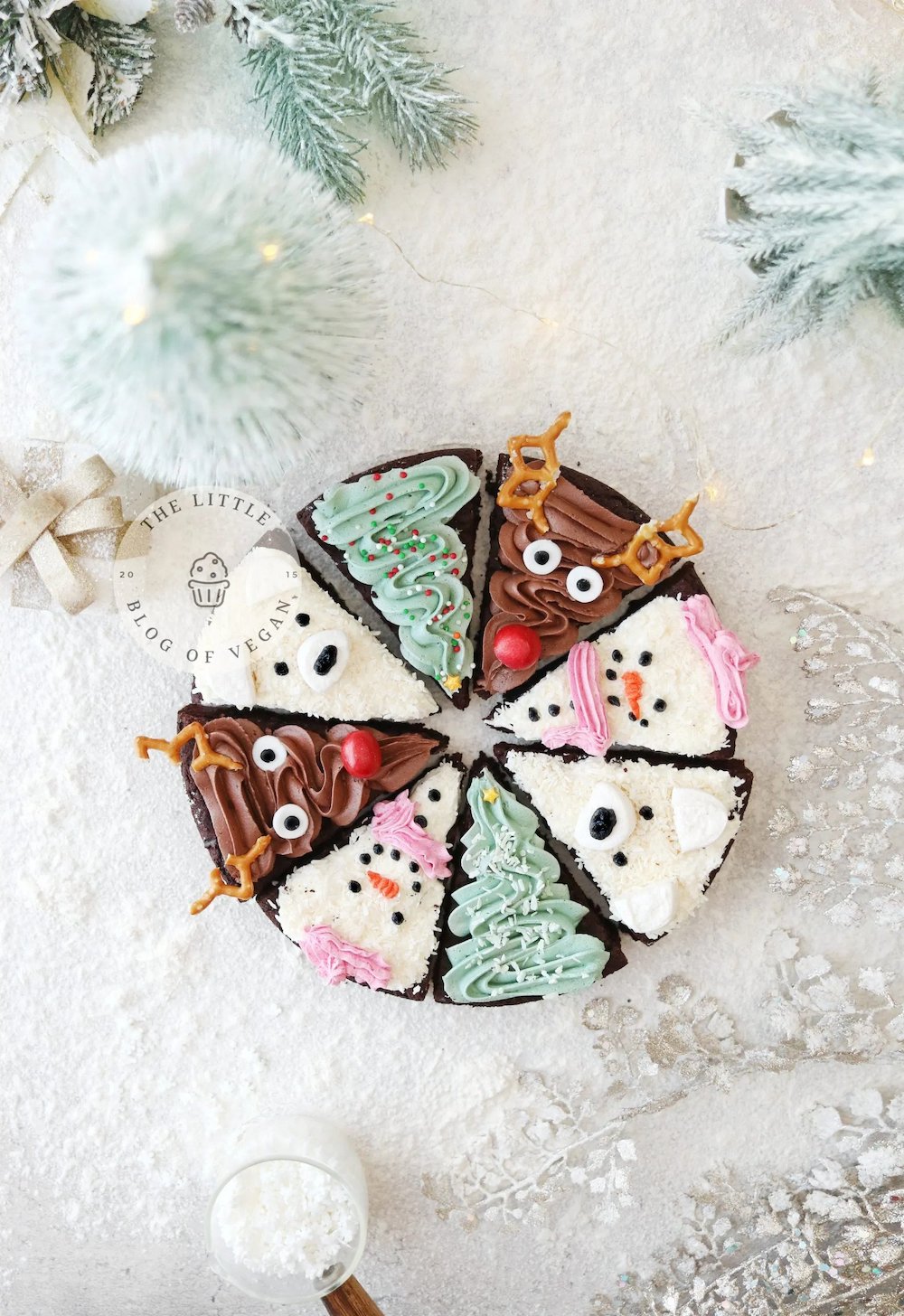 If you just can't decide which adorable design to pick when you're decorating your Christmas brownies, why pick at all? Grab some inspiration from this article and learn all the tips and tricks to each special type.
Snowmen, polar bears, Christmas trees, there's something to make everyone smile!
Santa Banana Pops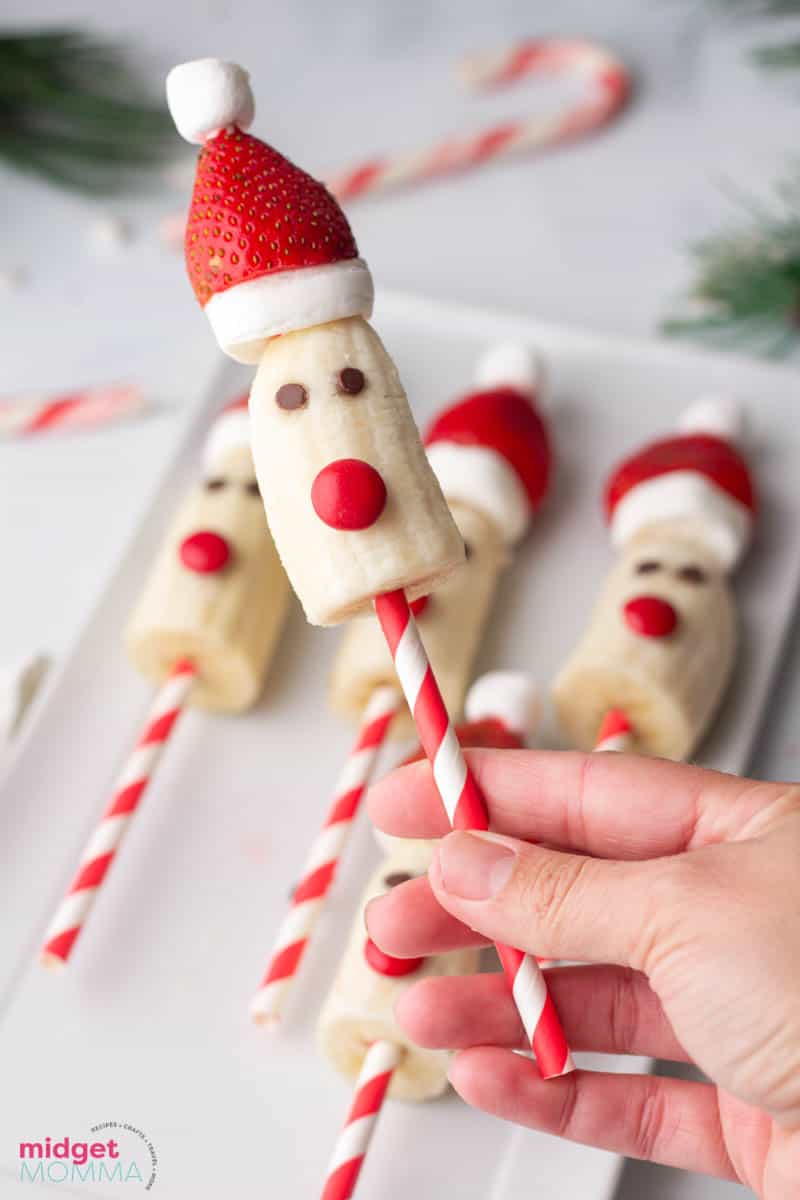 Looking for a quick, fun and healthy addition to your North Pole Breakfast set up?
These super cute Santa banana pops can be throw together in only a few minutes, and only require 6 simple ingredients (Target run, anyone?).
Polar Bear Cupcakes
These totally adorable polar bear cupcakes are vegan and made from scratch – but for an easier option, simply grab some premade cupcakes from your favorite bakery or grocery store, then get to decorating!
To create these cute polar bears, you'll need coconut, Oreo cookies, candy melts, black food gel and marshmallows – and then just follow along with Holly's polar bear cupcake video tutorial.
Homemade Christmas Tree Pop Tarts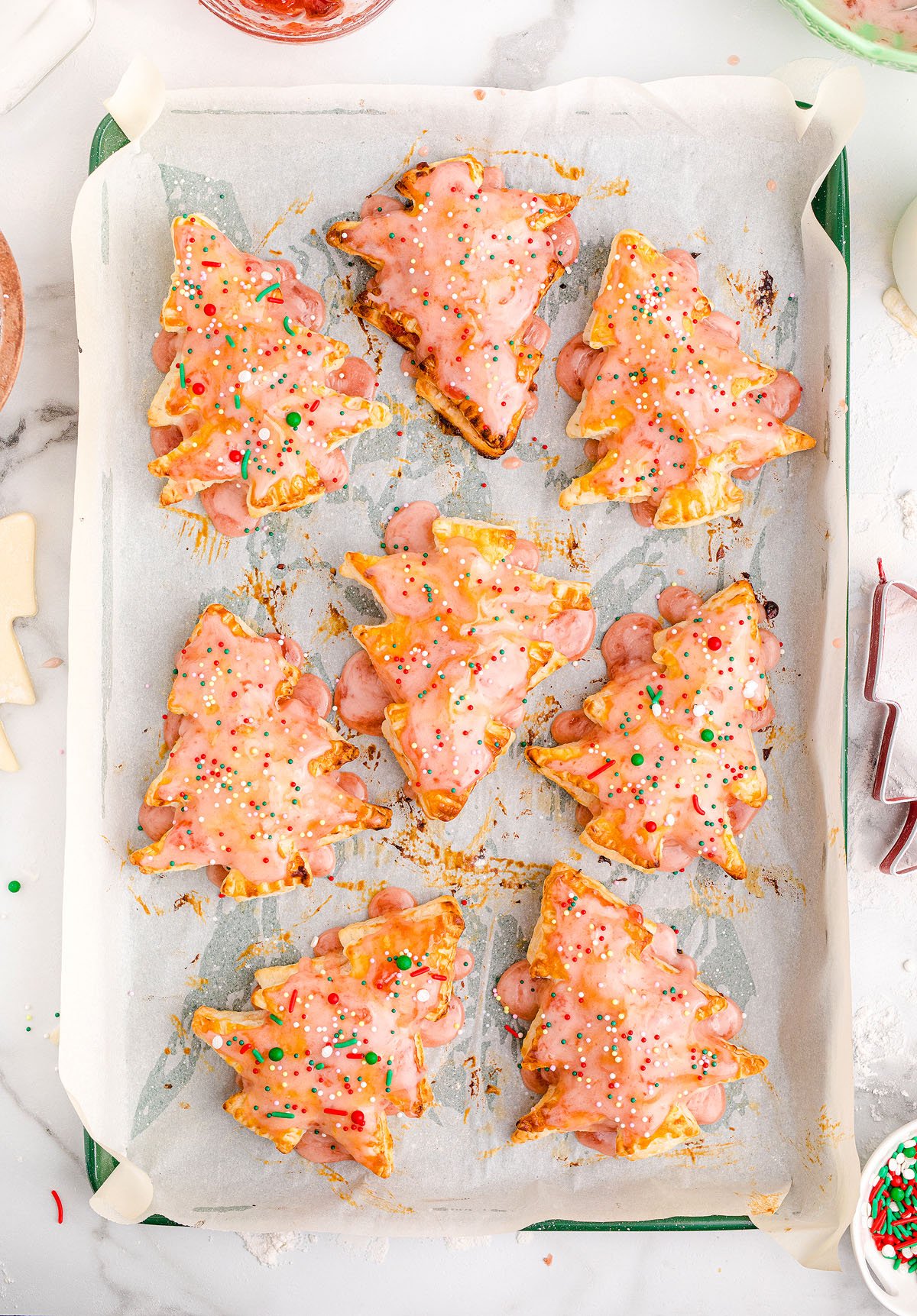 Looking for a treat that's full of love? These homemade Christmas tree Pop Tarts are the sweetest way to kick off your morning. Can you imagine how excited your kids would be on Christmas morning to eat these? They might actually stop asking you to open gifts for 3.5 seconds while they devour them.
Rice Krispy Gingerbread House
Simple. Cute. Easy. Festive. This is my kind of treat. If gingerbread is not your thing or your kids get frustrated by trying to 'glue' the walls together with frosting, try this idea! Rice Krispie Treats naturally stick together so well, they're easier to mold and decorate.
Santa Hat Rice Krispies Treats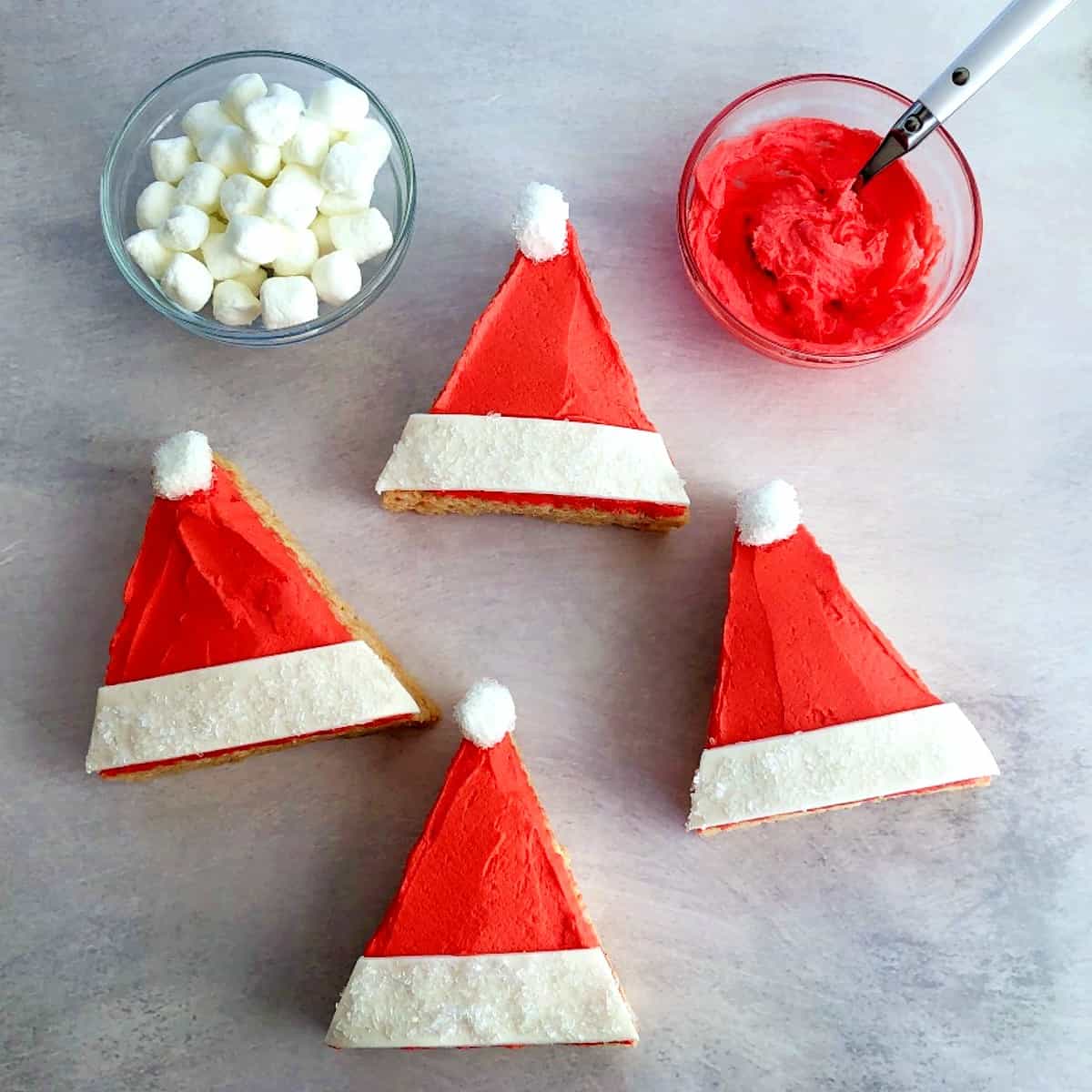 I spy with my little eye a sugar-covered marshmallow… What could be better?! If you're a fan of the traditional Rice Krispie Treat and you haven't tried eating one with frosting yet, take this as your sign.
Not only are these Santa-themed treats cute, they're also going to be eaten up in a flash once your guests go back for seconds.
Christmas Tree Cupcakes
Looking for some pretty adorable evergreen details to add to your spread?
These cute Christmas tree cupcakes are sprinkled with icing sugar to mimic fresh snow and are just too precious.
Candy Cane Mini Donuts
Those candy cane stripes just scream "It's the most wonderful time of the year!" Kids go crazy for these little guys. Their cute looks and sweet taste make them a hit at any holiday gathering.
Crush up some candy canes and get baking! These donuts also pair perfectly with all your favorite holiday drinks like hot chocolate.
Nutter Butter Penguins
If there's one thing that they definitely have in the North Pole, it's penguins… Just kidding. Did you know penguins are all southern-hemisphere dwellers? But don't tell my kids that because they think Santa is besties with them.
This treat has that classic Nutter Butter peanut butter goodness inside. It's like a crunchy cookie cuddling up to creamy peanut butter. A match made in snacking heaven.
Sour Candy Rice Krispies Trees
These trees aren't just sweet; they're packing a sour punch. Making these is like a mini art project. Mold the Krispies into tree shapes, decorate with sour candy, and let your inner artist shine.
Simple Santa Rice Krispies Treats
Santa Claus is coming to… a plate near you!
Welcome your little elf this season with this delicious little Santa treat made from Rice Krispies, melting candy, icing and M&Ms.
Melting Snowman Brownies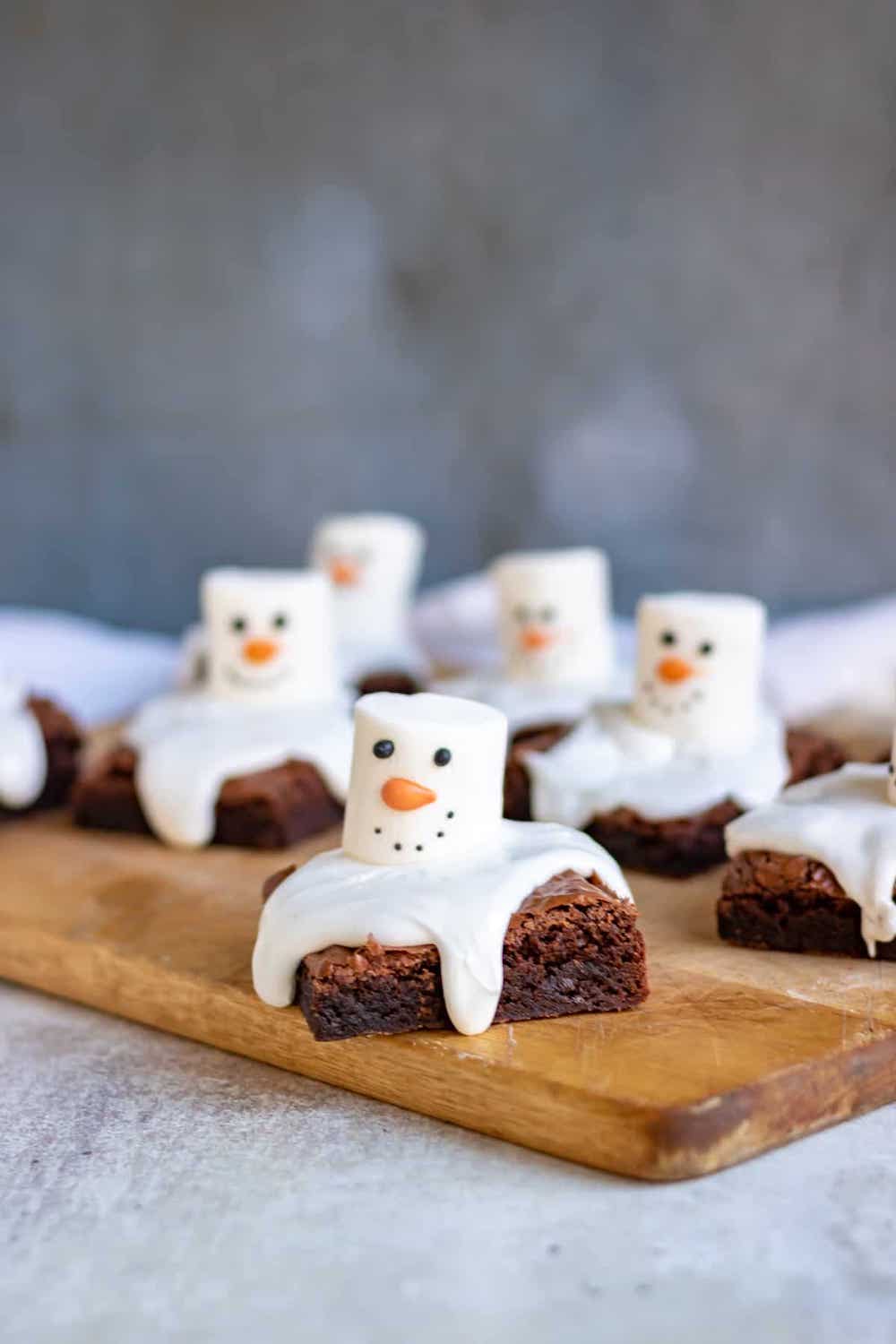 Have some chocolate lovers in your family?
Ice your brownies with this simple white royal icing recipe, and give your snowman's marshmallow head a smiley little face with some food gel.
Watermelon Christmas Trees
Do you need a break from the cookies and pie? Easy Christmas desserts don't have to be full of sugar! Watermelon Christmas trees are a great way to get kids excited about eating healthy during the holidays. They provide a guilt-free option for those looking to balance indulgence with healthier choices.
Reindeer Pretzels
If you don't eat them all yourself first, you can wrap them up in a holly-jolly package or a holiday tin, and you've got a thoughtful and edible gift for friends, neighbors, or co-workers.
They're not just delicious but also a fun activity to make together with your kids. Let their creativity run wild as they decorate and see what they come up with!
Santa Sugar Cookies
To whip together these sweet little cookies, a simple sugar cookie dough is pressed into a 9″ cake pan, cut into triangles, then decorated with red, white and black icing and some mini marshmallows.
Chai-Spiced Snowman Sugar Cookies
Snowman-shaped cookies are already adorable, but when you add chai-spiced flavors, they become irresistible. The best part is how easy they are to make. No rolling out dough, no weird food dyes, just real flavor and a sprinkle of Christmas magic.
Easy Gum Drop Penguins
Into crafting? Assemble these sweet little marshmallow penguins by slicing through a few gum drops and marshmallows.
Enjoy them on their own, or use them as cupcake toppers. How cute!
Peppermint Puppy Chow
I dare to ask – is it even really Christmas without puppy chow?
This easy and yummy peppermint puppy chow can even be whipped up a few days in advance!
Santa Star Cookies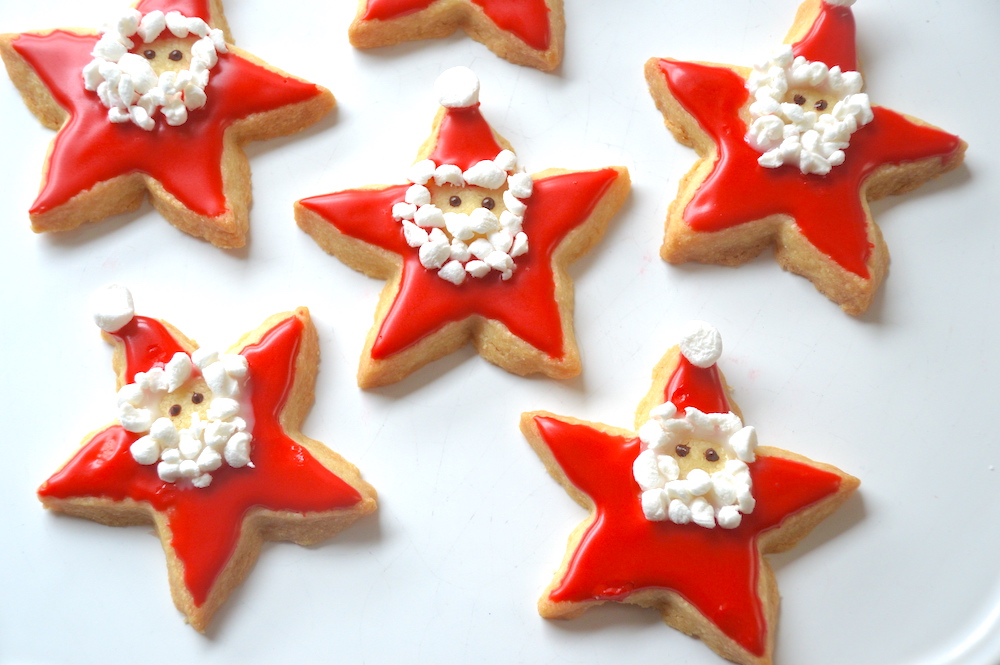 If you have a star shaped cookie cutter, you can use it to make these Santa-themed cookies! You can even make a hole at the top of your cookie and thread through some ribbon for an edible ornament craft for kids. Follow along with this simple recipe to add a cute and delicious dessert, to your holiday table!
Polar Bear Hot Chocolate
Are your kids a fan of hot chocolate?
Zhuzh their cups of cocoa up with these simple polar bear marshmallows made from M&Ms, marshmallows, eyeballs and icing. What better way to make hot cocoa memorable?
Which Cute Christmas Dessert Are You Trying First?
Our whirlwind tour through the delightful world of fun Christmas treats is a wrap! These cute desserts are bound to spread Christmas cheer and make for unforgettable memories. You'll definitely find that perfect treat that'll steal the show at your Christmas party or delight your whole family.
Whether you're looking for recipes for your cookie exchanges or discovering the joy of crafting easy Christmas treats, these delights will light up your holiday season.
Which of these sweet treats are you going to try first? These easy Christmas treats help create a holiday season full of fun and delight!