This post contains affiliate links.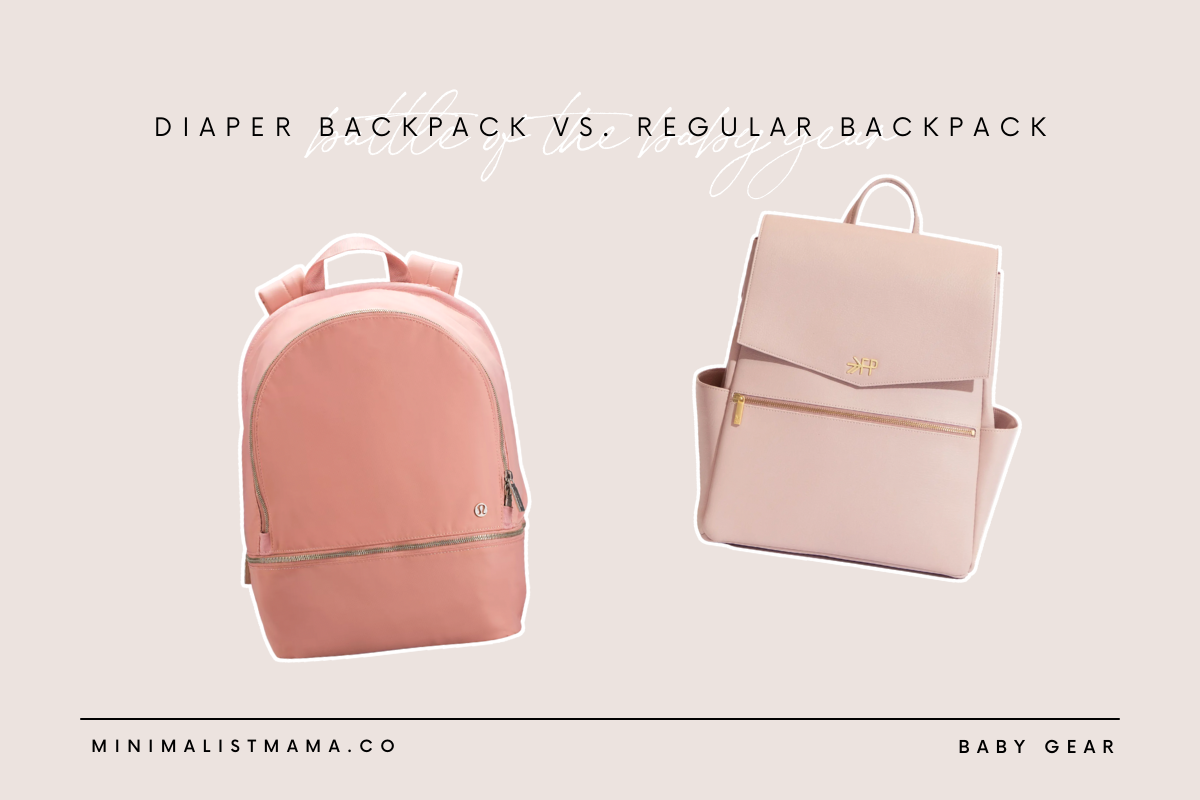 Diaper backpack vs a regular backpack – which one's better… and why?
This, among about a thousand other questions, was one of the questions I had while I was putting together our baby registry, and getting stocked up for his arrival.
When it comes to choosing the best bag for toting your baby's stuff, you'll notice the two most increasingly popular options involve backpacks.
In this post, I'm going to give you the rundown on the difference between diaper and regular backpacks so that you can make the best decision for all of your baby-stuff-carrying needs – confidently!
Let's hop to it, mama –
What Do I Need in my Diaper Bag?
Before diving into the similarities and differences between a diaper backpack vs a regular backpack, let's first talk about the variety of things you may carry.
From the early weeks through the first few years, you'll most likely find yourself tugging along some of the following items.
Bottles

Cups

Diapers

Wipes

Pacifiers

Blankets

Change of clothing

Nursing cover

Diaper changing mat

Toys
And that's not even an exhaustive list!
(But I *did* make a handy printable diaper bag checklist – as well as spilled all my fav brands and diaper bag essentials here – bookmark this one for later).
As you can see, you'll want to make sure that whatever diaper bag you choose to carry will conveniently hold everything you need, plus all the other unexpected stuff, too.
Diaper Backpack vs. Regular Backpack – What's The Difference?
The biggest differences between a regular backpack and one that has been designed as a diaper bag are the style, size, and ability to carry what you need comfortably.
Diaper backpacks have dedicated compartments for baby essentials
A traditional backpack typically takes into consideration bulky items that will be carried – like laptops, textbooks, gym shoes, and lunch bags – with a few smaller compartments mostly for things like pens, highlighters, and chargers.
Diaper backpacks, on the other hand, take into consideration the variety of baby-related items that will be carried – like baby bottles, baby wipes, and pacifiers – and will have compartments that are made specifically for each item.
Many diaper backpack will also have a lined bottle compartment to keep the formula or milk (somewhat) cold (or hot).
Diaper backpacks often come with a portable changing mat
Many diaper bags will also come with a small, portable changing mat (whereas you would need to buy one separately if you opted for a regular backpack instead).
Diaper backpacks usually attach to your stroller
Diaper backpacks also often include yet another specific detail – a set of D-rings that allow your diaper backpack to be hung from your stroller's handle.
Though – you will need a set of stroller straps to hang the diaper bag from (which will sometimes come with the diaper backpack, but often won't).
While often, I just like to throw our diaper bag in the big storage compartment at the bottom of the stroller, not all strollers are quite as roomy as ours, so being able to attach your diaper backpack to the handle is a great bonus for many.
What To Look for in a Diaper Backpack
If you've made the choice to use a diaper backpack, there are a few key things to keep in mind as you shop around.
For starters, be sure the size is ideal for the amount of baby necessities you plan to carry.
Look specifically at the dimensions and compare them to something you may already have on hand, as looks can be deceiving.
Second, check to make sure it has at least some, all, or even more of the following specs:
Lined/dedicated bottle spot
Compartments shaped for baby stuff
Compartments for work/travel/school (if necessary)
D-ring attachments (for hanging on strollers, carseats, etc.)
Baby wipe compartment
Space for a compact/travel changing pad
Durable fabrics, zippers, velcro, etc.
Diaper backpacks can be very versatile and last quite awhile, especially if you have multiple kids or plan to have more! When it comes to the investment, you may find that they cost more than a traditional backpack, but rightfully so.
These have been designed for specific purposes and often take a bit more designing and creating. This is one of those cases where you get what you pay for.
Can you use a regular backpack as a diaper bag?
Perhaps you'd like to stick with a regular backpack?
That's totally okay!
They can get the job done even without all the fancy compartments of a diaper backpack.


Also, I love these cute diaper organization pouches to help keep certain things separate (like diapers, wipes, clothing, and so on) or to keep mom's essentials apart from baby's.
My Fav Diaper Backpacks
Now that we've run through all the key differences between a diaper backpack and regular backpack, I am so excited to share my top diaper bag backpack picks.
While a few of them are pretty popular and found at your big box baby shops, most of them are from brands I hadn't even heard of or thought of until I became a mom myself, and had seen lots of other moms with super cute and stylish diaper bags that I loved.
Simply tap the left and right arrows below to scroll through the different diaper backpacks:


If you need a bag that can also house a few of your things, the medium Dagne Dover is one to consider purchasing. In addition to having space for wipes, diapers, and other baby essentials – you'll also have space for a laptop, water bottle, wallet, and more.
It also includes other accessories like a mini changing mat, clips for a stroller, extra pouches, and more.
The Original Diaper Bag by Fawn Design
This super popular diaper backpack is made of premium vegan leather and is available in a whole collection of pretty neutral tones like oat, tan and warm blush.
A nice classic, round shape, this diaper backpack has a nice, big, rounded opening, and perfectly sized interior pockets that make it super easy to spot exactly what you're looking for (which is v. essential when you've got a crying baby on board😅).
This diaper backpack is a must-have if you're looking for a sleek and versatile way to carry your baby's belongings.
It can easily go from a shoulder bag to a backpack, has detachable shoulder clips, and is made of gorgeous textured leather.
Being made of leather means it's water-resistant and wipes clean effortlessly – ridiculously *essential* for moms and dads on the go.
You'll also have access to seven great little pockets, and an insulated bottle pocket.
A stylish puffer-style diaper backpack that comes with 14 pockets, padded shoulder straps, a corded drawstring, and more.
Make a statement with the leopard print while conveniently carrying everything your baby needs.
Compartments, space, and cute color options is what you'll get with this backpack. Although it's considered the smallest of the their full size bag options, there is still plenty of room to carry everything you need on the go.
This backpack skips the zippers and instead offers a magnetic flip open and closure to make accessing whatever you need a bit easier. It's a great diaper backpack to have if you're looking for something that grows with your kid and/or if you plan to use it for multiple kiddos.
Freshly Picked Convertible Diaper Backpack
With lots of colors to choose from, this unique bag was designed by moms for moms, meaning it's sure to have everything you need. The interior and exterior are spill-resistant and easy to clean simply by wiping. You can wear it in three ways: backpack, purse, or cross-body.
You don't have to worry about the bottom getting dirty because of the metal bottom that keeps it from even touching the ground!
Read Next:
☁️ The 11+ Cutest, *Buttery-Soft* Bamboo Baby Pajamas I'm Obsessed With
☁️ 7+ *Best* Baby Bjorn Bouncer Dupes (and Alternatives)