This post contains affiliate links.

01.Why swaddle your newborn?
02.What is a swaddle?
03.Swaddle blankets vs. swaddle sacks
04.How many swaddles do you need for a newborn?
05.How long do you use swaddles for?
It was a question that took surveying four of my girlfriends, my aunt, my cousin, as well as some input from the lovely Brenda from Buy Buy Baby – to answer.
How many swaddles do you need for a newborn?
Was I crazy or was there actually 17 different blanket-y baby things all being called swaddles – but confusingly, all looking very different?
And that was just *one* of the 75+ baby items we had on our baby registry!
There's no hiding it –
baby gear can be confusing, especially for first-time parents like me.
So, today, we're diving into the big, wide world of swaddling.
I've put together a clear, detailed list of exactly which types of swaddles I recommend for each use, as well as how many of each type you'll need, and my favorite brands.
But, before we get started –
I've done my very best to generalize these recommendations so that they are as helpful to you as they can possibly be.
However, each baby is unique and you'll have to do a bit of experimenting to see what works.
I found that borrowing from my girlfriends or buying from a buy and sell group to see if our little guy would take to the item or not worked really well.
If he liked it, then we'd go out and buy a few of our own.
So, before I answer the million dollar question – how many swaddles do you need for a newborn? – there's a few important things to understand.
Okay, first thing's first –
Why swaddle your newborn?
Swaddling is one of the first rites of passage that every new parent will experience.
Learning how to wrap a snugly swaddle your newborn will calm and soothe your baby because it mimics the closeness they were so used to in the womb.
Further, newborn babies are born with something called the Moro reflex, which is also sometimes called the startle reflex.
When they are startled, they will throw their head back and splay their arms and feet out at the same time (it's so quintessentially baby-esque and adorable, too).
What is a swaddle?
03.Babies will often get startled while they are sleeping, and being swaddled helps to keep their arms in nice and cozy, which allows them (and you!) to sleep longer.
What, exactly, *is* a swaddle?
A 'swaddle' is an umbrella term for a wrap that's used to bundle newborn babies up tightly.
Though there are two types of swaddles – swaddle blankets and swaddle sacks – they are both often just called swaddles for short.
Now, to be clear, they both accomplish the same thing (which is to keep your baby wrapped tightly), but they look, and work, differently.
Swaddle blankets vs swaddle sacks
Before you add to cart all the pretty swaddles, it's important to understand the difference between swaddle blankets and swaddle sacks.
Swaddle blankets
A swaddle blanket is a thin, square or rectangular blanket.
Swaddle blankets are often also called:
a receiving blanket
a swaddling blanket
a muslin
My favorite swaddle blankets for swaddling are by Copper Pearl, Kyte Baby, and Solly Baby.
These swaddles are a bit oversized compared to other brands, which I have found are more forgiving and easier to wrap for beginners.
Related:  9+ Apps For New Moms That Will *Actually* Change Your Life
My favorite swaddle blankets to use more generally – like as a light stroller blanket or on-the-go burp cloth – are by Mebie Baby and Pehr.
Mebie Baby swaddles come in super cute neutral prints, but the ones I've had are fairly thin, especially when compared to the Pehr swaddles.
The Pehr muslin swaddles, on the other hand, are big and soft and feel a little more substantial because they're muslin.
Swaddle Sacks
A swaddle sack on the other hand, looks like a tiny, thin sleeping bag.
Swaddle sacks are often also called:
a swaddle wrap
a swaddle bag
My favorite swaddle sacks for babies that are happy with their hands being down are the SwaddleMe Pod, and the ergoPouch Cocoon Swaddle Bag.
My favorite swaddle sack for babies that want to have their hands up by their face is the Love To Dream Swaddle UP.
It's one of the most unique baby products that I've found, and it was one of our absolute baby must-haves.
So –
How many swaddles do you need for a newborn baby?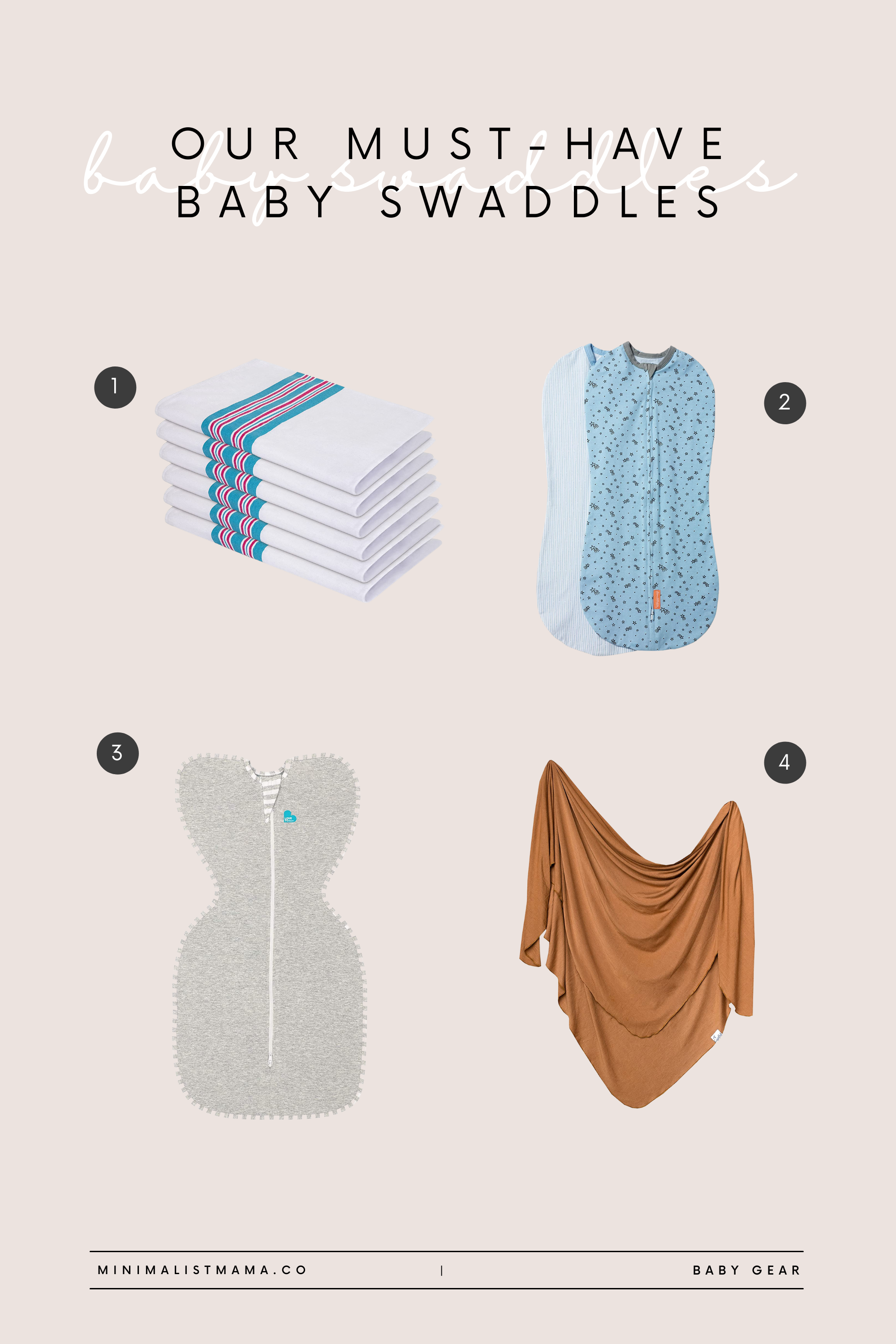 hospital receiving blankets / SwaddleMe pod / LoveToDream SwaddleUP / Copper Pearl swaddle blanket
Here is exactly how many swaddles you need for a newborn:
2 x hospital-style swaddle blankets – These ones are best for newborns because they stay tucked really well.
1-2 x large stretchy swaddle blankets – These swaddle blankets were my husband's favorite.
1-2 x pretty swaddle blankets – A high quality swaddle that you love, to use for pictures, outings and as a stroller blanket on the go.
3-5  x 'utility' swaddle blankets – Hand-me-downs, purchased second hand, or an inexpensive brand. These ones can be prioritized as burp cloths, portable changing pads, or just general cleaner-uppers.
2 x SwaddleMe pod – These swaddle sacks are great for newborns and small babies and are super easy to use while you're groggy and in low light.
1 x Love To Dream SwaddleUP in size small – I would recommend a 0.2 TOG for summer babies, and a 1.0 TOG for spring, fall and winter babies. Also super easy to use because of the two-way zipper.
Are you sure that's how many swaddles I need for a newborn?
I know what you're thinking – this seems like a lot of swaddles, doesn't it?
That may be true.
But –
because newborn babies have such tiny tummies and short wake windows, they feed very often, and therefore, burp, spit-up, and pee and poop often, too.
They also wake up many times through the night, which means you'll be tired.
So tired that you'd give just about anything to be able to save yourself a few loads of laundry.
Plus – I would much prefer to go without many of the other baby items in exchange for a nice, full collection of swaddles.
How long do you use swaddles for?
Regardless of the type of swaddle that you use, when a baby is swaddled, their arms are restricted.
For this reason, once your baby starts to show signs of rolling, swaddling is no longer a safe practice, as the swaddle restricts your baby from being able to push themselves back over should they roll on to their stomach.
While babies all reach their developmental milestones at different times, it is most common for them to begin being able to roll from their front to back, or back to front, between 2 and 4 months.
With that being said, I've found that though the swaddle sacks don't really have many extra uses, you will definitely continue to use your swaddle blankets for long after baby's first four months.
How many swaddles for a newborn – TL;DR
At the end of the day, you can obviously choose to buy fewer swaddles than what I've recommended. Your baby may just spit up less than other babies, or may just decide they love only one type of swaddle.
But, from having been through it, this is what worked best for us.
What do you think? How many swaddles did you use in the newborn stage?
Read Next: How Many Changing Pad Covers Do I Need? (+Are They Necessary?)