This post contains affiliate links.
Searching for the best forgotten baby boy names that aren't totally overdone? Then you are going to *love* this list of the most wearable, yet still unique – forgotten boy names for 2023.
Don't worry about dusting off the baby name archives – we've already done it for you.
Whether you're looking for a hidden gem from the archives, or just a totally unexpected and unique boy's name that no one knows about, you are sure to find some treasures here in our list of the best forgotten baby boy names.
So what, exactly, are forgotten baby boy names?
Just as the term implies – forgotten baby boy names are names that were popular in years gone by, but that you probably haven't heard of (or thought of) in 2023.
The names that we've deemed forgotten are baby names that were in the top 500 most popular baby names for boys back in the late 1800s or early turn of the century, but have since either completely vanished from the baby name charts, or are stuck somewhere on the bottom of the charts.
The data referenced in this article is pulled from the US's Social Security Administration database. We'll be referencing both years gone by, as well as the most recent data available, which is for 2022.
Enough chitchat.
Let's get to the list –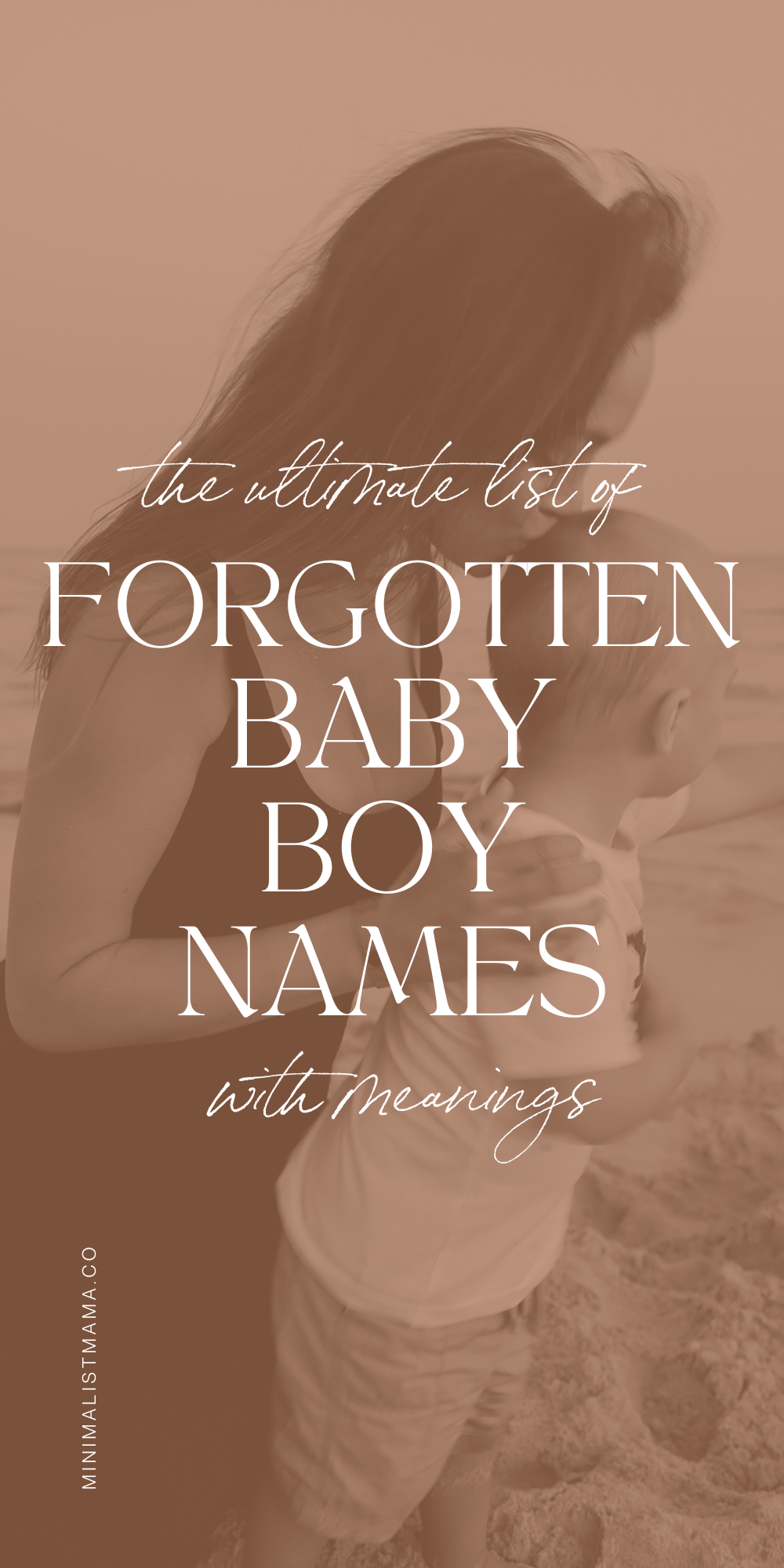 The Best Forgotten Baby Boy Names
01.

Bernard

Kicking off our list of forgotten baby boy names is Bernard. This baby boy's name has German origins and an incredible meaning – as strong and brave as a bear.

This baby name was super popular in the early 1900s, and held fast as one of the top 100 baby boy names until the late 1940s. In 2023, this boy's name is totally unranked in the States – talk about a hidden gem!

Our favorite part? The nicknames Bear or Bernie – perfect for those early years.
02.

Roscoe

This boy's name fell off the baby name charts in 1978, but IMO, is absolutely due for a comeback.

A nature-inspired name, Roscoe means from the forest of deer.
03.

Harding

Looking for a rare boy's name with genuinely vintage vibes?

The name Harding only ever did a brief stint on the charts – from 1920 to 1923 – but with boy's names that start with H like Henry and Hudson flying up the charts, we think Harding would fit right in.
04.

Otis

Next up, Otis.

A German name that means wealthy man, Otis is one of the forgotten baby boy names on our list that's already on the rise.

Since it's heyday in the early 1900s, where Otis was a top 100 boy's name, it's been on the steady, slow decline, completely dropping off the charts in 1994.

However, since 2015, the name Otis has popped back on to the charts, having risen 33 spots from 2021 to 2022.

Looking for a music-inspired forgotten boy name? This one could totally be a tribute to Otis Redding who sings the soulful classic Sittin' On The Dock Of The Bay.
05.

Winfield

The name Winfield is of German origin and means from a friend's field.

Ranking as high as the mid-400s in the early 1900s, the name Winfield fell off the charts in 1953, and hasn't returned since.

If you're looking for a rare, yet classic baby boy's name, Winfield is definitely one to consider!
06.

Emery

One of the hottest trends in baby names in 2023 is using a name that's historically only ever been for boys, as a girl's name, and Emery is a great example of this.

While the name Emery was ranked in and around the mid 300s for the first few decades of the twentieth century, it has since plummeted.

On the other hand, after making it's debut on the baby girl's name charts in 2005 at position 813, it has since flown up the charts, and was the 82nd most popular baby name for girls in 2022!
07.

Green

The 271st most popular name for baby boys in 1880, this seriously vintage boy's name was only charted until 1916, when it went completely extinct.

With the growing popularity of earthy boy names like Brooks, Canyon and Everest, and color names like Grey, Slate and Silver, topping the charts, we think the name Green is just about due for a resurgence!
08.

Ellis
09.

Van
10.

Elwood

This addition to our list of forgotten baby boy names fell off the baby name charts in 1969, and has yet to be seen since.

This botanical baby name means noble woods and is of British origin.
11.

Lawson

From 1951 until the year 2000, the name Lawson was MIA from the charts – or, as one could say – forgotten.

Meaning son of Lawrence, this forgotten boy's name gives classic, yet sweet Southern vibes.

Did you know that one of the most popular endings for baby names for boys is -son?

Jackson, Mason, Hudson, Grayson, Harrison, Jameson… Lawson – why not?
12.

Willis

Meaning resolute protector, this addition to our list of forgotten baby boy names was a mainstay in the top 100 baby names for boy in the early 1900s, but has completely vanished since 1993.
13.

Forrest

A name of English origin, the name Forrest means of the woods.

In the early 1900s, the name Forrest could be found in the top 100 to 200 baby names for the first few decades, but plummeted at the turn of the century.

Now, in 2023, the name Forrest is considered a total vintage gem.

Most recently ranked in position 402, Forrest is making a comeback, as it's been increasing in popularity every year since 2013.
14.

Ambrose

A Greek name that means immortal, the name Ambrose is definitely one to add to our list of forgotten baby boy names.

Though it was used much more commonly in the first few decades of the 20th century, the name Ambrose completely vanished off the baby name charts in the US in 1955, only having returned in 2019.

Since then, it's jumped over 240 spots, landing in position 720 in 2022 – who knows how popular it will turn into in years to come?

(If you like the sound of the name Ambrose, you should definitely pop over to our list of unique baby boy names that start with A!)
15.

Foster

A boy's name with British origins, this rustic boy's name means woodsman.

This baby boy's name became forgotten in 1962, when it left the ranks of the top 1000 baby names for boys in the US.

(Like this name? It's a surname as a first name style baby name – check out the full list we've linked for more names with a similar feel.)
16.

Grady

An Irish name with meaning noble, was ranked in and around the top 200 baby names in the early 1900s, but slowly lost steam throughout the century.

Since 2007, it has popped back up again, though nowhere near the top of the list – Grady was the 405th most popular baby name for boys in 2022.
17.

Sanford

1974 is the year that the name Sanford officially became forgotten, and has yet to make a return to the baby name charts since.

While a ford is a shallow part of a body of water, the name Sanford means sandy ford. It's a name of British or Old English origin.
18.

Lewis
19.

Wiley

What do you think of the name Wiley?

A Scottish baby name meaning resolute protector, this is such a beautiful baby name to give to your first born, especially if you're planning on having a big family.

Though it vanished from the charts in 1974, it's got a similar feel to uber-popular western-inspired baby boy names like Walker, Westley, Wyatt and Wells – which makes it totally wearable in 2023!

(If you like the feel of this name, check out our whole list of country baby boy names that is chock full of other baby names that start with w that have western vibes like this one.)
20.

McKinley
21.

Royal

The name Royal became totally forgotten in 1972, having disappeared from the ranks of the top 1000 baby names for boys.

With baby names like Chosen and Lux peppering the list of baby boy names that have increased in popularity for 2022, we think that the name Royal could have a shot, too!
22.

Harold

Did you know the name Harold was in the top 25 baby names for boys from 1900 until 1942?! There's no question it was a popular choice for boys back in the day, but as time went on, this classic boy's name actually went all but extinct.

Another boy's name that starts with H, this name has not only got an old fashioned charm to it, but a simple sophistication that's almost royal.

Take this name to a more playful place with cute nicknames like Olly, Rollie, or Hare Bear while he's still a baby, and Hardy when he's in his teens.
23.

Clifford
24.

Chester
25.

Hardy

Poof!

That's the sound this one of our fav forgotten baby boy names made in 1954 when it fell off the charts.

With seriously classic vibes, the name Hardy has origins in German, French, Scottish and Irish and has such an incredible, strong meaning: bold or brave.

Looking for the perfect name for a little one who has overcome a battle of their own?

Hardy is our top pick!

(If the name Hardy has the vibe you're going for, be sure to check out our full list of tough & cool baby boy names here.)
26.

Crawford

A Scottish baby name meaning crow's passing, the name Crawford hasn't seen the light of day (on the baby name charts) since 1954.

A forgotten boy's name? Yep – but one due for a comeback, perhaps.
How do you feel about these forgotten baby boy names?
For some parents, the perfect baby name is one that's not overdone, totally uncommon yet still timeless and strong. These forgotten baby boy names really do achieve all of that – while still being completely wearable and not too out there in 2023.
How did you fare? Have you added any of these forgotten boy names to your list?
Read Next:
🧸 115+ *Totally Underused* Last Names As First Names
🧸 185+ *Totally Dapper* Vintage Boy Names With Meanings (2023)
🧸 35+ Unique Boy Names That Start With A (Why Isn't Anyone Talking About These?!)