This post contains affiliate links.
Searching for tough, badass boy names for your little one that are tough and edgy, but still cute?
Then pull up a seat, mama, because you're in the right place.
Today, I'm sharing my list of tough boy names that are hand-picked for 2023.
Let's dive in –
The Best Tough, Badass Boy Names (with Meanings)
Here are my favorite tough boy names with meanings for your baby boy:
Van
Origin:

Welsh, Russian

Meaning:

God is gracious

Rank:

#873

About:

One of my favorite unique badass boy names, Van channels some serious free-spirited vibes, reminding me of both the super trendy sneaker brand, Van's, as well as the cool, carefree van life lifestyle.
Lennox
Origin:

Scottish

Meaning:

elm grove

Rank:

#254

About:

Isn't there just something so edgy and unique about a boy's name with an x?
Grey
Origin:

English

Meaning:

a neutral color

Rank:

#716

About:

This Americana boy's name has only recently made its way on to the baby names charts in the US, first cracking the top 1000 in 2013, and gaining steam ever since. For middle names, you could either lean towards a more traditional, classic boy's name like Grey Alexander, go Biblical with Grey Elijah or Grey Malachi, or turn up the tough by pairing it with another name from this list, like Ledger.
Asher
Origin:

Hebrew

Meaning:

happy, blessed

Rank:

#25
Jethro
Origin:

Hebrew

Meaning:

overflow

Rank:

> 1000

About:

The ultimate tough boy name, the name Jethro could be thought of as an ode to the British rock mega-band, Jethro Tull, famous for songs like Locomotive and Aqualung.
Bjorn
Origin:

Scandinavian

Meaning:

bear

Rank:

#766
Ford
Origin:

American

Meaning:

an iconic auto brand

Rank:

#439
Hayes
Origin:

English

Meaning:

hedged area

Rank:

#229
Camden
Origin:

Scottish

Meaning:

winding valley

Rank:

#175
Zephyr
Origin:

Greek

Meaning:

west wind

Rank:

> 1000
Jasper
Origin:

Persian

Meaning:

treasurer, also a mountainous national park in Canada

Rank:

#128
Bear
Origin:

French/German

Meaning:

strong and brave animal

Rank:

#826
Carter
Origin:

Irish, Scottish, English

Meaning:

one who transports goods by cart

Rank:

#39
North
Origin:

English

Meaning:

a family who lived in the North; also, a baby name used by Kim Kardashian and Kanye West

Rank:

> 1000
Kane
Origin:

Celtic

Meaning:

warrior

Rank:

#329
Wilder
Origin:

English

Meaning:

untamed

Rank:

#368
Zayn
Origin:

Hebrew

Meaning:

God's gracious gift

Rank:

#281
Wolfe
Origin:

English

Meaning:

wolf-like

Rank:

> 1000
Chip
Origin:

English

Meaning:

diminutive form of Christopher

Rank:

> 1000
Rune
Origin:

Old Norse

Meaning:

secret

Rank:

> 1000
Arlo
Origin:

Old English

Meaning:

rock hill

Rank:

#190
Rhodes
Origin:

Greek

Meaning:

where roses grow, also, a Greek island

Rank:

> 1000
Enzo
Origin:

Italian

Meaning:

ruler of the estate

Rank:

#139
Beau
Origin:

French

Meaning:

beautiful, or romantic partner

Rank:

#94
Zealand
Origin:

Dutch

Meaning:

sea land

Rank:

> 1000
Ledger
Origin:

Germanic

Meaning:

spear tribe

Rank:

#574
Cyrus
Origin:

Persian

Meaning:

sun

Rank:

#350
Reign
Origin:

American

Meaning:

to rule

Rank:

#608
Sonny
Origin:

English

Meaning:

son

Rank:

#497
Kendrix
Origin:

Welsh

Meaning:

bold ruler

Rank:

> 1000
Lincoln
Origin:

English

Meaning:

the lake settlement

Rank:

#45
Max
Origin:

Germanic/English

Meaning:

greatest

Rank:

#159
Bowie
Origin:

Gaelic

Meaning:

fair-haired

Rank:

#950
Beck
Origin:

Germanic/Hebrew

Meaning:

stream

Rank:

> 1000
Linus
Origin:

Greek

Meaning:

flax colored

Rank:

> 1000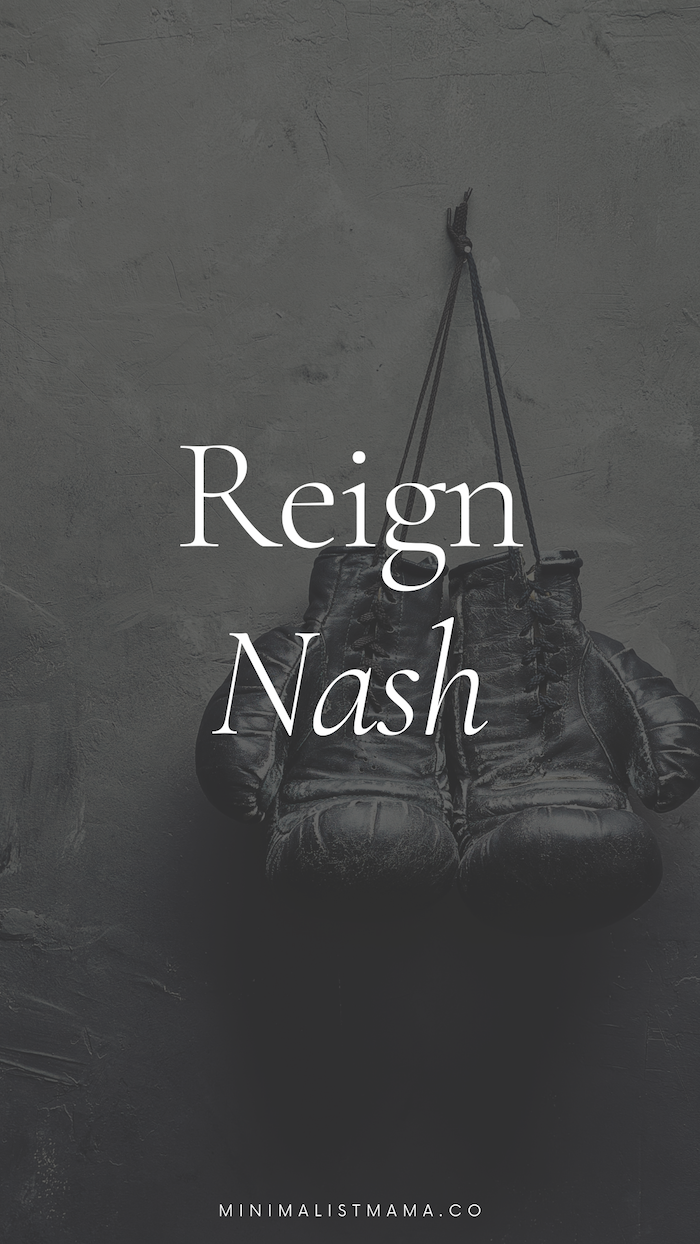 Zeke
Origin:

Germanic/Hebrew

Meaning:

God strengthens, short for Ezekiel

Rank:

#619
Koa
Origin:

Hawaiin

Meaning:

warrior

Rank:

#546
Archie
Origin:

English

Meaning:

genuine, bold, short for Archibald

Rank:

#399
Axel
Origin:

Danish

Meaning:

father of peace

Rank:

#76
Phoenix
Origin:

Greek

Meaning:

dark red

Rank:

#248
Mason
Origin:

Germanic/Hebrew

Meaning:

a tradesman who works with stone

Rank:

#18
Rockwell
Origin:

English

Meaning:

rock spring

Rank:

> 1000
Chase
Origin:

Old English

Meaning:

to hunt

Rank:

#125
Easton
Origin:

Scottish/English

Meaning:

from the east settlement

Rank:

#70
Maverick
Origin:

American

Meaning:

independent

Rank:

#47
Caden
Origin:

Welsh

Meaning:

spirit of battle

Rank:

#230
Knox
Origin:

Scottish

Meaning:

from the small hill

Rank:

#221
Milo
Origin:

Latin

Meaning:

dear, beloved

Rank:

#127
Leo
Origin:

German

Meaning:

lion

Rank:

#31
Jax
Origin:

English

Meaning:

God is gracious

Rank:

#243
Bodhi
Origin:

Sanskrit

Meaning:

awakening or enlightenment

Rank:

#284
Nash
Origin:

English

Meaning:

by the ash tree

Rank:

#233
Beckett
Origin:

English

Meaning:

dweller by the brook

Rank:

#198
Tanner
Origin:

English

Meaning:

leather maker

Rank:

#358
Holt
Origin:

Old English

Meaning:

small wood or grove of trees

Rank:

> 1000
Brixton
Origin:

Old English

Meaning:

Brock's town

Rank:

#548
Crew
Origin:

English

Meaning:

a group of people

Rank:

#267
Chicago
Origin:

Native American

Meaning:

onion or skunk

Rank:

> 1000
Zayden
Origin:

Arabic

Meaning:

to increase

Rank:

#204
Arrow
Origin:

English

Meaning:

a projectile fired from a bow

Rank:

> 1000
Hendrick
Origin:

Danish/Old German

Meaning:

home leader

Rank:

> 1000
Wyatt
Origin:

Old English

Meaning:

brave in the world

Rank:

#29
Otto
Origin:

German

Meaning:

wealth, prosperity

Rank:

#336
Lane
Origin:

Finnish/Estonian or English

Meaning:

wave or path or roadway

Rank:

#261
Ever
Origin:

American

Meaning:

always

Rank:

> 1000
Cruz
Origin:

Old English

Meaning:

brave or fierce person

Rank:

#297
Wolfgang
Origin:

German

Meaning:

wolf's path

Rank:

> 1000
Tatum
Origin:

Old English

Meaning:

bringer of joy

Rank:

#385
Kit
Origin:

Greek

Meaning:

carrier of Christ

Rank:

> 1000
Mack
Origin:

Scottish/Irish

Meaning:

son of or greatest

Rank:

#470
Fox
Origin:

English
Meaning: wild animal

Rank:

#939
Arlo
Origin:

Old English
Meaning: rock hill

Rank:

#190
Cash
Origin:

English

Meaning:

maker of chests

Rank:

#253
Beckham
Origin:

English
Meaning: homestead by the stream

Rank:

#222
Ace
Origin:

Latin

Meaning:

one, unity

Rank:

#156
Ziggy
Origin:

Old German
Meaning: victorious protector

Rank:

> 1000
Jagger
Origin:

Old English

Meaning:

one who manages a pack of horses

Rank:

#771
Wilde
Origin:

old German

Meaning:

hunter

Rank:

> 1000
Hugo
Origin:

Old German

Meaning:

heart or mind

Rank:

#434
Marlo
Origin:

Old English

Meaning:

driftwood

Rank:

> 1000
Lennon
Origin:

Gaelic

Meaning:

lover

Rank:

#670
Tobias
Origin:

Hebrew
Meaning: God is good

Rank:

#277
Dune
Origin:

French, Dutch

Meaning:

a mound or ridge of sand formed by the wind, especially on a coast or in the desert

Rank:

> 1000
Oscar
Origin:

Scandinavian, Irish

Meaning:

God's spear, or deer lover

Rank:

#226
Magnus
Origin:

Latin

Meaning:

great

Rank:

#728
Roman
Origin:

Latin

Meaning:

citizen of Rome; from Rome

Rank:

#75
Zeus
Origin:

Greek

Meaning:

sky, shine

Rank:

> 1000
Felix
Origin:

Spanish

Meaning:

happyjett

Rank:

#193
Jett
Origin:

British, English

Meaning:

a type of black gemstone similar to onyx, or referring to an airplane, also known as a jet

Rank:

#244
Bronson
Origin:

English

Meaning:

son of the dark man, or son of the brown one

Rank:

#863
Roscoe
Origin:

Scandinavian

Meaning:

deer wood

Rank:

> 1000
Kyrie
Origin:

Greek

Meaning:

the Lord, from the word Kyrios

Rank:

#224
Elio
Origin:

Italian, Spanish, Latin

Meaning:

the sun

Rank:

#842
Brantley
Origin:

Old Norse

Meaning:

fiery torch; field

Rank:

#268
Kingston
Origin:

British

Meaning:

king's town

Rank:

#112
Maddox
Origin:

Welsh

Meaning:

son of Madoc; fortunate

Rank:

#174
Dash
Origin:

American

Meaning:

to run quickly

Rank:

#792
Journey
Origin:

English

Meaning:

a trip or expedition

Rank:

> 1000 (but #267 for girls)
Rune
Origin:

Old Norse

Meaning:

secret

Rank:

> 1000
Even more baby name inspo:
☁️ 105+ Whimsical Boy Names That Will *Definitely* Inspire You
☁️ 159+ Handsome One Syllable Boy Names That Are Short & Strong