This post contains affiliate links.

The Best Toddler Boy Stocking Stuffer Ideas
As a boy mom, it's no secret that shopping for your little monkey can be a bit of a challenge at times.
While adorable ruffled-sleeve tees and daisy sunglasses and cute, sparkly hair clips are literally everywhere – it's just not the same story for boys.
So, as we gear up for Christmas, I've spent *hours* searching high and low to round up the very best affordable toddler boy stocking stuffer ideas for your little one, so that you have more time to peacefully sip your nog this Christmas season.
From Amazon, to Target, to a few of my favorite smaller shops – these are my fav toddler boy stocking stuffer ideas for 2023!
Here we go –
These toddler boy stocking stuffer ideas include a number of materials, toys, and activities that are suitable for toddlers from 12 to 36 months. Not every activity or material will be appropriate and safe for every baby, so please check the recommended ages and consider supervising play in order to keep your little one safe!
What's Inside
Toy Stocking Stuffers
Arts & Craft Stocking Stuffers
Clothes & Accessory Stocking Stuffers
Feeding Stocking Stuffers
Bath Time Stocking Stuffers
Christmas-Themed Stocking Stuffers
Toy Stocking Stuffer Ideas
Help your little one learn about cause and effect and practice blowing with this fun harmonica from wooden toy maker, Hape Toys.
This play tape is one of my fav Amazon finds – and a super unique stocking stuffer idea that your toddler is going to *love!*
Create your own race tracks for your little one to drive their cars along by sticking this paper-based tape anywhere you can dream up.
The best part? Clean up is easy peasy – the tape is paper-based so it pulls off easily, without leaving of that sticky residue behind.
Vroom, vroom baby – you're going to need something to drive on all those fun roads!
This next toddler stocking stuffer idea is a themed wooden car by modern toy brand, Candylab.
I love the idea of starting your little one's collection by gifting them one of these cars in their stocking – and adding to it over the years.
Such a fun Christmas tradition to start!
I know you've seen the pop it toys everywhere – they are so popular.
Little fingers love fidgeting with these little bubble toys.
This stylish option is one of the cutest pop it toys I've seen yet – perfect for a stocking!
How cute are these?
I can see a little one playing with these adorable nesting bears a million different ways.
And when they're done playing they all fit together for easy clean up and storage. Win-win!
These fun fidget toys can be pulled apart, squeezed back together, connected to each other – and make fun sounds that little guys love.
These wooden animals scream pretend play. They are so much more unique than any other wooden animal set that I've seen and I love the rope details as well.
These would also be another toy that would look adorable sitting on a little shelf when not being played with!
One of the things that my toddler is learning about and loving right now is animals.
These magnets are great because the entire animal is magnetized and there are no small pieces, so even if your toddler puts them in their mouth, there's no danger!
My son loves sticking each one to our dishwasher and fridge, and saying each of the sounds out loud!
This is one of my fav old school toddler boy stocking stuffer ideas – a classic slinky!
Set them up at the top of the stairs, and watch them slink down – your little one will learn about cause and effect, and will have lots of fun going up and down the stairs.
While kinetic sand is only recommended for toddlers 3 and older, I have had no problems letting my 21-month old son play with it – I just make sure I'm sitting with him and supervising him while he plays.
This set is so neat – besides including the black kinetic sand that looks like gravel, it also includes this cute little roller truck and miniature tools.
If you ask me, you can't really go wrong with this stocking stuffer that's only $7!
Have you introduced your toddler to Play Doh yet?
Mine *loves* playing with Play Doh, especially rolling it out and cutting it with little plastic knives and stamping it with his little Play Doh tools.
This fun set of rollers and cutters could also be used to get your little one involved in Christmas cookie baking – my son loves scooting his learning tower up to the island and cutting and rolling the dough with me.
Simple, yet the perfect gift idea. These natural wood instruments will have your child exploring sounds and music and keeping them busy for hours.
This next toddler boy stocking stuffer idea is one I am so excited to give my little guy!
He had a good hour of fun playing with a regular mini flashlight in his bedroom with the lights off – this one not only lights up a dark room, but projects cute images, too.
These rainbow stackers will definitely keep your child busy stacking, chewing, or building with the neutral-colored arches.
The possibilities are endless with this cute toy.
Looking for a super fun activity that will keep that little one busy?
This little farm farm scene board book comes with a set of reusable farm animal stickers that your little guy can stick on and peel off over and over again.
Another great option for nesting toys are these silicone stars.
The neutral colors of these stars also look adorable displayed on a shelf in your child's room or playroom!
Arts & Crafts
Get your toddler started on this new skill with a pair of training scissors.
Or, if you want to get even more festive, go with this cute Christmas-themed water paint coloring book.
Shake up your coloring game with these awesome little washable paint sticks.
While you could really throw any type of crayons in your toddler boy's stocking, these cute custom dino crayons are made by a small business on Etsy and they just go that little extra mile.
Such a cute gift!
What's your son obsessed with?
Mine wakes up saying Elmo 😂.
Grab a pack of stickers and toss them in their stocking – if you can find them in their favorite character, even better!
While I love this little book of Elmo stickers from Amazon, you can also pick up simple sheets of stickers from your local dollar store, Target, or Wal-mart.
Have you done the classic baking soda and vinegar experiment with your toddler boy yet?
My son sat in his high chair for a good HOUR, using tiny measuring spoons and ramekins I had in the kitchen to scoop and pour vinegar into a little container of baking soda, and watch the reaction.
These little droppers are great to help your toddler practice their fine motor skills, and practice sucking up the vinegar and spraying it into baking soda.
Sometimes, the simplest items are the most fun for kids.
These bright, sticky notes can be played with so many different ways.
Possibly the best part?
Super easy clean up.
The perfect size for a little stocking!
This great little farm animals stamp set is another fun way for your toddler boy to moo, oink and neigh his way through some quiet activity time –
and yes, it comes with a washable ink pad, too!
Clothes & Accessories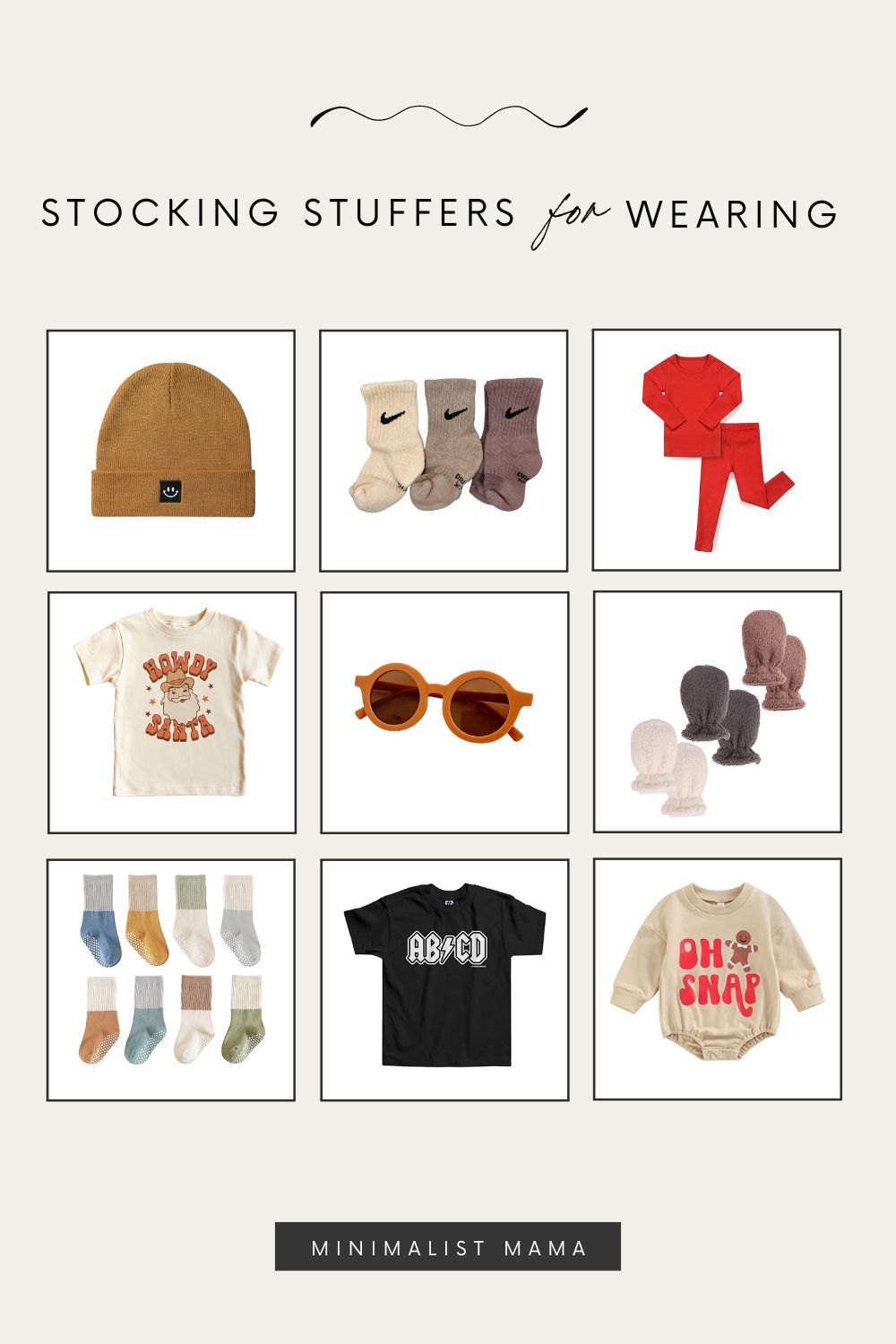 How did I get this far down the list without including socks? Isn't that a stocking staple? These cute colorblock socks are unique and super cute.
Bonus: this shop on Etsy also sells matching mommy and daddy socks for *the cutest* photo opp.
Order a pair for each of you for a fun family matching moment!
I'm sorry. I simply can not with this little festive tee.
In case you were wondering, retro is *in*.
Ships next day from a small business on Etsy!
How cute are these simple sunnies?
On trend.
If there's one thing I love, it's personalized items.
These fun initial badge beanies are a cute, subdued way to let your little show off that perfect little name you chose.
I'm going to call it a stocking stuffer here, but it's a bit of a splurge so could work great as a gift, too.
Lol. This one's an Amazon find!
It's like ACDC but… toddler.
Don't shed a tear when you *inevitably* lose one of those (stylish, neutral) mittens – just move on to the next pair, mama!
This simple festive set is super soft, and a nice, bright cheery red.
Get them, STAT, on your doorstep, thanks to Amazon.
Snap a few adorable Christmas photos with your little one in this cute bubble romper (that would be a great gender neutral hand-me-down if you plan on having more littles!)
Snack Time
I literally can not with these freaking adorable snack cups – my favorites for toddler boys are the Peace, Love and Snacks or Cheerio Mate.
Is your little one in daycare?
Ditch the disposable ziploc bags and grab one of these cute silicone snack bags instead.
Crocodiles, and llamas, and elephants, oh my!
These fun silicone straws with little animals make such a great toddler boy stocking stuffer – we love Lou Lou Lollipop's whole line of dishes and utensils!
These are the utensils we reach for over and over in our fam.
This great little learning fork and spoon set fits perfectly in your little one's hand, and the metal tines make it easier for them to actually get that food on to their fork.
This set is for toddlers closer to 12 months, whereas their longer set is better for older kids.
I'm sorry, but these sweet little puppies are *too cute*.
Available in under the sea, space hero, heroe and dinos, too!
This is our favorite sippy cup – my son loves playing with the lid that flips on and off, and I love the more minimalist design, as compared to those brighter, bigger Munchkin brand cups that look super similar.
Training Chopsticks
Give your little one a new skill to master with these adorable little animal training chopsticks from Lou Lou Lollipop.
Bath Time
This set is by one of my favorite brands, Ever Eden, a non-toxic skincare line for babies and kids created by a group of mommy doctors.
Bath toys are always a hit! I love these neutral sets that include boats and stacking cups or cute little animals and all are made with non-toxic rubber.
This cool bath time book is black and white until you dunk it in the water – then it comes to life with color.
A bath time basic – foam letters!
I love writing my son's name and 1, 2, 3's and having him sound out and point to each letter after me during bath time.
These special bath crayons have a plastic exterior – similar to face paint crayons – so that they don't break in your toddler's hands, and they don't melt in the bath either.
They wash away easily with a baby wipe and splash of bath water.
This is one of my toddler's favorite bath toys, ever.
Wind these tiny little animals up and watch them swim across the water!
Watch your toddler's eyes light up as you fizz-ify their bath with this calming mix.
This set is another one of my top toddler boy stocking stuff ideas.
My son loves to play with these alongside his light-up Glo Pals – he practices putting them in, taking them out, moving them to another containers, dunking the container, and watching the water pour out.
Have a little one who can get really wound up some days?
Try a lights-off bath with these fun, glow-in-the-dark dino animals – it's soooo calming!
NGL – I even throw my son's glow-in-the-dark bath toys into my own bubble baths because the ambiance is just so 🤌🏼🤌🏼.
The End
Wow! You made it to the end – congrats!
I'm surprised I did too, to be honest. Lol.
I hope this list helps you to start shopping for those pesky little stocking stuffer gifts!
I'm excited to get my shopping started and add some of these picks to my own cart – hopefully with more than a few weeks before Christmas this time.
Best of luck and happy shopping!
🚗 Have some exciting travel planned for the new year?
Check out this super fun list of the best toddler toys for road trips that are perfect for travel – and would be great as a stocking stuffer, too!