This post contains affiliate links.
Busy mom on the go, searching for the perfect cute belt bag that fits all the essentials? Then kick up your feet mama, because *this* is the ultimate list of the best belt bags for moms with pretty, must-have styles and great functionality!
Being a mom is a freaking hard job.
I honestly don't know how I do it some days.
It's so incredibly challenging, but insanely rewarding.
One of the challenges of motherhood, for me, is staying organized.
For being so tiny, that mini sure needs a lot of stuff.
While yes, of course, you can tuck all of your mommy essentials into your little one's diaper bag while you're on the go, there are times when you have to run out for a quick errand without them, or just need to have your everyday items on you, without having to lug that big bag around.
Enter, the belt bag.
The perfect little bag that is *clearly* very in right now, can tote all of your essentials, and doesn't get in the way like a regular purse would (carrying your regular before-mom purse with little ones is just not practical in most cases).
There's no debating that the belt bag is an absolute essential for today's millennial mama – but which one's best?
That's exactly what I'm about to get in to.
Today – I'm sharing the 5 best belt bags for moms, from a few super affordable options to one very luxe splurge.
Let's get to it –
The Best Belt Bags for Moms
01.

The Everywhere Belt Bag by Lululemon

Of course, we can't kick off a list of the best belt bags without touting Lululemon's cult classic – The Everywhere Belt Bag.
Call me a rebel, but I would even go so far as to say that this belt bag is the one that kicked off the entire belt bag craze.
This super handy belt bag is the one that I personally end up reaching for most often.
While there are two sizes – both the classic Everywhere belt bag and the large version – I personally prefer the classic one.
Big enough to fit my keys, phone, cards, a small hand sanitizer, a few tissues, a small snack for my little one, some hair elastics for me and a mini hair brush (my son's got wild hair – lol), this belt bag is large enough, without being bulky!
Inside the belt bag, there are two small mesh pockets along one side, and one larger mesh pocket along the other. Additionally, it's got a great little exterior zip pocket on the back that I like to keep my cards in so I don't accidentally drop them while I'm quickly grabbing my keys or phone.
Available in *so* many colors, as well as some super adorable teddy (sherpa) styles for fall/winter, it really is super versatile.
02.

The Everywhere Belt Bag Dupe by Amazon
Next up – I mean, really – this wouldn't be a Minimalist Mama post if I didn't include a great dupe.
While lulu's belt bag will set you back $38, this lululemon everywhere belt bag dupe from (where else, right?) Amazon comes in at a cool $18.99.
Besides the obvious – not including the classic lulu logo, as well as a bit of a different toned zipper – this belt bag is about as close as you'll get to the real thing.
Another bonus?
You can turn off the 4 million restock notifications you have set up from lulu (the Everywhere Belt Bag has been selling out like hotcakes for months), and have this dupe on your doorstep by… tomorrow?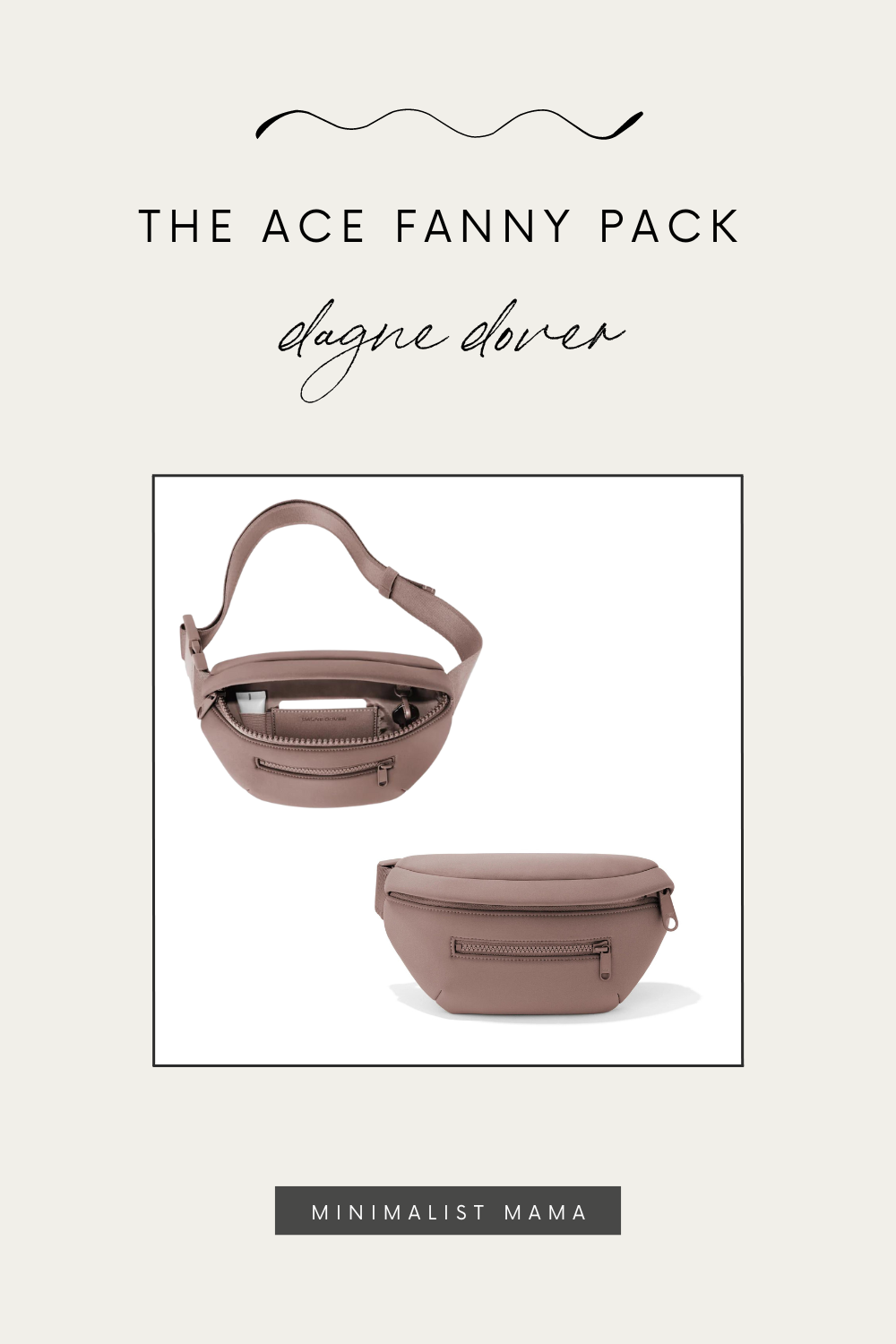 03.

The Ace Fanny Pack by Dagne Dover

Next on our list – the Ace Fanny Pack by Dagne Dover.
This is another great little belt bag for moms.
While it's got a bit of a different shape compared to the Lulu belt bag (a bit more rounded, more closely following that traditional 'fanny pack' silhouette) – it's still got plenty of room.
Both the Lulu Everywhere belt bag and this option from Dagne Dover have a volume of 1 litre.
With a key ring, two spots to store cards, and somewhere for your lip gloss, as well as two small exterior pockets – this belt bag's definitely multi-functional.
Another unique feature that this belt bag boasts is the material it's made of – neoprene (yup, the stuff that wetsuits are made from).
Available in onyx (black), heather grey, dark moss (green), dune (an earthy pink), storm (dark blue) and camel (classic nude), this bag is totally gender neutral, so Dad may even ask to borrow it.
For mamas looking for a great alternative to the Lululemon belt bag, the Ace Fanny Pack is it!
Sold?
Where to buy this belt bag: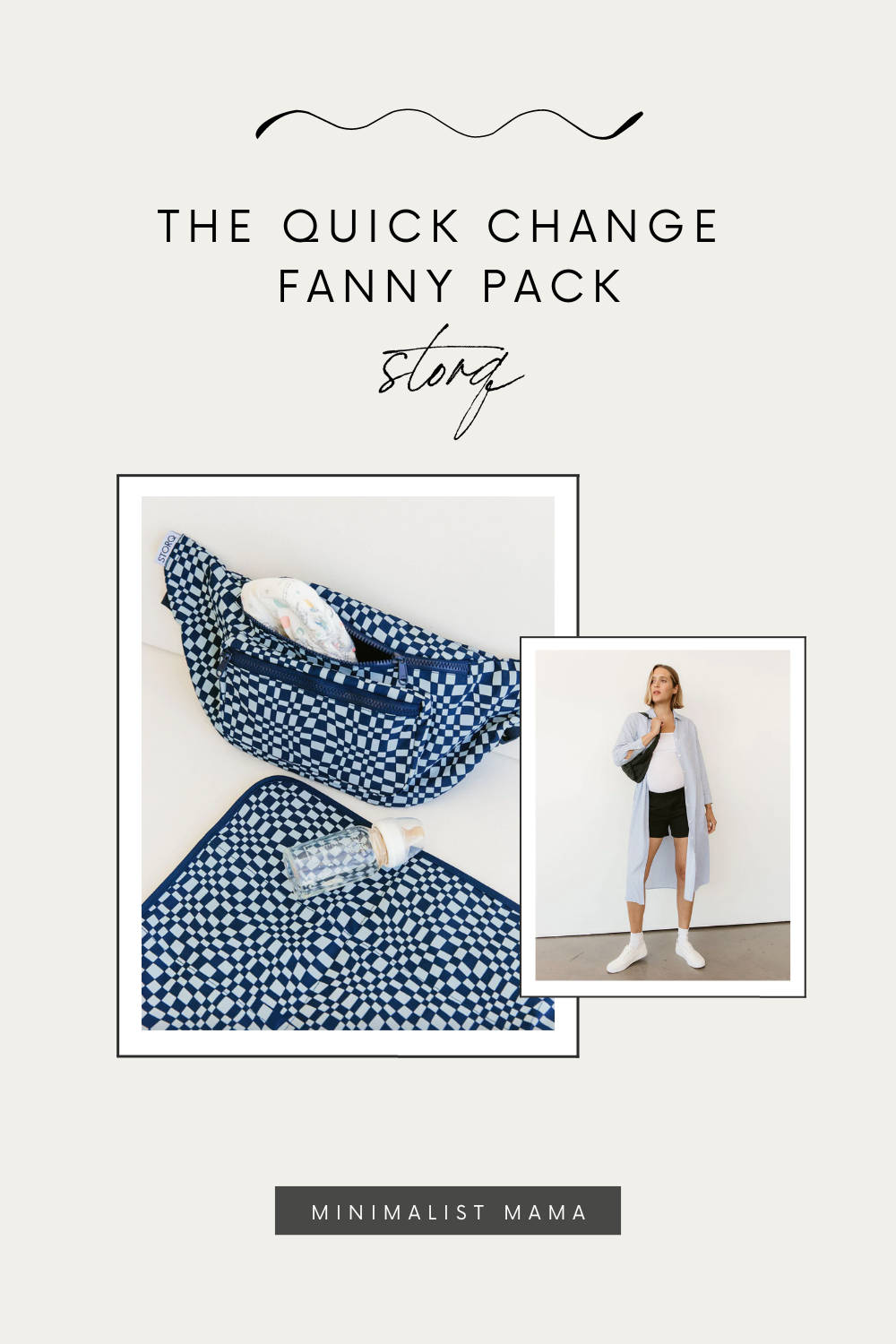 04.

The Quick Change Fanny Pack by Storq

This bum bag by mommy and maternity fashion brand , Storq, wins the Minimalist Mama award for best extra-large belt bag for moms.
The largest of all of the beloved belt bags on our list, it's actually been dubbed an incognito diaper back because its that spacious.
What's even more, is this functional fanny pack also comes with a portable changing pad (hello, bonus!) that you can whip out with only one hand (the closure where the changing pad is stored is magnetic, as opposed to zippered, which makes it easier to get to when your hands are otherwise full).
While other belt bags typically have a number of mesh compartments inside, the Storq Quick Change Fanny Pack offers a smaller zippered pocket just below the main compartment for mommy's essentials (and even fits a phone).
Made from nylon, the material of this belt bag is *chef's kiss* when it comes to the keep-clean-ability factor.
Yes, that's a word.
When the inevitable baby spit-up or toddler tantrum spill occurs, this Storq fanny pack wipes clean easily, and can even be machine washed on gentle.
Available in both black, and a super trendy modern blue checked pattern, this belt bag for mommy's is a great option!
05.

The Luka Belt Bag by Calpak

Ah, the Luka line of bags.
This perfectly simple line of bags from luggage giant, Calpak, is just *chef's kiss*.
(The Luka Duffel is the *perfect* hospital bag or overnighter for moms, and the Luka Laptop Backpack is such a good daddy diaper bag).
As the die-hard lover of minimalist design that I am, I just can not.
For mamas with who love matching sets, this is *the* best belt bag.
Where to buy this belt bag:

05.

The GG Marmont Belt Bag by Gucci

More of a fashionista mama, searching for a chic belt bag that can actually stand up to the demands of motherhood?
When it comes to designer belt bags, there are definitely many stylish, dainty options – from chain link straps, to ultra luxe printed fabrics.
But, what about a designer belt bag that a busy mom can actually wear comfortably and fit enough into?
Well, the GG Marmont Belt by Gucci is the designer belt bag for moms that fits that bill.
With a forgiving black leather exterior, and a more durable leather strap, the Gucci GG Marmont Belt Bag is more practical and less dainty than many other designer alternatives.
A forewarning – this one is definitely tough to come by, and if you do find one in stock, be sure to select the correct size.
While almost every other belt bag is a one size fits all type deal, this belt bag, in particular, comes in a different sizes, depending on your waist size.
Wrapping Up
It's no secret that belt bags or 'bum bags' are an essential go-to accessory for busy mamas, and I hope that one of my picks for the best belt bags for moms is what you were looking for.
Are you a bonafide accessories girly? Up next, check out this great little list of surprisingly affordable Cult Gaia dupes – perfect for a date night out!
Read next:
🤍 29+ Uplifting and Encouraging Positive Affirmations for New Moms
🤍 65+ *Aesthetic* Neutral Baby Toys That You Literally *Need*
🤍 21+ *Very Aesthetic* Cozy Coupe Makeover Ideas (That You Can DIY!)