This post contains affiliate links.

Expecting a rainbow baby, and looking for the perfect rainbow baby announcement idea to share your incredible news?
Today, I've rounded up all of my very favorite photo ideas for planning a pregnancy announcement after loss – and I'm sharing them with you!
Let's get started –
01.

Giant Paper Rainbow Pregnancy Announcement
Kicking off our collection of rainbow baby pregnancy announcements – a special photo in front of this beautiful art installation at the Love Letters Museum in Salt Lake City, Utah.
Utah a bit of a drive?
Consider creating your own DIY rainbow backdrop on a smaller scale on a wall in your home.
02.

Twin Rainbow Pregnancy Announcement
Oh baby, we're having a… we've having two babies!
Expecting twins after a trying season?
Celebrate your incredible news by snapping a simple pic of a custom pregnancy announcement plaque in front of your belly.
03.

Custom Rainbow Cookie Baby Announcement
To recreate this idea, do a quick Instagram search for custom sugar cookies in your area, or consider ordering a set of custom cookies online.
04.

Finger Paint Rainbow Baby Announcement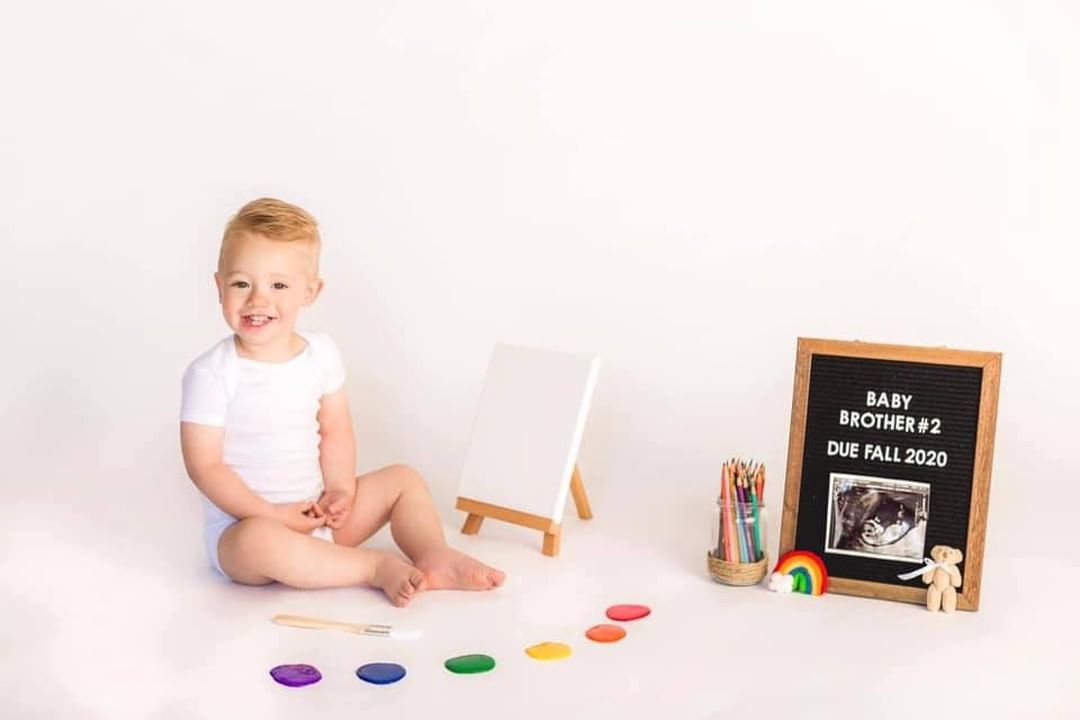 Having your first born help to announce the second baby on the way is a great way to get them involved.
For a super cute way to announce your rainbow baby, set your baby up to paint with a rainbow of washable finger paints (keyword: washable!) and a small canvas.
To keep the focus on your big news (and keep the photograph timeless), opt for a classic white onesie.
05.

Neutral Flat Lay Rainbow Baby Announcement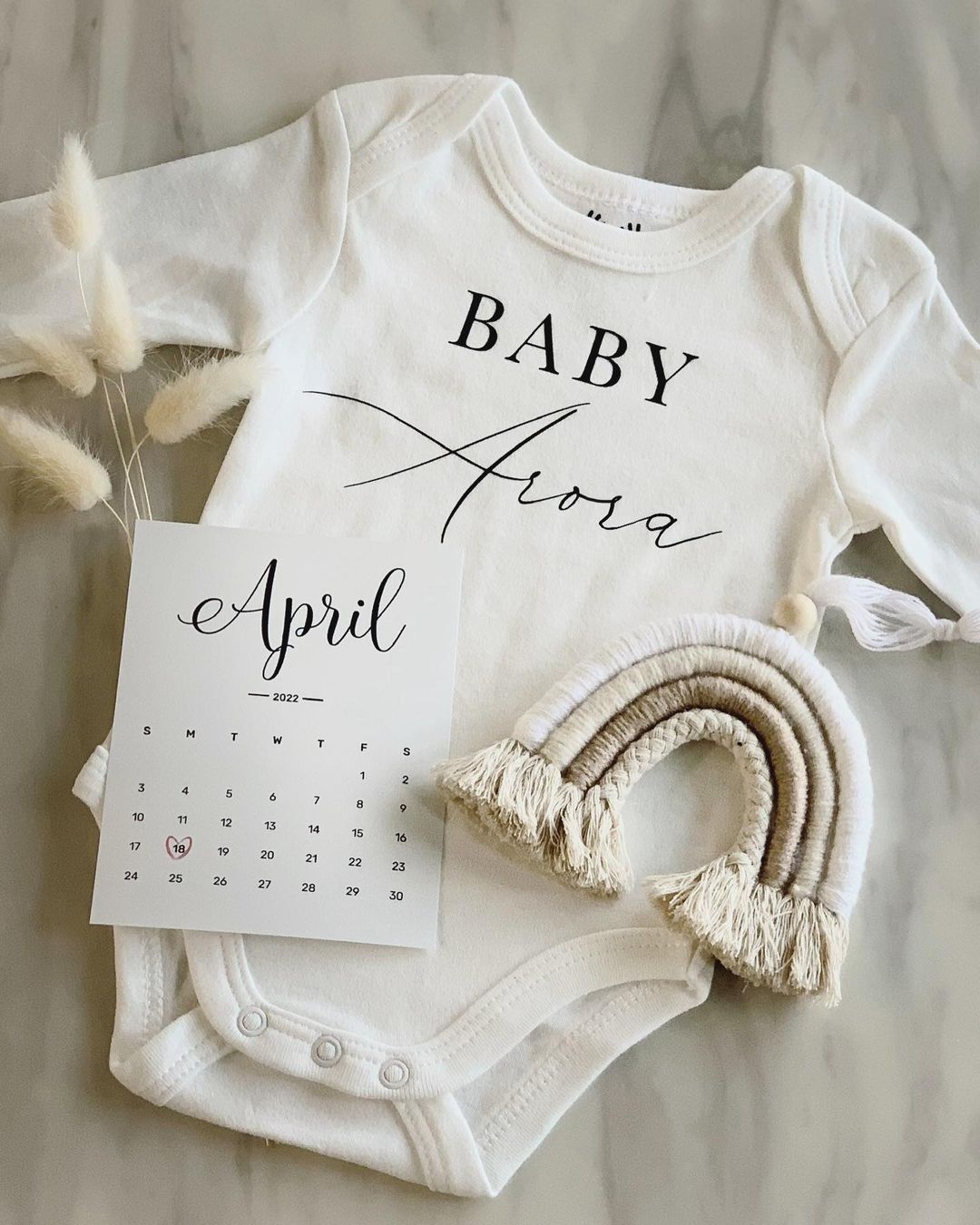 To recreate this beautiful rainbow baby announcement, you'll need a custom baby name onesie, a small printed calendar, and a macrame rainbow.
To capture the photo yourself, try to find a spot that's out of direct sunlight to avoid harsh shadows, and set up your little flat lay scene.
06.

Rainbow Balloons Pregnancy Announcement After Loss
What a fun way to get your kids involved in the pregnancy announcement! Get some colourful balloons and head out for a fun family portrait welcoming the newest addition to the family.
07.

Letter Board Rainbow Baby Pregnancy Announcement
A letter board announcement is a simple and stylish way to share your excitement and joy with friends and family.
Get yourself a letter board or even chalkboard as a prop to create a creative message, don't forget to add a rainbow ribbon as a nice touch to bring it all together.
08.

Here Comes The Son Rainbow Baby Announcement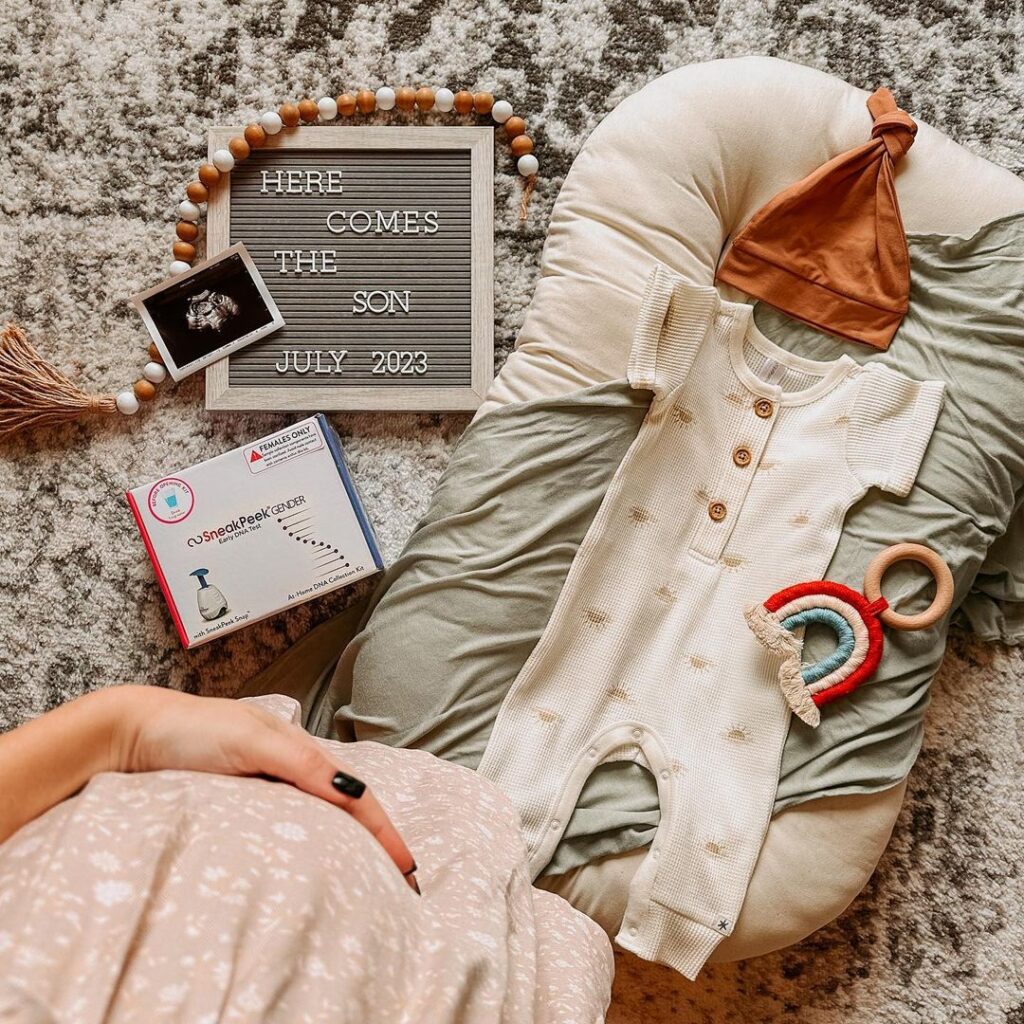 Have a baby boy on the way?
If you're planning a pregnancy announcement after loss, it's common to want to wait a bit longer than the usual 12 weeks – possibly until 20 weeks – which is when you find out baby's gender!
Here's a super cute rainbow baby announcement idea for a baby boy that's such a clever, witty play on words.
The waffle romper with the rising suns is just the cherry on top, isn't it? 🥹
09.

At Home Balloon Backdrop Rainbow Baby Announcement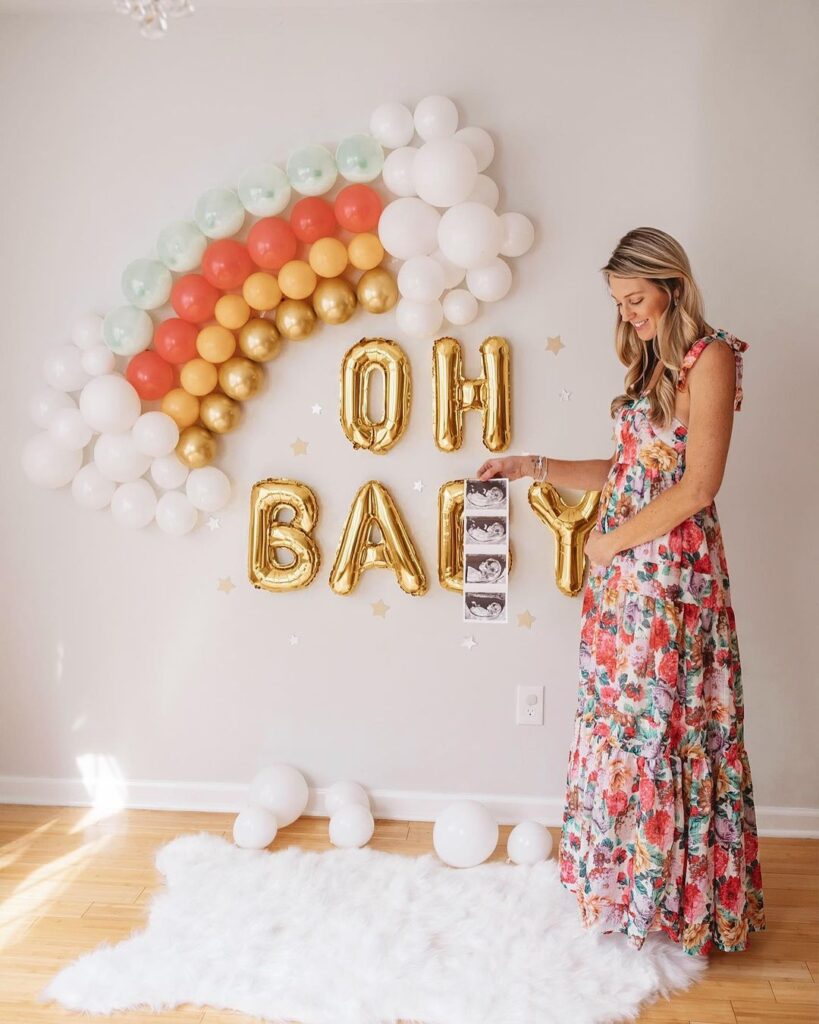 Somewhere over the rainbow…
Grab one of these little diy balloon rainbow kits and spend the time blowing up the balloons reflecting on your incredible journey so far – and this amazing blessing.
Top it off with these classic foil oh baby balloon letters, too (and if you don't love the gold, you can spray paint the balloons before you blow them up for a more neutral or muted look!)
10.

Rainbow Onesie Pregnancy Announcement After Loss
A photo of parents holding a rainbow onesie and looking at each other can be a sweet and sentimental way to announce a pregnancy after loss.
This is simple yet heartfelt, and it's a great way to showcase the love and connection between you and your partner – and of course, you'll have a cute outfit for your little one to wear once they're here, too.
(Bonus points if you can snap the photo in a location that's extra special or especially significant to your pregnancy journey!)
11.

Rainbow Baby Letter Board Pregnancy Announcement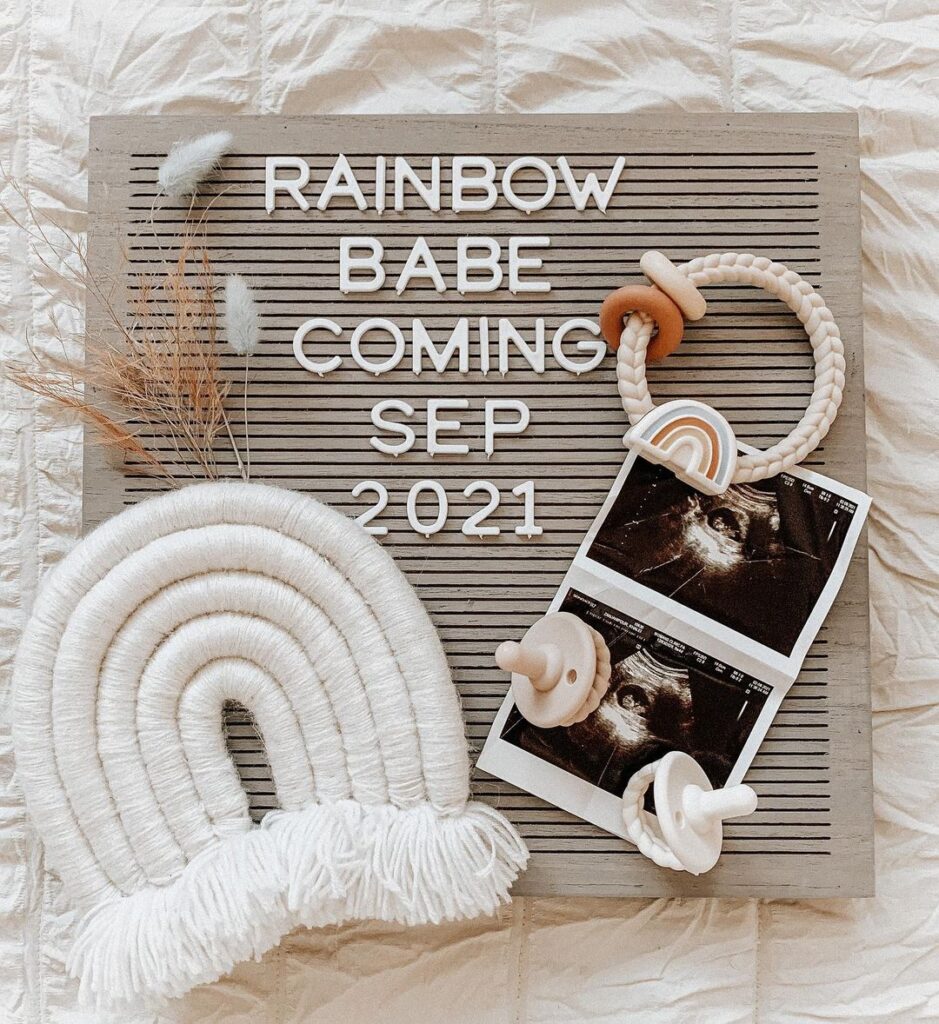 Have fun with your announcement and make it personal to you and your family. Here's another great way to use a letter board and sonogram with neutral tones to welcome the babe on the way.
12.

Big Brothers Rainbow Baby Announcement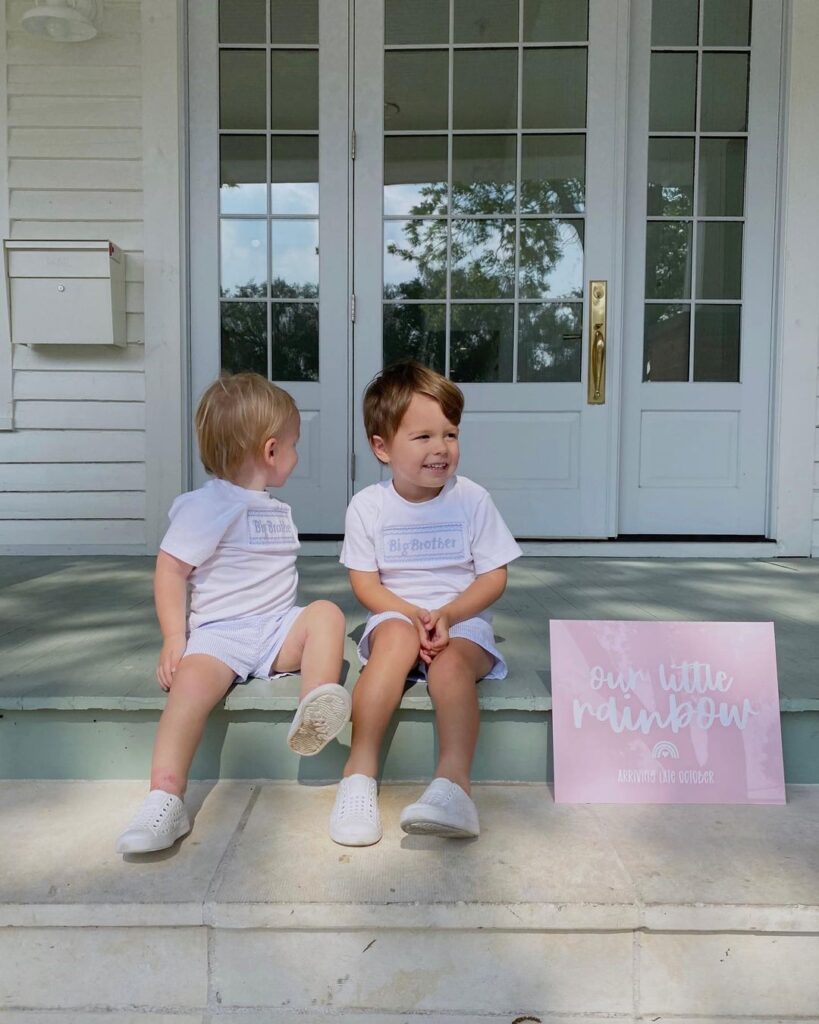 What better way to involve your rainbow babe's siblings than with matching shirts to make them feel extra special about the new addition to the family.
Post your special news on a simple sign (here's a similar style).
Though this one's made from acrylic and a custom decal, you could DIY your own sign with whatever materials you have.
13.

Macrame Rainbow Pregnancy Announcement After Loss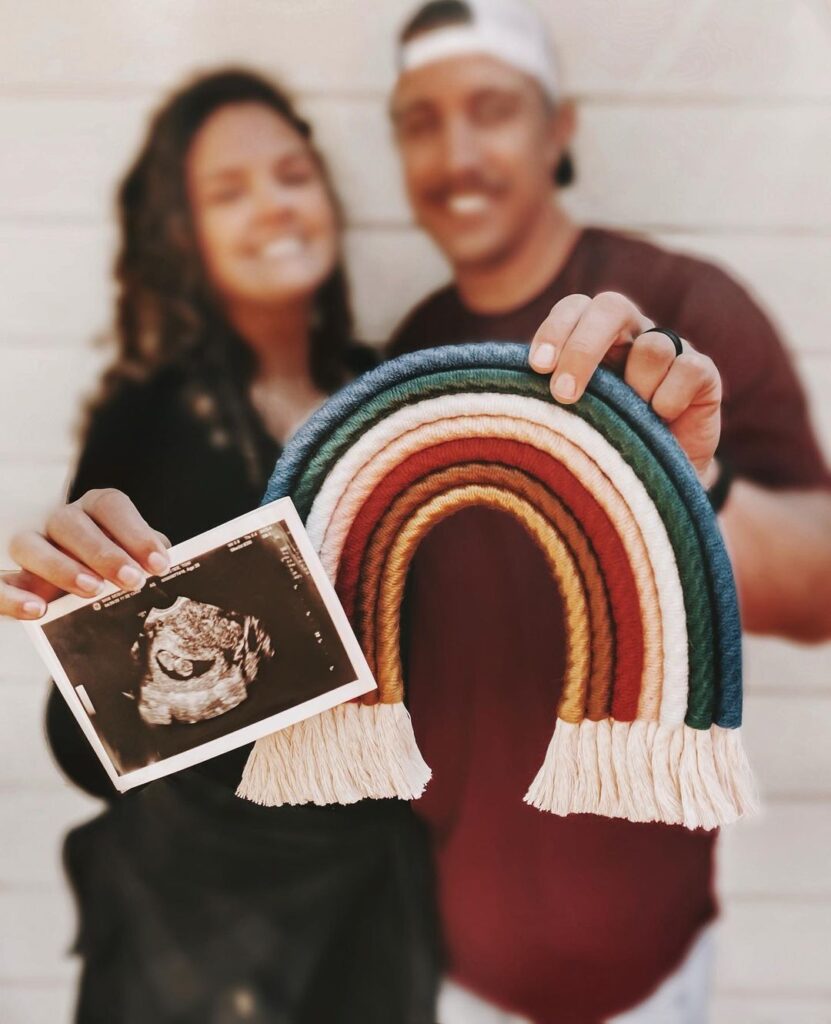 Looking for a photo idea to announce your rainbow baby without having to go full glam?
This photo style is great because you're still in the photo – but it's the news that's the focus, not you! (And therefore, of course, you can get away with a lower-key look, which let's be honest – is a requirement for many preggo mamas!)
This simple and elegant DIY project is perfect for capturing the beauty and joy of your pregnancy journey.
14.

Simple Rainbow Baby Announcement (with Emotional Caption)

Sometimes, simple is best.

This beautiful beach pregnancy announcement photograph was part of a photoshoot, and I absolutely love this capture, as it puts all the focus on the sonogram, and gives us just a glimpse of this special, candid moment between the mom and dad-to-be.

(If this isn't the *perfect* excuse for a fresh mani, I don't know what is… )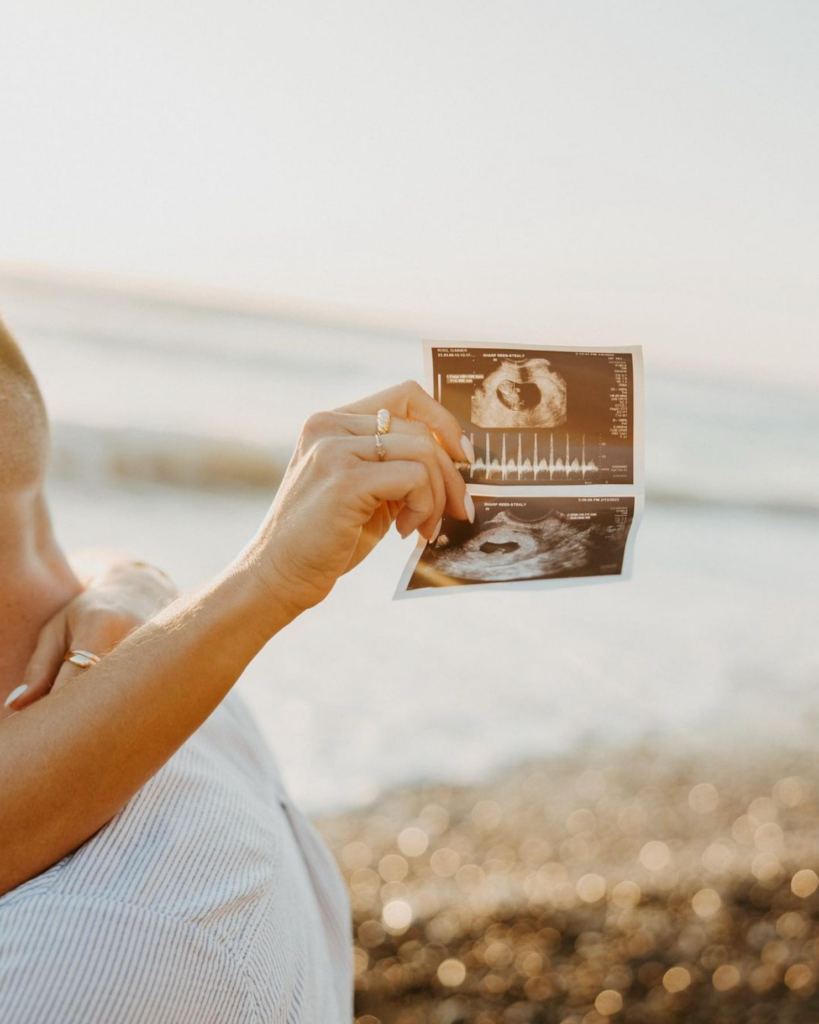 And the best part of this whole announcement?
Here's the punchline – 😭😭😭
Wanna recreate this idea yourself? Here are the *most perfect* rainbow baby announcement captions ever…
Rainbow Baby Announcement Captions
Planning on sharing your pregnancy announcement on social media, and looking for some caption ideas for your photo?
Here are some of my favorite rainbow baby caption ideas:
Dreams really do come true. My sweet little rainbow, we've been waiting for you.
After every storm comes a rainbow
The greater the storm, the brighter the rainbow
Rainbow baby coming (month) (year)
Hand picked on earth by my brother/sister in heaven
The storm's over, mama
Blessed with our rainbow, but will never forget our storm
And sometimes, against all odds, miracles happen.
The storm has passed, I'm here to last.
And then God said it's our turn… 🕊️🤍!!!!
We waited through the storm for our rainbow to appear.
Somewhere over the rainbow…
I will not cause paint without allowing something new to be born, says the Lord – Isaiah 66:9
Wrapping Up
Which rainbow baby announcement idea has inspired you — something sweet and simple, or are you planning on going big to celebrate this special time in your life?
In any case, no matter how you plan to set up your pregnancy announcement, it will definitely be a memory you will cherish forever, so remember to take a moment to soak it all in!
Read Next:
🌈 35+ Gorgeous Big Sister & Big Brother Announcement Ideas
🌈
🌈