This post contains affiliate links.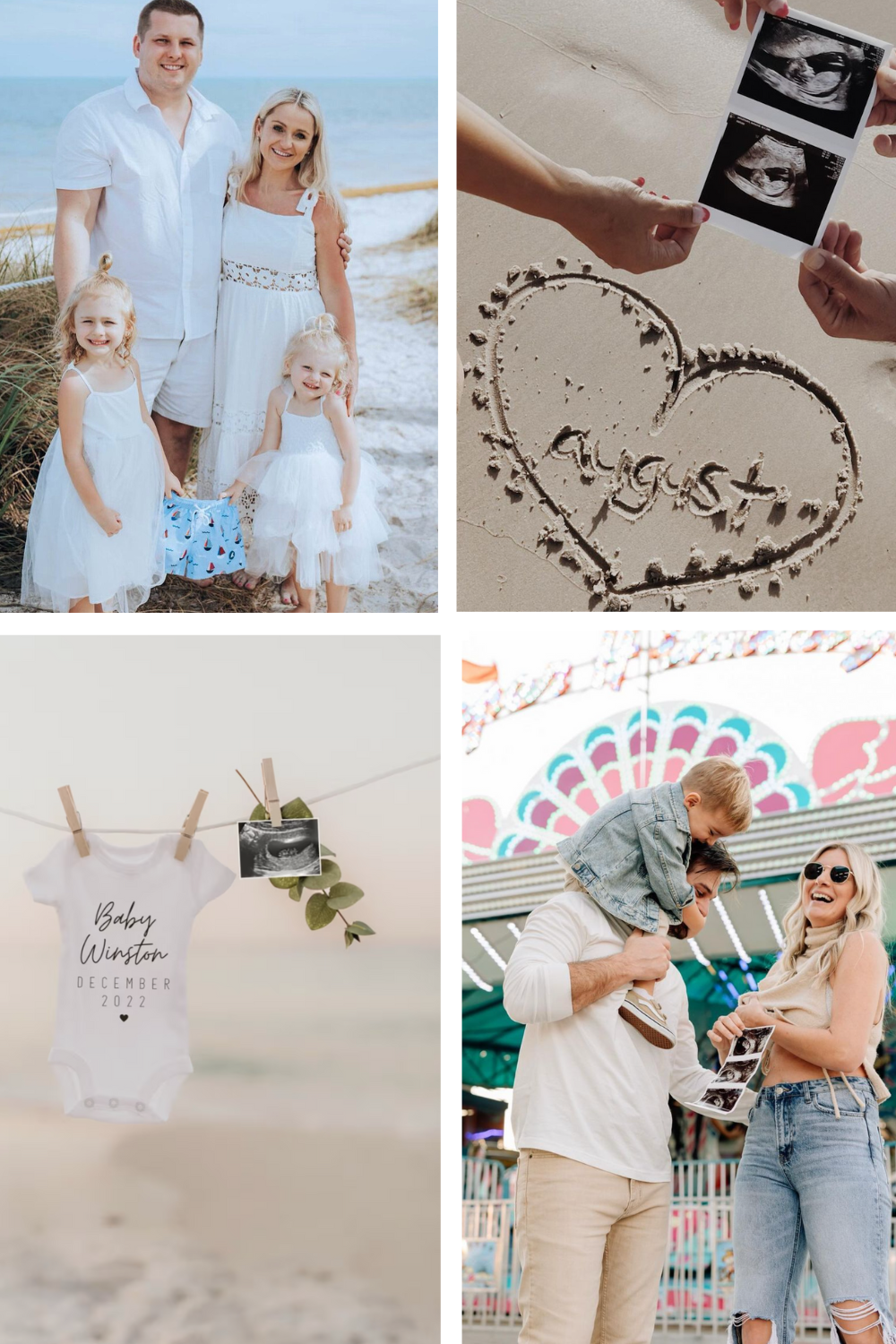 Sharing the good news with friends and family members that there's a new baby on the way is the greatest gift!
Trying to figure out a unique and beautiful way to break the news can be both exciting and frustrating… The good news is, if you're looking for the perfect way to announce a new bundle of joy, you'll find the right inspiration for summer pregnancy announcement ideas on this list!
From camping and s'mores to beaches and watermelon… If you're looking for *summer vibes* for your pregnancy announcement, you'll find them here!
Inspo for a Summer Pregnancy Announcement
Before we dive into our mega-list of super cute summer pregnancy announcement photos, let's take a quick peek at some fun summer baby reveal themes to get feeling inspired:
S'mores
Ice Cream
Popsicles
Lemons
Peaches
Oranges
Berries
Watermelon
Camping
Hiking
Beach days
Summer vacation
Disneyland
Summer flowers
Fishing
Surfing
Skateboarding
4th of July festivities
Ice Cream Scoops Baby Announcement
A simple summer pregnancy announcement that's still so cute and effective. One scoop for you, one scoop for me, and a little baby scoop on the way! The added ultrasound photo really sets the scene for an unforgettable summery baby announcement.
Cute Country Fair Pregnancy Announcement
Do your fun-in-the-sun plans this summer involve a carnival? If you're looking for a cool and unique spot to stage your summer pregnancy announcement, consider a festival or carnival for a great photo op like this one.
Check out this article next if you're looking for more pregnancy announcement ideas with siblings.
Long Boarding Pregnancy Announcement
Grab your long board and head to the boardwalk… This pregnancy announcement idea is perfect for summer.
It's subtle with just mom's hands outlining her growing bump and if you look closely, dad's holding some tiny baby shoes!
Digital Summer Pregnancy Announcement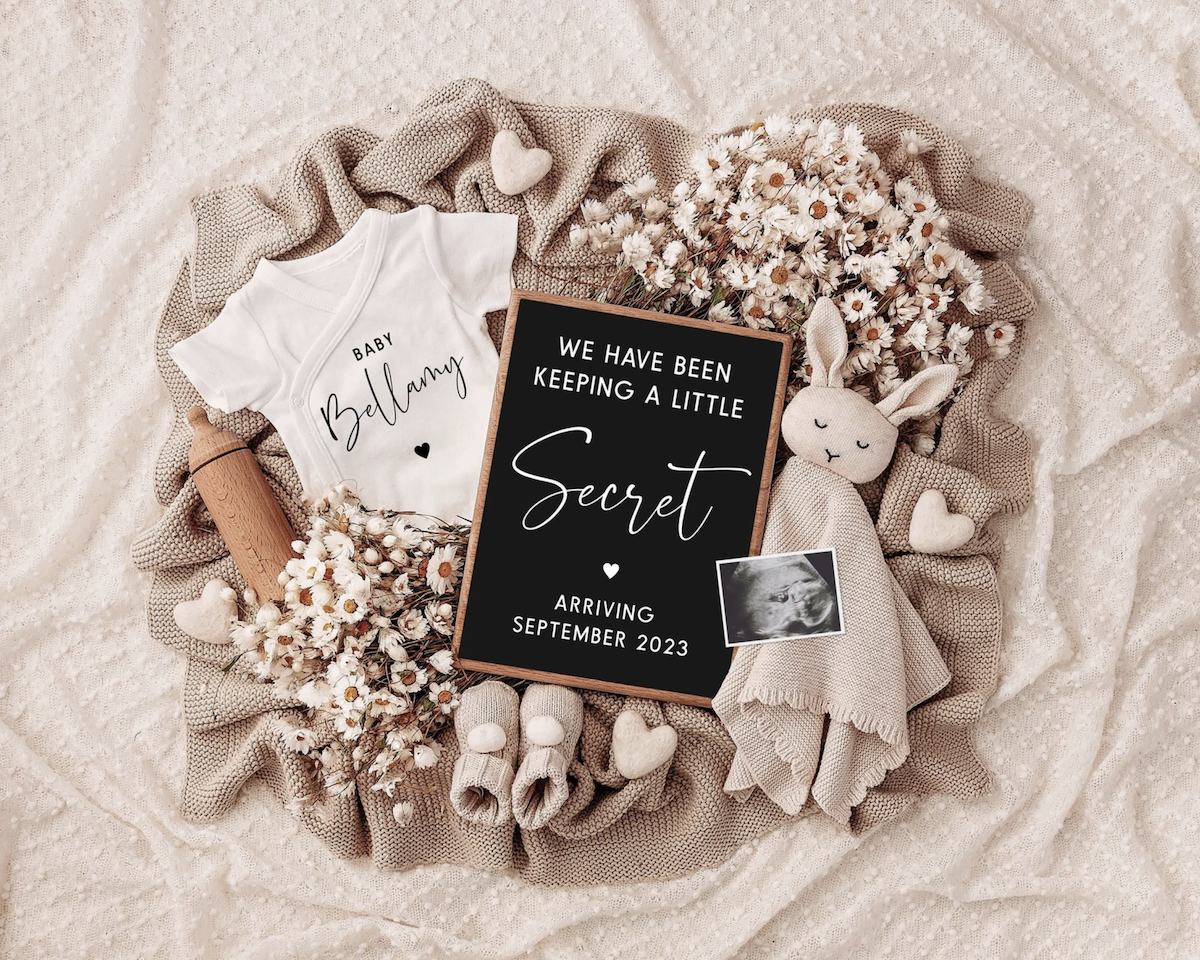 Want a summery digital pregnancy announcement that takes the work out of the process for you?
The best part about buying a digital flat lay photo scene like this is the lighting is always perfect, you don't need hair and makeup and you don't have to figure out what to wear.
Trust me, I've been pregnant too… if some of these pregnancy announcement ideas feel like *too much* for you to muster up the strength for, a digital announcement is where it's at.
You can buy this digital announcement on Etsy and input your own details for a simple, stunning photo without all the effort.
Summer Sunset Pregnancy Announcement
This summer pregnancy announcement would be super easy to recreate at home with a timer and the right lighting.
Find a picturesque path, your favorite summery hat, and grab your ultrasound. This type of photo takes advantage of the 'golden hour' lighting you see right before sunset.
Summer Beach Pregnancy Announcement
Psssst… Want to know a secret? This is actually a DIGITAL pregnancy announcement. That's right, I be you thought you had to take your tripod to the beach for this cute and simple idea.
You just have to input your personalization details with your baby's name (or with your last name) as well as your baby's due date or due date month. Then this seller on Etsy will edit in your details and *poof* you'll have you summer beach pregnancy announcement in no time.
Check out this post next for more beautiful beach pregnancy announcement ideas to announce the expected date of arrival for your new addition!
S'mores Summer Pregnancy Announcement
If your family is growing this summer and you want to get your older children involved in your pregnancy announcement, this is a super cute way to do it.
Not only is this an adorable announcement idea with a letter board and ultrasound photo, but your kids are guaranteed to SMILE for your photo because they're eating marshmallows!
Camping Pregnancy Announcement
If you love hiking and camping, a summer pregnancy announcement that showcases that theme is a great idea.
A physical item that represents your passion and new baby on the way like some tiny hiking boots, cute little onesies and a simple letter board will help you set the scene for a photo like this.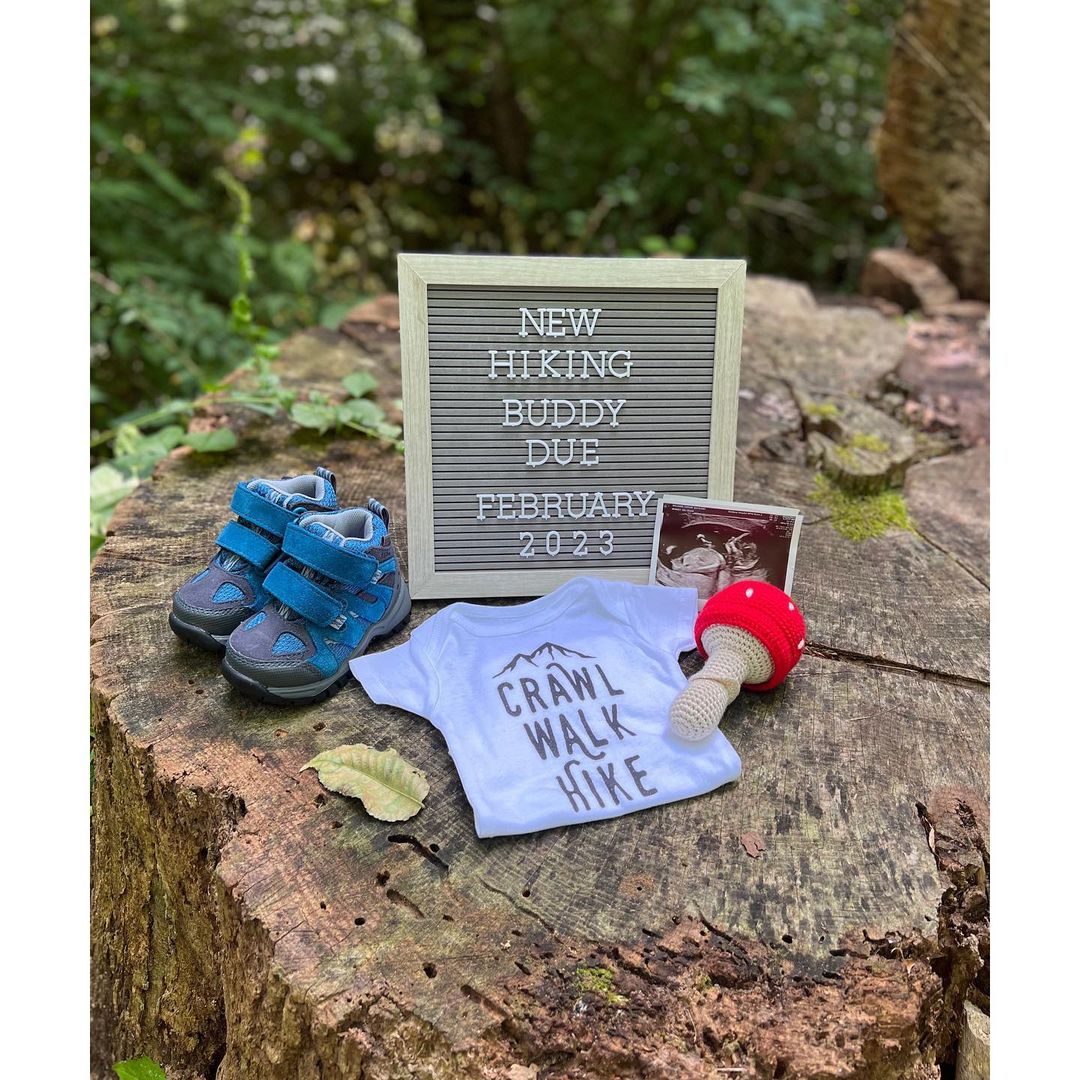 Fly Away With Me Baby
This photo gives the phrase 'baby on board' a whole new meaning. For a real one-of-a-kind summery pregnancy announcement, stage your photo in front of a jet. Adventure awaits…
Beach Bum Pregnancy Announcement
Baby one was so much fun, now baby two is joining your crew? Take your announcement to the beach! There's really nothing cuter than the tiny fingers, toes, and rolls of your baby. Put your sunhat on their head and let them hold your ultrasound photo for an absolutely adorable announcement idea.
Pro tip: try to get your scene set first and focus your camera before you set your wonderfully wiggly baby down in front. If you have a spare set of hands (like your partner) with you, then one of you can set the hat on and ultrasound in place just as the other person snaps the photo.
Vacation Summer Pregnancy Announcement
Staging the perfect pregnancy announcement while you're on vacation is a wonderful idea. If you've been considering a 'baby moon' this can be the right time to get an epic pic to help you share the news that you're adding a beautiful new life to your family.
Watermelon Summer Pregnancy Announcement
Have you ever seen a more ​perfect summer pregnancy announcement? Watermelons are an iconic summer fruit… And you also might start to feel as big as a watermelon close to the end of your pregnancy…
Get your new big sister or big brother involved with this sibling pregnancy announcement by setting the scene with a picnic blanket, word board, and crate to sit on. Check out more sibling pregnancy announcement ideas here.
Sandy Beach Pregnancy Announcement
Looking for the best funny pregnancy announcement idea for this summer? Look no further. Draw a stickman self portrait of you and your sweetheart in the sand and include that new baby bump of yours!
Swimming Trunks Pregnancy Announcement
A fun summer pregnancy announcement is a great way to announce your family's new adventure. If you're taking a sweet family portrait on the beach, bring some swim trunks for your new baby boy on the way! These two older sisters must be so excited to have a little brother.
This announcement idea is also a great way to announce your new baby's gender if you already know it. Swim trunks for a boy or a cute girly swim suit would work great.
Disney Castle Pregnancy Announcement
Another dreamy summer baby announcement idea is to take it to Disney! The best Disney baby announcement idea is right where the park feels most magical, in front of the castle! Check out this article next if you're looking for more Disney pregnancy announcement ideas.
Pair an amazing Disney baby announcement idea with a Winnie The Pooh phrase like: 'sometimes the smallest things take up the biggest room in your heart'. Other cute Disney phrases like: 'a dream is a wish your heart makes', or 'when you wish upon a star, your dreams come true' are great ideas too.
Picnic Summer Baby Announcement
Are you ready to get crafty with some creative pregnancy announcement ideas? The best part of an adorable photo set up like this is going to be recreating it with the hand of your sweet baby number 3 when he or she arrives. Can you say: heart melting?!
Not only do props like this make for a simple and sweet pregnancy announcement idea, but they're also going to be a lot of fun for your kids to wear while they fit. They'll also be treasures for your keep-sake box to look back on for a lifetime. 10/10, highly recommend.
Sparkler Baby Announcement
If you want a unique pregnancy announcement idea, look no further! Baby, you're a firework! If your family is expecting a little firecracker, this is the perfect summertime pregnancy announcement for you.
Head out to your local park or your backyard and set a long exposure time on your camera. Be ready to try, try again to get the perfect shot. I bet you'll be surprised with how great these photos turn out with just a little practice.
Sweet Summer Baby Announcement
What's sweeter than a baby bump in the summer? How about a baby bump and a mama enjoying some ice cream? This simple set up is charming and you can feel the love between the happy couple in the background. The letter board in the foreground of this picture has the baby's due date on it for a classic announcement caption.
Coconut Baby Announcement
Announce your big news with a bit of humor and get your older kids involved too! This is a fun way to announce baby number three and make big brother and big sister feel special and included too. You're going to have the song stuck in your head just like me now… I've got a lovely bunch of coconuts…
Beach Themed Summer Pregnancy Announcement
Summer is in the air and we have news to share! What a great saying for a summer baby announcement. The best part is, you can purchase this exact mockup from Etsy and change it to match your name and due date. Fast, fun, affordable, and chic. What could be better?
Sandy Beach Pregnancy Announcement
This is such a simple and fun way to announce your first or second baby. The trick to getting the perfect heart in the sand is to find a spot where the tide is going out. Fresh, wet sand will be nice and smooth to draw the best heart outline in. Just don't draw it too chose to the shore, or it will be washed away before you can get your pic.
Bring your ultrasound photo with you or other fun props like a baby onesie, shoes or letter board. Putting the month that the baby's due date is in on the inside of your sand heart will let your loved ones know when your new arrival is expected!
Ray Of Sunshine Pregnancy Announcement
Expecting another ray of sunshine in your life? Photos like this are certain to be cherished for a lifetime. Head to your local park, river valley or another picturesque location nearby. All you'll need is the right 'golden hour' sunset lighting, a clothes line and some cute baby onesies to set the perfect scene.
A talented photographer obviously took this photo, but if you know the right settings and edits for your camera this is something you could try setting up on a tripod with a timer on your own.
Disney Digital Baby Announcement
Another good option for a digital flat lay baby announcement that gives off total summer vibes is this photo from CALLEandOAK on Etsy. With a tagline like 'life is about to get a little more magical' or 'fairy tales do come true' it just can't get any cuter.
This announcement idea is perfect for Disney lovers who desire a touch of *magic* when sharing their news.
Which Summer Pregnancy Announcement Idea Was Your Favorite?
There are so many cute ways on this list to announce your exciting news! Which summer pregnancy announcement theme is your favorite?
Announcing your new baby girl or baby boy is going to bring so much joy to those in your life you choose to share the news with. However you choose to tell your loved ones, it's sure to be a moment you remember for the rest of your life!