This post contains affiliate links.
Searching for fun, unique twin pregnancy announcement ideas? Then you're going to love this collection of totally adorable ways to announce that you're expecting twins!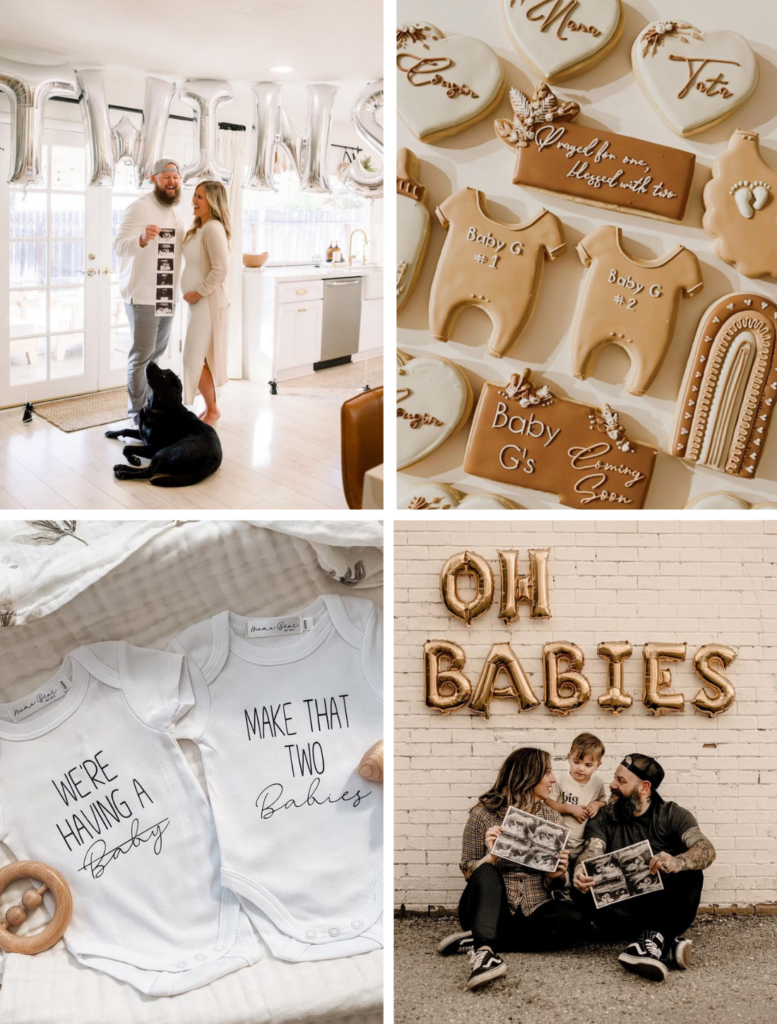 When it comes to finding out you're preggo, and then realizing you're having not one – but two – little bubs, well, I can't speak from experience, but I'm *sure* it's a lot.
From surprise to joy and maybe even fear – there's no doubt you went through every emotion.
So then, what better way to share a tiny piece of that fun with your friends & fam than to plan a special baby announcement to let the world know you're expecting twins!
As part of my mega-series jam-packed with pregnancy announcement inspo, today, we're sharing all the cutest twin pregnancy announcement ideas for 2023 that are sure to inspire you.
Let's get to it –
01.

Cookie Twin Pregnancy Announcement
Next up, these super cute custom sugar cookies are the perfect way to tell your family you're pregnant!
Simply let them know you'll bring dessert and hand them out after your next family dinner.
Love this idea? I've rounded up an entire collection of *beautiful* pregnancy announcement cookies here – there are so many pretty, creative designs that you could totally adjust for twins!
02.

Foil Balloons Twin Baby Announcement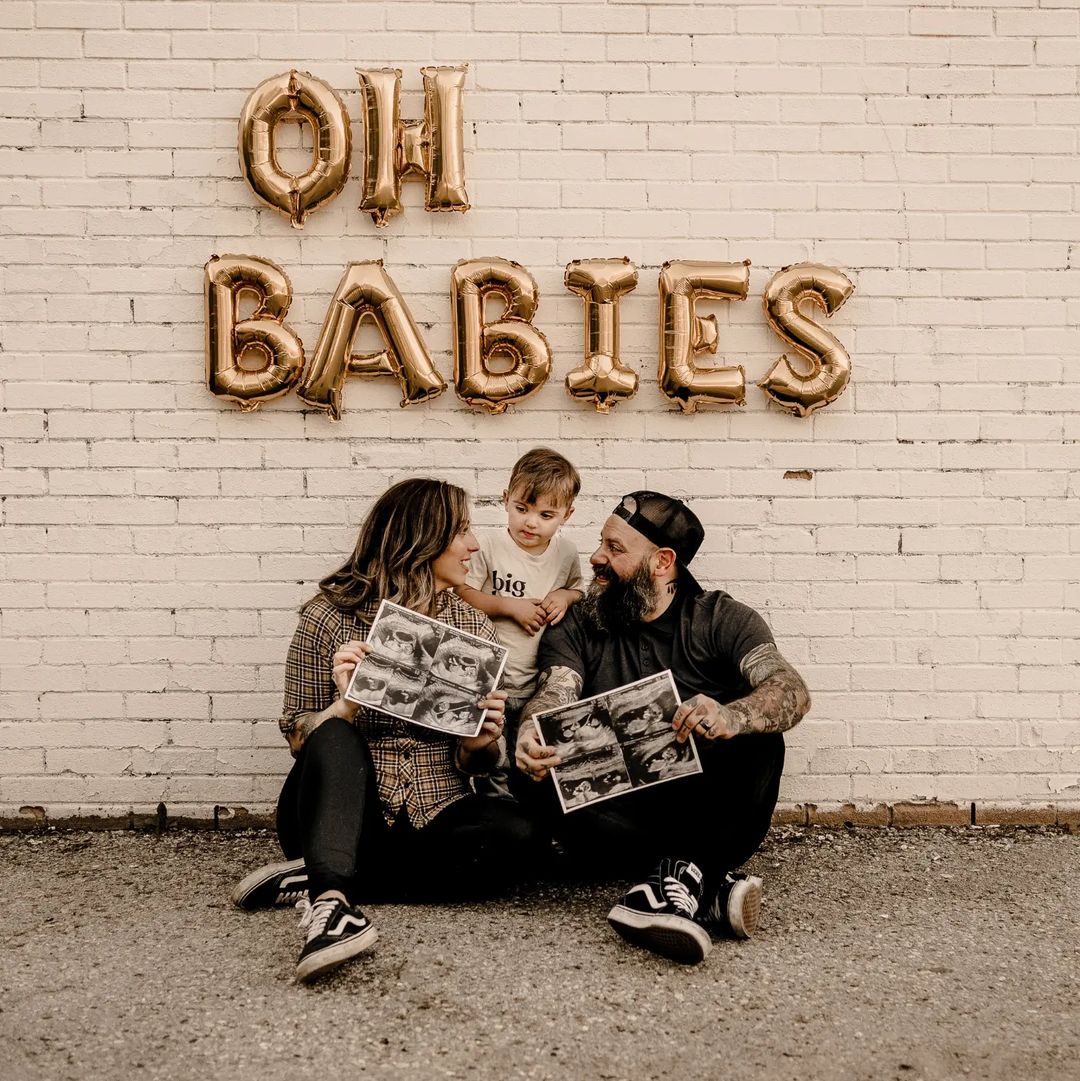 To recreate this little twin pregnancy announcement, simply choose a cute phrase, grab some foil balloons and your sonogram, and say cheese!
These little foil balloons are sold individually, so you can customize the phrase, or as sets.
Most commonly, you can find them in gold or silver, but you can also give them a quick coat of spray paint before blowing them up to get a more neutral look.
No need for helium – you can just blow them up yourself, or grab this great little balloon pump for just a few bucks.
Once you've got them blown up, you can use double-sided tape, or make your own tape loop with masking tape to adhere them to the wall.
03.

Wooden Plaque Twin Baby Announcement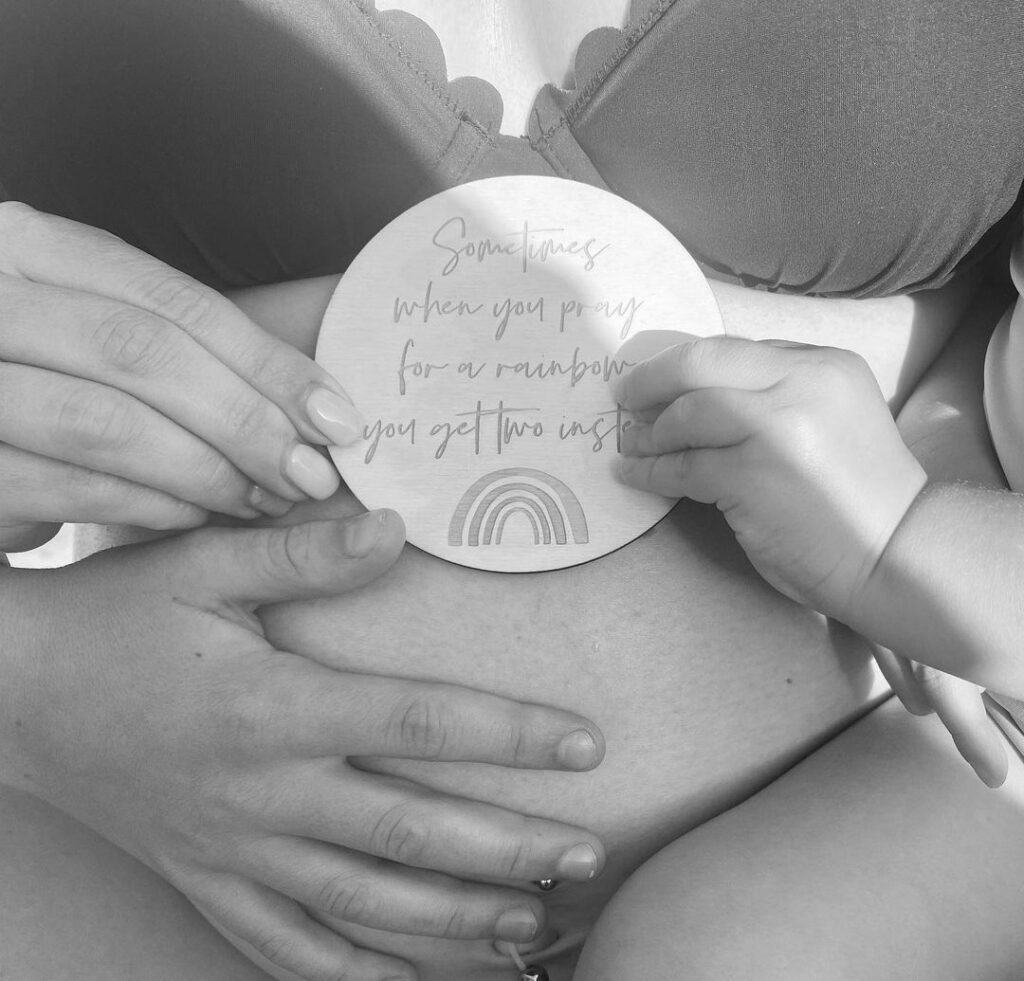 What a beautiful way to capture the family of three before it becomes five – a classy, black and white photo with mum, dad and big brother or sister-to-be's hands.
04. Twin Onesies Pregnancy Announcement
A simple white dress keeps the photos timeless, while also symbolizing a new beginning, which is totally suiting.
05.

Spring Flat Lay Twin Pregnancy Announcement
Celebrate the season you found out you were pregnant in with some beautiful blooms.
Style a flat lay with co-ordinating baby onesies and beanies, and your ultrasound photos for a twin pregnancy announcement perfect for social media.
06.

Movie Poster Twin Baby Reveal
More of a big laughs kind of girl?
Have one of these funny custom movie posters made with your own fam!
The file is digital, super affordable and is totally personalized.
07.

Cue The Confetti Twin Pregnancy Announcement
Throw your own celebration at home with balloons, confetti, and this sweet, classic pose.
08.

Laundry Line Twin Baby Announcement
Is there a nearby park or nature walk that holds special memories for you and your partner?
Find somewhere with trees, or recruit someone to hold up the laundry line, and snap a photo of a pair of basic onesies on the line.
You can either have the onesies customized beforehand, or add the text in a free photo editing software like Canva afterwards.
09.

Big Brother Twin Pregnancy Announcement
Want to make your little one the star of the show?
This big brother twin pregnancy announcement is another great one to recreate at home – you'll need two twin onesies, a big brother shirt, letter board and sonogram.
10.

Baby #3 and #4 Twin Pregnancy Announcement
A garage door typically makes for a great, neutral backdrop, and as long as you find a time when it's slightly overcast, you've got a great spot for a photo!
To recreate this look, you'll need four pink foil balloons with some ribbon (grab them from Amazon here), two small picture stands and two coming soon signs.
11.

Giant Twins Foil Balloon Pregnancy Announcement
How sweet and adorable is this in-home baby reveal photo?
Dress in light, co-ordinating colors and keep the photo light & airy with giant silver balloons that spell out twins (here are the small balloon weights to anchor them to the floor).
12.

Bubble Romper Flat Lay Twin Pregnancy Announcement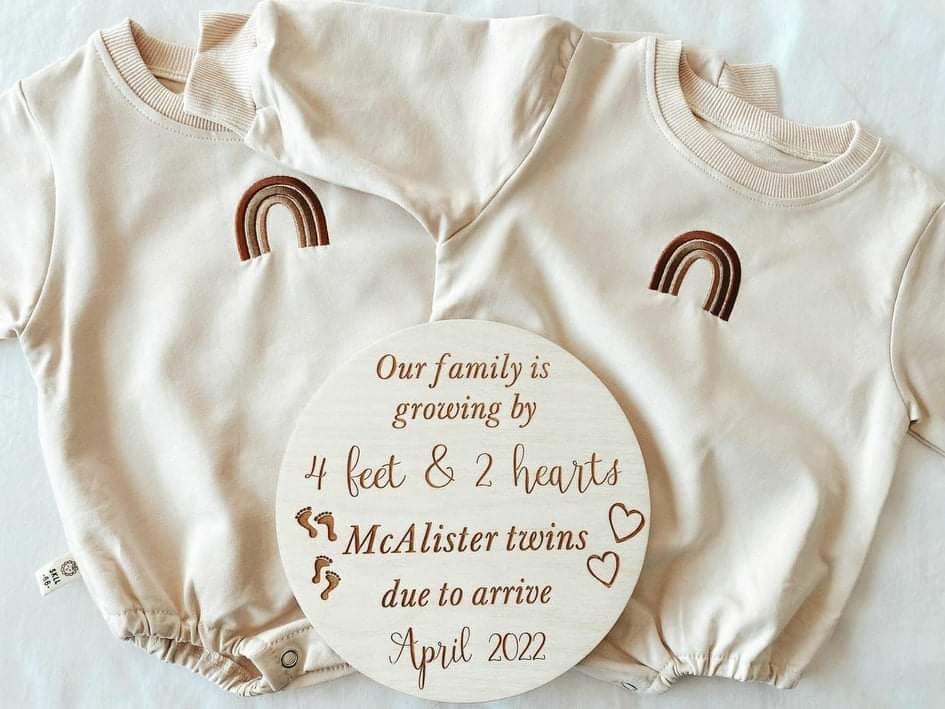 Keep things simple by snagging a similar wooden plaque off Etsy, and have these adorable matching rainbow bubble rompers delivered to your doorstep.
13.

Simple Winter Twin Pregnancy Announcement
Although this baby announcement is in the middle of winter, it's a classic pose that could work in any season – simply hold up your sonogram, snuggle in tight and smile at the camera.
14.

Neutral Digital Twin Pregnancy Announcement
Next up, this cute digital pregnancy announcement image that's totally customizable and perfect for social media.
To make this photo your own, purchase & the file from Etsy, pop online to customize the wording and name, and then post the image to your Instagram or Facebook with one of these cute pregnancy announcement captions!
15.

Big Brother Twin Baby Announcement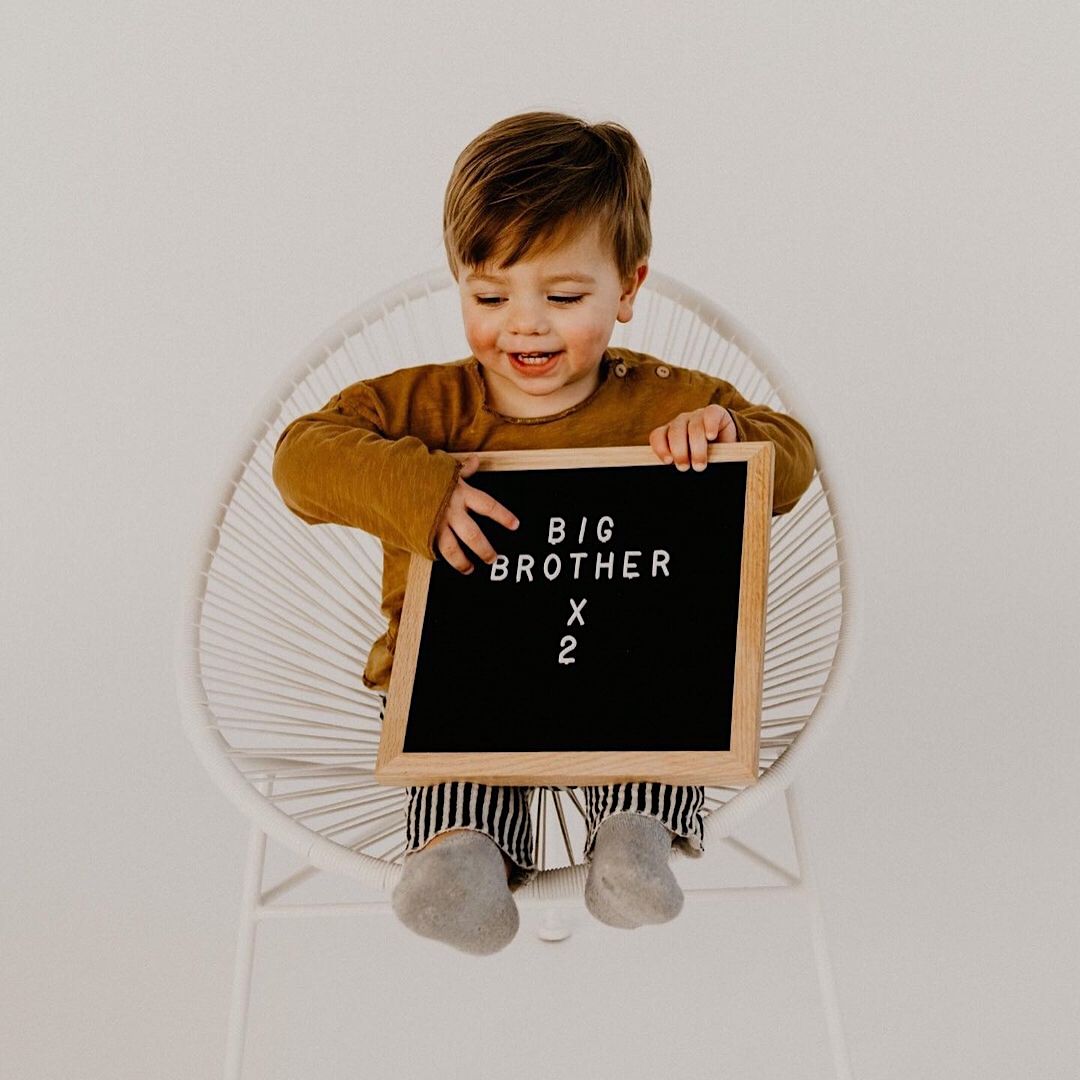 When it comes to involving the children you already have, there are so many fun ideas for a big brother or big sister announcement (here's our whole collection of the cutest photos for sibling pregnancy announcements).
This one's nice and easy to DIY – just get your child a letter board, add a cute pregnancy announcement quote and spread the news!
16.

Simple Fall Twin Pregnancy Announcement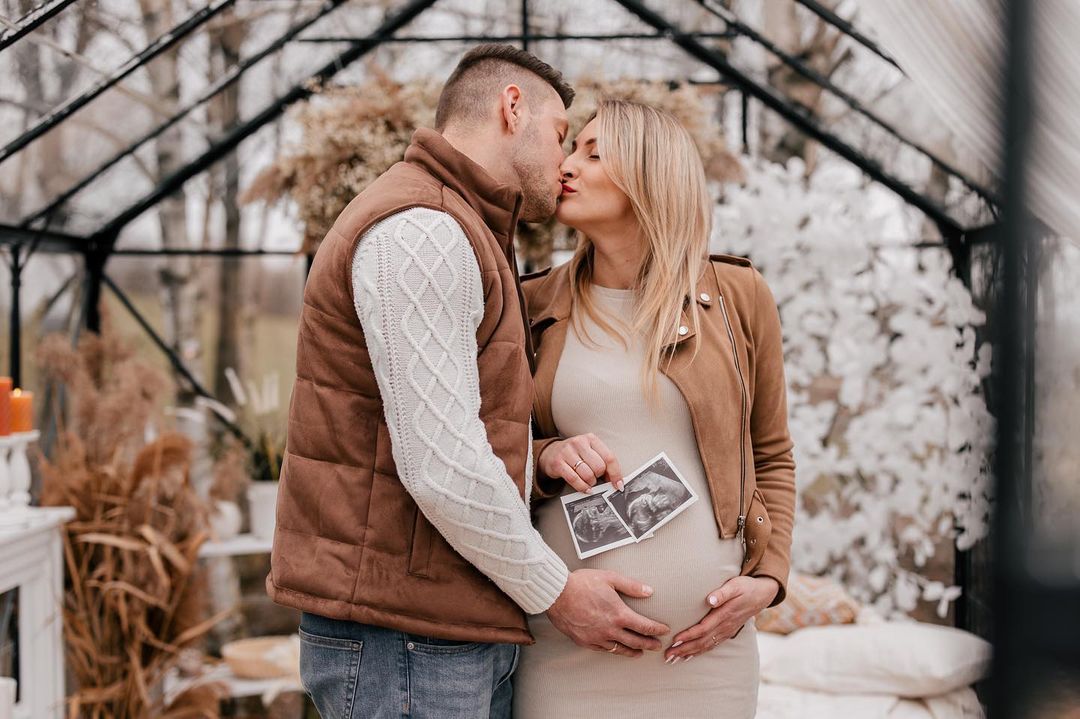 Subtle but stylish, this pretty baby reveal is shot in a greenhouse, and has mum holding two sonogram photos.
For a cute and cozy look, stick with warm neutrals like caramels and creams when it comes to planning your and your partner's looks.
17.

Onesie Twin Pregnancy Announcement
Next up, this beautifully simple pregnancy announcement with two classic baby onesies, knit booties and both ultrasound images.
Though it's pretty hard to tell, this image is also a digital file that the sonogram pictures have been added to in a photo editing software.
Though it might seem a little complicated, these files are actually super easy to work with and can be personalized in just a few minutes.
18.

Surprise Twin Baby Announcement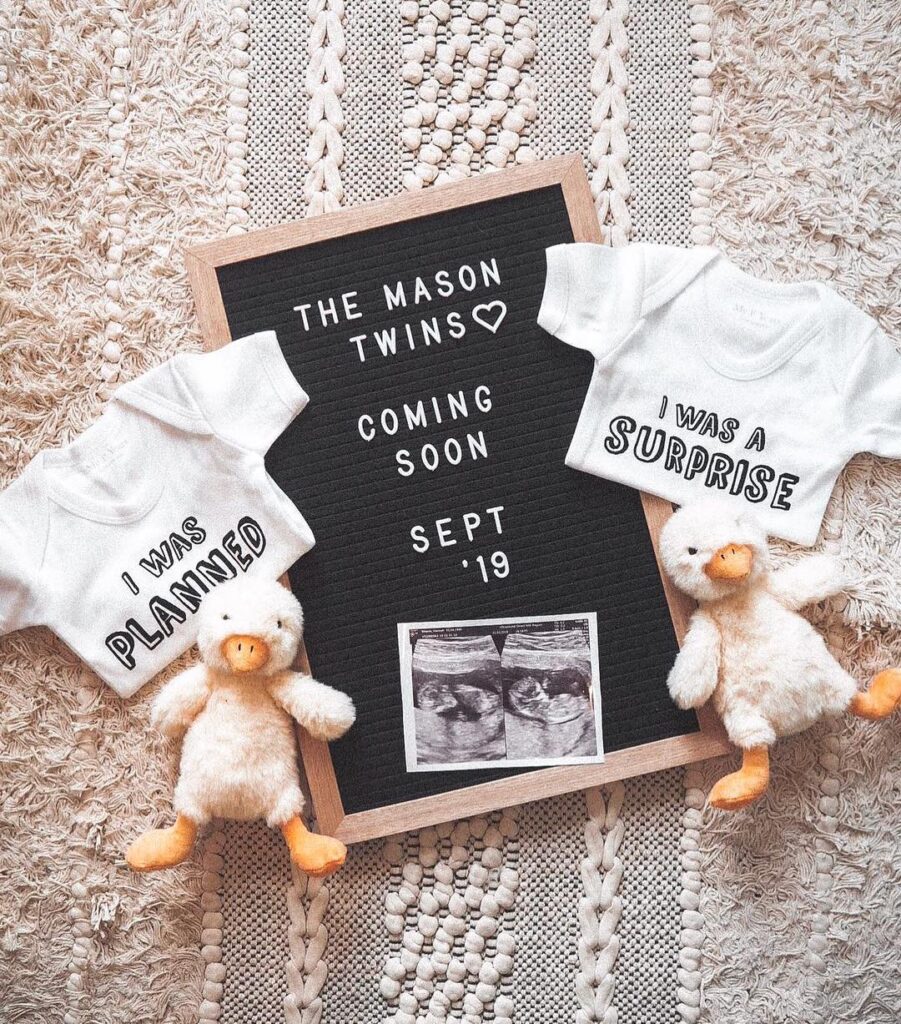 How cute are these little ducks, sharing the expecting mom and dad's surprising news?
19.

Boho Digital Pregnancy Announcement for Twins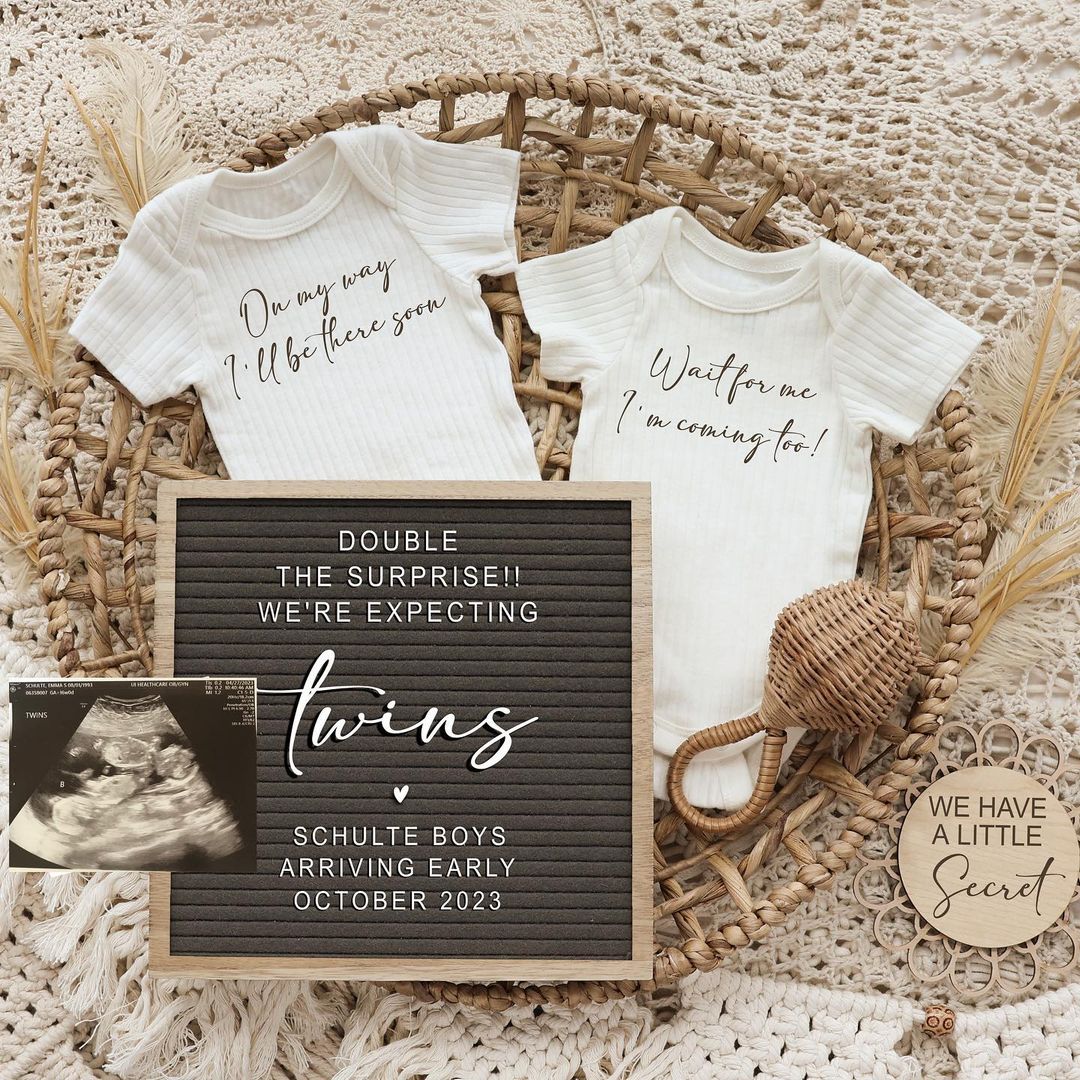 Boho vibes more your thing? Go with this cute and natural flat lay photo with a sweet little rattan rattle and letterboard.
20.

Valentine's Day Twin Pregnancy Announcement

Planning a baby announcement on love day? Order these super cute customized heart balloons and snap a pic of you and hubby smooching with your sonogram!
21.

Spring Twin Baby Announcement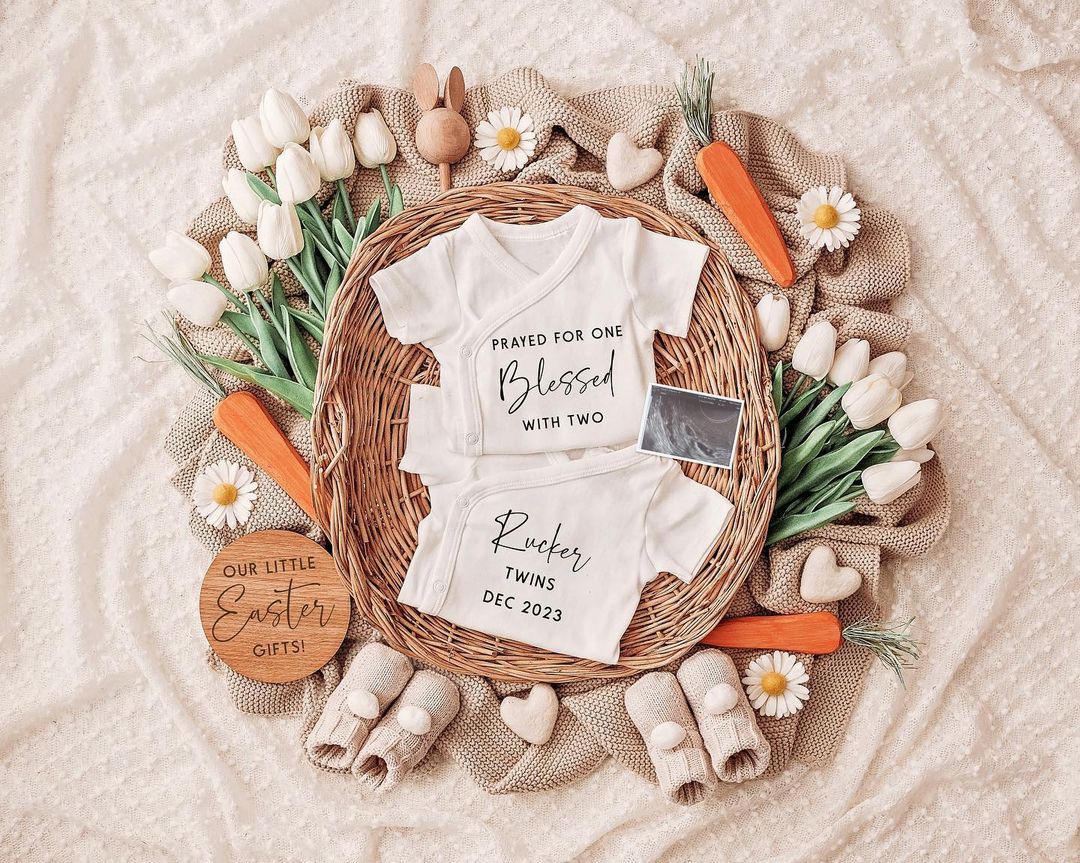 Ahhh… the snow is melting, the flowers are blooming and the twins… are on their way!
Make your twin baby announcement fresh and fun like this little tulip and daisy photo idea if you're planning on sharing your news in the spring.
22.

Halloween Twin Baby Reveal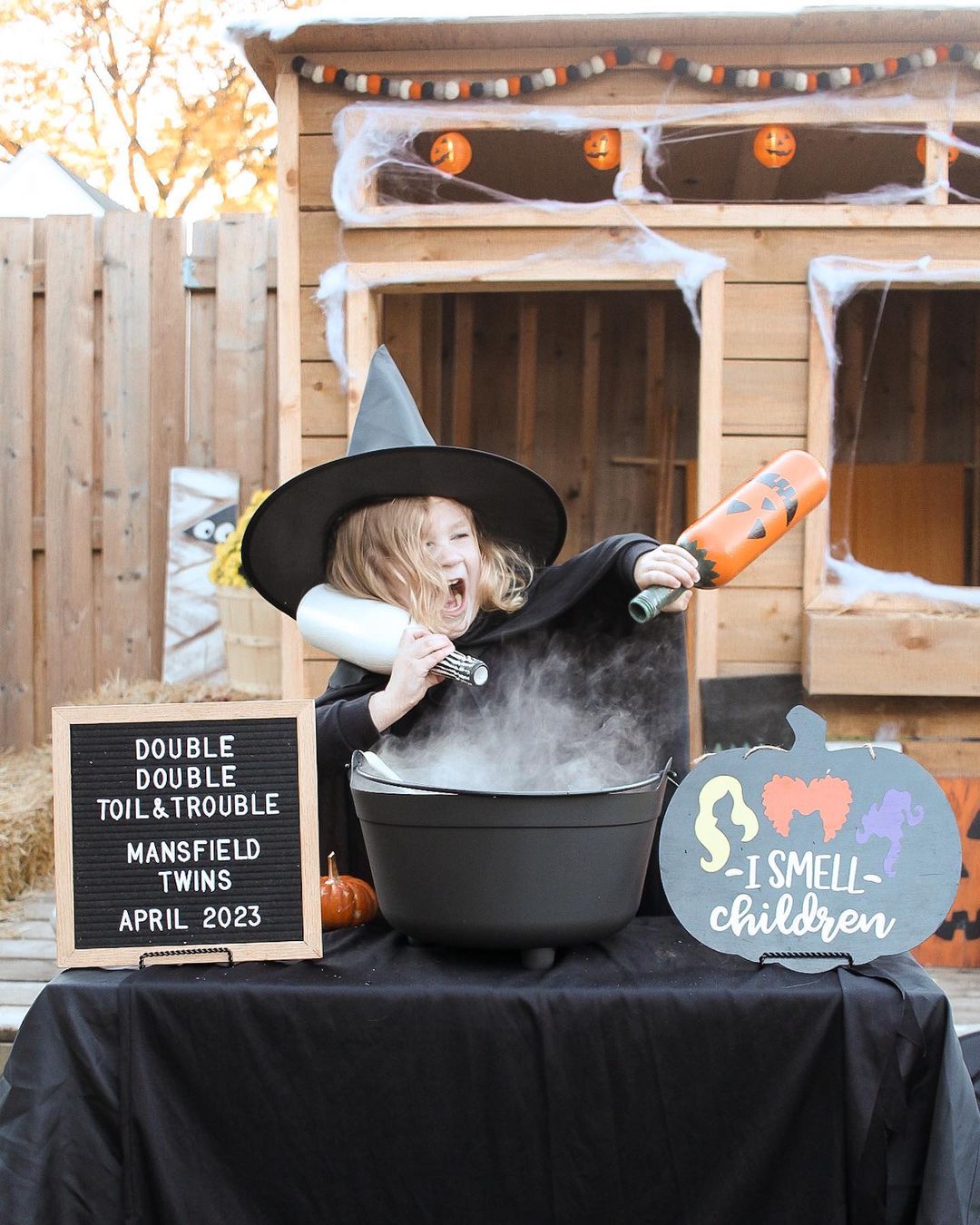 Next up, this super witty Halloween baby announcement for twins.
The fact that there's not only one, but two babes on the way, is celebrated with a cute little play on words from the Halloween classic movie, Hocus Pocus.
23.

Custom Sugar Cookies Twin Pregnancy Announcement
And lastly, my single most viral pregnancy announcement photo – these ridiculously pretty pregnancy announcement cookies made especially for twnis.
Twin Pregnancy Announcement Captions & Quotes
After you've told those closest to you that there's a set of two on the way, your next task will likely be telling your social circle – here are some of my fav cute quotes for a twin pregnancy announcement:
We made a wish. And two came true.
Sometimes, miracles come in pairs. The – twins coming (month) (year).
Coming soon. Me too!
We've got the scoop – Mommy's due with two!
Guess what? (month year) Guess what else? It's twins!
Double Trouble.
Our little crew is growing by two.
And just like that… our hearts are twice as full.
Pink or blue, either will do, all we know, is that there are two!
Sometimes when you pray for a miracle – you get two.
Double the trouble, double the fun, our family is growing by 2, not 1.
Double the giggles, double the grins, double the trouble, when you're blessed with twins.
Prayed for one, blessed with two.
Final Thoughts
If you're expecting twins, and searching *high and low* for the perfect twin pregnancy announcement, take a deep breath, mama. There are so many creative ideas out there, and really, at the end of the day, you can't go wrong.
Simple props like foil balloons, or letter boards make for a super fun little photo, but don't really make the best keepsakes, whereas something like a custom onesie or wooden plaque could be saved and cherished for years to come – it's totally up to you!
Read Next:
🧸 245+ *Precious* Pregnancy Announcement Captions for Social Media
🧸 35+ *Ridiculously Precious* Sibling Pregnancy Announcement Photos
🧸 21+ *Juicy* Summer Pregnancy Announcement Ideas To Inspire You