This post contains affiliate links.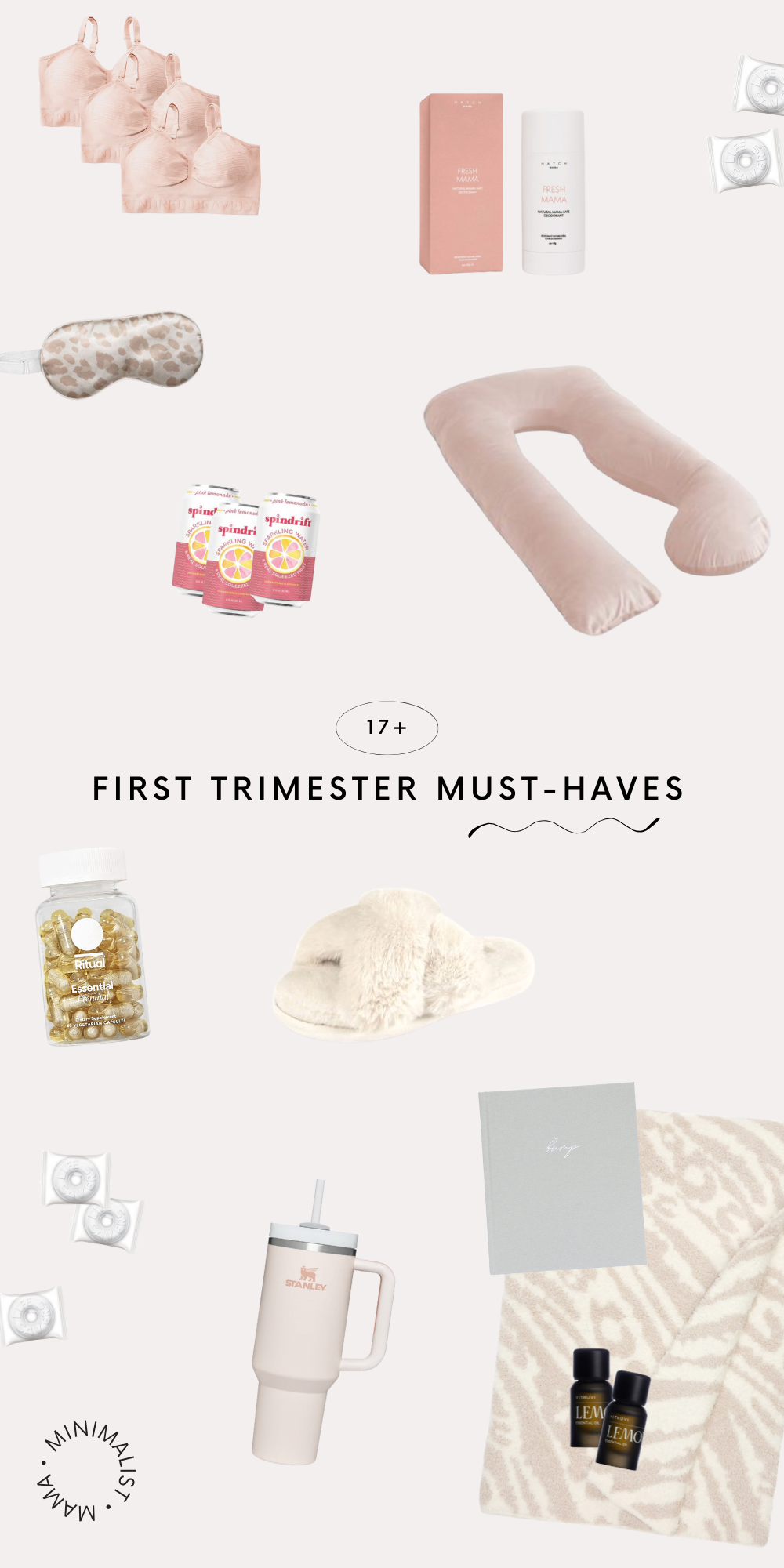 One of the most commonly asked questions expecting moms ask is what's needed for each trimester, which is why in this post I'd like to share first trimester must haves. Whether you're a first-time mom or expecting for an additional time, each pregnancy and experience is different.
There are things you may not realize you need and some things (as a mom of multiples) you want to make sure and include this time around.
Regardless of your journey, the must-haves rounded up below are sure to help you have an awesome first trimester experience.
My First Trimester Must-Haves
The first trimester can be tricky for some mamas. Some moms experience the no-so-fun morning (or all day) sickness and fatigue while others rarely experience any changes at all.
There are several foods and drinks I highly recommend keeping on the shelf should you want (or need) a quick snack, something to help you keep food down, or anything in between.
01.

Plain Foods

When it comes to plain foods, you'll want things that don't have a lot of additives, artificial ingredients, or ingredients that will ultimately make you sicker than before.

Here are a few of my essential first trimester must-have foods:
Cheerios or Life cereal
Saltines or Ritz crackers
Graham crackers
Teddy Grahams
Shortbread
Plain bread or toast
02.

Stomach-Soothing Drinks

Water is always the best drink even when you're not expecting, but pregnancy aversions are one wild ride and yes, even water can get some mama's stomach turning.
While sugary drinks should definitely be limited, there are some days during that first trimester when the only thing that matters is finding some relief from the nausea.

These were the drinks that got me through the tough days in the first trimester (and my entire pregnancy):
Iced tea – In Canada, our iced tea is sweetened, so I would fill my go-to cup with ice, some water and iced tea. If you have unsweetened cold tea, that's great too, but do keep in mind that tea has caffeine so you'll have to limit this one!
Lemonade – Lemonade is pretty high in sugar too, so I didn't drink a whole lot of this, but when I did, I would squeeze the juice of a fresh lemon into the lemonade to give it that extra citrus kick, and sometimes water it down with sparkling water.
Sparkling water – I love SpinDrift pink lemonade because it's got just a bit of carbonation, but also a good, bright lemon-y flavor – and it's only 9 calories per can (it isn't loaded with sugar!)
Peppermint tea – A classic, peppermint tea really helps to soothe nausea. This is a definitely a pregnancy essential!
Ginger & chai tea – I didn't love the flavor of ginger tea on it's own, so I got this super yummy, chai-ish tea and added a second bag of the ginger tea to my mug.
03.

Comforting Candies

If I had to name the single biggest challenge I faced during my first trimester of pregnancy, it would be nausea.

I swear I had one of these tucked into every corner of my house and never left home without at least one of them:
Sour Patch Kids

Mint lifesavers

Mint Mentos
04.

Cozy Clothes

Chances are you may feel like lounging a little more often than not, and rightfully so.

This is also a good excuse to treat yo self to a few (well-deserved!) new pieces of loungewear and pjs to help you rest more comfortably.

For me, bamboo is *essential* because it's so breathable and helps to keep you cool
comfy lounge pants or shorts
bambo pj set
fluffy slippers
eye mask
There are my fav comfy pieces that are worth investing in:

05.

Pregnancy Pillow

Not buying a good quality pregnancy pillow was one of my top regrets in my first pregnancy!

Although you don't have to avoid sleeping on your back quite yet (side-sleeping is recommended from the second trimester onwards in pregnancy), this giant cuddle buddy is one of my top first trimester must-haves nonetheless.

Because you're going to need it in your second and third trimester anyways, I recommend buying it earlier on so you can squeeze just that bit more use out of it!

While there are tons of pregnancy pillows on Amazon, I really love this pregnancy pillow by Yana Sleep, that's organic cotton on one side and bamboo velour on the other.

It also comes with two different fillings: either a cooling gel – because it helps to keep you cool (and we all know how hot those raging hormones make you feel while you're prego, right!?).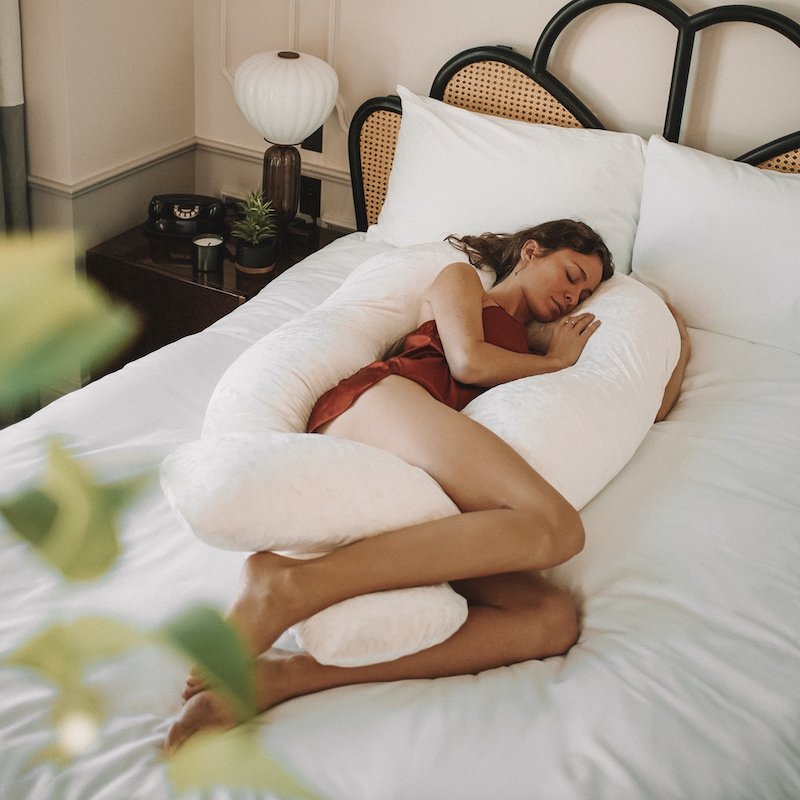 06.

Pregnancy Journal
IMO, a pregnancy journal is one of the most *essential* must-haves on this whole list.
Having something to record your experience carrying baby throughout your pregnancy – the highs, the lows, and everything in between – as well as your hopes and prayers for your little one is just so special.
I love this gorgeous, linen-covered pregnancy journal from love + wild – created with love by a mama just like you and I!
Not only is it available in the dreamiest neutrals – both oat and grey linen – but you can also have the cover personalized with your (or baby's) initials.
So precious!
And maybe the best part?
Your pregnancy journal can also turn into a keepsake that you share with your baby once they are older.
07.

Pregnancy Apps

There are a couple more things I recommend looking into getting sometime during your first trimester.

Of course, a simple pregnancy app that will help you stay in the know what what the baby looks like each week, what you can expect from your body, and so on.

Some apps also allow you to upload weekly bump pictures, choose between fruits or vegetables as they relate to baby's weekly size, offer an online community of other expecting moms, and more.

Besides the basic pregnancy tracker app, I also highly recommend the Expectful app – a guided meditation app that is *amazing* for dealing with those first trimester worries and anxieties.

Check it out with this free 7-day trial to see if you love it as much as I do!
First Trimester Must-Haves – TL;DR
At the end of the day, the first trimester of pregnancy can be super difficult for many mamas.
Between the sheer exhaustion, the crazy food aversions, cravings and nausea, and figuring out how to adjust to your ever-changing body, it can be a lot.
Although it might take you awhile to find what works for you, take comfort in knowing that it does get better!
Read Next:
🍼 The *Essential* First Trimester Checklist (for First Time Moms)
🍼 185+ *Totally Underused* Pregnancy Announcement Captions To Steal