This post contains affiliate links.
Looking for some sweet, modern fall baby shower themes to get your creative juices flowing?
From woodland animals to cute fall-sy baby puns, *this* is the ultimate list of fall baby shower themes to celebrate baby.
Let's dive in –
01.

Pumpkin

Pumpkin spice over everything.

I swear, there are few things in life better than the moment when that first PSL of the season hits your lips… ohhhh baby.

Besides being a delicious latte flavor, pumpkins are also cute, and seasonal.

Here are a few of my favorite ideas for a pumpkin-themed fall baby shower:

Cake Sayings
A little pumpkin is on the way
Hello pumpkin
New pumpkin in the patch
Pumpkin spice and everything nice
Oh my gourd! (He/she's) almost here!
Decorations
Painted pumpkins of all sizes, faux or real
Favors
Gift cards to a local cafe (or Starbucks) for a pumpkin-spiced latte
Custom pumpkin sugar cookies
A miniature pumpkin with a cute bow and custom thank you tag
02.

Hey Little Boo
Cake Sayings
03.

Sweet as Pie

Cake Sayings

Food Ideas
A DIY pie bar, with different flavors of pie and toppings like whipped cream, caramel drizzle and berry coulis available for guests to add themselves
Favors
Mini pies
Custom pie-shaped sugar cookies
Pretty custom recipe cards with a homemade pie recipe
04.

Our Greatest Adventure

Did mom and dad meet while travelling? Are they globetrotters?

Throw an "our greatest adventure"-themed baby shower using elements of travel and adventure like stacking vintage suitcases as decor, or boarding pass-themed invitations.

Cake Sayings
Oh, the places you'll go
Our greatest adventure
And so it begins…
Food Ideas
Consider an international menu, celebrating different destinations from around the world
Decorations
Invitations that look like boarding passes
Add a globe to the food table for interest
Vintage suitcases turned on their side and stacked on the floor with welcome sign on top with a small candle or flowers
Favors
Pretty custom luggage tags
05.

Bohemian Dream Themed Fall Baby Shower

Cake Sayings
Peace, love and babies
Wild child
Hello baby
Baby (last name)
Decorations
Go thrifting for simple glass vases of varying heights and fill them with pretty dried florals and grasses like bunny tails and pampas grass
Look on your local buy and sell to rent a pretty peacock chair
Favors
Choose two or three pretty rolls of ribbon and cut them into small pieces. Invite guests to create their own  mini dried floral bouquets out of the flowers and pampas that were used as decor, tying them with the ribbon.
Custom lip balms in sweet, earthy scents like vanilla, lavender or peppermint
06.

Apple of My Eye

This adorable fiber-filled baby shower theme is the perfect fall twist on the super popular little cutie and sweet as a peach baby shower ideas.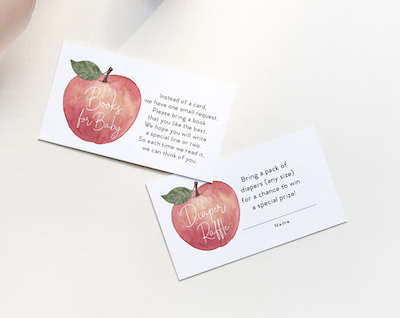 Cake Sayings
Apple of our eye, apple of my eye
Food Ideas
Hot apple cider bar with different flavors of cider, whipped ream, caramel drizzle, rock sugar toppings
Apple pie, apple crisp
Decorations
Decorate the food table with a red and white striped tablecloth
Fill bushel baskets with apples and layer with light white cloth or lace napkins or linens
Use pieces of burlap to layer under plates of food and around cake stands
Favors
Caramel apples, wrapped individually and decorated with nuts and sprinkles, either DIY or ordered from a local pastry chef or bakery
Apple cider mix, wrapped in small bags with ribbons and cute ties
Custom sugar cookies decorated like apples
7.

Love You a Latte

Is the mama-to-be a coffee connoisseur? 

Celebrate baby with a cozy love you a latte-themed fall baby shower.

Cake Sayings

Food Ideas
A latte bar with an espresso machine and milk frother, fun sugar mug rimmers, syrups displayed in cute bottles, whipped cream, caramel drizzle, etc
A fun orange and beige-colored homemade party mix with popcorn, chocolate candies, pretzels, etc served in small white disposable coffee cups
Espresso-flavored desserts like mini cheesecakes or cookies
Decorations
Beige fabric or large roll of craft paper
Small upside down wooden crate as a display riser
Nude, beige, brown, cream balloon arch
Favors
Gift cards to your favorite local coffee shop, wrapped with a cute piece of ribbon or in a small themed envelope
Small bag of chocolate-covered coffee beans wrapped with a bow and cute tag
Cute gold espresso spoon
Mini coffee bag clips
8.

Up, Up and Away

Wander into whimsy with this sweet and trendy baby shower theme, perfect for fall.

Decorations
DIY your own hot air balloons out of a simple basket, balloon sticks, helium-filled balloons and ribbons
Create hot air balloons out of paper cut-outs and hang them at varying lengths with clear fishing line
Fill clear balloons with tufts of cotton so that it looks like there are clouds floating in the balloons
9.

Sunflower
10.

A Sweet Little Deer is Almost Here

Calling all animal lovers.

This adorable fall baby shower theme idea is too cute to pass up!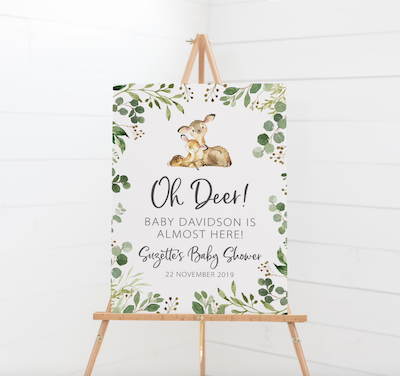 Cake Sayings
Oh deer! (He/she's) almost here!
11.

Cozy Rustic

Cake Sayings
Fallin' in love
A little cub is on his/her way
(September/October/November) baby
Hay baby
Decorations
Stack piles of natural wood platters and coasters to create varying heights on display tables
Line table with a plaid tablecloth
Pick up some fresh or faux autumn greens and display them in different sized simple glass vases