This post contains affiliate links.
On the hunt for some free printable Elf on the Shelf notes? Grab these ridiculously sweet notes that cover tons of different elf antics, and some blank notes for you to write on yourself, too!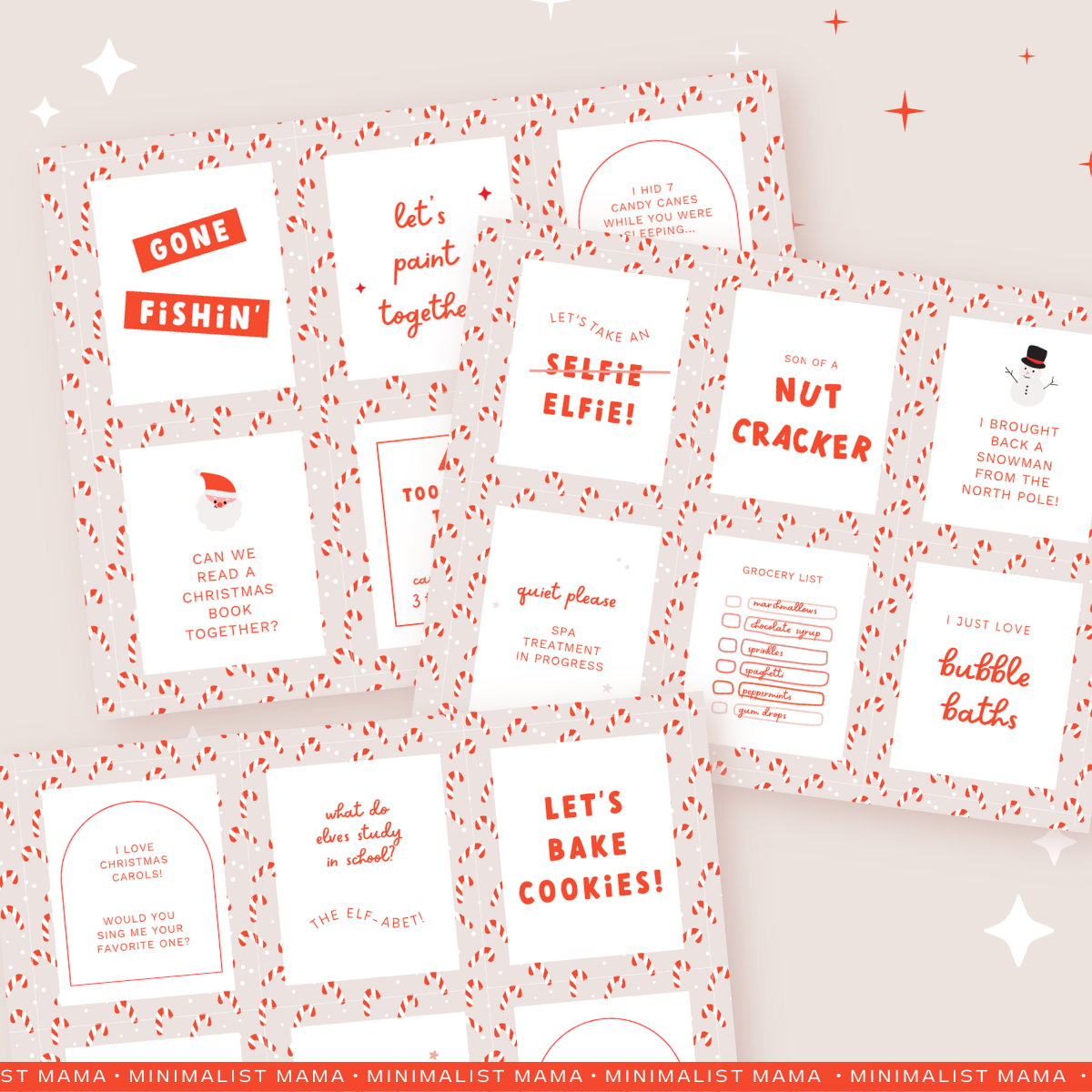 It's that time again… Elf on the Shelf season.
While it's no secret that Christmas is a ridiculously busy season for us moms, managing that little Elf on the Shelf of ours is an important tradition that brings joy-filled smiles and memories to so many littles – and that's worth prioritizing!
If you're short on time and need help planning I found two awesome kits to check out: This 2023 elf kit (you can even personalize it!) and more Elf printable props.
Need new ideas and tricks to change it up from last year? This 28 Elf on The Shelf Accessories and Props kit and Elf bendy kit will kick the antics up a notch.
Please note: These free printable Elf on the Shelf notes are for personal use only. Any reselling, resharing or redistribution is strictly prohibited. If you'd like to include these notes in your own collection of free Elf on the Shelf printables, please include a link to this original post.
Printing Your Elf on the Shelf Notes
Now, time to get these notes printed.
I prefer printing our Elf on the Shelf notes on this 8 1/2 x 11″ cardstock that you can just pop in to your regular printer at home, but you could definitely also print this just on regular printer paper, too.
Don't have a printer?
I headed to our local Staples and got these notes printed on 65 lb cardstock, and they turned out great.
It cost just under $1 per sheet to print.
If you'd like, you can definitely take a look at all the designs and pick and choose which pages you'd like printed without having to print them all.

How To Organize Your Elf on the Shelf Notes
Once you've got your copy of these free printable Elf on the Shelf Notes printed out, simple cut along the white dotted lines, and you'll have all your individual cards ready to roll.
I organized mine by grabbing little sticky notes and just adding a 1, 2, 3, or 4 etc to make which day I'll use each one on, then storing them in a little recipe card style box I had, in a bin with all my elf supplies!
How To Display Your Elf on the Shelf Notes
Next, you'll need to set the notes out with your elf each night.
For this, you've got a few options –
I grabbed this set of little plastic easels off of Amazon, and they fit perfectly, but you could also just lay the notes down beside your elf, too or tape them to something nearby with this *adorable* Christmas washi tape.
Free Printable Elf on the Shelf Notes
Lastly, the actual printables!
To grab your copy of these free printable Elf on the Shelf notes, just pop your email in below (you will be added to my free kid's printables list and will only receive e-mails when I create a new, free printable).
Looking for even more Elf on the Shelf ideas? Check out this super awesome DIY Elf on the Shelf Kit – a package of tiny props & prompts for every day gets sent to your door – what more could a busy mama ask for, right?!
Wrapping Up
Hey Mama, gearing up for your first Elf on the Shelf adventure can definitely seem daunting, but trust me, you've got this!
Take the festivities one merry day at a time, most importantly, don't forget to sneak in some time to enjoy the holiday magic!
If *anyone* has, you've earned it! 🎄✨
Read Next:
🎅🏻 Planning elfie's arrival? Grab the matching first time arrival letters for Elf on the Shelf here!
🎅🏻 Has your little elfie got a name yet? This mega-list of the cutest Elf on the Shelf names is a must-read for mamas planning their *first* year of Elf on the Shelf!
🎅🏻 Shopping for toddlers this Christmas? I've rounded up my very fav unique gifts for 2 year old boys as well as my top toddler boy stocking stuffers, too!