This post contains affiliate links.
Halloween is just around the corner, and you know what that means—it's time to get your creative costume game on! The only thing scarier than a spooky costume is the unstoppable power of a glowing, expectant mama ready to conquer the night. We're diving deep into the best and most adorable pregnancy Halloween costumes we could find.
That's right, we're about to unleash a whole new level of hilarity, creativity, and downright awesomeness as we explore the best options for dressing up that beautiful baby bump with maternity Halloween costumes.
When it comes to Halloween, you've got the ultimate accessory—your very own little trick-or-treater in the making. So, grab your belly, prepare for some laughs, and let's dive headfirst into the wonderful world of Halloween costumes for pregnant women!
Looking for family-themed costumes! Look no further than our list of 35+ Disney Halloween Costume ideas for families!
Disco Ball Pregnant Halloween Costume
If you're looking for a totally groovy Halloween costume, look no further! This disco ball baby bump Halloween costume is something you can create on your own by altering one of your dresses and throwing on some disco ball earrings. Just buy some disco ball fabric and cut out a circle the same size as your bump. Depending on how crafty you are, you can either glue or sew the circle onto your dress.
Add some killer gogo boots and get your man an afro wig, sparkling disco shirt and some bell bottoms then get ready to feel like the dancing queen!
Of course, if you prefer to purchase ready-to-wear costumes vs. making it, check out this Disco Ball Tshirt and Disco Costume with all the bells and whistles. Top it off with this light up disco ball drinking cup!
Mother Earth Halloween Costume for Pregnant Women
Does pregnancy make you feel like a goddess? Get in tune with Mother Earth for this easy, DIY pregnancy Halloween costume. Use white fabric as a toga-like wrap, find some greenery from a dollar store or craft store, and break-out your paintbrushes to complete this look.
If you're not comfortable with your skin out, this costume works well with fabric paint on a T-shirt underneath your toga.
All you need to complete the look is a green make up kit and/or green body paint stick.
To really kick it up a notch, check out these Mother Earth themed accessories – from green wigs to plastic wrapping leaves, you'll be inspired!
Avocado Toast Pregnant Halloween Costume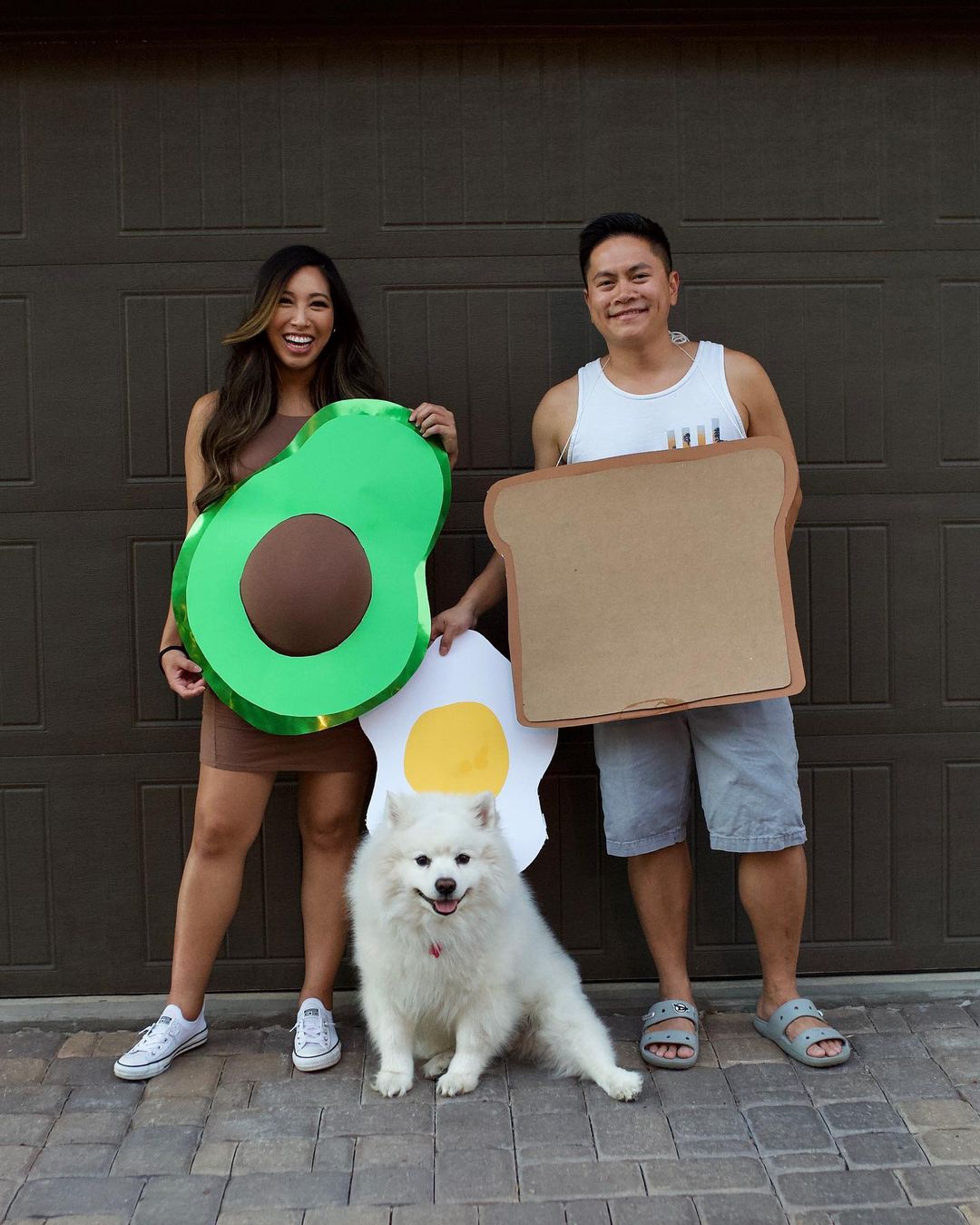 Has baby got you craving avocado toast? You are what you eat! For this great DIY costume, cut on a brown shirt or dress in a nice earthy shade of brown. Then get out your craft scissors. You'll need a large green poster board and some shiny green ribbon to pull of this costume. Trace your bump shape into the lower middle of your board for the avocado pit, then cut out the inner circle and outer edges to make it avocado shaped.
Once you've got the right shape, you'll just need to outline it with hot glue and a green ribbon border to make it shine! Bonus points if you can get your husband in on the fun as a couples costume and make him wear some cardboard toast.
Special Delivery UPS Guy Halloween Costume for Pregnant Women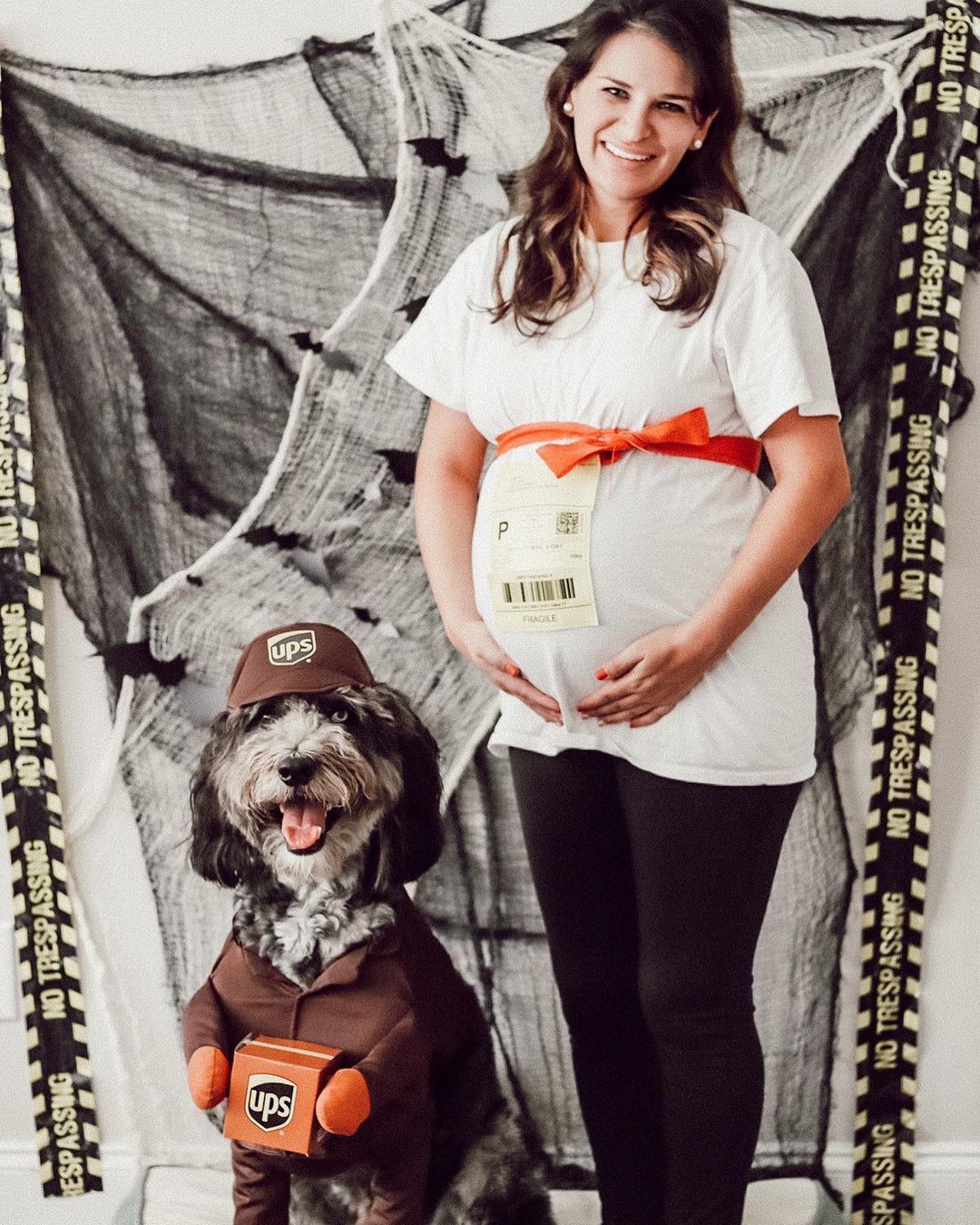 I think this is a modern take on 'the stork dropped you off'. That's where babies come from right? The UPS delivery truck? The best part of this costume is how easy it is for Mama to wear. Just grab a UPS hat, shipping label and a big orange bow, then you're good to go! You can grab this UPS dog costume on Amazon to complete the look.
Violet Beauregarde from Willy Wonka Pregnant Halloween Costume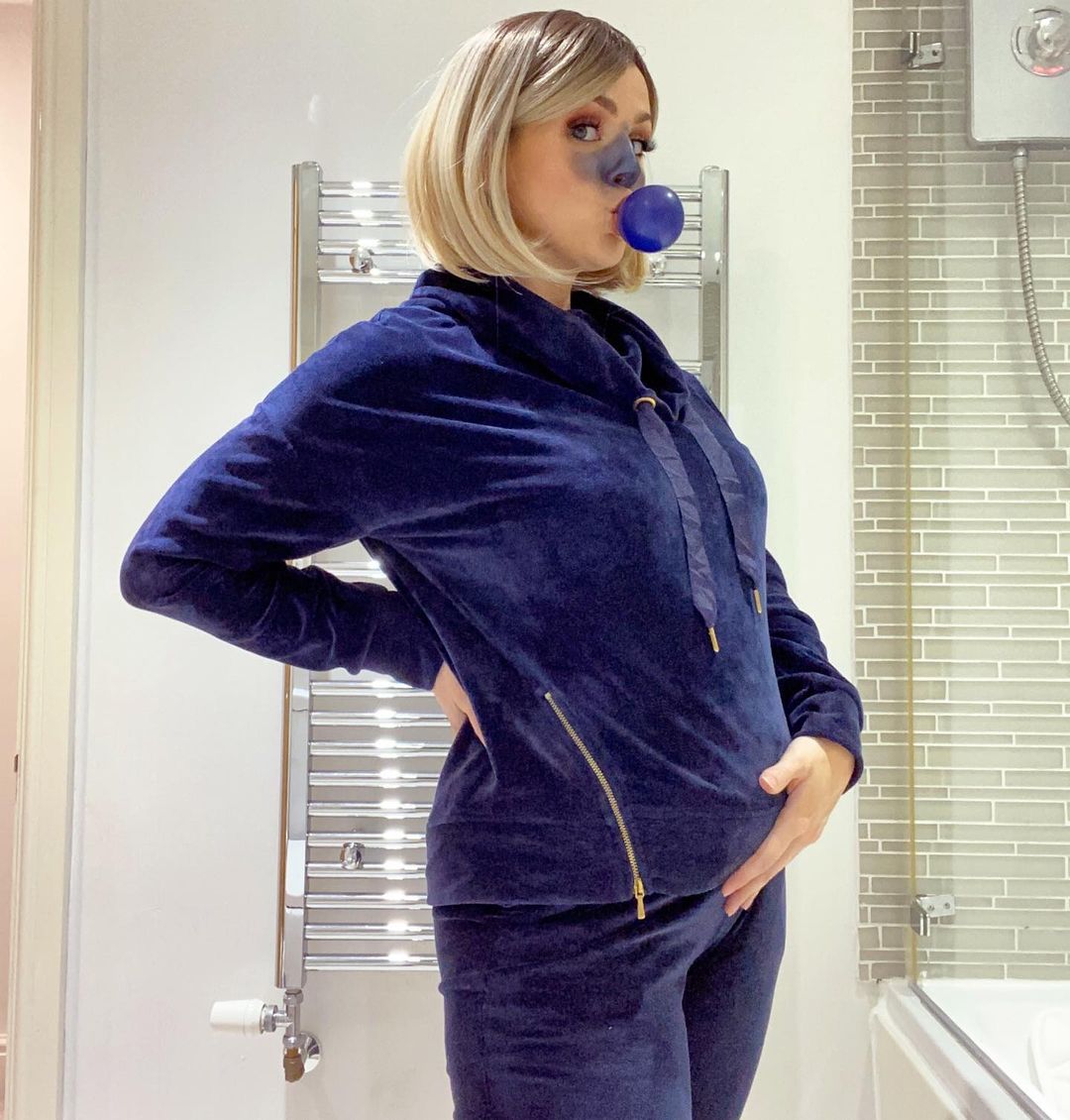 Pregnancy might make you feel like an Oompa Loompa, but this Violet Beauregarde costume is waaaaay cuter. For this Charlie and the Chocolate Factory inspired look, grab a blue track suit and a blond bob wig. If you want to avoid a full face of make-up, you can always grab this blue make up kit and just do your nose and cheeks as this photo shows.
A maternity costume can't get any more comfortable than a plush tracksuit like this!
Jack O Lantern Halloween Costume for Pregnant Moms-To-Be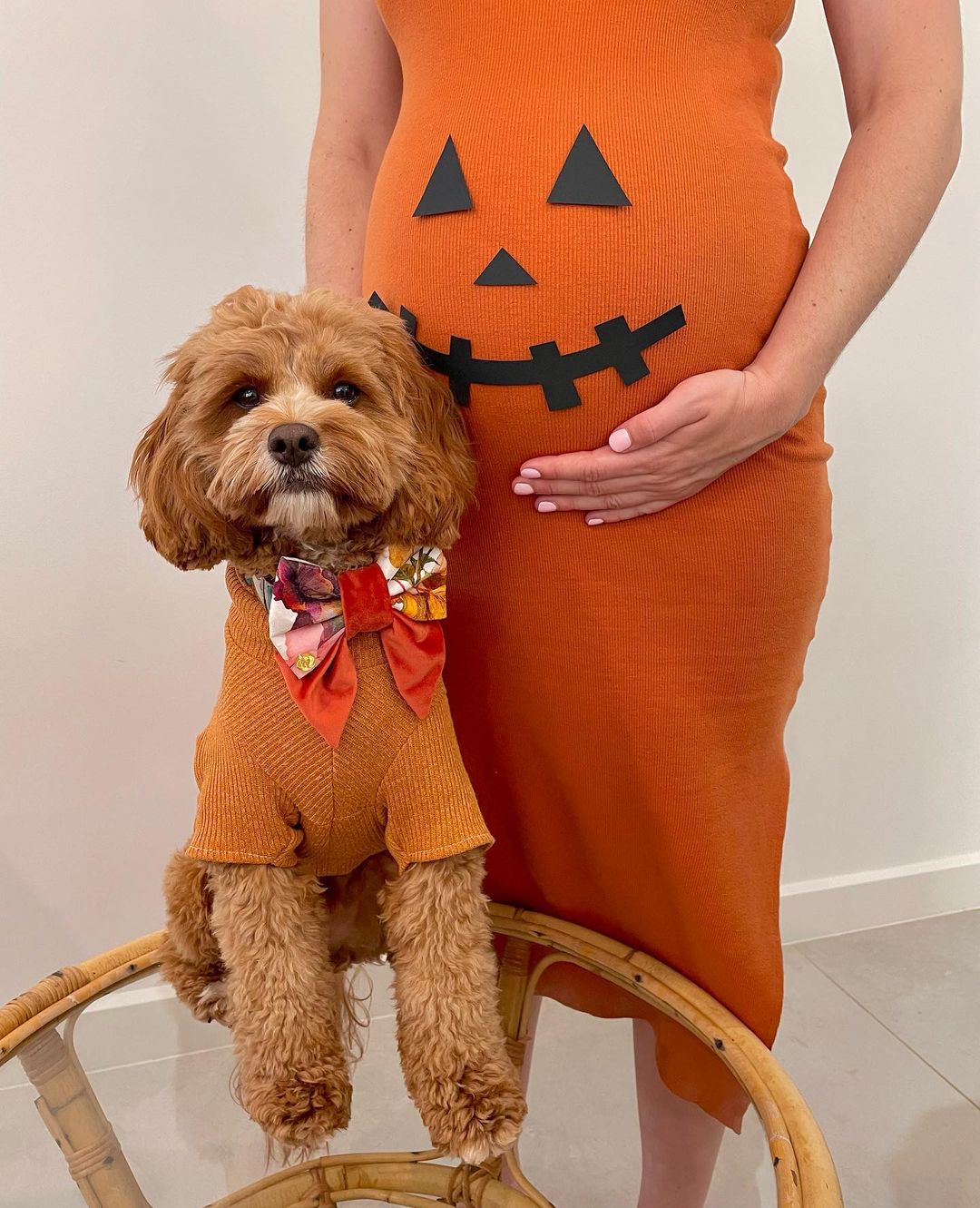 This adorable pumpkin pregnancy costume is simple and perfect for a last minute look.
Grab this super comfy ribbed orange dress (that is perfect for pregnancy), attach a jack-o-lantern face to it using some black felt fabric or thick black construction paper.
We'll see you in the pumpkin patch with this easy costume that will get you through all your Halloween festivities without too much crafting.
Witch's Cauldron Pregnant Halloween Costume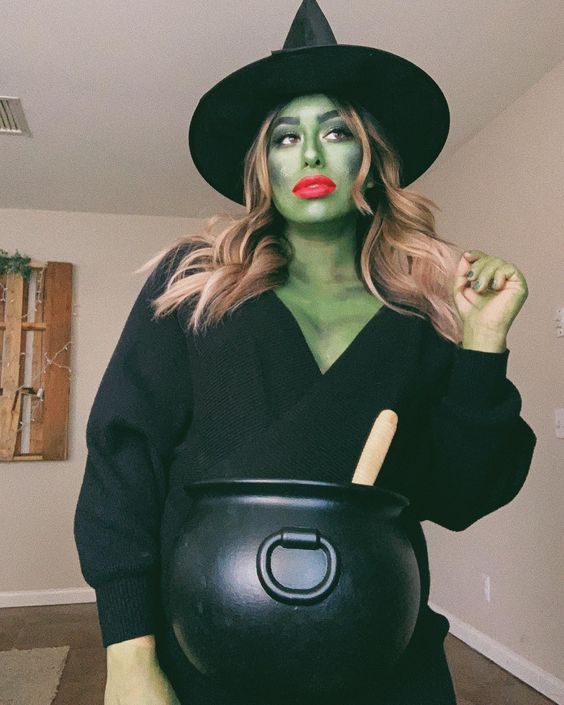 Pregnancy hormones got you feeling witchy? This baby's brewin' in a cute cauldron Halloween costume. To pull off this look, you'll need a plastic cauldron decoration and a wooden spoon. Use a saw to cut it in half and some glue to attach it to a sweater or thick shirt. This is a fun twist on a classic costume.
With a pointy witch hat and green skin (green body paint stick), you'll look just like Elphaba from Wicked! If you can find some green tights to cover your legs, it will cut down on the amount of body paint you need!
Milk Maid Pregnant Halloween Costume
Do you remember that joke from the 1950's? If she's pregnant, better blame it on the milk man.
Grab your string of pearls and a (super cute) apron, put your hubby in a bowtie and cap, get ready to rock around the clock like they did back in the day.
The Magician's Bunny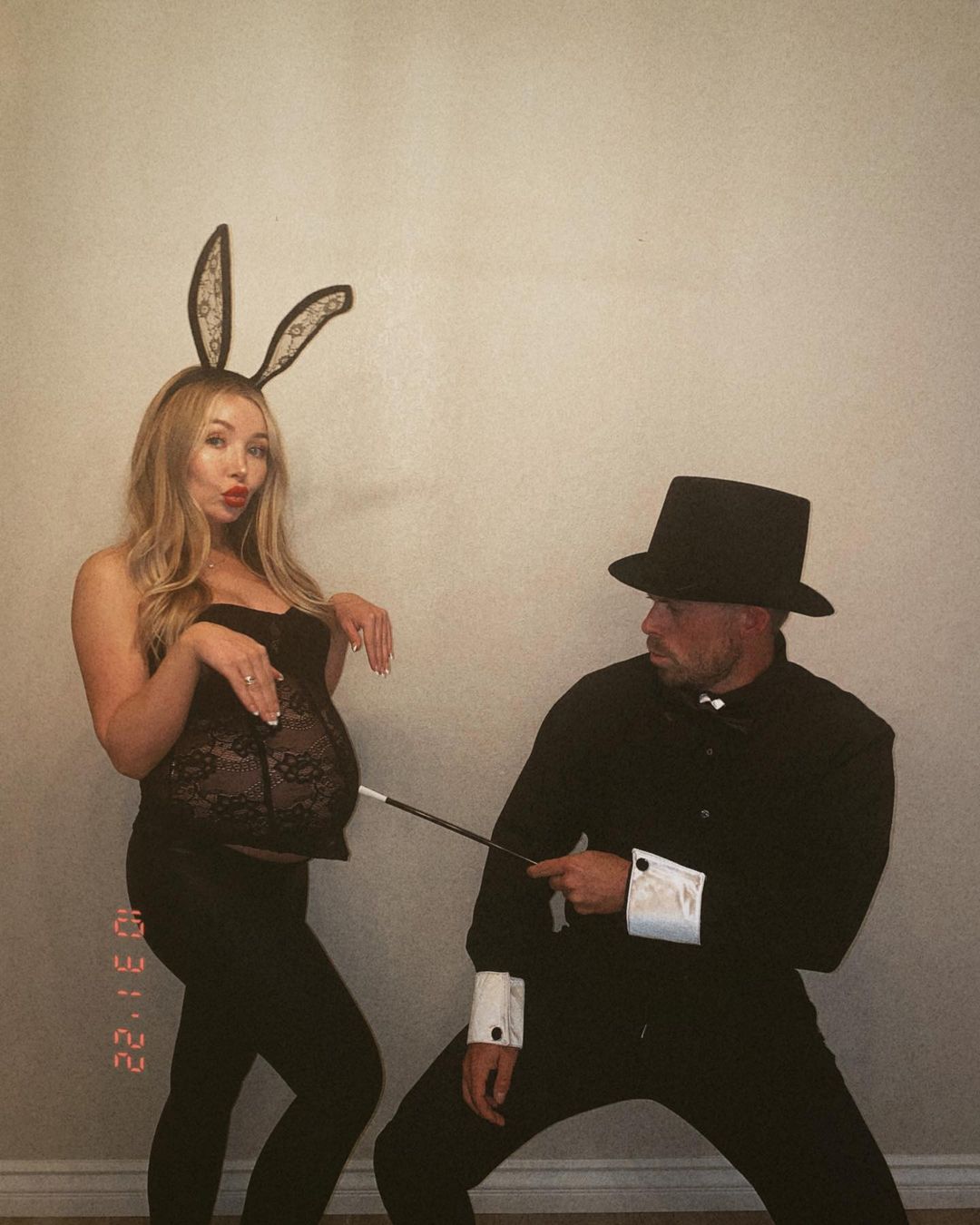 Abracadabra! There's a bun in the oven! You'll need a magician's wand and top hat for your husband and if he's going to pull a rabbit out of that hat, grab your bunny ears. You can find most of these supplies easily at a Halloween costume store.
Boxing Babe Costume for Pregnant Women
She's lookin like a real knock-out! 5 months down and 4 to go, write the month of pregnancy you're in on your gorgeous bump for this unique costume.
Charlotte from Sex And The City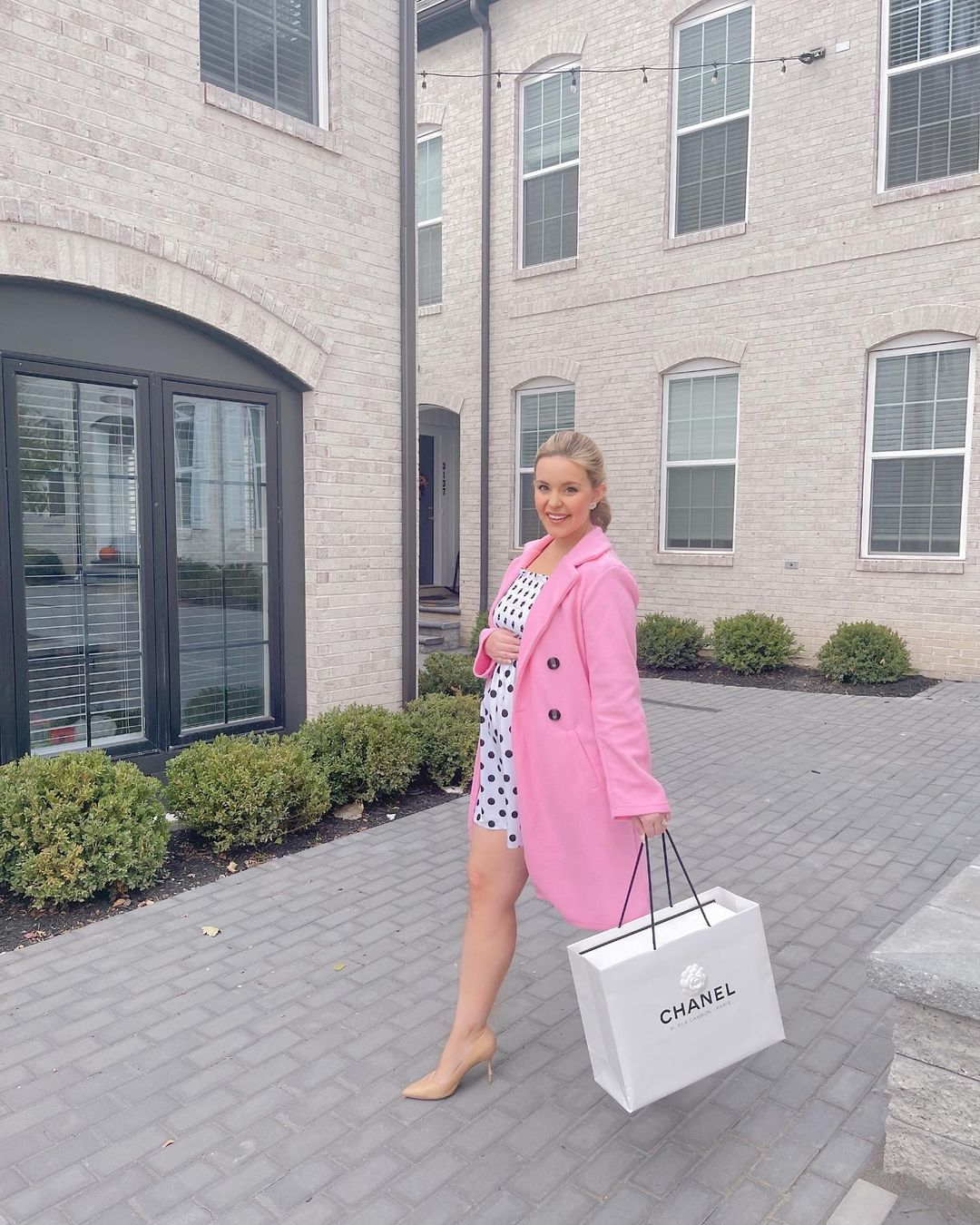 That famous scene in the first Sex and the City movie where a very pregnant Charlotte tells off Mr. Big is epic – (check out the classic prego clip from SATC here).
And so was her outfit.
For this iconic look, you'll need a pink coat, polkadot dress, and some GREAT shopping bags.
Pro Bowler Pregnant Halloween Costume
Are you staring to feel as big as a bowling ball? Get your partner dressed up like a pro bowler and deck out your bump with some non-toxic body paint for this fun look. This is an adorable look if you're ready to show off your growing belly this Halloween.
Bowling shirts come in all prints and colors! Grab one to match!
Kangaroo Pregnant Halloween Costume
The kangaroo is an iconic representation of motherhood in the animal kingdom. Their little baby joey spends months inside mom's pouch. The fun part of this costume is that your baby can play with the stuffed kangaroo long after you're done with the Halloween costume.
A long brown scarf, wrap, or piece of fabric will tie together this look. You can use long brown rabbit ears from the costume store, they look close enough to a kangaroo to make it work!
Winnie The Pooh Pregnant Halloween Costume
For a super cute costume you could totally DIY at home, try out this Winnie The Pooh look with a red shirt and honey colored skirt. A Pooh costume is a perfect last-minute halloween costume.
Bonus points if you can get your husband to dress up like Christopher Robin with a yellow t-shirt or one of the other Pooh-Bear characters.
Speed Bump Ahead Construction Costume
This adorable pregnancy Halloween costume doubles as a great Halloween themed pregnancy announcement. It's easy to find some safety vests and hard hats at your local hardware store. Then you'll just need to make or buy the 'bump ahead' sign to complete the look!
It's the perfect Halloween costume if you haven't quite popped yet, but you're ready to announce your pregnancy.
Space Jam Basketball Pregnant Halloween Costume
You could go with a classic body paint basketball costume if you're feeling confident with your bump out this Halloween.
Or take it up a notch and make the whole thing Space Jam themed! This such a great way to show off your stunning big belly.
Space Crew Pregnant Halloween Costume
Is your whole family totally 'out of this world'? See if you can convince them to play along with your Halloween theme. you'll need an astronaut, alien, rocket scientist and you'll be the star of the show as a round glowing mother earth.
Troll Doll Pregnant Halloween Costume
Did you ever notice when you were a kid that troll dolls have a perfectly cute little belly? Find a Trolls wig and nude dress to make this costume a reality.
Mike Wazowski from Monsters Inc Pregnant Halloween Costume
If you know someone with killer art skills, this body paint pregnant Halloween costume is for you! Monster's Inc starring character, Mike Wazowski, is a little green round monster that fits perfectly on a growing bump.
Other than the non-toxic body paint, this look is simple and classic with a black shirt and black pants!
Jurassic Park Pregnant Halloween Costume
Motherhood's a walk in the park… Jurassic Park that is… If you've already got one little dinosaur in your family and your second dino egg isn't quite hatched yet, this is a great idea for a family costume.
Layering shirts is the key to this outfit for mom! A base layer of a white shirt with green circles attached to it will make your belly look egg-cellent…
Star Wars Pregnant Halloween Costume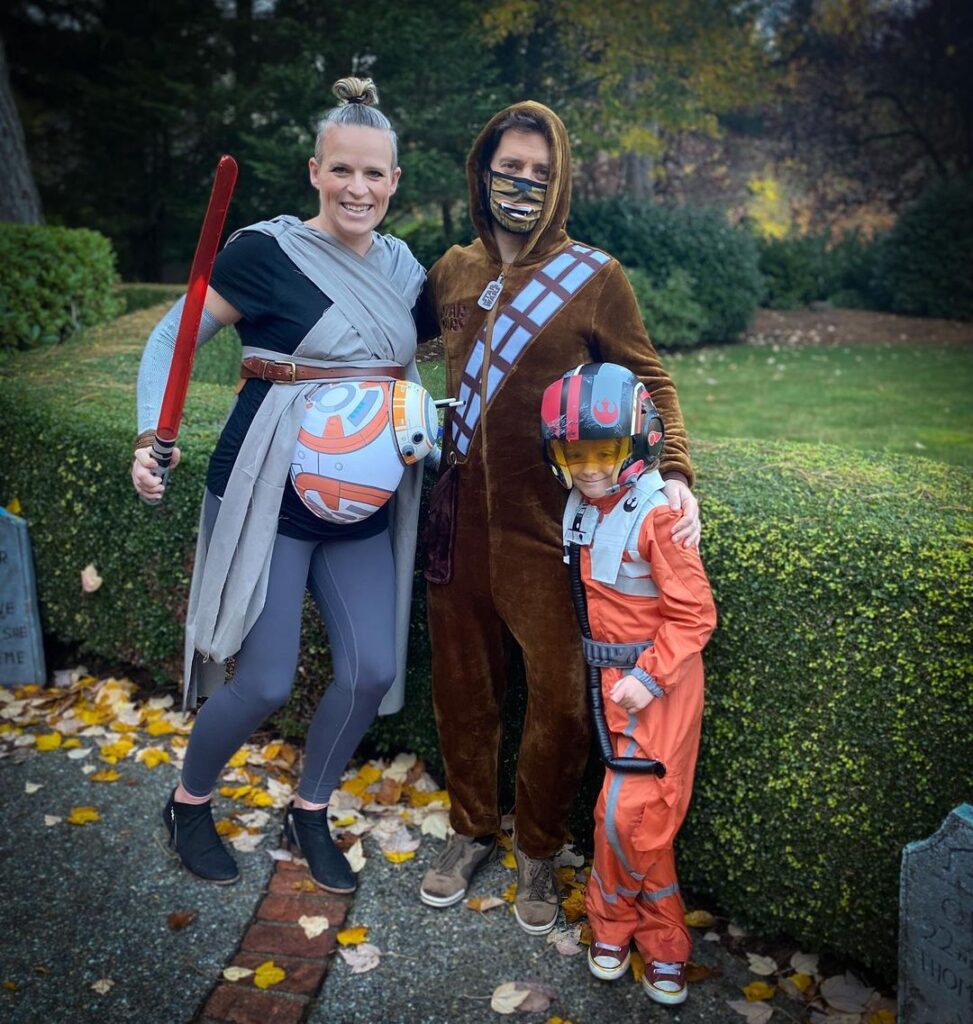 Put together this great Star Wars pregnancy Halloween costume and get your entire family in on the fun! BB-8 is a round little droid character from the movies that makes for a great belly disguise.
Wilson from Castaway Pregnant Halloween Costume
Wilsoooooon!
Do you remember the heartbreaking scene from the movie Castaway when the volleyball 'Wilson' drifts away to sea? If your hubby is willing to dress up like Tom Hank's character, all you'll need for your part is a crop top and some non-toxic body paint to make your bump look just like the movie!
Beer Belly Pregnant Halloween Costume Idea
If you have a wicked sense of humor, this is the perfect costume for you. Cut the sleeves off of a flannel shirt, and use some clothes that fit about 8 months ago to make your bump look like a beer belly sticking out.
If you don't love the idea of holding a beer bottle, try a root beer bottle instead. A 'Merica trucker hat and fake moustache are the best accents for a look like this.
Bubble Gum Machine Halloween Costume for Pregnant Women
This is such a fun and colorful way to accentuate your bump with your Halloween costume. With just a white t-shirt, red skirt and a bunch of pompoms on your pregnant belly, you can create a similar look at home. Adding a silver 'coin slot' and some pompom accents in your hair are the perfect final touches to bring it all together for this gumball machine outfit.
If you love bubble gum, or find that gum helps bring down your pregnancy nausea, then this costume is gum-believable!
Final Thoughts on Pregnancy Halloween Costumes
Well, there you have it, mama! We've journeyed through a parade of outrageous, hilarious, and downright clever pregnancy Halloween costumes. From baby bumps transformed into pumpkins, cauldrons, and even basketballs, you've witnessed the incredible creativity that comes with embracing your pregnancy as part of your Halloween costume.
So, go forth and rock that bump like the superhero you are, because being pregnant is no joke! Happy haunting, and may your Halloween be filled with treats, laughs, and unforgettable memories!