This post contains affiliate links.
Looking for a fun road trip license plate game printable to hand over to your crew the next time you hit the road? Grab this free printable road trip game for kids below!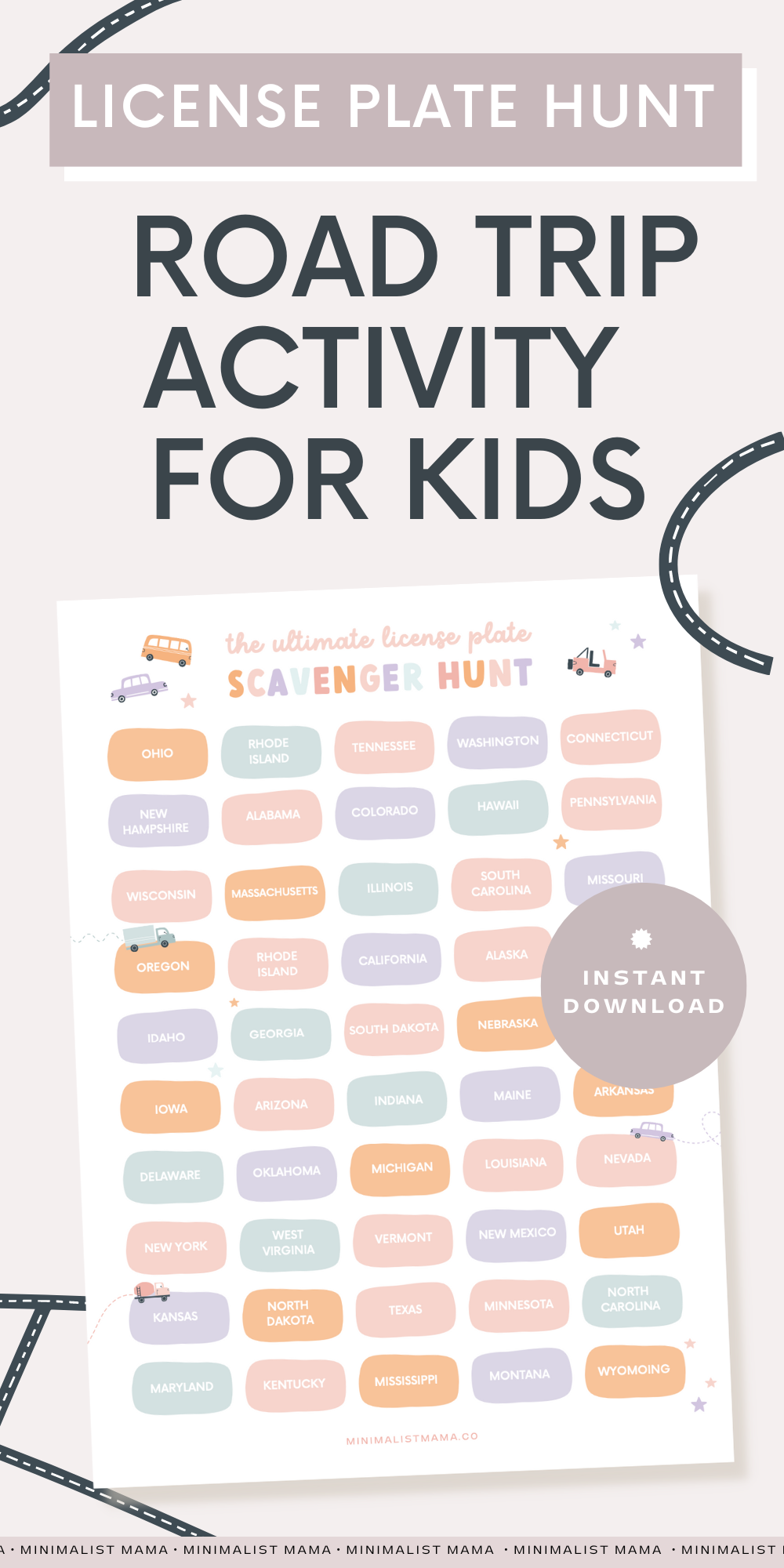 Hey road-trippin' mama! Ready to embark on an unforgettable journey filled with laughter, adventure, and a whole lot of "Are we there yet?!".
As a boy mom myself, I have got just the thing to keep your little ones entertained during those long stretches of highway boredom.
Today, I'm sharing this super cute little road trip license plate game printable, designed to turn your family road trip into an epic competition that'll have everyone on the edge of their seats!
Picture this: the open road, wind in your hair, and the thrill of spotting license plates from all over the country.
This isn't just any ordinary game; it's a chance for your kids to become self-proclaimed license plate detectives, ready to conquer the highway in search of the rarest plates out there.
With this engaging and interactive game, you'll transform your vehicle into a mini detective agency, where your kids will be on a mission to spot as many license plates as possible.
And guess what? This printable isn't just about ticking off those fifty states.
Oh no, it's *so* much more!
It's an opportunity for you and your children to bond, giggle, and create lasting memories on your road trip adventure.
So, buckle up, moms, because the journey is about to get seriously exciting!
This cute, fun little license plate game printable is going to be your secret weapon for hours of entertainment, laughter, and friendly competition.
With a dash of strategy and a sprinkle of detective skills, your little ones will be hooked on the thrill of spotting that elusive Hawaii or Alaska license plate.
Before you grab your free printable, let's do a quick refresher on how to play the road trip license plate game:
How To Play The Road Trip License Plate Hunt Game
First things first, print your game cards.
You can either print these road trip games in black & white or color; but of course, color is more fun!
This awesome little pink clipboard with storage is *great* for kids – it opens up so you can store a handful of printable games for them to go through.
Next, decide how you'll mark the squares.
You can either use a pen, marker, crayon or pencil crayon to mark up your game sheet, or – grab some little dot stickers, or even better, car stickers – and tick them off as they're spotted.
While it may seem obvious, the goal of the license plate game is to search for license plates from each of the different states, and to rack up points as you spot them.
Each player in the car gets their own license plate road trip game printable, and as they spot a license plate, they shout it out, and they get to mark down the state on their card (the key here is that only the person who spots it, and calls it out, gets the point).
The player with the most licenses plates marked off on their sheet once you get to your destination, wins!
Such a great fun distraction from the miles and miles that can sometimes feel endless!
Free Road Trip License Plate Game Printable (PDF)
Wrapping Up
And there you have it!
A super cute printable for your next road trip with kids!
Now – who's going to win the first round?
Read Next:
🏁 15+ BEST Toddler Toys for Road Trips (And Big Kids, Too!)