This post contains affiliate links.
Expecting your first little bundle of joy?
While it's no doubt the whole first time mom thing can take a whole lot of figur-ing-out-ing, the good news is that there *are* a whole list of literally life-changing baby hacks that exist.
And you're about to learn them all.
So, let's get to it –
The Best Newborn Baby Hacks
Before we dive in to my essential baby hacks for first time moms, pin this post so that you can come back to it for a refresher once babe is here!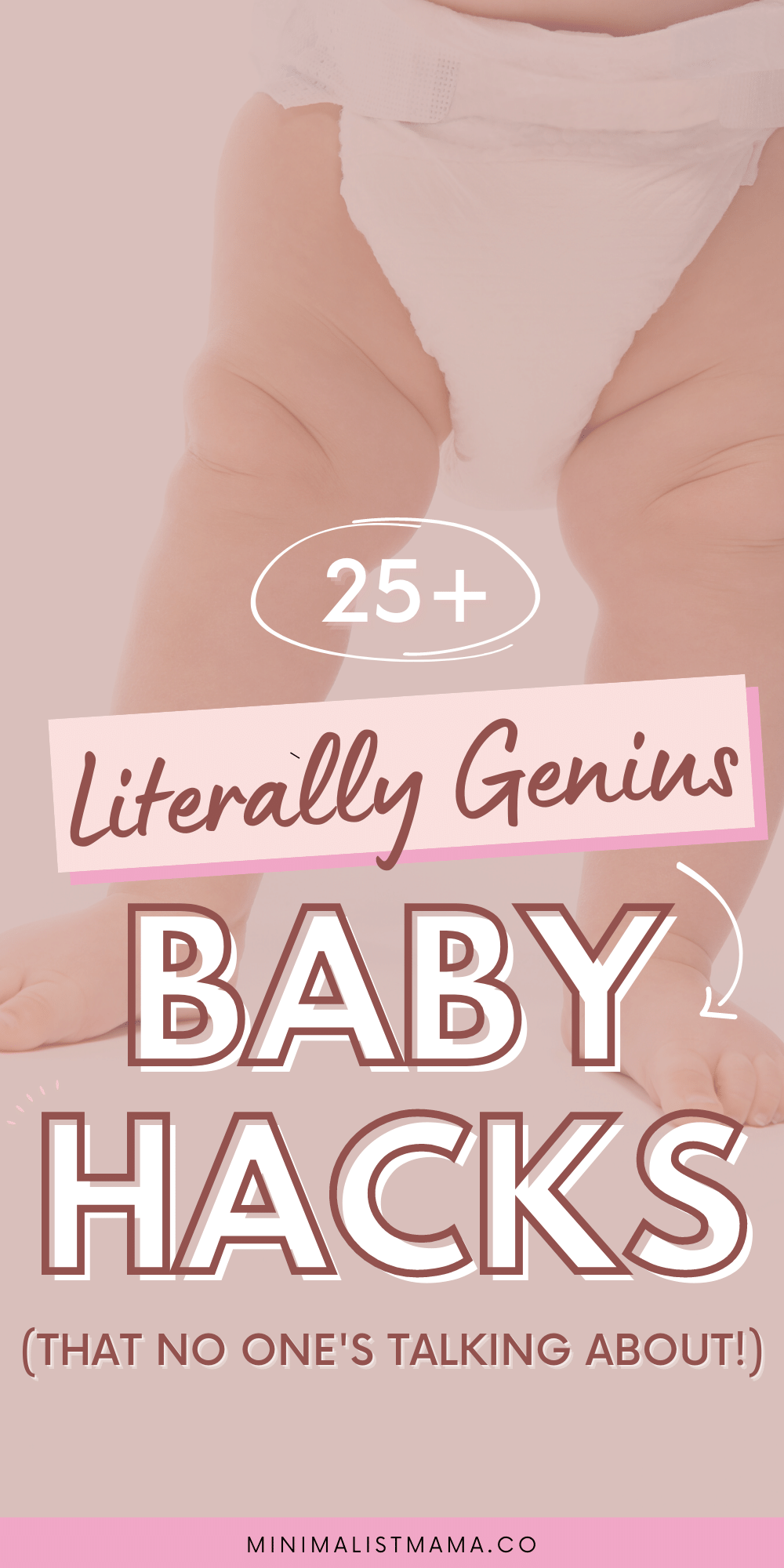 01.

Learn These Common Baby Noises

Even though babies are nowhere near the talking stage, they still have a keen way of communicating.

Sometimes their communication can be quite frustrating, especially when you're not sure how to read their different cries and noises.

Some of the most common baby cries and meanings are:
Neh – hunger

Eh – upper wind (burp)

Eairh – lower wind (gas)

Heh – discomfort (hot, cold, wet)

Owh – sleepiness
It may take quite a bit of time before you understand your baby cries, but don't worry.
But don't fret, there are plenty of other baby soothing techniques you can try in the meantime.
02.

The Life-Saving YouTube Channel

While it's no secret screen time has grown to insane proportions in the past few years, as a sleep-deprived newborn mommy, there are some times when a girl's gotta do what a girl's gotta do.

When my little one was crying and we'd tried everything, or if I needed a moment to regroup, I'd put on the Hey Bear Sensory channel on YouTube.

Who knew dancing fruit could calm a newborn baby… right?
03.

Look for Baby Gear Dupes

While there's no doubt there's something intoxicating about new car baby gear smell, with the sheer amount of baby stuff you need for your little one, it can sure add up.

Take some time to search second hand sites like GoodBuy Gear, which has amazing deals on lightly used, and sometimes even open box – baby gear items, including the highest quality brands like Babyletto, SnuggleMe, and Snoo!
04.

DIY Portable Changing Pad

There are some really cute portable changing pads that you can get.

But TBH – you really have no idea what's on those fold-down changing stations in public bathrooms, and most portable changing pads are just meant to be wiped down, not fully laundered.

Instead of a portable changing pad, I prefer using a cheap or hand-me-down swaddle blanket folded in half so that I am able to cover a nice big area, and throw it in the wash once were home.
05.

Diaper Genie Dupe

Have a Diaper Genie?

(or, trying to decide which diaper pail is best? I compared the Ubbi and Diaper Genie here, and shared which diaper pail we ended up keeping!)

The Diaper Genie brand bag refill cartridges that you can get as your local store are overpriced – grab these no name refill cartridges off Amazon for just a fraction of the price!
06.

The Activity Gym Hack

Those wooden baby activity gyms are just great to keep baby entertained, but if you don't have one, try this baby hack –

simply attach a few links of these plastic rings to the bar that crosses between the two legs, and set your little one up in their bouncer or baby nest underneath it.

You can hang a few separate chains of rings, and also attach a small toy or two for baby to bat at, too.
07.

The Sunlight Hack

The first time that neon yellow newborn poop stained our favorite bamboo sleepers, I am pretty sure I shed an actual tear after it came out of the wash with the stain still on it.

Surprisingly, the sun and a little bit of simple H20 may actually be nature's best kept secret!

Simply wet the stain with some water, lay the piece of clothing out in the sun and wait a few hours. For larger stains, you may have to repeat the process a few times.
08.

Diaper Change Distraction

Although newborn baby diaper changes are fairly quick and easy, once your little one starts to roll over, diaper changes are like wrestling an alligator.

Stash a small, special toy on top of your changing table and in your diaper bag, and hand it to your little one as a distraction during diaper changes.

We love using a small rattle, or electric kid's toothbrush that vibrates – they work like a charm!
09.

The Pee Prevention Strategy

When it comes to the actual changing of the diaper, the last thing you want from your little man is to get peed on or for him to see on himself.

To help prevent this, point his 'equipment' down while changing so if he does pee, it won't get on his onesie, on you and may possibly hit the old (or fresh) diaper instead.

(This will also prevent his pee from leaking out the top of the diaper, too!)
10.

The Diaper Untuck

Those frilled elastic edges around the legs aren't just for looks.

Be sure to untuck them each time you change your baby's diaper so the diaper is actually sealed and even the craziest of blowouts will stay (mostly) in the diaper.
11.

Beautiful Boppy

All right, next up, a little about me…

I'm just gonna own it:

I've been called picky more than once before.

I like to think of it as having refined taste (😅) but, potato, patato, I guess, right?

When we chose our nursing pillow, I ended up liking the Boppy.

What I did not end up liking was the selection of covers for them.

Sure, little elephants are cute and all, but not exactly my style.

Level up your nursery aesthetic with one of these cute, neutral boppy covers instead!
12.

The Light Bulb Hack

If there's one thing that's sure with newborns, is that they need a whole lot of diaper changes at all hours of the day… and night.

Swap out the light bulb in your nursery for this super handy light bulb that allows you to dim the strength of your light, and comes with a remote (!!!).

Keeping light low while baby's getting ready for bed and during middle of the night diaper changes.
13.

The Doggy Bag Hack

Picture this:

You're on your first fun little family road trip and all of a sudden, it starts to really *smell* in your car. Your baby's fussing and whining.

You safely pull over on the side of the road to check, and change, their diaper.

You take off the poopy diaper anddd… you…

Welp. 😅

Keep a roll of doggy poop bags in your vehicle and use them to dispose of, and contain, poopy diapers in a pinch (I keep this little emergency diaper caddy stocked and stashed in my car).
14.

The Freezer Hack

If you choose to pump and store milk, using an acrylic drawer organizer in the freezer and/or refrigerator can help keep the bags altogether and in order.

In order to save space, lay each bag down flat in your freezer, then stack them vertically in the organizer.

Be sure to put the date on the bag and store them with the furthest date first to keep milk from spoiling.
15.

The Clogged Duct Hack

If you get a clogged duct from breastfeeding, there are a few quick remedies you can do.

One of the most calming is to get in a hot shower and let the water naturally produce a "let down."

My lactation consultant also recommended bending over at the hips, and massaging your breasts breasts, almost similar to how you'd milk a cow.

You'll want to use a forward motion, trying to help milk from the back of your breast (closest to your body), to move forward, and out (towards your nipple).

I also recommend getting a haaka and filling it with hot epsom salt water.

You can also try using an electric toothbrush to massage the clog and loosen it, or, snag one of these genius little tools from Amazon.
16.

The Heating Pad Hack

One reason why babies may complain when you try to set them down in their bassinet or crib to sleep is that your arms were so warm and cozy, and their sleep spot is not.

In order to smooth the transition, warm their bassinet or crib up by laying an electric blanket or heating pad down for a few minutes before you put them down, being sure to remove the heating pad before laying your baby down.

⚠️ Never leave the electric blanket or heating pad in the bassinet or the crib with your baby. ⚠️
17.

The Baby Socks Hack

Thought it was easy to lose grown-up socks?

When they're itty bitty, it's even more common!

Find one type of white socks that you like the style and fit of, and *only* buy that one style – and LOTS of it!

That way, as you lose socks, you won't be left with piles of mismatched singles!
Final Thoughts
And there ya have it mama!
Use these tips, tricks, and hacks as your begin your mama journey.
If you are a "veteran" mama and just so happened to come upon this blog, what are some of your favorite newborn baby hacks and advice you'd add to this list?