This post contains affiliate links.
Searching for cute ideas for a Christian pregnancy announcement? You're going to love this sweet collection of the best 'religious' Christian pregnancy announcement ideas – all that give glory to God!
It's my hope that after going through this little list I've put together for you, that you feel totally inspired to share your incredible news with the world, and to do in a way that honours your faith.
Let's get right to it –
Christian Pregnancy Announcement Onesies
Here are some of my fav custom little onesies off of Etsy that make for the perfect pregnancy announcement prop (and cutest outfit once baby is born too, of course!)
Shop The Post

01.

Letter Board Christian Pregnancy Announcement
One of my favorite ideas for a 'religious' pregnancy announcement is to simply put a special quote, prayer or Bible verse on a letter board and snap a photo.
In this pic, it's likely that this is a second or third pregnancy for this mama-to-be, since she's already got a changing basket and changing table all set up, but you could lay out a simple blanket on your bed, and take a similar photo yourself.
02.

Christian Pregnancy Announcement Cookies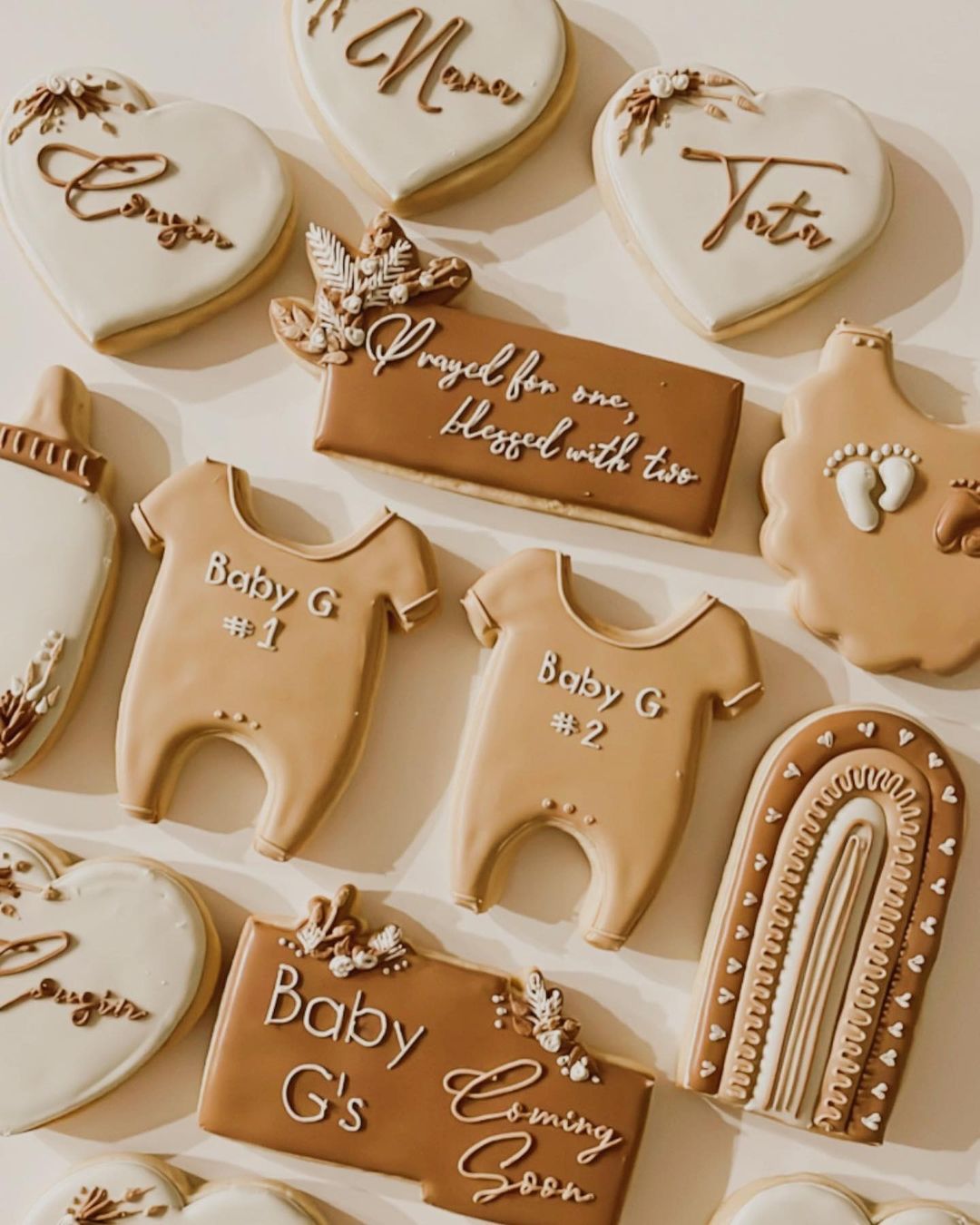 Ordering your very own set of custom pregnancy announcement cookies is one of my absolute favorite ways to tell your family you're pregnant!
To order your own cookies, I find it's easiest to look for a local baker on Instagram, or ask around locally for a recommendation.
There are so many ways to personalize the cookies, but for a Christian pregnancy announcement, I absolutely love the idea of having them say something like "answered prayer", or "He answered" if you're having twins, you could just use the exact quote from this photo – "prayed for one, blessed with two."
03.

Calligraphy Christian Pregnancy Announcement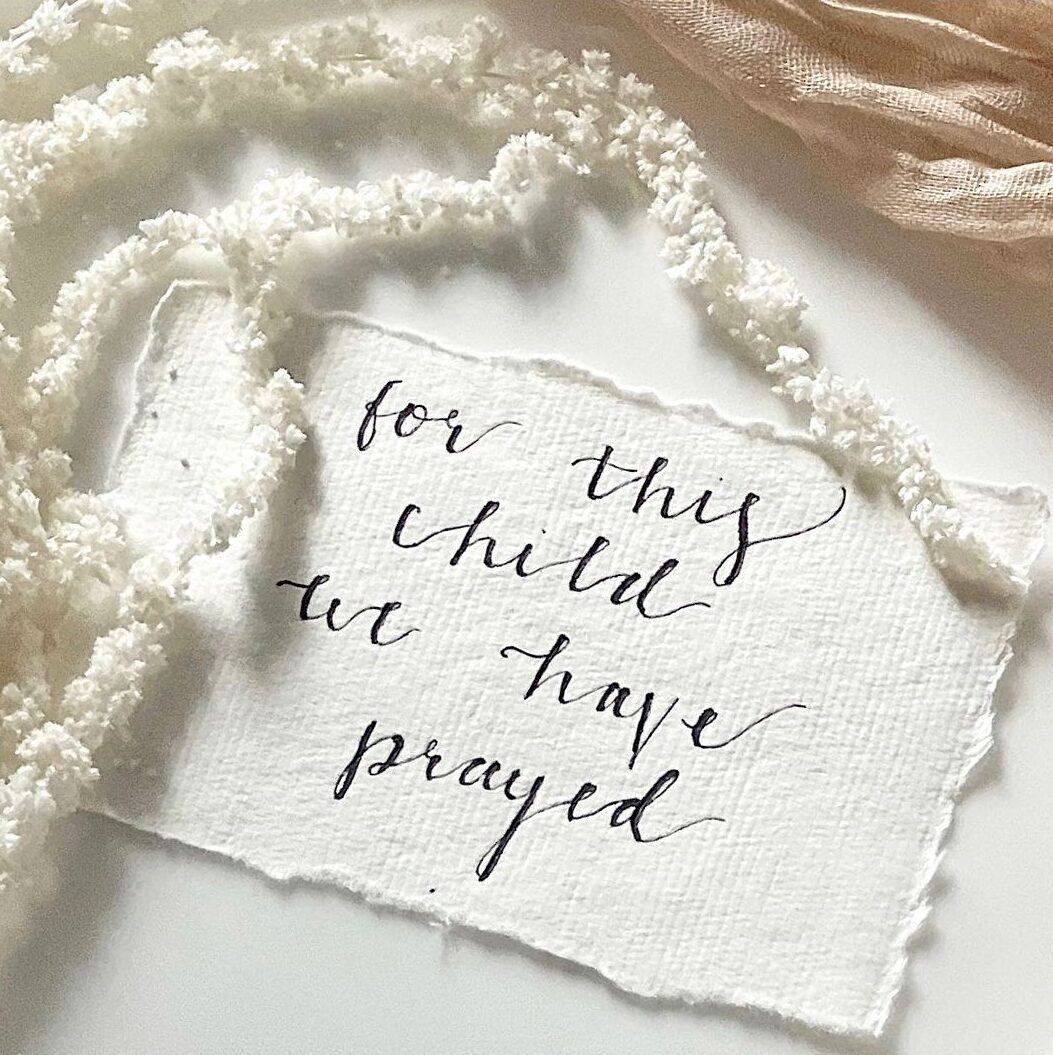 This super simple pregnancy announcement really doesn't take much – simply have a meaningful Bible verse or faith-based quote written in pretty calligraphy.
To add texture to the shot, you can take a dried floral stem from somewhere in your house, or grab one from Hobby Lobby, and layer in a soft piece of fabric from around the house, like a scarf.
Lay your quote down, and snap a quick flat lay photo with your phone!
(If you don't know any calligraphers personally, try asking around at your church – for some reason, I find that calligraphy is totally a hobby that church girls love to take on, or, order a custom piece from Etsy.)
04.

Christian Pregnancy Announcement
Did you know you can actually have these custom wooden plaques made by home-based makers on Etsy, then shipped right to your door?
The quotes are totally customizable, so you could choose to have a special Bible verse or custom quote inscribed on yours.
Then, have each of your (current) family members grab on to the plaque and snap a photo – black & white is always timeless.
05.

Holding Up A Onesie Pregnancy Announcement
One of my favorite ideas for a sweet, classic pregnancy announcement – the simple onesie says it all!
To make it personal, and glorify God at the same time, order a custom onesie with a meaning phrase or scripture on it, like this one that says "answered prayer".
06.

Christian Twin Pregnancy Announcement

Next up, a pretty, styled pregnancy announcement photograph that is available for purchase on Etsy, and that can be customized, too.

I really love the idea of something simple like this image – it's perfect for mamas who just *can't even* while pregnant (and that's a lot of us, I'm sure!).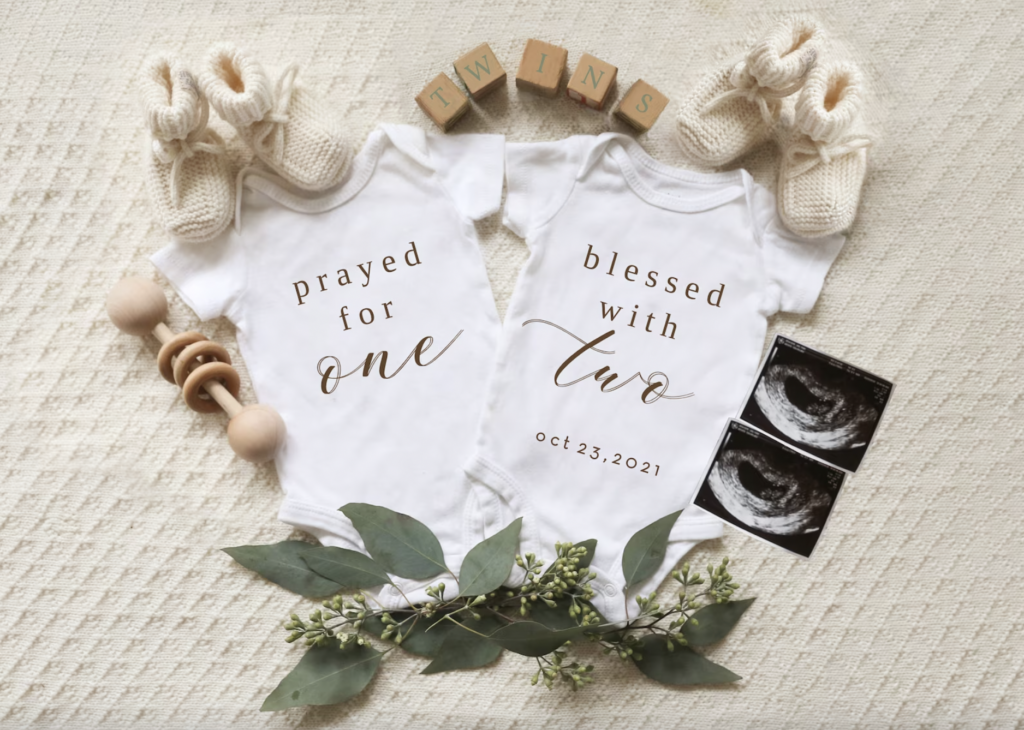 07.

Simple Ultrasound Baby Announcement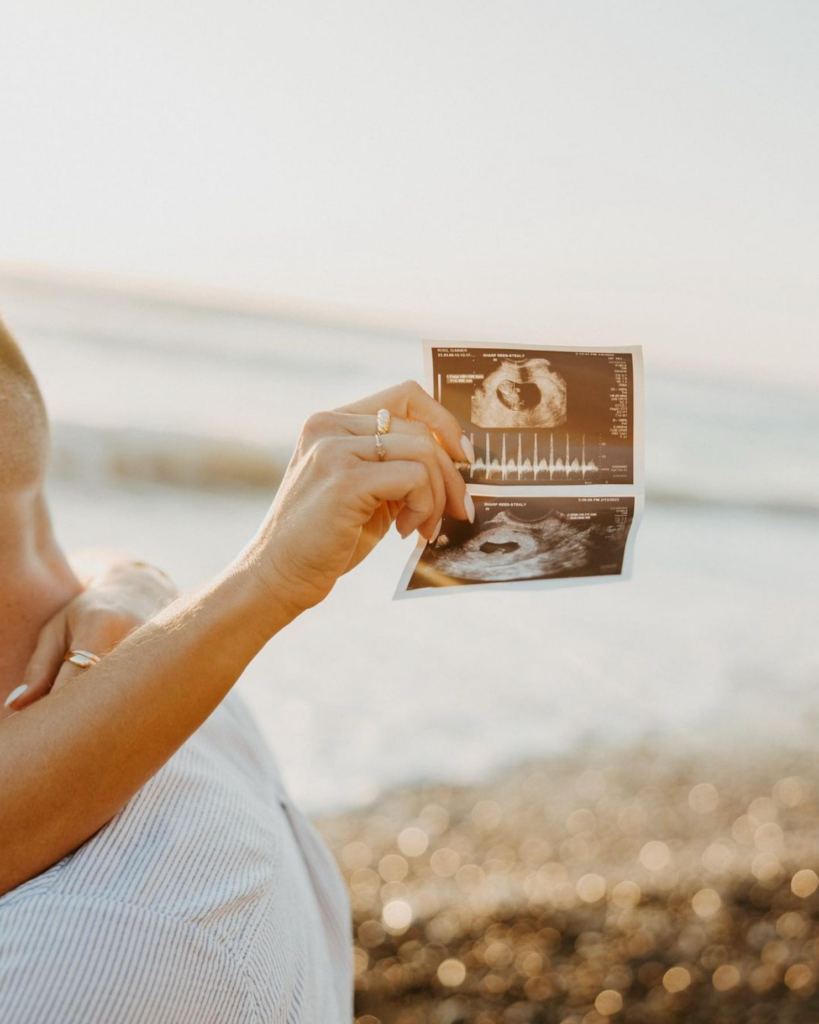 And lastly, this special photo of the mommy-to-be holding up her sonogram.
While this baby announcement might not seem so 'religious' to you, the caption is what makes the whole thing so special:

Christian Baby Announcement Captions for Social Media
Planning on sharing your baby reveal on your Insta? These short and sweet Christian baby announcement captions are the perfect way.
Here are my fav Christian baby announcement quotes –
Every good and perfect gift is from above
For this child, we have prayed
He answered ❤️
Our greatest blessing
His plan is perfect
Sometimes when you pray for a miracle… God gives you two
Fearfully and wonderfully made – Psalm 139:14
God knew our hearts needed you
Prayed for one, blessed with two
When the time is right, I, the Lord, will make it happen – Isaiah 60:22
Just when we thought our love couldn't grow any deeper, God decides to bless us with the most precious gift
Our answered prayer
I will not cause pain without allowing something new to be born, says the Lord – Isaiah 66:9
We've hoped and we've prayed, and now we're excited to say – our little miracle is on the way
And there you have it – all of my favorite ideas for a Christian pregnancy announcement ideas to let the whole world know that you're expecting!
Read Next:
☁️ 21+ *Actually Adorable* Pregnancy Announcements with Dogs
☁️ 21+ *Totally Unique* Pregnancy Announcement to Family Ideas To Steal
☁️ 29+ Adorable Pregnancy Announcement Cookies To Inspire You