This post contains affiliate links.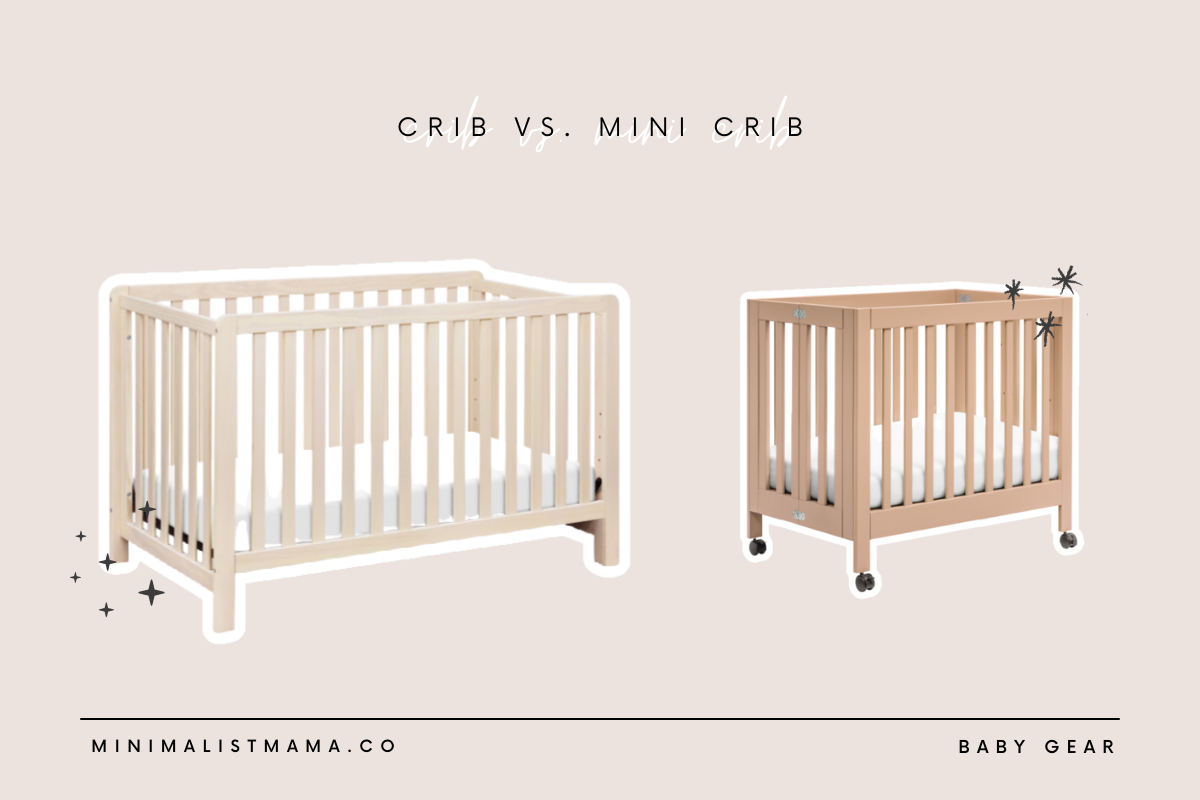 Whether you're an expecting and soon-to-be mom or dad, we all want the best for our babies.
When it comes to putting together your little one's nursery, one of the first choices many parents will make is between a standard, full-sized crib, and mini crib.
While the decision may be a no-brainer for parents with lots of space and a good, healthy budget, for others, choosing between a crib and mini crib may be a bit trickier.
🤔 Just can't decide? Consider renting a mini crib from Loop.Baby!
While it's no secret that full-sized cribs are the most common option in the US, and Canada, and Australia, mini cribs are actually very widely used throughout Europe, where space is a bit more limited.
But, is the difference in size the only thing that sets the two sleeping spaces apart?
Perhaps surprisingly, no.
When comparing the crib and mini crib, there are actually a number of other practical differences that can make each option the better choice for different families.
Trying to decide which one's right for you?
Let's take a look – 
The Key Differences Between a Crib and a Mini Crib
Of course, you already know what a standard crib is — a flat, firm, and contained safe space for babies to sleep in. 
Cribs are typically made of wood, metal, and as of late, even acrylic. 
On the other hand, a mini crib is a smaller version of a standard crib. They both have the same purpose which is to provide a safe place for your baby to sleep, but there are some pretty significant differences when compared, too.
In comparing the crib vs. mini crib, here's what we'll look at:
Size
Portability
Longevity
Style
Accessories
Availability
Price
Crib vs. Mini Crib
Size
Perhaps the most obvious difference between a crib and mini crib is their size.
We compared the sizing of seven of the most popular mini cribs and their full-sized counterparts, and here's how they stacked up:
Width – Most mini cribs range between 19″ and 28″, whereas full-sized cribs have a lot less variance, and are all pretty close to 30″ wide.
Height – Most commonly, mini cribs have a height of between 31″ and 37″. Regular sized cribs share a similar spread, but are typically a bit higher – usually between 33″ and 40″ high.
Length – Mini cribs are typically between 31″ and 40″ long, whereas standard sized cribs are all very close to 54″ long, giving your little one significantly more space to grow.
Portability
When comparing the crib vs. mini crib, one key advantage is just how portable a mini crib is.
Thanks to a slimmer profile that fits through doorways, as well as convenient wheels on many mini cribs, the mini crib is conveniently moved from room to room with ease, whereas a full-sized crib would typically need to be completely taken apart, and reassembled.
For example, when comparing Babyletto's mini Gelato crib with the standard sized Gelato crib, the Gelato mini crib is 26 inches wide, while the standard sized Gelato crib spans 31 inches across.
Relative to the standard width of an interior door frame of 28 to 30 inches, the Gelato mini crib would slip easily through the door fully assembled, whereas the full-sized Gelato crib is simply too wide and would need to be disassembled to fit through the doorway.
Longevity
Many full-sized cribs on the market are now convertible, meaning that by swapping out a few of the pieces, you can convert your regular crib to a day bed, toddler bed, which drastically prolongs the years of use you can squeeze out of them.
While there are a very select number of mini cribs that offer convertible styles, most of them do not convert, and can only be used until your little one's about 6 months old.
Style
While there are definitely some super stylish mini cribs on the market, if you're looking to really customize the look and feel of your nursery with a particular crib, you may be drawn to a full-sized crib, which offers many more styles than mini cribs do.
Accessories
When it comes to finding a crib mattress and bedding for your little one's sleep space, because full-sized cribs are more popular, there is definitely a much larger selection of crib accessories (such as fitted sheets, mattresses, crib skirts) available for full-sized cribs than for mini cribs.
Availability
Because there are fewer brands that make mini cribs, and fewer models available, you may have to shop around a bit longer to find a store with the model you're looking for in stock, or deal with longer shipping delays, when compared to a standard-sized crib, which is typically more widely available.
Price
When comparing between a standard sized crib and mini crib, standard sized cribs will often have a higher price tag.
While standard crib prices generally range from $100 to upwards of $1,000, mini cribs, on the other hand, typically range from between $100 to $500, topping out around $600 for some of the more high quality brands of mini cribs.
A good quality standard full-sized crib from one of the top crib manufacturers like Babyletto will run you around $349, whereas a mini crib will typically cost closer to $249.
Pros and Cons of Standard Cribs
Here are some of the advantages and disadvantages of standard cribs:
Pros of Standard Cribs
Styles – From traditional to mid-century modern to minimalist, to luxury cribs and beyond – with so many styles on the market, it's easy to find a standard crib that suits your style and nursery.
Availability – Standard cribs are widely available in both traditional department and baby stores, as well as through many brands and retailers online. There is a wide selection of standard cribs available for purchase, and in stock, at any point in time.
Bedding – Because regular-sized cribs are the most common choice across North America, there is a wide variety of crib accessories available such as fitted crib sheets, mattresses and crib skirts, in all types of patterns and colors.
Cons of Standard Cribs
Size – For families with smaller living spaces, a standard, full-sized crib may not fit into their nursery or bedroom.
Portability – Standard cribs are meant to stay put in the nursery, and are pretty cumbersome to move. Many, if not all, are too wide to fit through a standard doorway, don't come with wheels, and are difficult to take down and reassemble.
Storage – There are very few full-sized cribs that fold-down for easy, or temporary storage. In order to store a standard crib, you'll almost always have to disassemble the entire crib. This not only requires a bit of a time investment, but also some organization, in that you'll need to find a way to keep all of the parts, including small pieces of hardware, together.
Higher price – While the price of a standard crib can vary pretty wildly, when comparing a mini crib and crib from a similar brand, standard cribs will definitely cost more.
Pros and Cons of Mini Cribs
Next up, let's take a look at some of the benefits and drawbacks of a mini crib to help you determine if it'll work for you.
Pros of Mini Cribs
Smaller –  Perhaps the most obvious difference when comparing a crib vs. mini crib is the size. A mini crib, is of course, miniature, and therefore, smaller than a standard-sized crib. This smaller furniture footprint is great for families living in smaller spaces, or parents who need to fit more than one crib in the nursery. Whether it be to accommodate two under two, twins, or multiples, there are many situations where a mini crib's smaller size can be just what certain families need.
Portable – Another really practical feature that mini cribs offer is that they are pretty easily portable, and can be moved from nursery to bedroom, or into a different living space with ease. Because of their smaller dimensions, mini cribs are narrow enough to fit through most interior doorways in homes, and almost always also come with wheels, so they can be easily rolled from room to room.
Easier to store – Many mini cribs come with folding hinges, which allows them to be stored away quickly and easily. Another benefit of this design is that the crib remains assembled, and all the crib parts stay together, as opposed to having to fully disassemble and reassemble the crib, which is what is required of a full-sized crib.
Lower price – Lastly, for parents with a tighter budget or who are simply looking to save money on baby gear, because mini cribs are at a lower price point than full-sized cribs, they present a really great, affordable option for some.
Cons of Mini Cribs
Outgrown sooner –  Besides their smaller footprint in general, mini cribs are also of course, shorter than a standard crib, which means that your little one will outgrow them sooner.
Less widely available – Because they are less common, mini cribs are less widely available. This may mean having to shop around at a larger number of different stores, having to settle for your second choice in color, or dealing with a pesky shipping delay.
Fewer styles available – While the wide world of standard baby cribs has an incredible variety of colors, shapes and sizes to offer, there are fewer styles available when choosing between mini cribs. This means that if you've got a particular look in mind for your nursery, you may have a bit of trouble finding a mini crib with the exact style you had in mind.
Harder to find bedding – Oftentimes, many of the brands that make mini cribs will also offer a few mattress and fitted sheet options that suit the dimensions of their mini crib. However, if you choose to go with a mini crib, you definitely will not have as many options to choose from when it comes to a crib mattress and bedding.
Fewer mattress heights – While most full-sized cribs offer three different mattress heights to suit your baby as they grow and develop, many mini cribs only offer one or two height options, which may mean a shorter lifespan for this piece of baby gear.
Why Choose a Mini Crib?
So, is a mini crib right for you? Here are some super practical reasons why you may opt for a mini crib over its full-sized counterpart:
Smaller living space – Mini cribs, because of their smaller footprint, are of course, great for smaller living spaces. A mini crib can be a great option if you plan on using a smaller room as your nursery, or, sharing your bedroom with your baby and simply setting up a nursery nook in your bedroom.

 

Same floor living space – A mini crib may be especially useful for families living in a home with the majority, or all of their living space, on the same level, such as a bungalow or apartment. Many mini cribs come with wheels and fit easily through a standard-sized doorway. This means that families without stairs separating much of their living space have the opportunity to squeeze some extra use out of their mini crib by wheeling it into the living room, bathroom or kitchen as a safe space to put their little one down as needed.

 

Bassinet alternative – Trying to minimize the number of baby items you purchase? A mini crib may be a great option to consider as a bassinet alternative, as it can easily be kept beside mom's bed, just like a bassinet would, and its smaller size may also help baby feel more snug, as compared to a standard-sized crib. Further, mini cribs will outlast bassinets because the mattress of most mini cribs can be lowered to two or three different levels, unlike bassinets.
Twins or multiples – Do you have more than one bundle of joy on the way? Parents expecting twins, or multiples, may not be able to fit more than one full-sized crib in their space, so mini cribs may be a better option.
Crib vs. Mini Crib – TL;DR
At the end of the day, choosing between a crib and mini crib is an important decision for your little one.
A standard crib offers more flexibility in terms of style and accessories, and can be used for longer — but it's really not made to be moved around much.
A mini crib, on the other hand, moves easily from room to room, but can generally only be used until your baby's about six months of age.
Take some time to connect with other parents that you know, and ask them what worked and what didn't for them when it came to their baby's sleeping space.
As with many baby gear decisions, remember that all you can do is your best!
Remember that choosing the right item for your little one is always going to be a bit of a guessing game because until they're here, and snuggling up to sleep, it's often difficult to know what will work for you, so give yourself some grace while you're at it.
In order to stay organized, I recommend setting a small basket aside in your or baby's closet and keeping all of your baby gear receipts together, so that you can return or resell the items that just simply don't work for you.
(I love GoodBuy Gear, a modern marketplace to resell your unused, or gently used, baby gear, and to find some serious steals on brand name baby stuff, too!)
Still curious? Here are some of my other baby gear guides:
✨ 7+ DockATot Alternatives (+The Best DockATot Dupe!)
✨ Baby Swing vs. Bouncer: Which One's Right For You?
✨ 7+ Baby Bjorn Bouncer Alternatives (aka *Neutral* Baby Bouncers)